Keto Beef and Chorizo Meatballs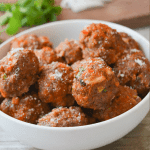 These Keto Beef and Chorizo Meatballs are a very easy, very low carb dish that can be used in a wide variety of ways. Bake them up for your next event, or throw them on a low carb bun for a very filling meal. Total Game Changer!
Author:
Yield:

24 Meatballs
Ingredients
1 pound ground beef
1/2 pound mexican ground chorizo
1/4 cup yellow onion, chopped
1/4 cup pickled jalapenos, chopped
2 tablespoons cilantro, chopped
1/2 cup pork rinds, ground*
1 egg
1/2 teaspoon garlic powder
1 teaspoon chili powder
1/2 teaspoon oregano
Salt and pepper, to taste
Instructions
Preheat oven to 400 degrees. Line a large baking sheet with foil or spray with non stick spray, if desired.
In a large bowl mix all ingredients including your choice of seasoning with salt and pepper, to taste.
Take a couple tablespoons of meat mixture and roll into a ball, about 2 inches in diameter. Mine made about 24. You can make larger if you prefer, it will just make less.
Place meatballs on baking sheet. Bake for 17-20 minutes, or until meatballs are browned and fully cooked through. Keep an eye on them close to the end of cooking time, all ovens are different and they may cook quicker. Alternatively, if you made larger meatballs they may require a few extra minutes in the oven.
Enjoy tossed in your favorite spicy low carb tomato sauce, by themselves, or on a low carb roll as a sub.
Optional: If you'd like them crispy you can fry the cooked meatballs in a tablespoon of coconut oil over medium heat.
Notes
Grinding pork rinds: To make these I place an an ounce or two of pork rinds into the food processor and pulse until they're fine crumb like and then measure. I've noticed some brands are more dense than others so the measurements by weight may vary a little. Just be sure to have 1/2 cup measured after pulsing them.
Sub pork rinds with 1/2 cup almond flour, if desired. I prefer pork rinds because they just add a little salt, no other flavors. Subbing with almond flour will change taste and increase carbs.
You can freeze the meatballs after cooking them. Simply toss in your favorite sauce in a skillet, oven, or microwave to reheat for a quick meal.
Please note that I am not a certified nutritionist. Any nutritional information that is discussed or disclosed in this post should only be seen as my best amateur estimates based on NET carbs. If nutrition is important to you, I highly encourage you to verify any data you see here with your favorite nutrition calculator.