The March 2017 Keto Krate was full of lots of tasty treats from creamy chocolate to salty pecans and even a Spicy Thai Peanut Butter! There's lots to explore in this month's box and definitely some products that surprised me and left me wanting more.

I really love what Keto Krate is doing and appreciate that they're aspartame AND malitol free (Literally NO reason to eat that stuff!) as well as gluten free.
I'm seeing more "keto" friendly foods that aren't gluten free and have all kinds of crazy sweeteners, but personally I think keeping those out for the most part is the way to go.
It's a box you can get and eat from for the month, not just a couple tiny samples which makes it all more worth it to me.
It had a good mix of sweet and savory items in multiple flavors and showed me some brands I'd really like to explore more that I probably wouldn't have found on my own.
Click here to order your own Keto Krate, or keep reading to see what was in March's Krate!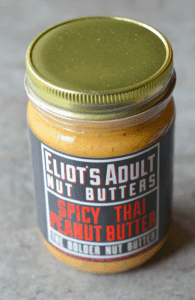 I'll admit I was a little skeptical at first when I saw this spicy peanut butter. It doesn't seem like spicy and sweet peanut butter should really go together but it legit works!
Eliot's mastered the balance between just a hint of spice and the sweetness of the peanuts.
When you first taste, you'll get a burst of flavor, but the heat is very subtle and tends to come out more after your bite-which I love!
I'm excited to experiment with ways to use this unique item and I've already used it to make a delicious recipe of Chicken Skewers with Spicy Peanut Sauce!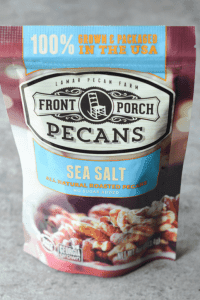 I'm a big fan of pecans and I found these to be an awesome snack. They're roasted so they're nice and tender for adding to salads or just eating alone.
The sea salt was a great flavor and inspired me to make Keto Pecan Pie Clusters.
These would make an excellent treat to bring on trips and if you didn't know, pecans are lower in carbs that a lot of other nuts like almonds and peanuts. I was very pleased Keto Krate included these.
Power of Three Seed Blends- Coconut Goji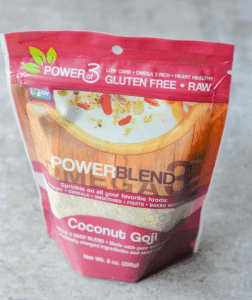 The award for most interesting Keto Krate item goes to this power blend. It's basically a ground mix of raw pumpkin seeds, hemp seeds, flax seeds, chia seeds, coconut and goji berries.
You can add it on top of smoothies, fruit or pretty much anything and it'll give you a big boost of fiber and omega threes.
I sprinkled some in with cottage cheese and fruit...so good! A serving size is 3 tablespoon and since the bag is 8 oz I can see this lasting for a long time.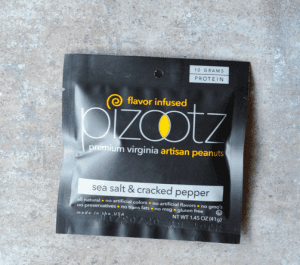 A plus to these peanuts is that they're individually portioned which really helps when you're cutting carbs. The flavor was interesting and I could definitely tell they were flavor infused, not just coated.
I didn't really care for the flavor, unfortunately. I found the pepper to be kind of overwhelming and just too much seasoning over all.
Their website lists all kinds of other flavors such as baja taco, habanero, dill pickle, buffalo and more. I'd definitely be up for trying those!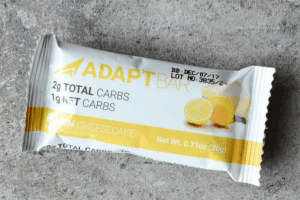 This was the product I was most excited for and most let down by. I LOVE lemon flavor and for a 1 net carb snack, this sounded amazing.
I found the flavor to just be way too protein powdery. Some of you don't mind that, but it was a turn off for me.
Considering this bar is also very small (about the length of my index finger) it didn't seem like a good enough trade off.

Who doesn't love chocolate? Even though raspberry wasn't my favorite flavor, I thought this chocolate was creamy, had flavor true to it's name.
It's 2 net carbs for the whole bar and it's sweetened with chicory root and erythritol, which the website claims as safe for diabetics/controlling blood sugar.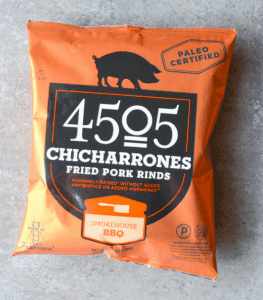 I really enjoyed these pork rinds. The first thing I noticed is how fresh they are. I mean, fluffy, no burnt hard pieces- just really pleasant texture.
The flavor is also delicious. I'd say this one was definitely on the spicy side, which I didn't expect from the name.
Absolutely would buy these regularly!
Also, they have a jalapeno cheddar flavor which I pretty much need to try immediately. Keto Krate had a huge win with this product.