This Keto Mashed Cauliflower is the perfect low carb side dish for a hearty meal. Whether that's a savory companion for your Thanksgiving Dinner, or a flavorful side for your baked Chicken Thighs!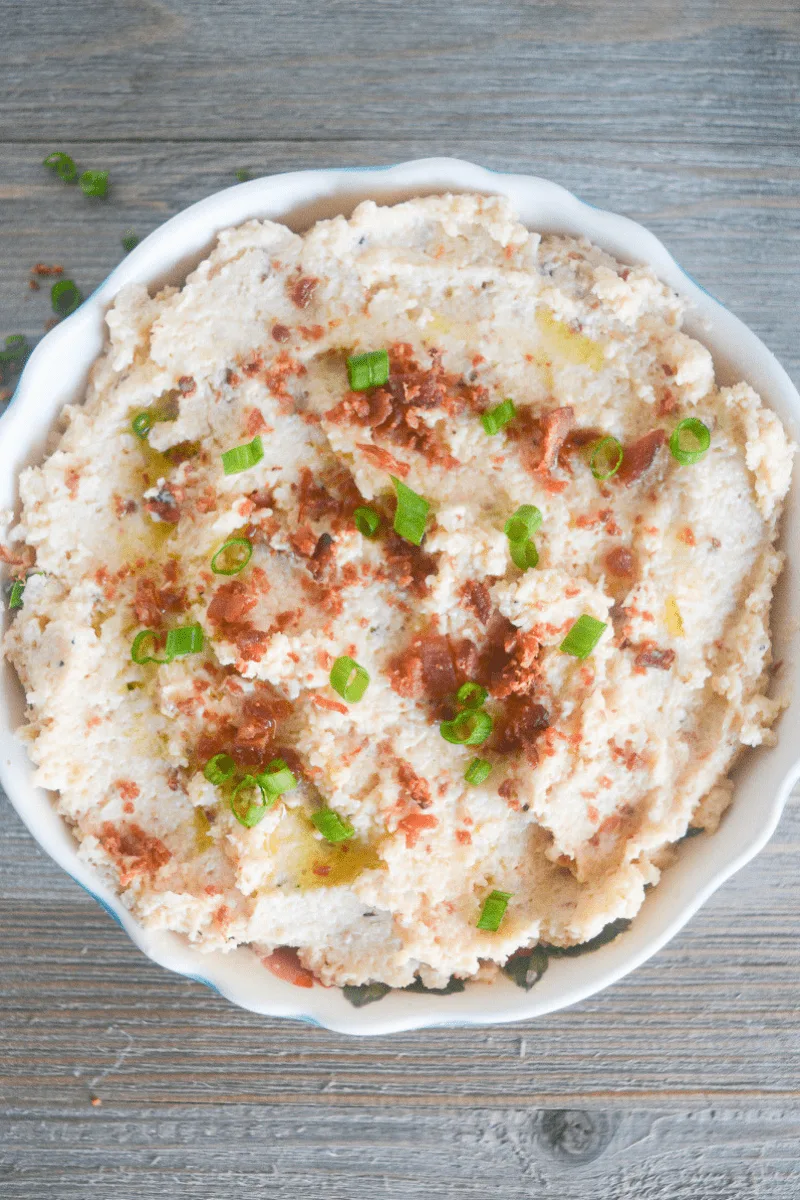 Thanksgiving is just a couple weeks away, and that means it's time to get your dinner table set. You might already have some classics set, like keto dinner rolls, and keto pumpkin pie cheesecake...but what about savory side dishes to make that turkey glow?
Enter Mashed Cauliflower....
Now let's be clear...these aren't mashed potatoes and they don't taste like mashed potatoes. But they're a creamy and delicious low carb alternative that's loaded with nutrients.
Keto Mashed Cauliflower

This recipe is unique because we roast the cauliflower before throwing it in the food processor. This makes for a richer flavor that begs you to come back for more...and more. The bacon on top doesn't hurt either!
The roasted cauliflower gives the mash a slightly sweet flavor which compliments the sharp cheddar for a more robust taste.
The mash is creamy and dense but the green onion brightens up the entire dish and gives you loaded baked potato flavors in a much lower carb way.
Cauliflower is a great vegetable to enjoy on the keto diet. One entire medium-sized head of cauliflower has about 17g net carbs, and 11g protein. It's often used as a potato substitute, which is what I did for my super delicious Loaded Cauliflower Bowl...but this gives you a more classic feel for a Thanksgiving favorite.
Keto Mashed Cauliflower Texture

Depending on your preference, you can make your cauliflower more like a mash or a puree. I personally prefer a mash because it has more texture and holds shape similar to mashed potatoes.
Roasting the cauliflower first made it tender but not mushy, as sometimes happens with boiling or steaming.
Normally when making cauliflower mash, I would just place all the ingredients into the food processor and turn it on until it was smooth and paste-like.
This method always tasted good but I wanted to try something different and develop the flavor more for a dish that could impress at Thanksgiving or Christmas.
For this recipe I found that pulsing the roasted cauliflower without any additional ingredients in the food processor gave me a better texture.
If you like more texture, try using a rubber spatula to test the texture as you pulse it.
Mine looked similar to small grains of cauliflower rice, rather than smooth.
Once I pressed into it with the spatula it smoothed out but was still fluffy since it wasn't over processed.
I folded the cheese mixture into it which kept it nice and fluffy before transferring to a serving dish.
Keto Mashed Cauliflower Nutrition
Here's what we're looking at for one serving (⅓ Cup). Remember...vegetables have carbs, so does cheese. If you're tracking your macros, you can adjust the serving size to best fit your goals.
Calories: 233.5 Calories
Total Carbs: 8.6g
Fiber: 3.1g
Net Carbs: 5.5g
Protein: 8.8g
Fat: 19.3g
And here's a more specific breakdown with the ingredients and amounts I used:
Here's how I made it!
Yield: 8 Servings
Keto Mashed Cauliflower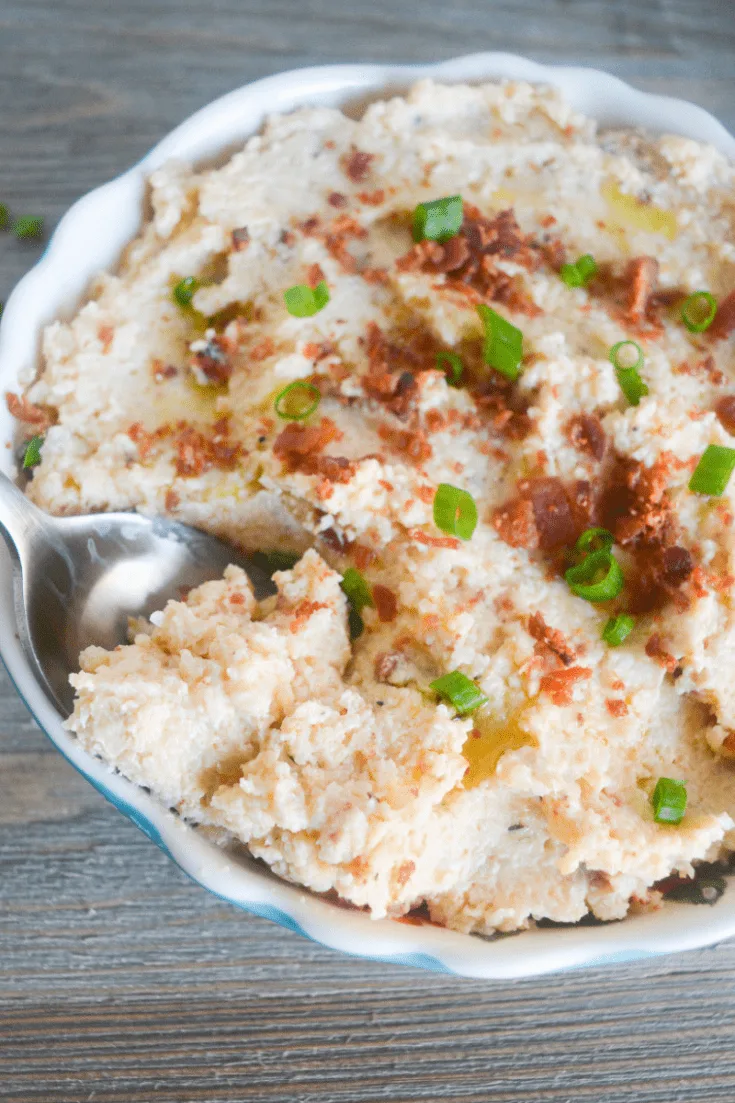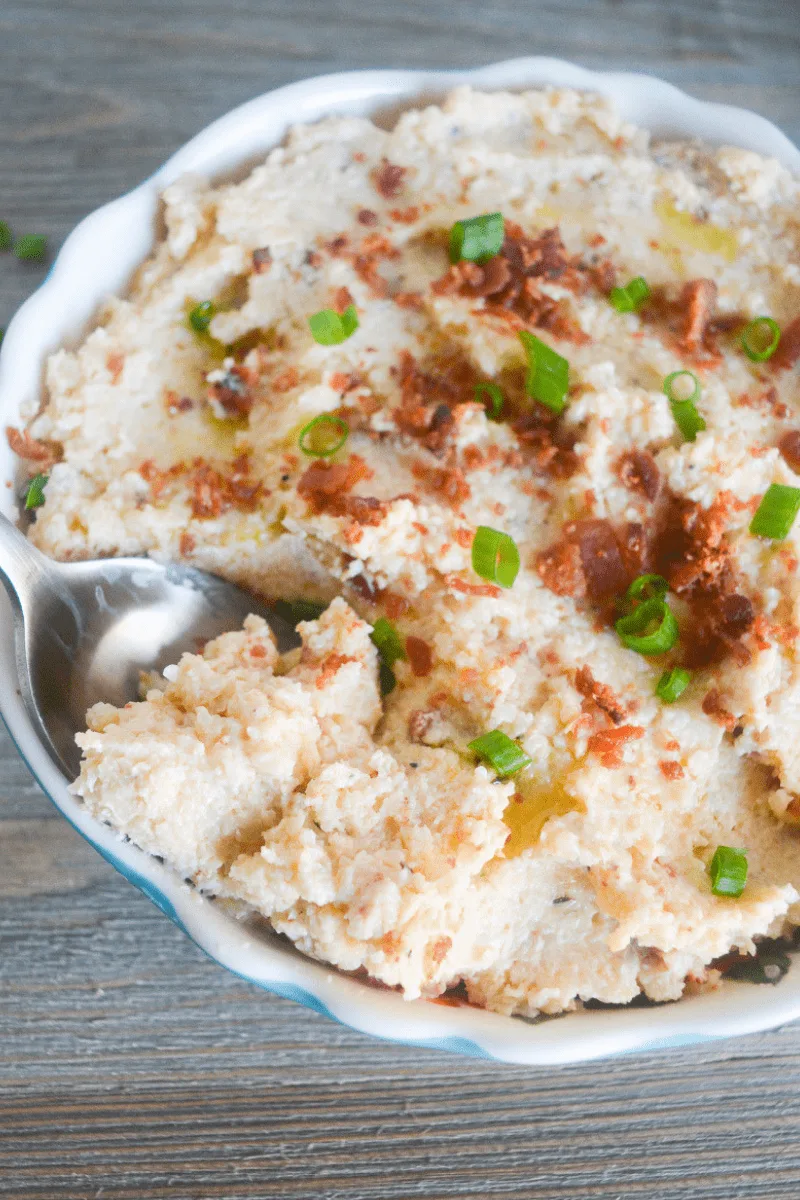 This Keto Mashed Cauliflower is the perfect low carb side dish for a hearty meal. Whether that's a savory companion for your Thanksgiving Dinner, or a flavorful side for your baked Chicken Thighs!
Ingredients
2 medium heads of cauliflower
2 tablespoons olive oil
Salt and Pepper, to taste
½ teaspoon garlic powder
¼ teaspoon onion powder
4 ounces cream cheese
2 tablespoons salted butter
¼ cup sour cream
1 cup sharp cheddar, shredded
4 slices cooked bacon, crumbled
1 stalk green onion, sliced
Instructions
Preheat the oven to 400 degrees. Line a large baking sheet with parchment. Cut the cauliflower into small florets and place onto the baking sheet. Drizzle with olive oil and sprinkle with salt, pepper, garlic powder and onion powder. Use your hands to toss the cauliflower to make sure it's all coated with the oil and seasonings.
Place cauliflower into single layer then put into the oven and bake for 25-30 minutes or until beginning to brown and tender. Stir the cauliflower half way through cooking.
Place the cauliflower into the food processor. Pulse for 45-60 seconds, scraping down the sides as necessary. Pulse less for a more textured mash, pulse more for a more puree-like consistency. *See note in post about texture
In a large bowl, break the cream cheese into pieces. Add the butter to the bowl and microwave for 30 seconds. Stir until smooth then add the sour cream and cheddar. Microwave for another 30 seconds until cheese is melted. Stir until smooth.
Add the cauliflower into the bowl with the cheese mixture and gently mix together until completely combined. Fold in bacon and green onion, reserving a little to garnish on top, if desired.
Transfer to serving dish and garnish. Serve warm.
Nutrition Information:
Yield:
8 Servings
Serving Size:
⅓ Cup
Amount Per Serving:
Calories:

233.5 Calories
Total Fat:

19.3g
Carbohydrates:

5.5 NETg
Fiber:

3.1g
Protein:

8.8g