This Keto Vanilla Pound Cake is an incredibly simple dessert with excellent macros and just the right amount of sweetness. It also stores very well, that is...if there are any leftovers!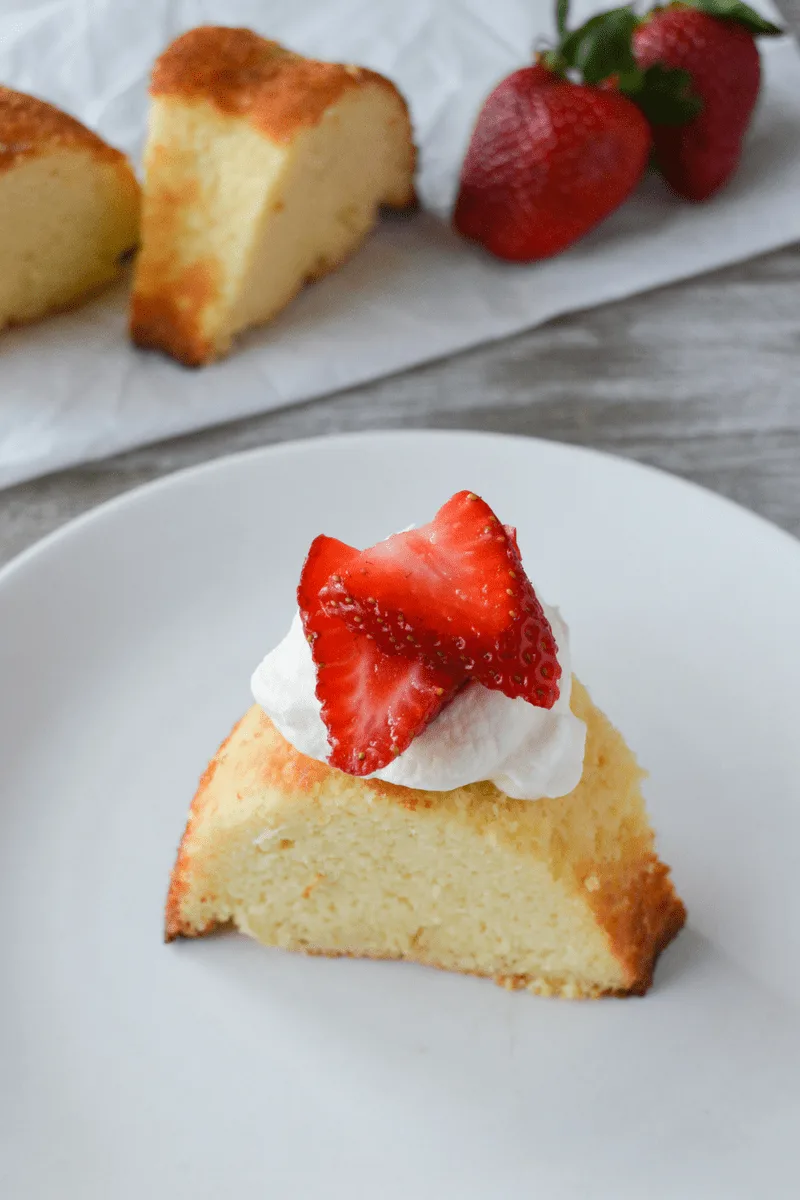 Pound Cake is a super simple dessert to get right when you're not enjoying a low carb diet. The ingredients are easy and they just work together. I didn't necessarily think that would be the case in the Keto world...until now!
If Pound Cake isn't your jam, or even if it is, be sure to check out some more of my delicious keto desserts!
Vanilla Pound Cake used to be a huge weakness for us, especially Joe. There was a particular kind that he would always look for at the grocery store, and when I say he loved that pound cake I mean, I was starting to get a little jealous of it myself!
Only joking...but he could definitely eat the entire thing by himself, and still want more. I know he'd be sick nowadays to know that an entire cake was 450 grams of carbs and 3,150 calories. That's absolutely insane looking back on it, but it's just an example of how much junk you can put in your body when you're not paying any attention.
Can you think of a similar indulgence from your high carb past life? For reference, one slice of Little Caesar's Pepperoni Pizza is 280 calories and 31g of carbs. Yep...I think most of us are guilty of a similar offense.
Keto Vanilla Pound Cake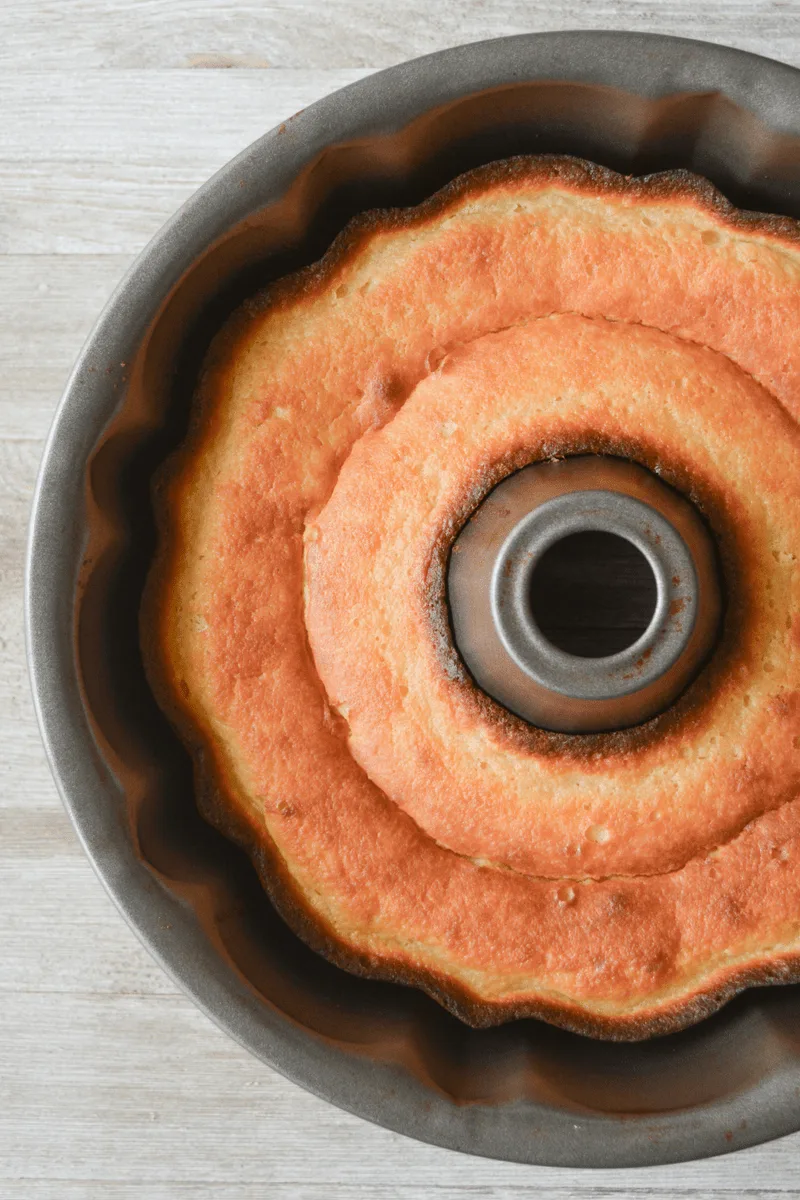 Anyway, I think we're both glad that the past is in the past, and the mindless binge eating is in no way productive to making our bodies feel good or reaching our goals.
And this Keto Vanilla Pound Cake has muuuch better macros:
Per 1 Slice (1/12 Bundt or 65 grams)
Calories: 249 Calories
Total Carbs (including erythritol): 23.23g
Fiber: 2g
Sugar Alcohols: 16g
Net Carbs: 5.23g
Protein: 7.67g
Fat: 20.67g
And the best part is, this cake is absolutely delicious, perfectly moist, and has that amazing outer crunch you look for in a good pound cake!
Here's how I made it!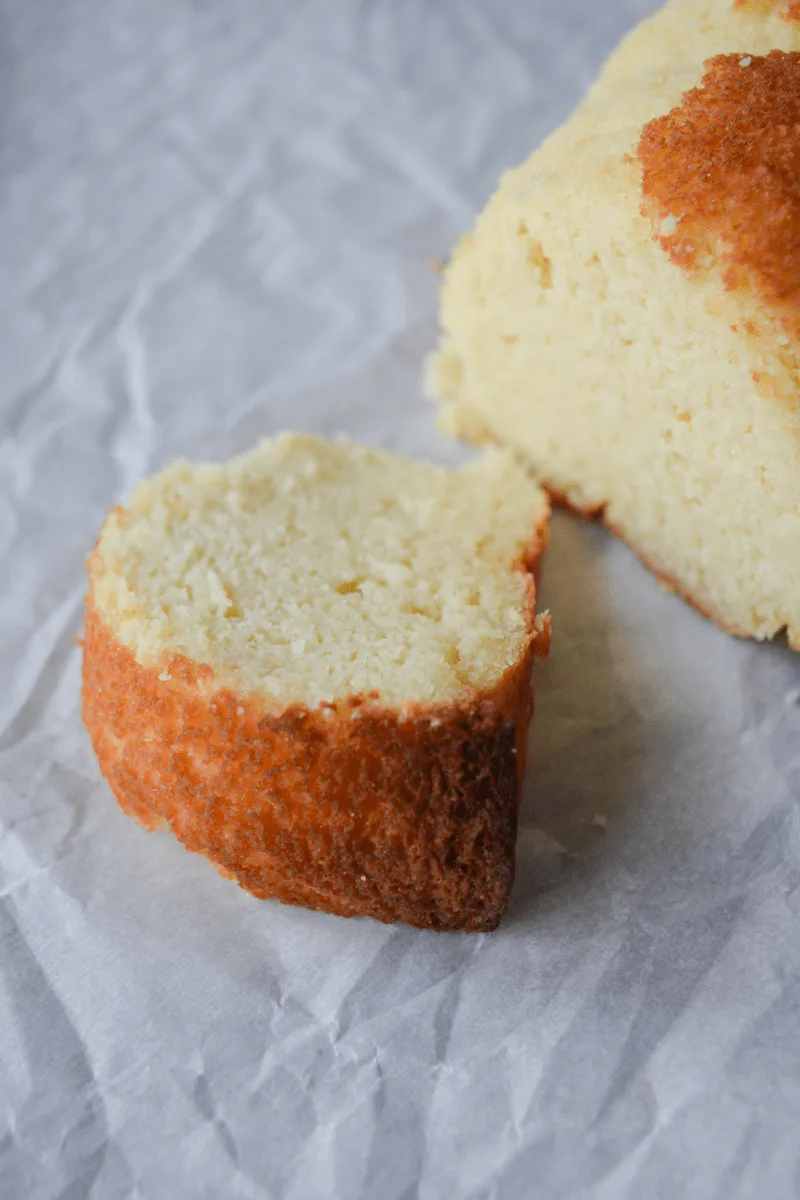 Yield: 12 Servings
Keto Vanilla Pound Cake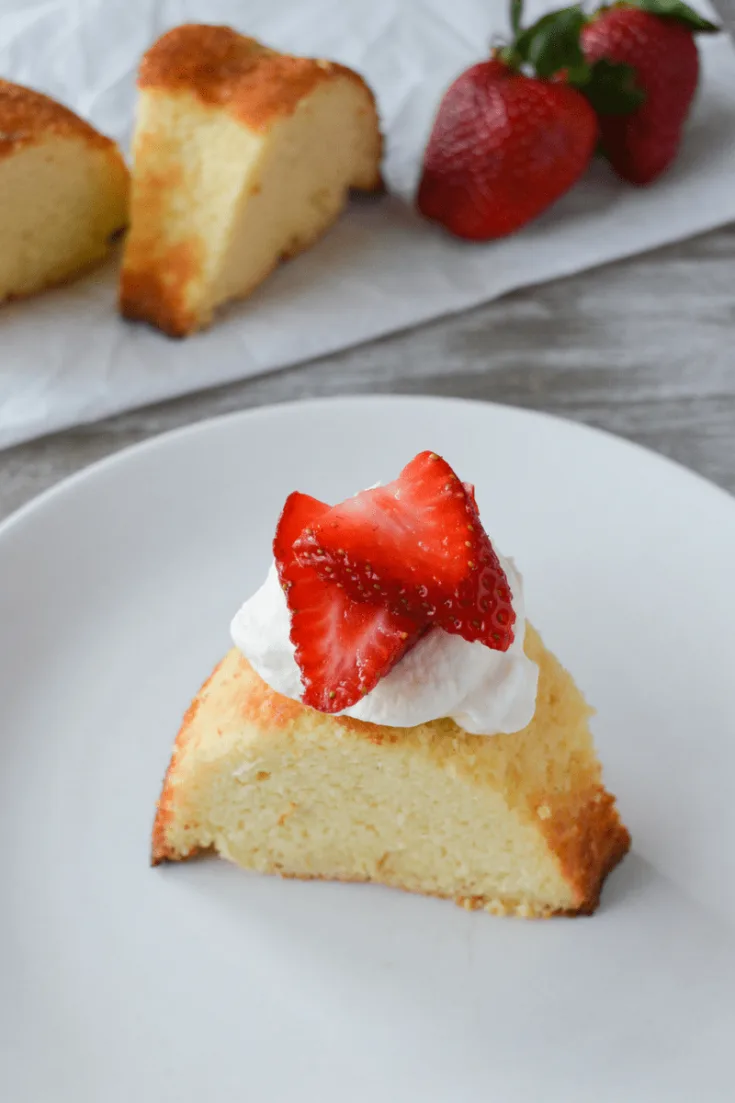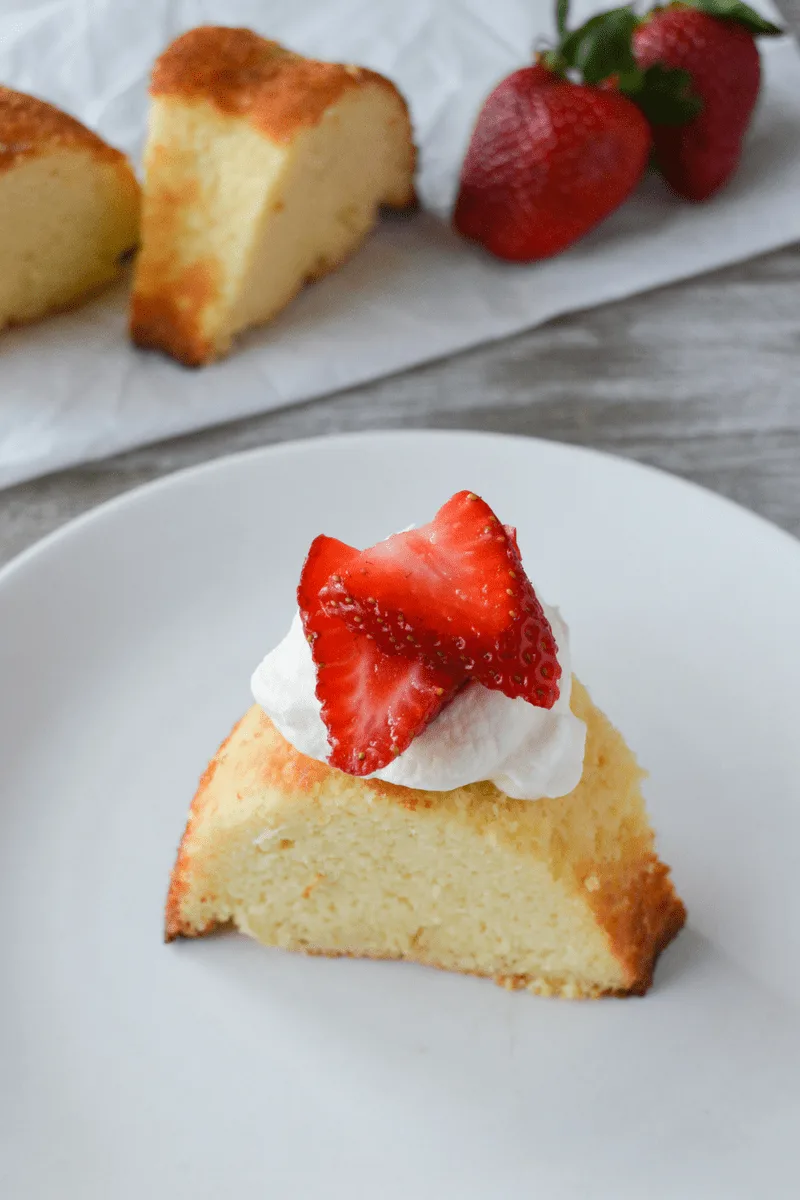 This Keto Vanilla Pound Cake is an incredibly simple dessert with excellent macros and just the right amount of sweetness. It also stores very well, that is...if there are any leftovers!
Total Time
1 hour
5 minutes
Ingredients
2 cups almond flour
½ cup butter
1 cup granular erythritol (Swerve)
2 teaspoon baking powder
1 teaspoon vanilla extract
1 cup sour cream
2 ounces cream cheese
4 large eggs
Instructions
Preheat oven to 350 degrees Fahrenheit
Generously butter a 9 inch bundt pan, set aside
Combine almond flour and baking powder in a large bowl, set aside
Cut butter into several small squares and put in separate bowl, add cream cheese
Microwave butter and cream cheese for 30 seconds. Be careful to not burn cream cheese. Stir these wet ingredients together until well combined.
Add erythritol, vanilla extract, and sour cream to butter and cream cheese mixture. Stir well.
Pour wet ingredients into large bowl of almond flour and baking powder. Stir well.
Add eggs to batter. Stir well.
Pour batter into buttered bundt pan, place in oven and bake for 50 minutes or until a toothpick placed in the cake comes out clean.
For best results, let cake cool completely for at least 2 hours, preferably overnight. If you remove it too soon, it may crumble a bit.
Notes
A toothpick should come out mostly clean, with just a few crumbs when the cake is done.
If it looks overly wet place it back in the oven in 5 minute intervals until cooked. It should bounce back when gently touched but may have a little jiggle. This is typical with almond flour desserts until completely cool.
The edges are going to start getting dark brown and looking burnt pretty quickly. They're not burnt. (see photo in post for reference)
You can make this vanilla pound cake with coconut flour, but I have not tried it and do not know the correct amounts.
You can easily half the recipe or alter the shape to make cupcakes or a loaf. You can also easily customize the flavor by adding strawberries or blueberries to the cake batter, or to the dish once it's done, like I've shown in the pictures (nutritional info does not include strawberries or whipped cream).
Please note that I am not a certified nutritionist. Any nutritional information that is discussed or disclosed in this post should only be seen as my best amateur estimates based on NET carbs. If nutrition is important to you, I highly encourage you to verify any data you see here with your favorite nutrition calculator.
Recommended Products
As an Amazon Associate and member of other affiliate programs, I earn from qualifying purchases.
Nutrition Information:
Yield:
12 Servings
Serving Size:
1 Piece (1/12 of cake or 65 grams)
Amount Per Serving:
Calories:

249
Total Fat:

20.67g
Carbohydrates:

5.23 NETg
Protein:

7.67g
You may also enjoy...