This loaded keto cauliflower bowl is a rich and flavorful, filling meal that will remind you of a baked potato!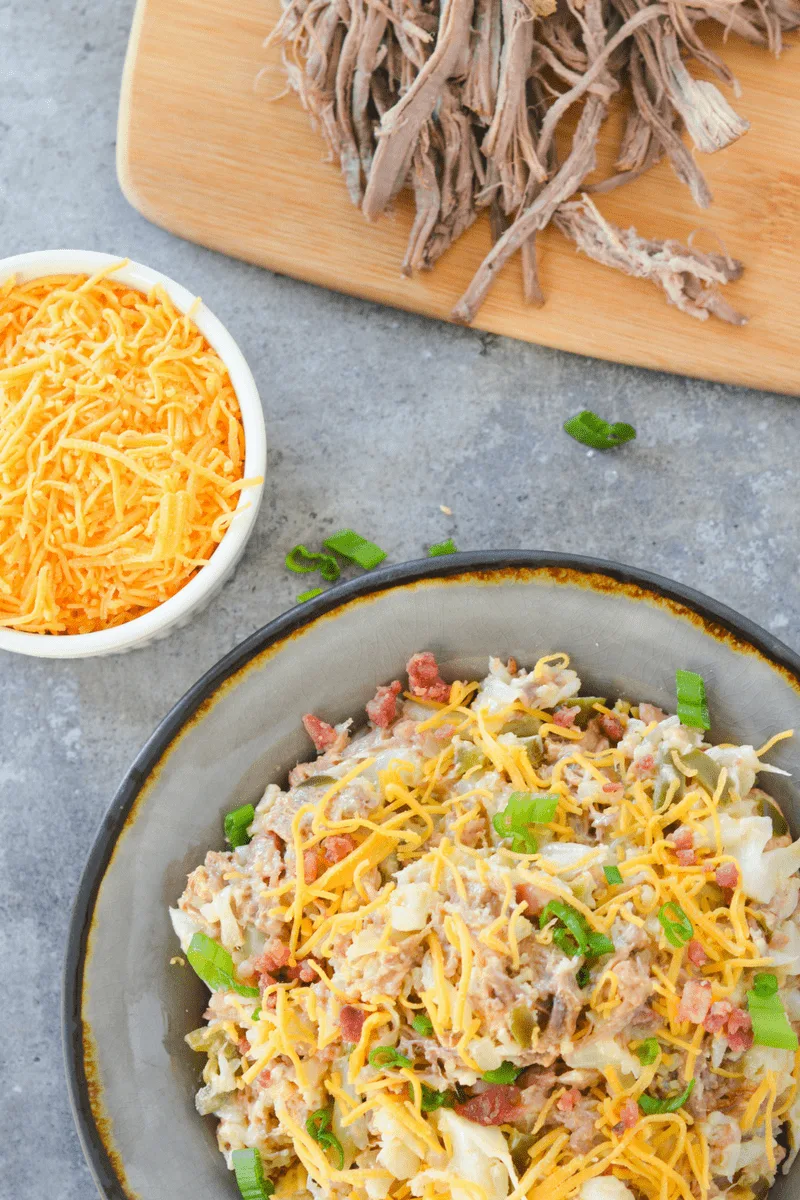 If you've been missing baked potatoes since starting your low carb lifestyle, this dish is for you!
I wasn't the biggest cauliflower fan at the beginning, and my husband definitely still isn't... it can be hard to get used to because even though lots of recipes are labeled "cauliflower mac and cheese" or "cauliflower wings" the nutritious vegetable isn't quite the same as the carby alternative.
In fact, I had to take down a recipe I did for buffalo cauliflower wings because it just didn't feel right...they weren't bad..but they weren't like wings at all!
One way to help you get over eating cauliflower, though, is to mask the flavor with lots of seasoned yummy-ness. That's what I did in my Keto Lasagna recipe. And it was totally delicious!
But this recipe is a game changer. Even if you've sworn off of cauliflower, this is the recipe to bring you back in.
Loaded Keto Cauliflower Bowl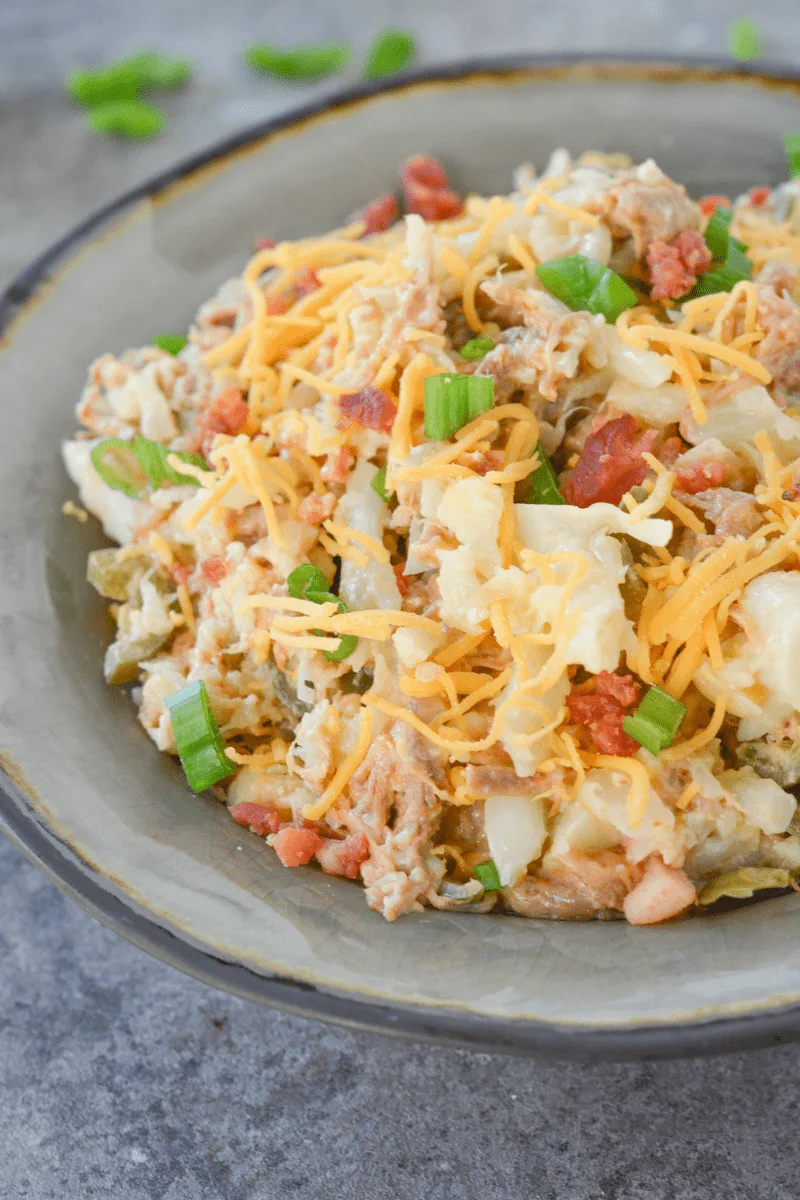 Especially as the weather starts to get colder, I'm reminded of how much I used to love a warm baked potato in the Fall...loaded with all of the fixings from bacon to sour cream and chives...
I can practically taste it!
But why practically taste it when you can get suuuper close to the flavor without all the carbs?
I used leftover brisket for this recipe, but you could easily swap that out for any shredded beef or chicken. It'll be just as delicious!
Just as a side note: one medium baked potato has 33 NET carbs. Yes, after the fiber is subtracted, one plain potato has more carbs than most Keto-ers eat in an entire day.
In comparison, here are the macros for this recipe...all loaded up (these are per serving and the recipe yields about 4 servings of 1 cup each):
Calories: 329
Total Carbs: 5g
Fiber: 2g
Net Carbs: 3g
Protein: 18g
Fat: 27g
See the difference?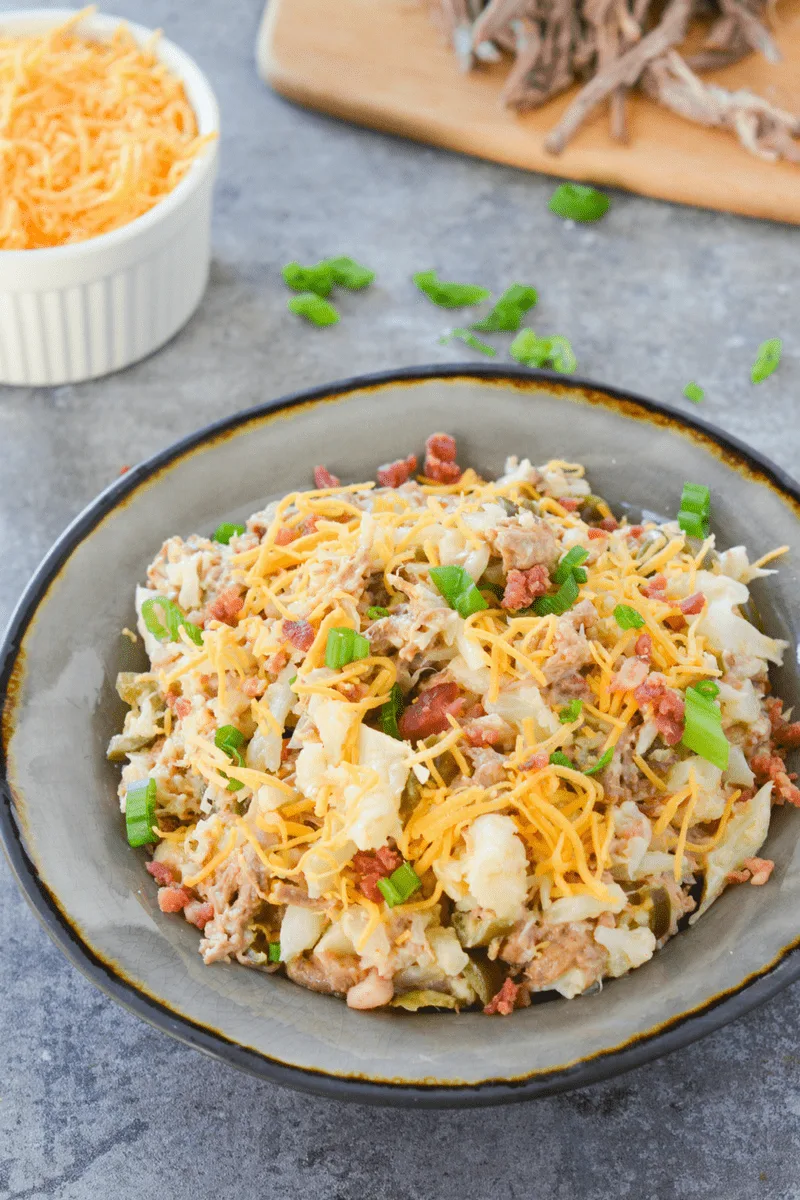 Print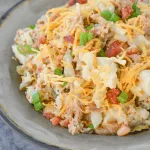 Loaded Keto Cauliflower Bowl
---
Author:

Yield:

4 Servings
Description
This instant pot loaded keto cauliflower bowl is a rich and flavorful, filling meal that will remind you of a baked potato!
---
2 cups fresh cauliflower
3 tablespoons butter
¼ cup diced onion
¼ cup pickled jalapeno slices
2 cups cooked brisket
2 ounces cream cheese, softened
1 cup shredded sharp cheddar
¼ cup heavy cream
¼ cup cooked crumbled bacon
2 tablespoons sliced green onions
---
Instructions
Chop cauliflower into bite size pieces. Steam or cook via favorite method until fork tender and set side.
Set heat to medium and add butter, onion, and jalapeno slices to skillet. Saute until onions translucent and fragrant.
Reduce heat slightly and add cooked brisket [or choice of leftover beef/chicken] and cream cheese.If mixture begins to stick or cook too quickly, reduce heat a bit. Continue cooking until cream cheese is heated through and easily stirred.
Turn off heat. Add sharp cheddar, heavy cream and cauliflower. Stir mixture quickly until all cheeses are melted and fully combined.
Sprinkle with crumbled bacon, green onions. Serve warm.
Notes
Feel free to substitute chicken or other shredded beef as your meat.
I did not remove excess moisture from the cauliflower because I steamed it. The slight bit of added moisture from this is necessary to the dish. If you boil your cauliflower, you may find it helpful to remove part of the excess water by using a towel or cheesecloth but do not dry it out completely.
Please note that I am not a certified nutritionist. Any nutritional information that is discussed or disclosed in this post should only be seen as my best amateur estimates based on NET carbs. If nutrition is important to you, I highly encourage you to verify any data you see here with your favorite nutrition calculator.
Nutrition
Serving Size:

~ 1 Cup

Calories:

329 Calories

Fat:

27g

Carbohydrates:

5g Total, 3g Net

Fiber:

2g

Protein:

18g
You may also enjoy...