This creamy cauliflower mac and cheese is a delicious grain free alternative to traditional mac and cheese the whole family will enjoy!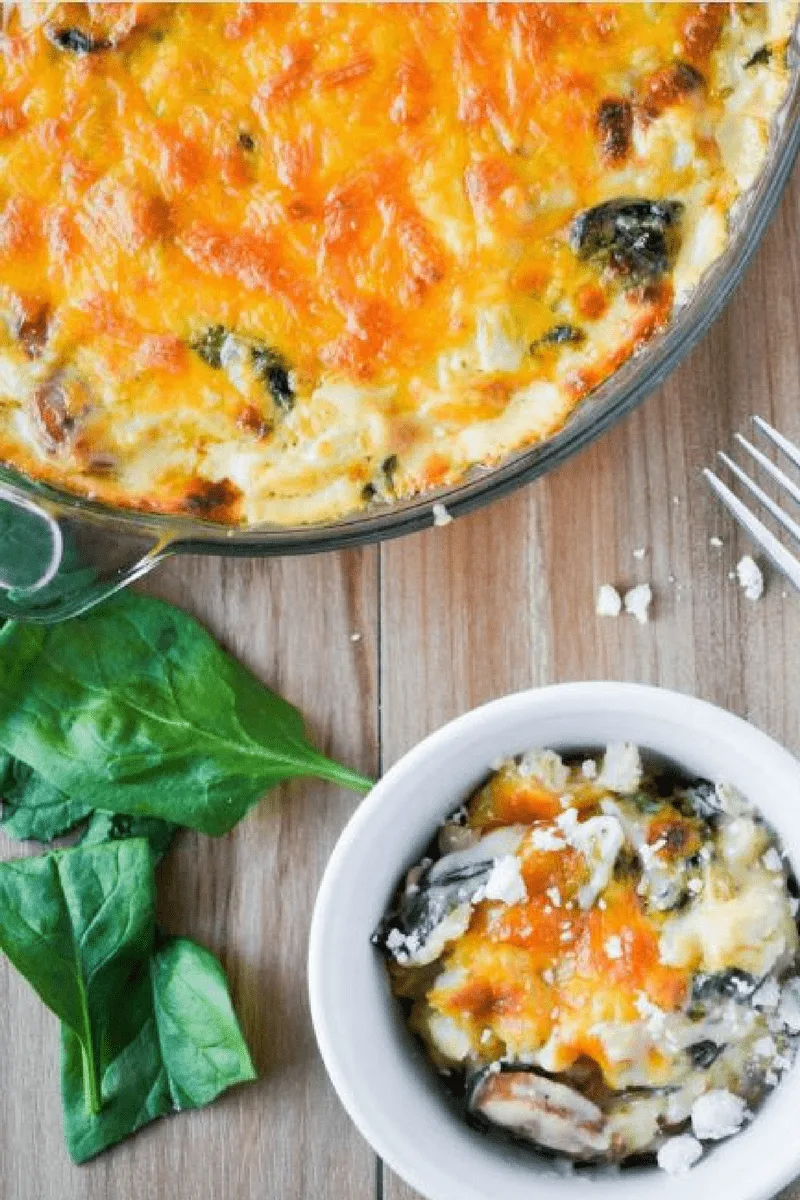 Get ready to fall in love.
If you've never tried cauliflower mac and cheese you are definitely missing out.
It's rich, creamy and the perfect indulgent comfort food.
If you're not sure about the cauliflower, trust me, it's life changing!
Before going keto/low carb, traditional mac and cheese was a favorite in our home. And honestly with a swap this genius we don't even miss the pasta.
Cauliflower was never a favorite of mine until recently. I think it's easy to dismiss foods you don't think you like because you haven't eaten them in a long time or never had them in a form you enjoy.
Lately I've been experimenting with cauliflower and trying to find a recipe I like since so many people seem to love it.
Putting cheese on anything will usually do the trick and that was definitely the case this time.
Cauliflower Mac and Cheese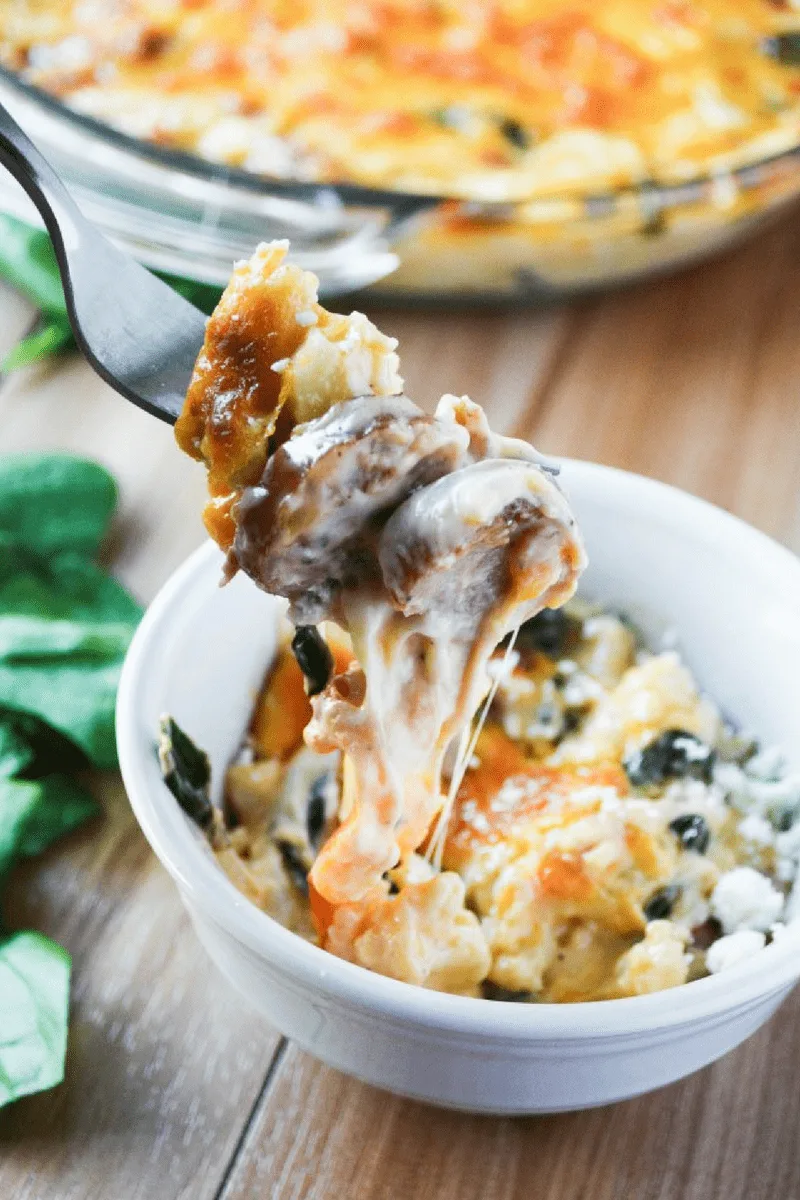 The most important thing in this recipe
is to wring out the cauliflower as much as possible.
If you leave too much water in, it's gonna taste soggy and no one likes mushy mac and cheese.
I've found that the more dry you can get the cauliflower the less it tastes like, well...cauliflower.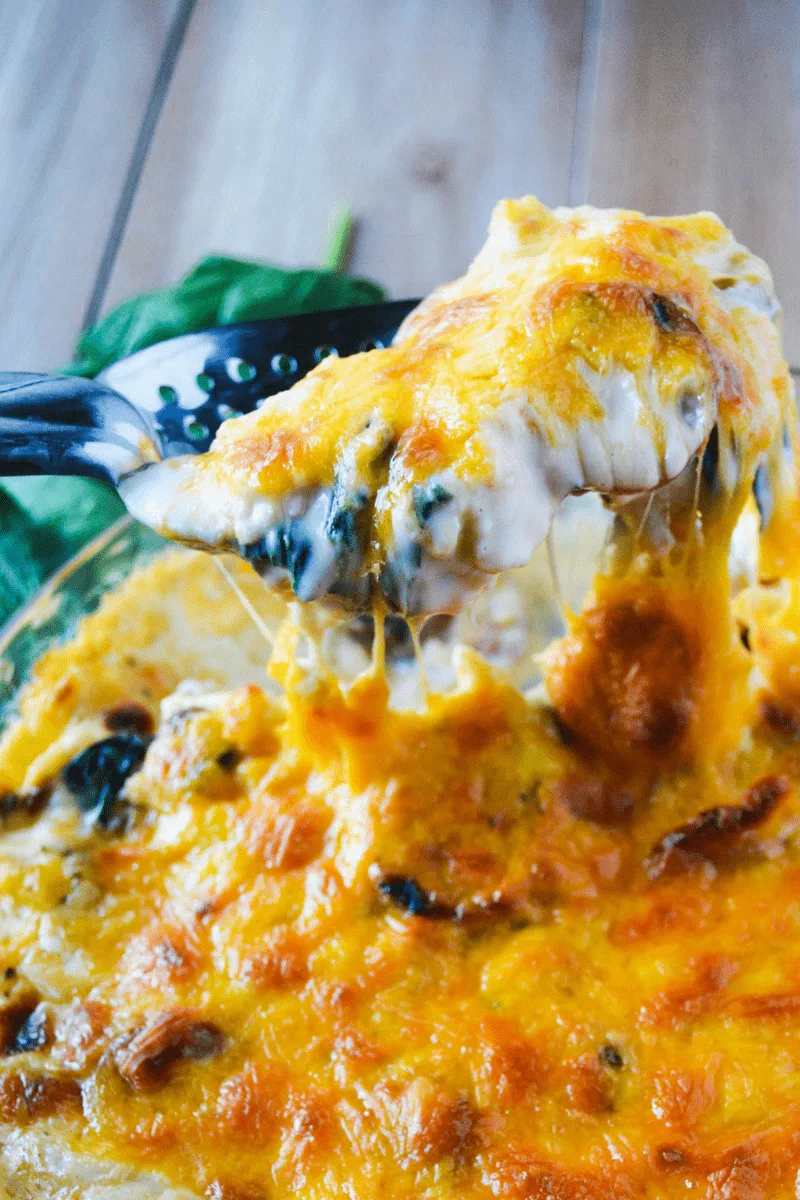 Other than that, it's very simple.
You don't even have to make a roux with flour for this cauliflower mac and cheese.
It's similar to making creamed spinach, just cheese, cheese and more cheese!
I used a mixture of cheddar, cream cheese and muenster for this dish.
I typically just use cheddar and cream cheese, but I found the muenster gave it a bit more depth and creaminess.
To fill the dish out more as a meal I added sliced jalapeno sausage and spinach.
It's super rich, so a big side salad is a great addition to this meal.
It's definitely a comfort food with a twist for me that I can't wait to make for my family again.
Yield: 6 Servings
Cauliflower Mac and Cheese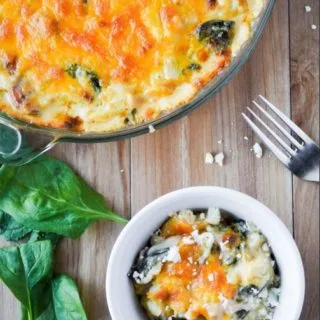 This creamy cauliflower mac and cheese is a delicious grain free alternative to traditional mac and cheese the whole family will enjoy!flower mac and cheese
Ingredients
1.5 pounds frozen cauliflower
½ medium onion, diced
¾ cup heavy cream
3 oz cream cheese
1 teaspoon dijon mustard
½ cup muenster cheese, cubed
1 ½ cup cheddar, shredded
1 cup fresh spinach
2 sausage links, sliced and browned
1 teaspoon seasoned salt
½ teaspoon black pepper
¼ teaspoon fresh garlic, minced
2 teaspoon olive oil
Instructions
Preheat oven to 375 degrees
Steam or boil cauliflower until crisp-tender, drain
Remove excess water by squeezing cauliflower in towel or patting out moisture, set aside
In sauce pan over medium heat add olive oil and saute onions until softened
Add heavy cream to pan, lower heat and bring to simmer
Break cream cheese into small pieces and add to pan stirring quickly
Add fresh spinach, sausage, mustard and fresh garlic, pepper and salt to sauce pan
Once all cream cheese is smooth, remove pan from heat
Combine cream mixture with muenster cheese and 1 cup cheddar
Stir quickly with spatula until smooth and add cauliflower
Place into 8x8 baking dish and top with remaining ½ cup cheddar
Bake at 375 for 15-20 minutes until boiling and cheese is brown
Nutrition Information:
Serving Size:
⅙ of Recipe
Amount Per Serving:
Calories:

445
Total Fat:

37.4g
Carbohydrates:

10.4g
Net Carbohydrates:

7.15g
Fiber:

3.25g
Protein:

18.9g
wp-tasty/tasty-recipe {"id":1540