These easy keto salmon cakes are a fun and flavorful low carb meal without any hassle. Great for quick lunches and easy meal prep!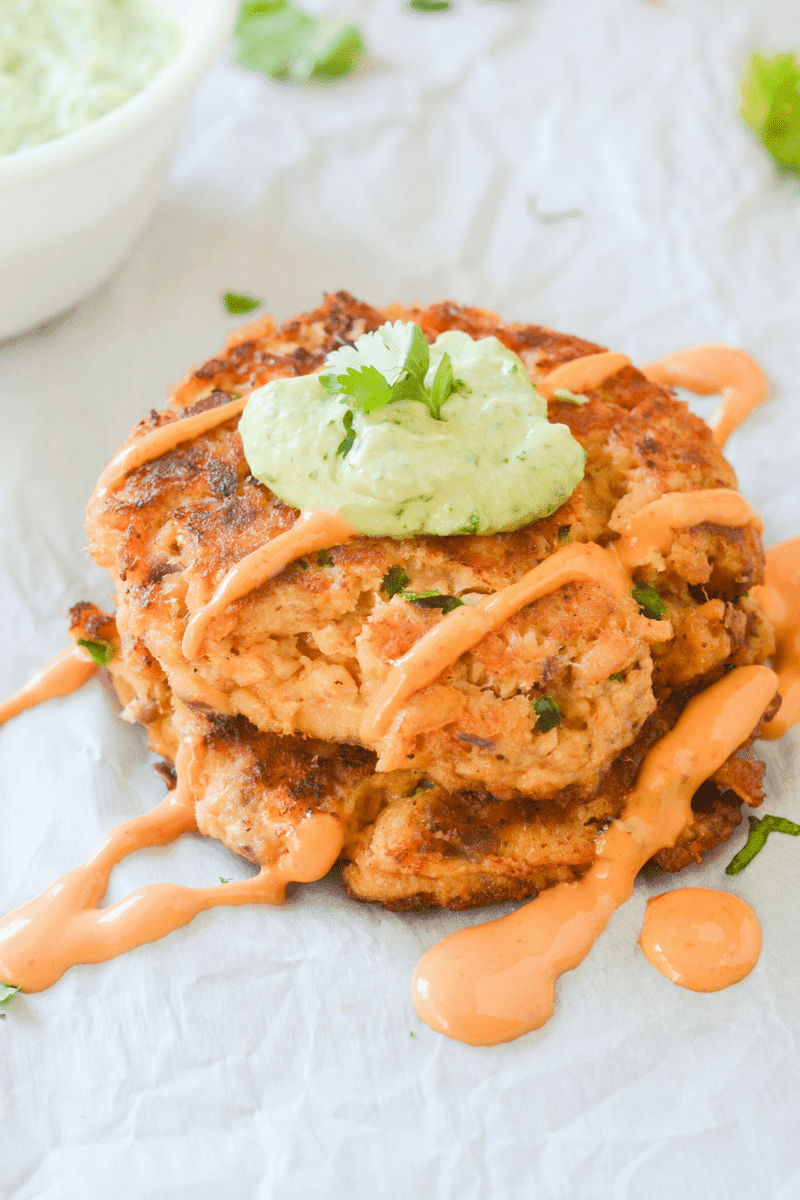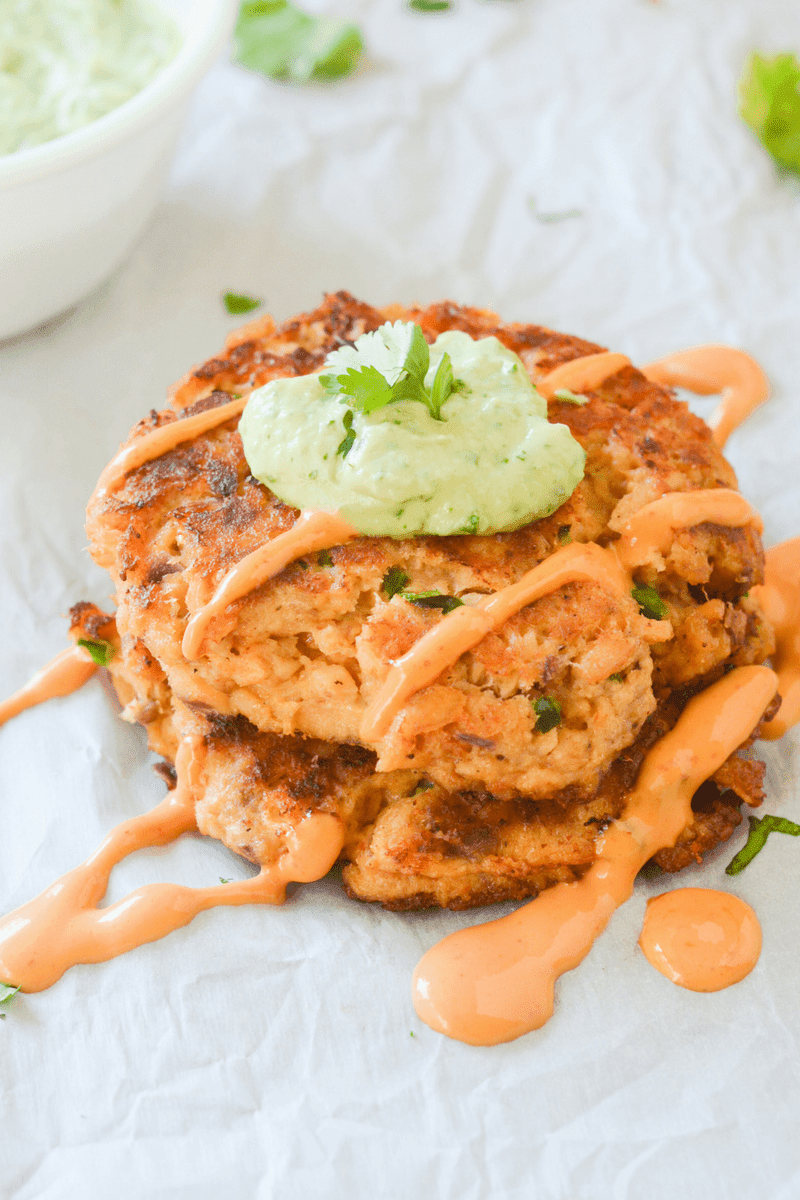 I've never been a big fan of seafood, but I do love salmon.
It tastes great. It's really good for you, and it's really quick to make.
I've recently decided to break my habit of not really trying new things by committing to one recipe a week that I wouldn't make otherwise.
These salmon cakes are crazy fast to make (less than 15 minutes, y'all!) and they're great for storing in the fridge for eating later.
Easy meal prep for the win!
Easy Keto Salmon Cakes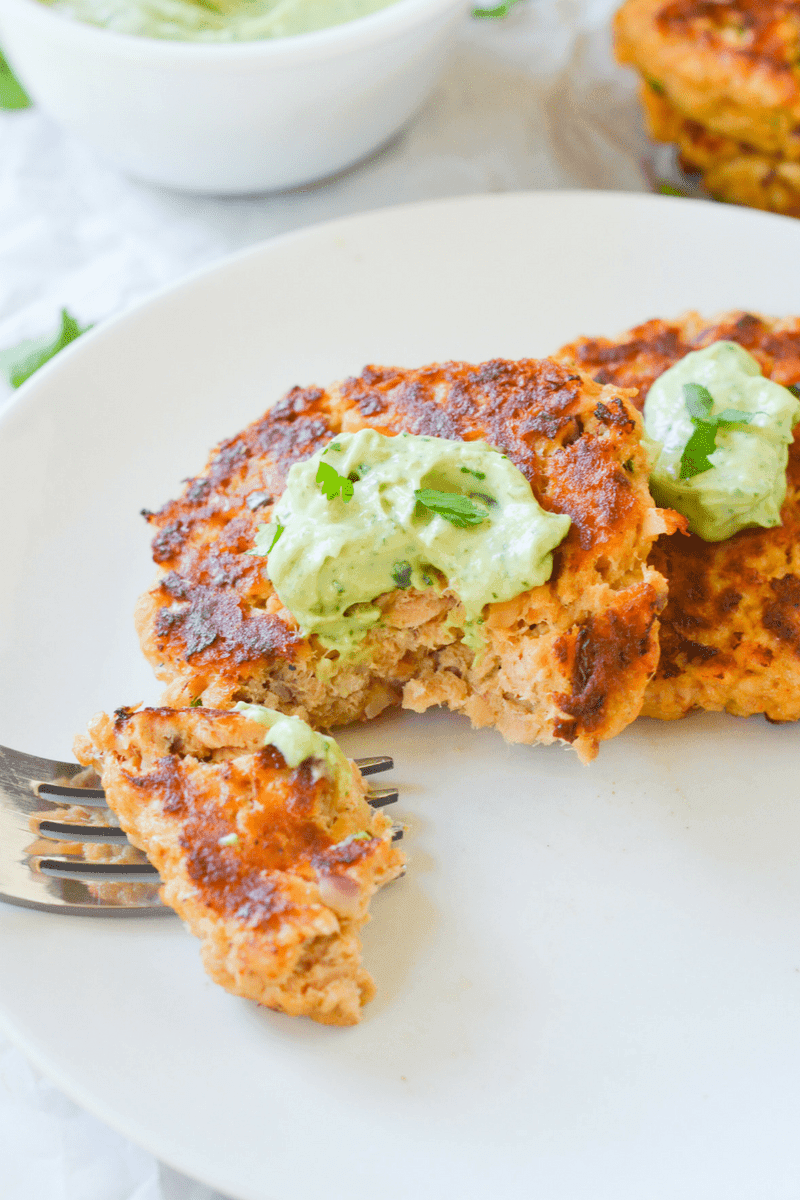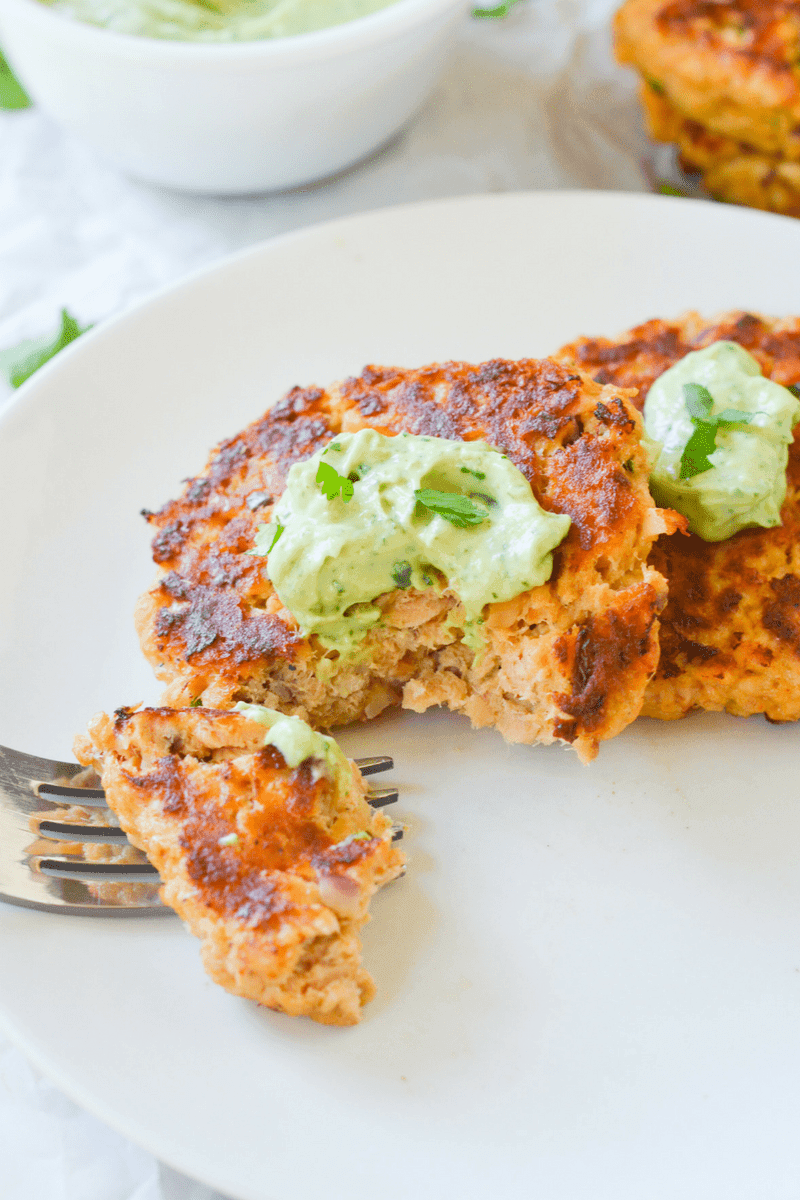 One major key to this recipe's success is the INCREDIBLE Sarayo sauce (affiliate). I used to make my own, and regularly would for recipes like these 5 Minute Spicy Tuna Rolls, but when I got the Sarayo in this month's Keto Krate (affiliate) the game was changed forever.
Another star of the recipe is the yummy avocado creama that it's topped with. This adds a delicious and nutritious freshness while upping the fat content of the meal.
One note about this recipe: you can use fresh salmon, and cook that, but it's not a huge deal for me. I often go for ease, accessibility and convenience over wild caught, free range. You do you!
Here's how to make the easy keto salmon cakes!
Print
Easy Keto Salmon Cakes
Ingredients
Two 5 oz pouch of pink salmon (or cans, drained well)
1 egg
1/4 cup finely ground pork rinds (optional, but helps)
1/2 jalapeno, finely chopped
2 tbsp sarayo (or plain mayo)
2 tbsp finely diced red onion
1/4 tsp garlic powder
1/4 tsp chili powder
Salt and pepper to taste
1 tbsp oil
avocado cream sauce
1 avocado
1/4 cup sour cream
3 tbsp cilantro
1-2 tbsp avocado oil (to thin)
1-2 tsp Water, to desired thickness
Juice of half lemon
Salt, pepper to taste
Instructions
In large bowl mix salmon, egg, jalapeno, sarayo, red onion, ground pork rinds and seasoning
Form patties with mixture (4 large or 5-6 small)
In non stick skillet, drizzle oil and cook patties over medium heat 4-5 minutes until each side is golden brown and crispy
avocado sauce
Blend all ingredients in food processor until smooth
Serve salmon cakes hot with avocado sauce and extra drizzle of sarayo