These Keto Chocolate Peanut Butter Fudge Bars are an easy to make indulgence that will satisfy your sweet tooth in a guilt free way.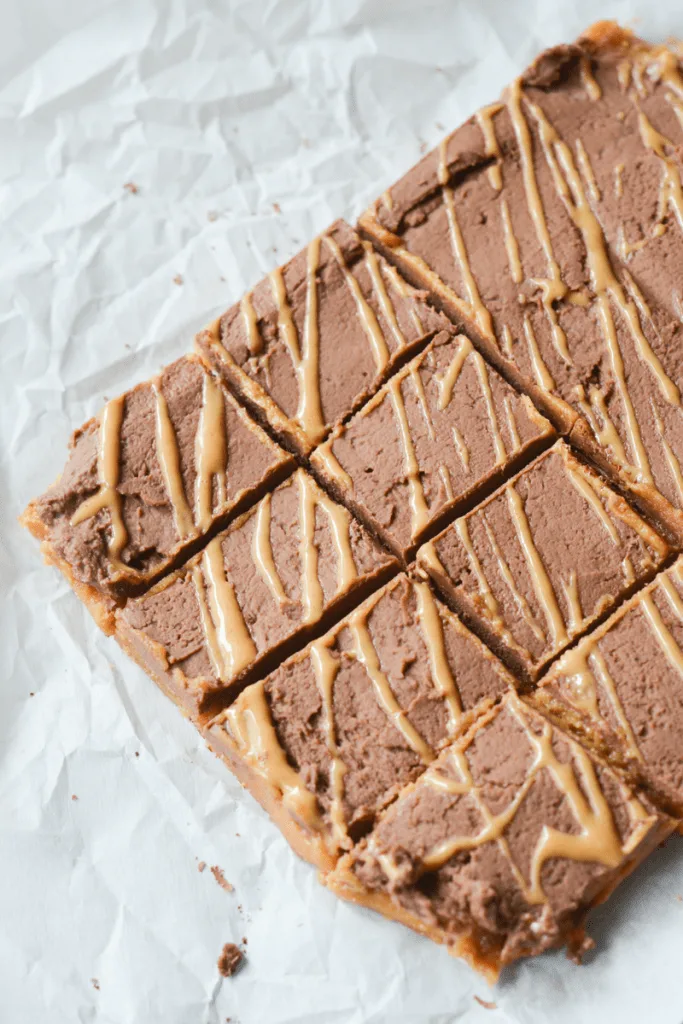 Alright, who needs a treat?
This has been a loooong week, not bad...just long, and I could definitely use a fun dessert and a nap. Especially because it's been pouring rain for the past couple of days and that's my favorite sleepy weather!
Anyway, in the spirit of the mood, I have a really easy dessert for you that can be made quickly with the keto staples you probably already have in your pantry!
One of the best things about this recipe is that it doesn't taste healthy. Sometimes you just need that, you know? It tastes indulgent, it tastes sweet...
It almost tastes wrong!
But it's not! It's Keto-friendly, and very easy to make. Best part is there are only 2.4 net carbs per piece.
So it's definitely a SOMETIMES treat (just like my Peanut Butter Cheesecake Bites). Don't go all out...it might be tempting, but control yourself 🙂
One important note about Peanut Butter: although it's completely delicious, you should remember to only buy natural peanut butter with a maximum of two ingredients: peanuts and salt. I know some people choose to avoid peanut butter altogether. If that's you, just use almond butter instead...it'll be just as tasty!
If you've been tracking your nutrition on Keto for any amount of time you know that companies can be VERY tricky with their labels and cram hidden carbs in there without you really knowing.
Check. The. Labels.
How To Make Keto Chocolate Peanut Butter Fudge Bars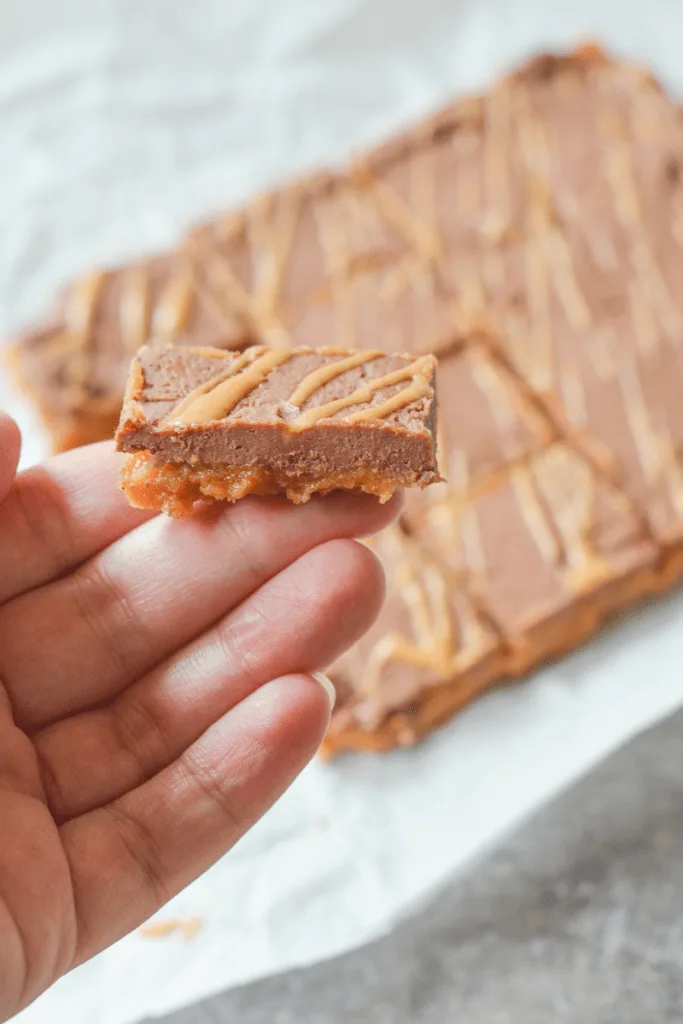 All you'll need for this recipe is peanut butter, heavy whipping cream, a Bakers chocolate bar, cream cheese, butter, and powdered erythritol (I love to use Swerve).
After just a little mixing you can just pop it in the freezer to harden before sinking your teeth into your new favorite keto dessert!
Print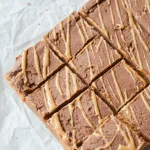 Keto Chocolate Peanut Butter Fudge Bars
---
Peanut Butter Layer
1 Cup

Natural Peanut Butter

¼ Cup

Powdered Swerve

½ Cup

Heavy Whipping Cream
Chocolate Layer
4 Tbsp

Butter

¼ Cup

Cream Cheese

1 oz

Bakers Chocolate, chopped

¾ Cup

Powdered Erythritol
---
Instructions
Mix Peanut Butter, Heavy Whipping Cream, and ¼ Cup Powdered Swerve in a medium bowl and set aside
In a Medium Bowl, Microwave the Cream Cheese and Butter for 20 seconds, remove and stir
Add Baker's Chocolate and erythritol to cream cheese mixture, and microwave for an additional 20 seconds
Stir until all chocolate is melted
Press the Peanut Butter Layer into the bottom of an 8x8 dish lined with parchment
Top with Chocolate Layer
Optional: Mix 1 tablespoon of Peanut Butter with a few drops of coconut oil to drizzle on top
Refrigerate for at least 30 minutes
Notes
Please note that I am not a certified nutritionist. Any nutritional information that is discussed or disclosed in this post should only be seen as my best amateur estimates based on NET carbs. If nutrition is important to you, I highly encourage you to verify any data you see here with your favorite nutrition calculator.
Nutrition
Serving Size:

1 Square

Calories:

157

Fat:

14

Carbohydrates:

2.4

Fiber:

5