This Keto Crustless Quiche Lorraine might just become your family's new favorite egg-based dish. Creamy and flavorful, it's hard to just eat one slice of this divine low carb dish!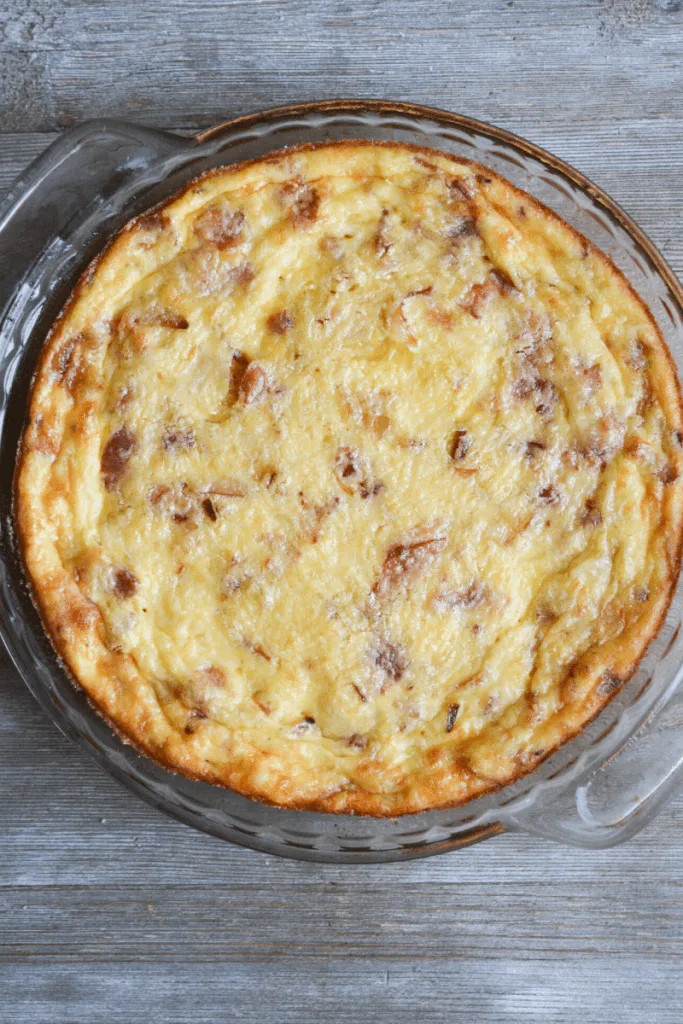 This is my absolute favorite quiche recipe! It's creamy, easy and delicious, and just loaded with savory flavor. Even better, with consideration to your caloric/macronutrient goals, not having a crust allows you to enjoy even more of it!
This recipe comes from my new book, Keto Comfort Foods: 100 Keto-Friendly Recipes for Your Comfort Food Favorites! It's a great resource for anyone looking for low carb replacements to some of your favorite foods. There's even an entire chapter just for pizza!
Try another great recipe from Keto Comfort Foods, my Keto Cheeseburger Helper!
Is this a breakfast quiche?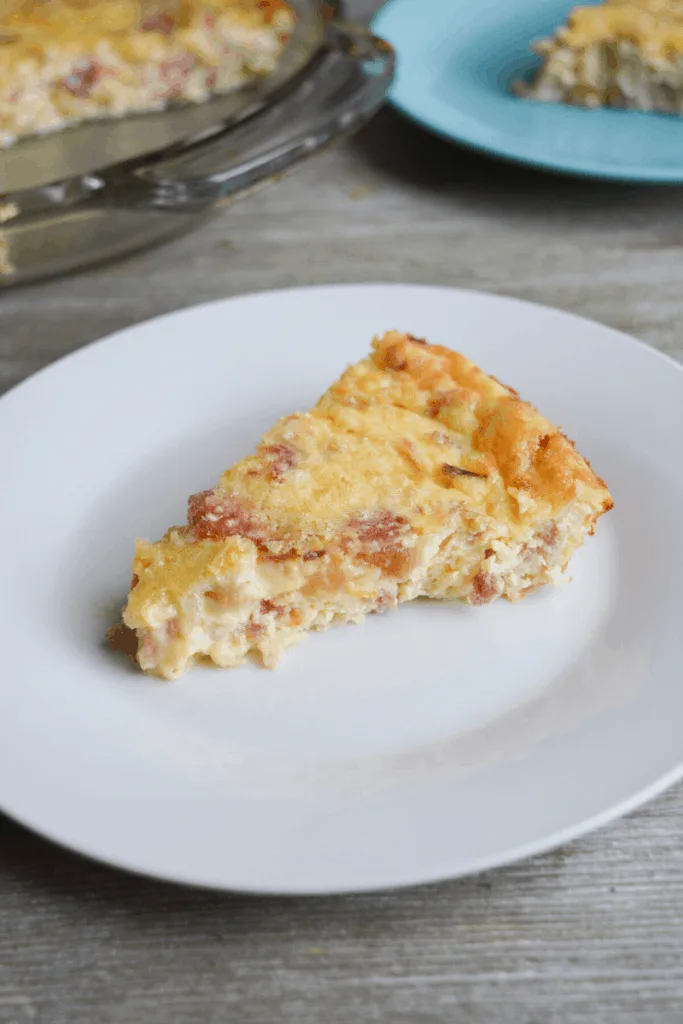 This Quiche Lorraine can be eaten any time of day, but it does make an excellent keto breakfast. It contains the traditional ingredients of cream, eggs, onion, swiss cheese, and bacon. This combination is mind-blowingly good, and a definite must-try if you're looking to switch up your routine.
Also, if you're not ready to fully embrace the crustless quiche by ditching the crust completely, you can search some really great keto crust options, like this pepperoni pizza quiche with a crust from Ruled.Me!
How many carbs are in this crustless quiche lorraine?
The best indicators of a great recipe for me (besides taste of course) are how easy it is to make, and how good the nutrition info looks. I think you'll be very pleased with both!

For one serving of this dish (⅙ of the pan) you're looking at:

Calories: 353 Calories
Total Carbs: 3g
Fiber: 0g
Net Carbs: 3g
Protein: 17g
Fat: 29g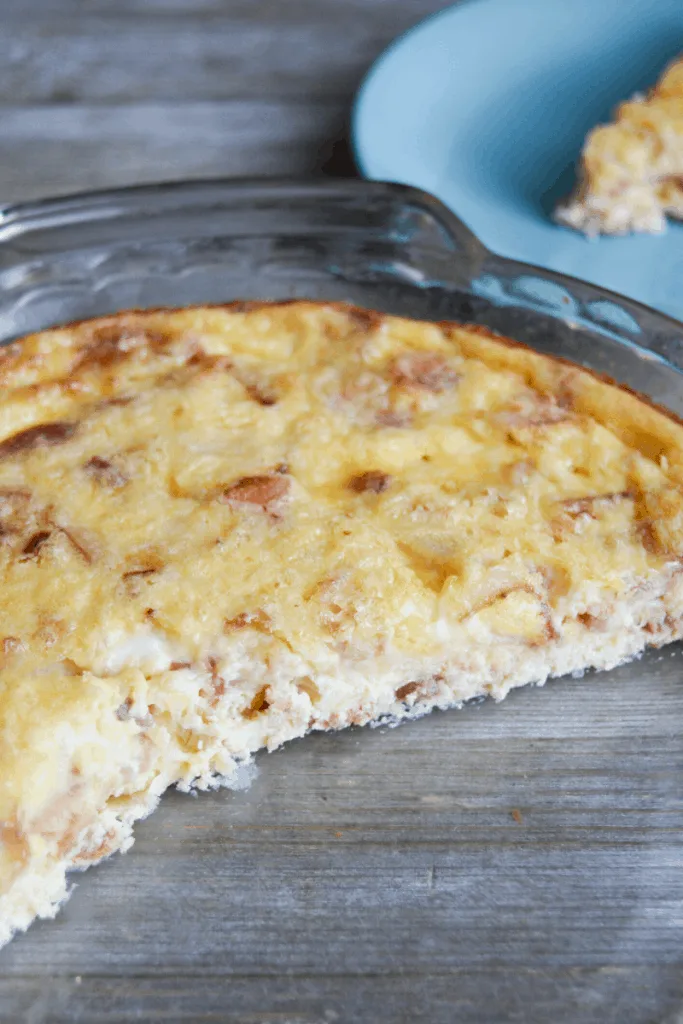 Yield: 6 Servings
Keto Crustless Quiche Lorraine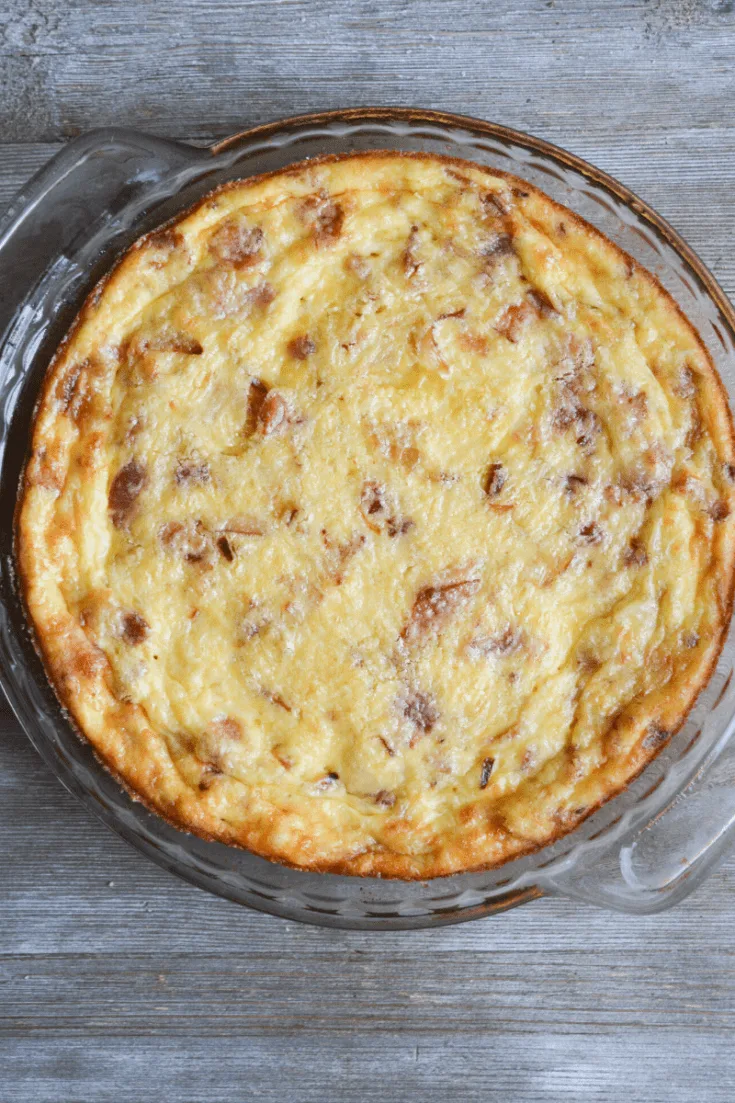 This breakfast casserole is so full of savory flavor that you won't even miss the usual crust. The eggs are fluffier and creamier than you would expect with a frittata. With only a few simple ingredients, this filling dish is the perfect meal to prep the night before and pop in the oven when you get up in the morning.
Ingredients
2 tablespoons salted butter
½ medium yellow onion, peeled and diced
1 clove garlic, peeled and finely minced
8 slices bacon
6 large eggs
¾ cup heavy whipping cream
½ cup shredded Swiss cheese
½ cup shredded Monterey Jack cheese
Instructions
Preheat the oven to 375 degrees Fahrenheit.
In a medium skillet over medium heat, melt butter, then add onion and saute until it begins to caramelize and become fragrant (about 15 minutes). Add garlic and saute for 30 seconds. Transfer onion and garlic to a large mixing bowl.
Replace the pan over the heat and add bacon. Fry until crispy, about 10-12 minutes. Place bacon on paper towels to absorb the excess grease.
Crack open eggs into the bowl with the onion and garlic, then pour in heavy whipping cream. Whisk together until fully combined.
Crumble bacon into the bowl, then add the cheeses and mix. Pour the mixture into a round 9-inch pie dish or similarly sized pan. Bake for 20 minutes. When done, the egg mixture should be set, but not overly firm. Let cool for 15 minutes before slicing and serving.
Nutrition Information:
Serving Size:
⅙ of pan
Amount Per Serving:
Calories:

353
Total Fat:

29g
Carbohydrates:

3g
Net Carbohydrates:

3g
Fiber:

0g
Protein:

17g