This keto chicken pot pie is a filling and satisfying low carb spin on a comfort food classic!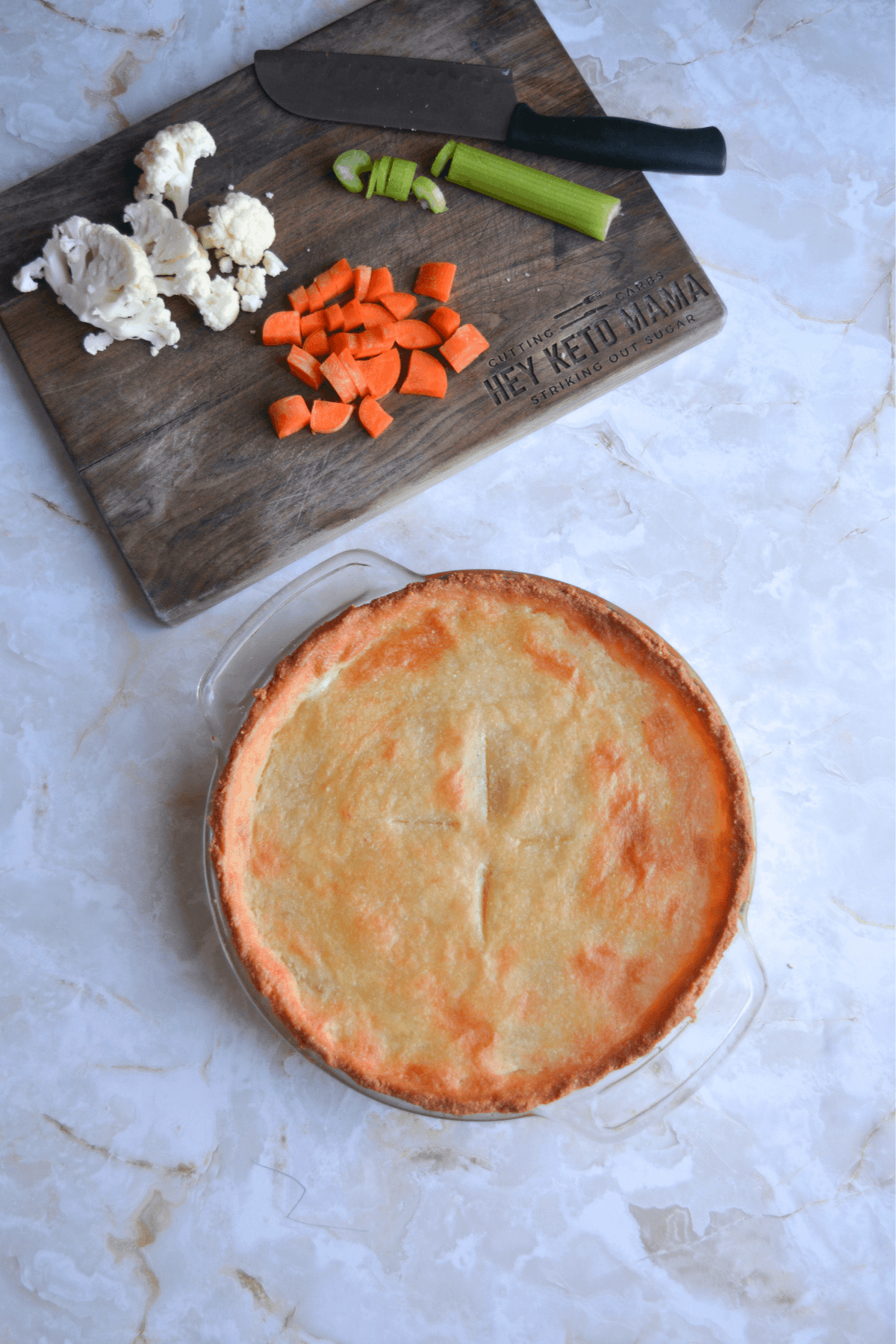 Chicken Pot Pie is an absolute classic, especially when the weather cools down and you need something warm and delicious to fill you up!
It's loaded with savory flavors, hearty protein, and it all comes together with a delicious crust. Even though we're cutting down on the carbs in this recipe, we're not leaving anything out!
This recipe comes from my new book, Keto Comfort Foods: 100 Keto-Friendly Recipes for Your Comfort Food Favorites! This is a great book for anyone looking for low carb replacements to some of your favorite foods. There's even entire chapter just for pizza!
Here's a short description:
In Keto Comfort Foods you will find 100 satisfying, keto-friendly versions of traditionally carb-loaded dishes. From mac and cheese to lasagna to low-carb pastries, you are sure to find new favorites that will please everyone at the table. Including complete nutritional statistics like the total and net carbohydrates, this recipe book will help you kick your carb cravings to the curb and stay on track with your keto diet goals.
Some of my other favorite recipes from this book include:

Crustless Quiche Lorraine

Cheeseburger Helper
I also consider lasagna a really great comfort food. And it can definitely be made in a keto friendly way. Check out my keto lasagna skillet, and this keto air fryer lasagna bake!
How do I make Keto Chicken Pot Pie?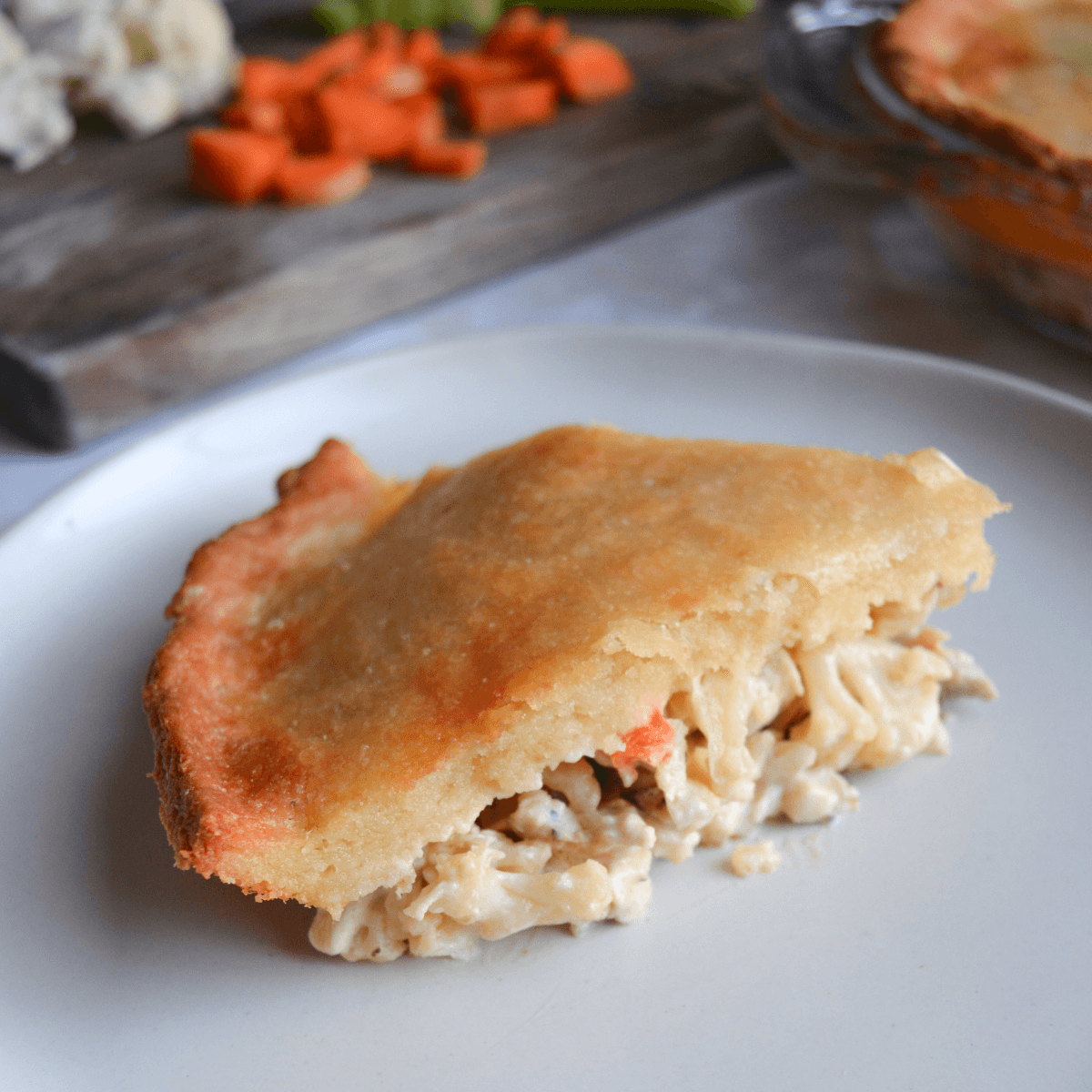 One thing that keeps the carbs a bit lower in this recipe is that the pie crust only tops the chicken pot pie. This is a fathead dough based crust that is rolled out and put on top of the pan after the filling is prepared.
Be sure to check out some of my other fathead based recipes. This is an incredibly versatile dough that makes keto much easier!

Keto Dinner Rolls

Keto Flatbread
Can I eat carrots on Keto?
Carrots can be a bit controversial on keto. I added them to the recipe because they add very few carbs, but a lot of delicious flavor. In half of one large carrot, which is the amount in this recipe, you're looking at 3.5 grams of total carbs. That's reasonable for me, and it might not be for you. That's okay.
If carrots fit into your keto diet, add them in to get more of the classic chicken pot pie flavor. If carrots don't fit into your keto diet, that's just fine. This recipe will still be totally delicious without them!
How many calories are in this keto chicken pot pie?
This filling, low carb recipe makes 6 servings. For ⅙ of the recipe you're looking at:

Calories: 648 Calories
Total Carbs: 11 grams
Fiber: 4 grams
Net Carbs: 7 grams
Protein: 28 grams
Fat: 53 grams
Yield: 6 Servings
Keto Chicken Pot Pie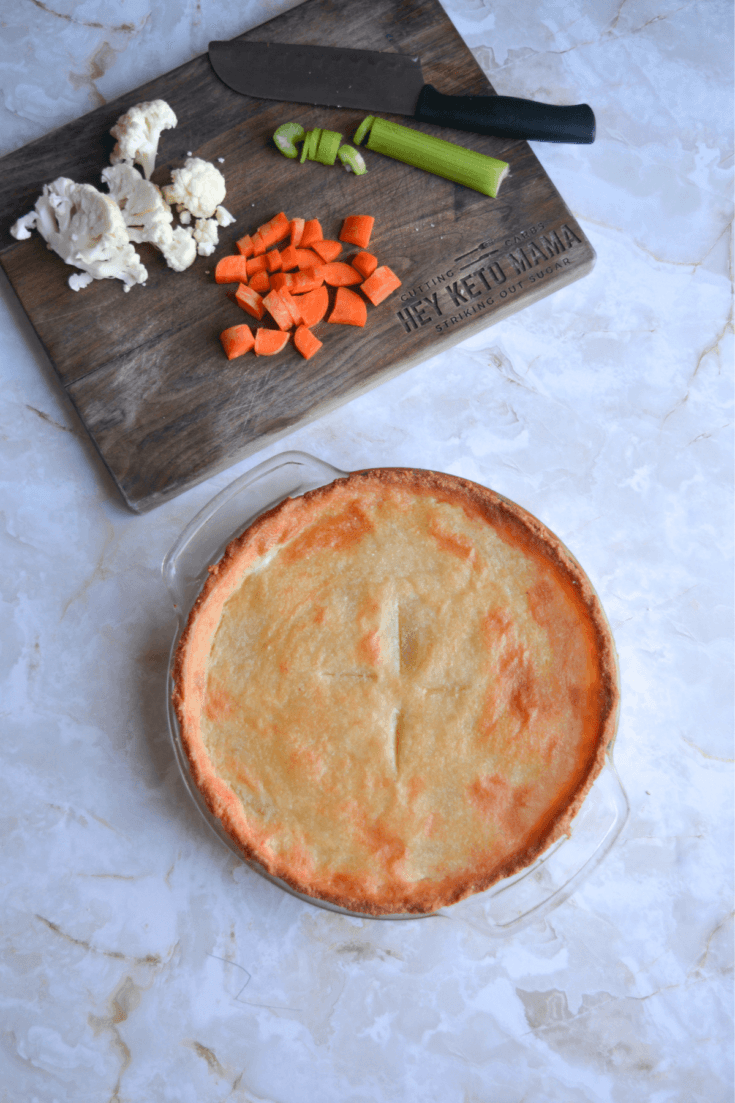 This keto chicken pot pie is a filling and satisfying low carb spin on a comfort food classic!
Total Time
1 hour
10 minutes
Ingredients
2 tablespoons coconut oil
1 pound boneless, skinless chicken thigh
8 tablespoons salted butter, divided
¼ medium yellow onion, peeled and diced
¾ cup chicken broth
½ large carrot, peeled and chopped
1 medium stalk celery, chopped
2 cups chopped cauliflower florets
⅛ teaspoon dried thyme
⅛ teaspoon salt
¼ teaspoon xanthan gum
½ cup heavy whipping cream
2 ounces cream cheese, softened
1 ½ cups shredded mozzarella
1 ½ cups finely ground blanched almond flour
1 large egg yolk, whisked for egg wash
Instructions
Preheat the oven to 400°F.
In a medium skillet over medium heat, melt coconut oil. Cook chicken until no pink remains and internal temperature is at least 165°F, about 7 minutes per side. Place on a cutting board to cool for about 5 minutes, then cut into bite-sized pieces.
In a medium pot over medium heat, melt 4 tablespoons butter. Add onion and saute 3 minutes or until soft and fragrant. Pour in chicken broth and add carrot, celery, cauliflower, thyme, salt, and pepper.
Bring the pot to a boil over high heat for 1 minute, then reduce to a simmer, uncovered, for 15 minutes until vegetables often. Sprinkle xanthan gum in the pot, whisking quickly, then pour in heavy cream. Whisk in cream cheese. Add in the cooked chicken.
Turn the heat to low and let the mixture thicken for 10 minutes until thick and creamy.
In a large microwave-safe bowl, add mozzarella, remaining butter, and almond flour. Microwave for 45 seconds, then stir. Microwave for an additional 10 seconds, then stir until a soft ball forms.
Place the dough between two pieces of parchment paper on a flat surface and roll into a 9-inch round.
Pour the chicken mixture into a round 9-inch pie dish. Place the dough on top of the dish, pressing the edges into the pie dish. Cut four slits into the dough and brush entire crust with egg yolk.
Bake for 15 minutes, or until dough is browned. Let col for 10 minutes. Spoon into bowls and serve warm.
Nutrition Information:
Yield:
6 Servings
Amount Per Serving:
Calories:

648
Total Fat:

53g
Carbohydrates:

11g
Net Carbohydrates:

7g
Fiber:

4g
Protein:

28g