These keto chocolate muffins are a decadent treat to help you stick to your low carb lifestyle! You can indulge with only 2.2 grams of net carbs per serving!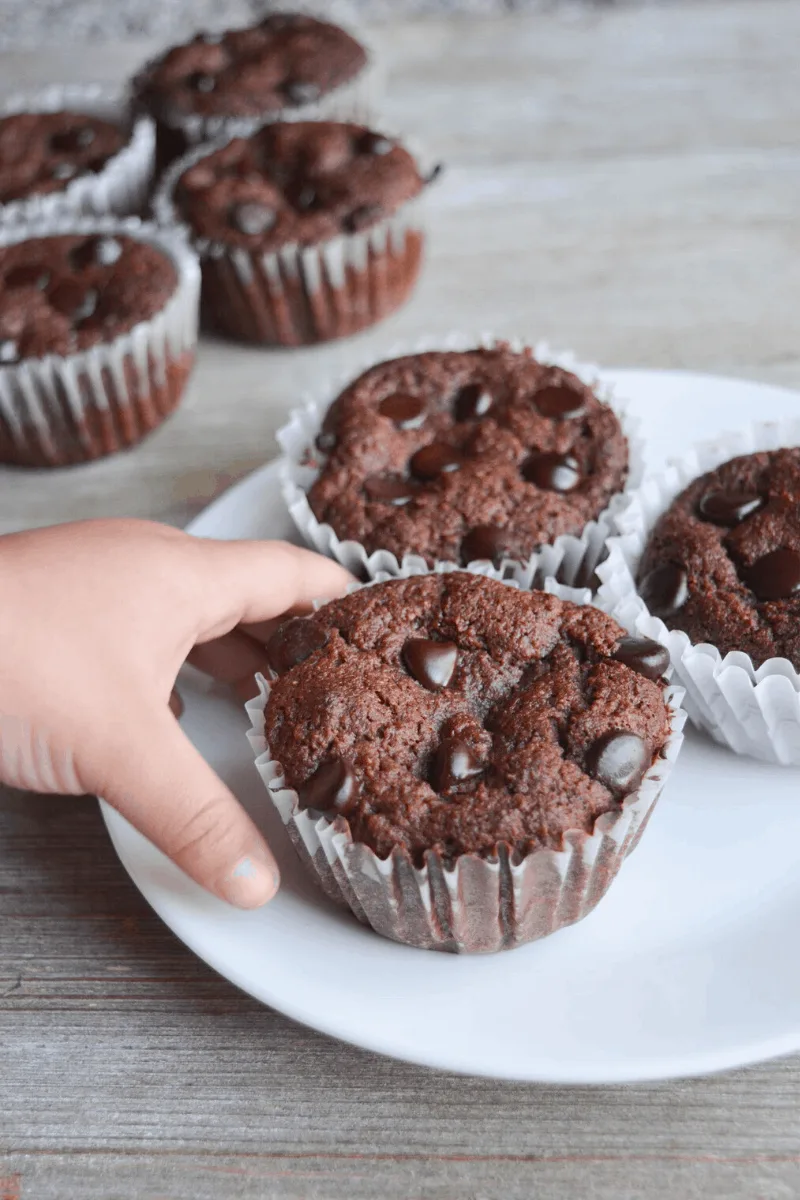 Chocolate is the best, isn't it?
And nowadays it's easier than ever to enjoy rich, delicious chocolate while on a keto diet. With so many options, you can order ChocZero online or pick up Lily's at most grocery stores, it's truly amazing that you don't have to feel deprived just because you're cutting carbs.
Sometimes you just need something sweet. If you're looking for even more chocolate inspiration be sure to check out my Keto Death by Chocolate Cake, Easy Keto Fudge, and my Keto Brownies!
Now on to these delicious keto muffins!
How to make keto chocolate muffins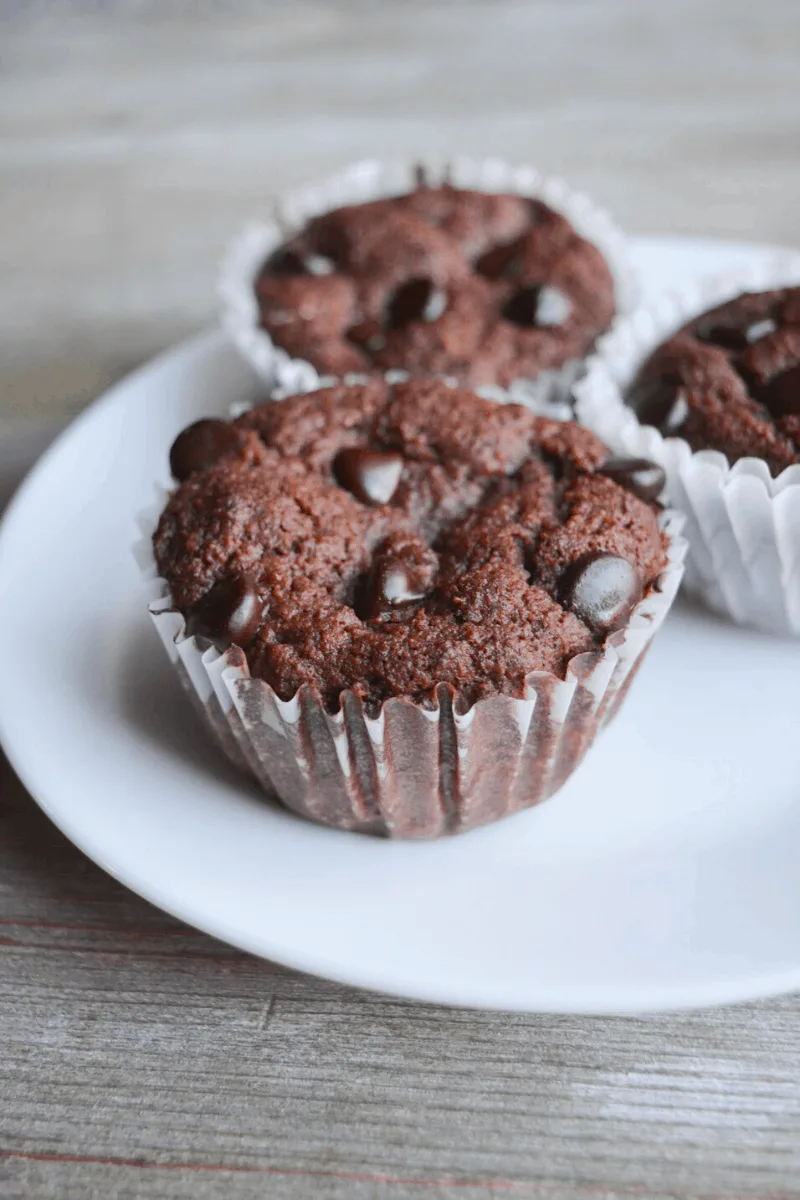 Ingredients
These muffins are so good, and SO easy to make. You'll mostly just be using pantry staples that you probably already have in your kitchen. All you need is:
Almond Flour - Almond flour makes up the bulk of this recipe. It gives these keto chocolate muffins their structure. I prefer a blanched, finely ground almond flour like Blue Diamond.

Almond flour can be grainy, but finely ground almond flour tends to bake up with a less grainy texture.

Cocoa Powder - Cocoa Powder gives these keto muffins their delicious chocolatey flavor. This very low carb powder is easy to find in your grocery store and is also used in my keto chocolate cheesecake.

I like to use Hershey's Special Dark cocoa powder for all of my recipes.

Brown Swerve (or Lakanto Golden) - One of the best innovations to the world of low carb sweeteners was brown sugar substitute. It's delicious and gives that extra depth of flavor to the sweetener. I especially love Brown Swerve in my recipe for easy keto chocolate chip cookies.

My two favorite brands are Brown Swerve and Lakanto Golden.

Butter - I like to use salted butter in all of my recipes. A lot of bakers prefer unsalted butter because you can better control the amount of salt that ends up in your recipe, but I still love the extra flavor that comes from salted.

Sour Cream - Sour cream makes these keto muffins perfectly moist. It's my favorite hack for moist baked goods, and I first discovered it as an option when I made my keto vanilla pound cake--another winner!

Eggs - I use large eggs in my recipes.

Vanilla Extract - A little bit of vanilla goes a long way! Imitation vanilla is perfectly fine for this recipe if you don't have pure on hand!

Baking Powder - Baking powder helps these low carb muffins get the right amount of rise. Be sure to check the dates on your baking powder and refresh it regularly (and baking soda too!). The longer it sits on the shelf, the less effective it is.

Salt - A little salt helps bring out the decadent sweetness of these chocolate muffins.

Sugar Free Chocolate Chips - There are a lot more options for low carb chocolate chips than there used to be, but my favorite remains Lily's Semi-Sweet Chocolate Chips.
There's no need even to separate wet ingredients from dry ingredients. I truly think anyone could make this recipe. You just dump everything into a bowl, mix it up, scoop it into a muffin tin and bake!
Nutrition Info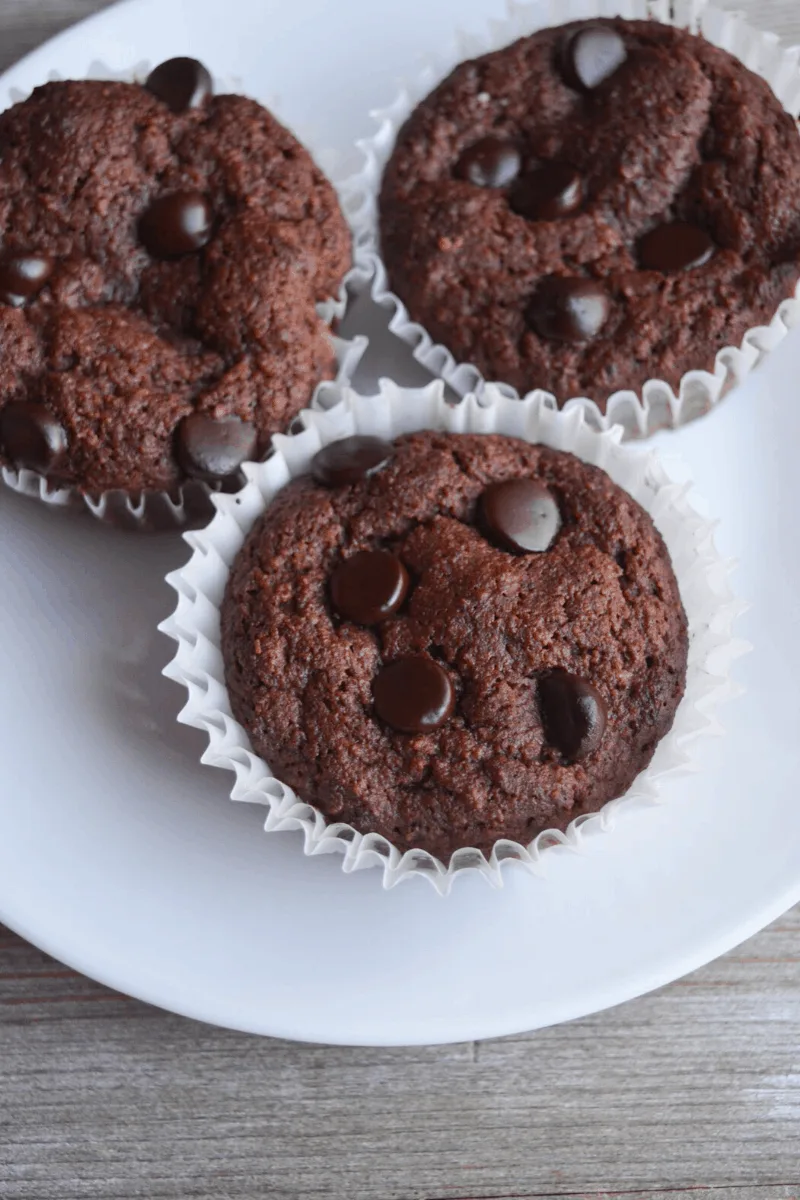 The nutrition is really solid on this recipe. For one serving, you're looking at:
Calories: 161 Calories
Total Carbs (including erythritol): 14 g
Fiber: 3.4 g
Sugar Alcohols: 8.5 g
Net Carbs: 2.2 g
Protein: 4.7 g
Fat: 14.4 g
Most keto dieters prefer to count net carbs (or effective carbs) instead of total carbs.
Remember: net carbs are calculated by taking total carbs and subtracting fiber, then subtracting sugar alcohols.
And here's an amateur calculated breakdown based on the ingredients I used:
Yield: 12 Muffins
Keto Double Chocolate Muffins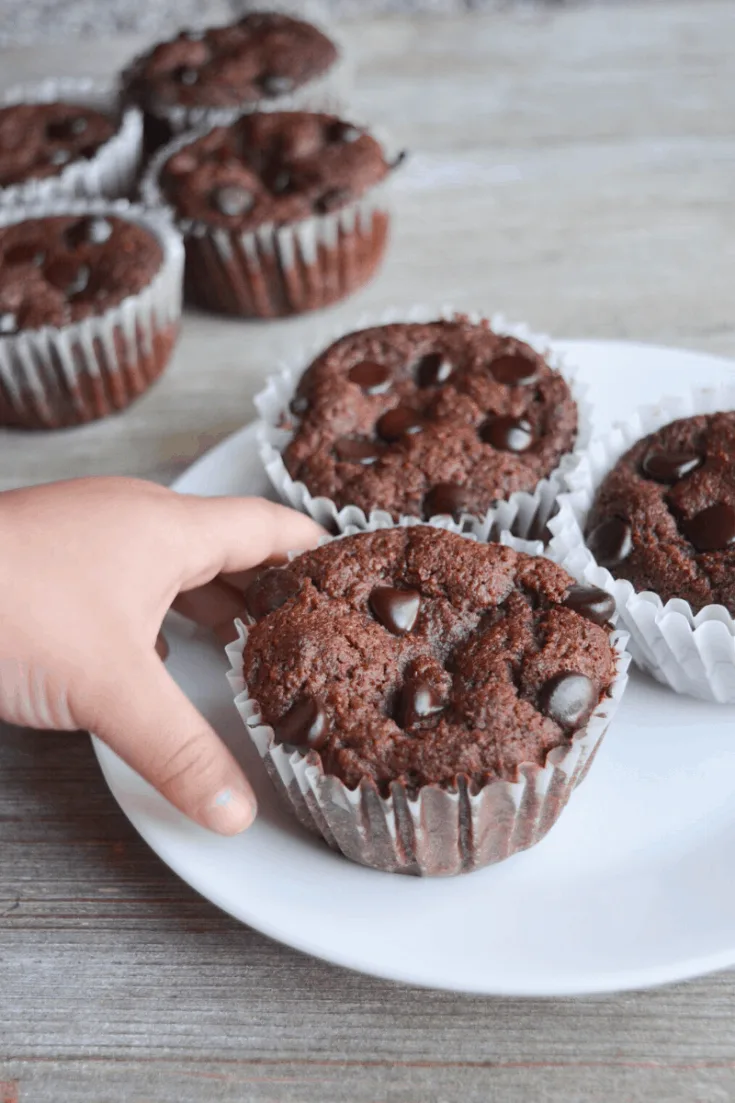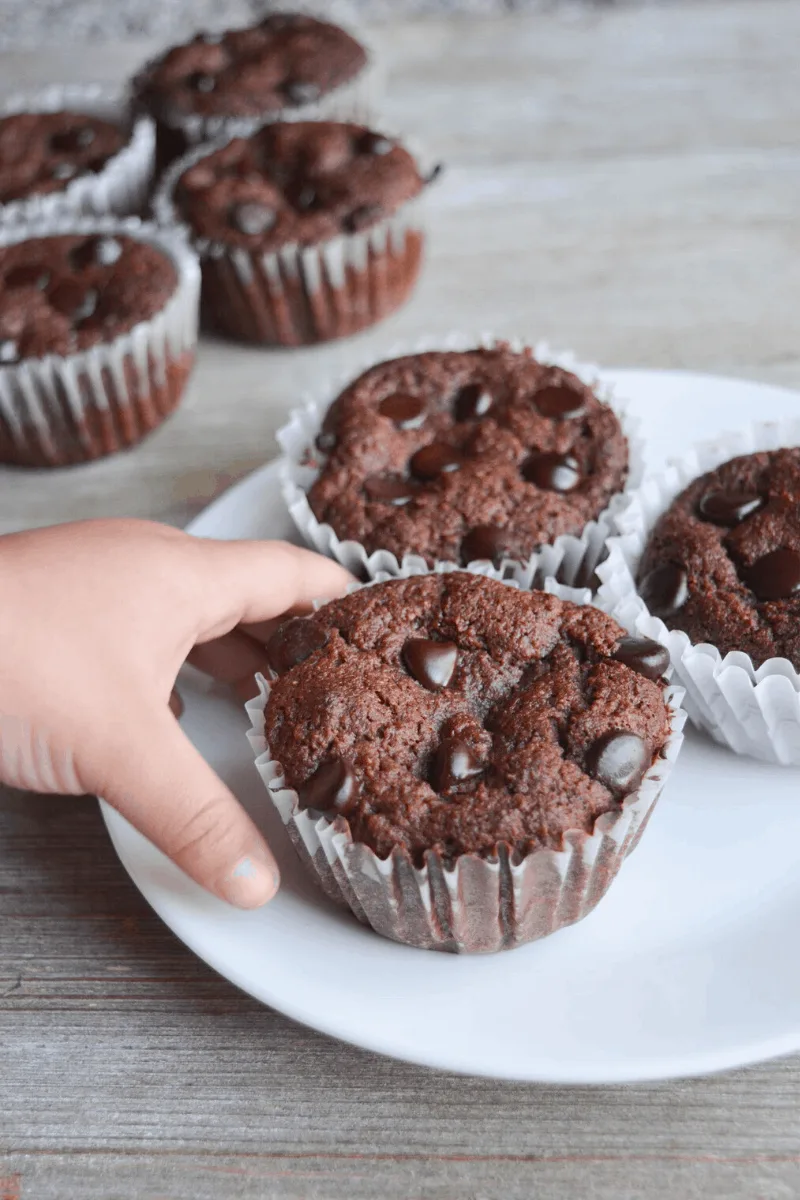 These keto double chocolate muffins are a decadent treat to help you stick to your low carb lifestyle! You can indulge with only 2.2 grams of net carbs per serving!
Ingredients
1 and ½ Cups Almond Flour
¼ Cup Unsweetened Cocoa Powder
½ Cup Brown Swerve (or Lakanto Golden)
4 Tablespoons Melted Butter
⅓ Cup Sour Cream
2 Eggs
1 Teaspoon Vanilla Extract
1 Tablespoon Baking Powder
¼ Teaspoon Salt
¼ Cup Sugar Free Chocolate Chips for batter PLUS how ever many extra you'd like to top the muffins with before baking.
Instructions
Preheat oven to 400° F.
In a large mixing bowl, combine all ingredients. The mixture will be slightly thick and more "scoopable" rather than pourable.
Fill 12 muffin cups with even amounts of the mixture. Top muffins with extra chocolate chips, if desired.
Bake for 12-15 minutes or until a toothpick placed into the center of a muffin comes out clean.
Allow to cool before enjoying.
Recommended Products
As an Amazon Associate and member of other affiliate programs, I earn from qualifying purchases.
Nutrition Information:
Yield:
12
Serving Size:
1 Muffin
Amount Per Serving:
Calories:

161
Total Fat:

14.4g
Carbohydrates:

14g
Net Carbohydrates:

2.2g
Fiber:

3.4g
Sugar Alcohols:

8.5g
Protein:

4.7g