This is the BEST keto chocolate fudge. I say that because not only is it delicious and made of simple ingredients, it also doesn't melt in your hands! It's perfect for bringing to any Holiday Party.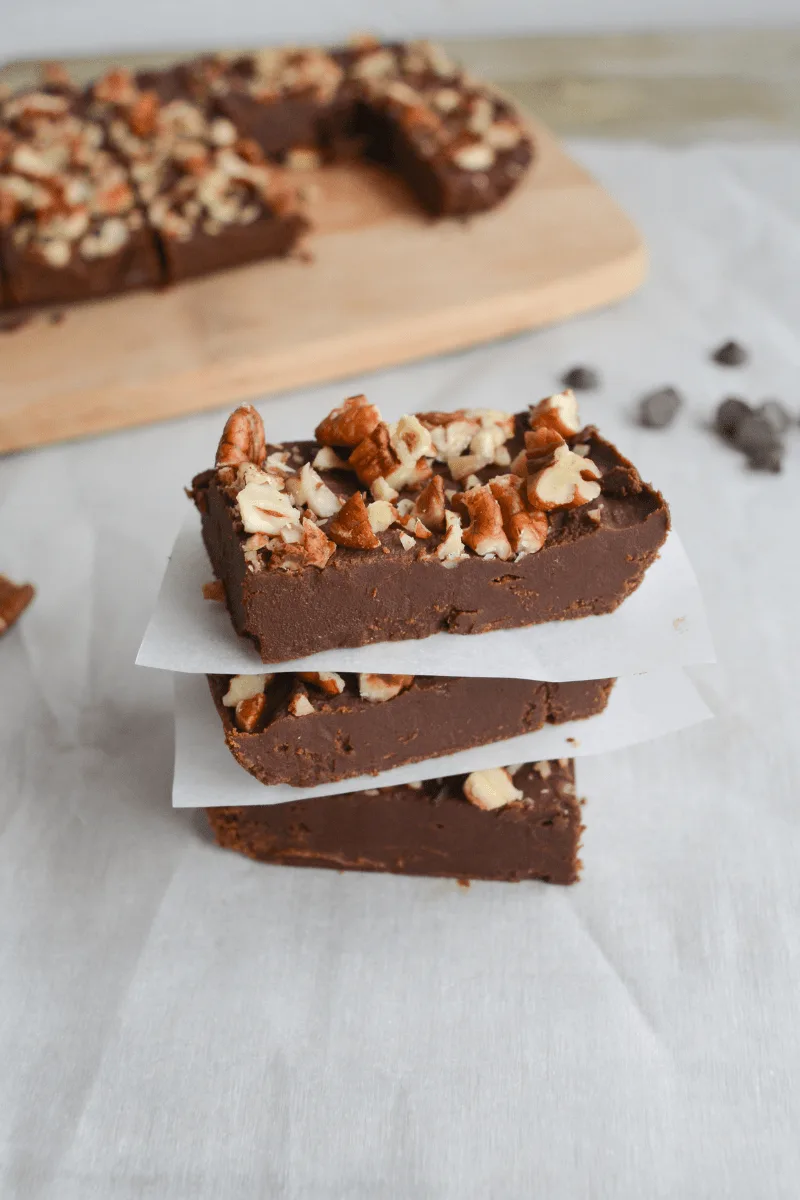 Fudge is an irresistible dessert, especially for chocoholics like myself. But it can be a little tough to get right when you cut the sugary ingredients from the traditional recipes.
I've made lots of low carb fudge since starting my keto lifestyle, and even though they've all been really tasty, I haven't been able to nail down a recipe that's creamy and delicious, but doesn't start melting the second I pick it up.
That is...until now...
The Best Keto Chocolate Fudge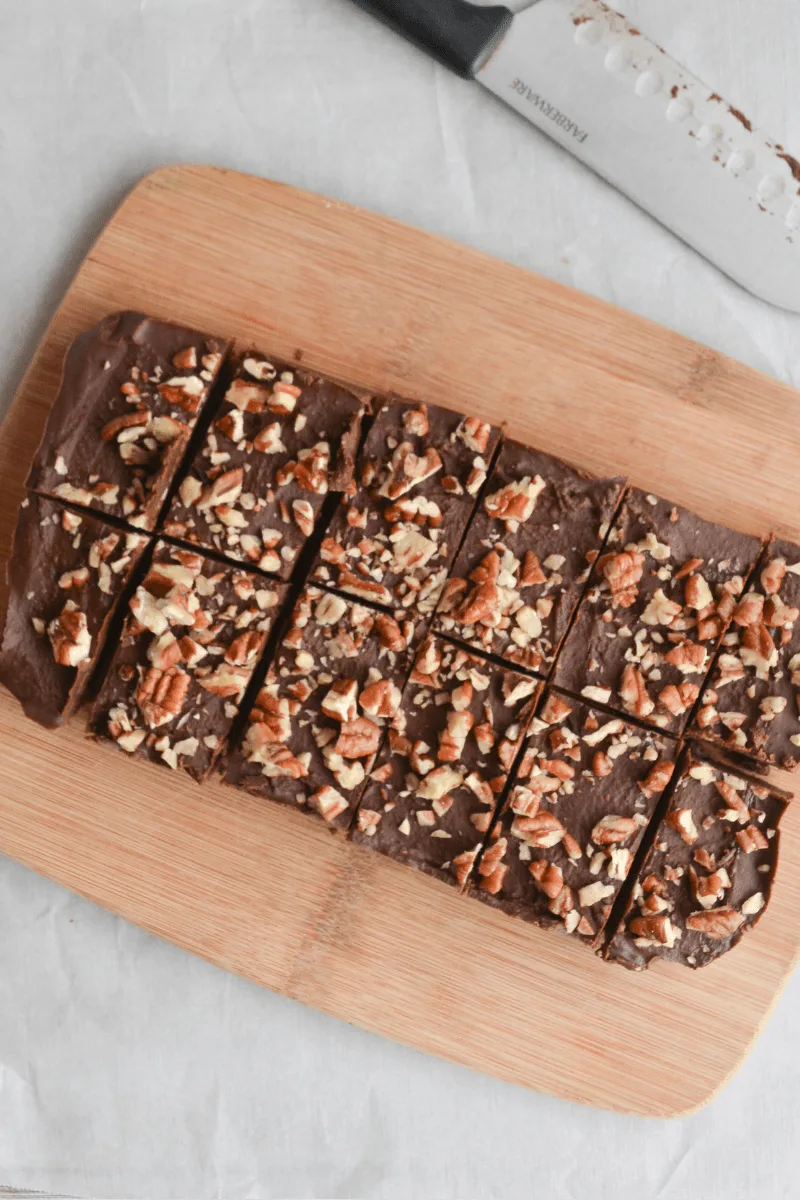 The secret to this recipe is creating a low carb sweetened condensed milk to use as its base. When developing this project, I was thinking about how so many fudge recipes are made, especially during the Holiday season, to bring to Christmas parties and what not.
A lot of those recipes are as simple as telling you to "melt sweetened condensed milk and chocolate chips together" so I figured there had to be a way to do that low carb style.
And it's easier than you might think!
Be sure to check out some of my other chocolicious recipes, like these yummy keto brownies and my keto death by chocolate cake!
What will I need for the best keto chocolate fudge?
The ingredients are simple, which of course is one of my favorite parts. To master this recipe, you will need:
Heavy Whipping Cream
Butter
Erythritol - Powdered or Granular - It doesn't matter (I prefer Swerve)
Vanilla Extract
Low Carb Chocolate Chips (Lily's is my favorite brand. You can find these online, or at an increasing number of grocery stores. If you don't see the chips, just pick up a few of the bars!)
Nuts (optional, of course, but I used chopped pecans for this recipe)
How to make Keto Sweetened Condensed Milk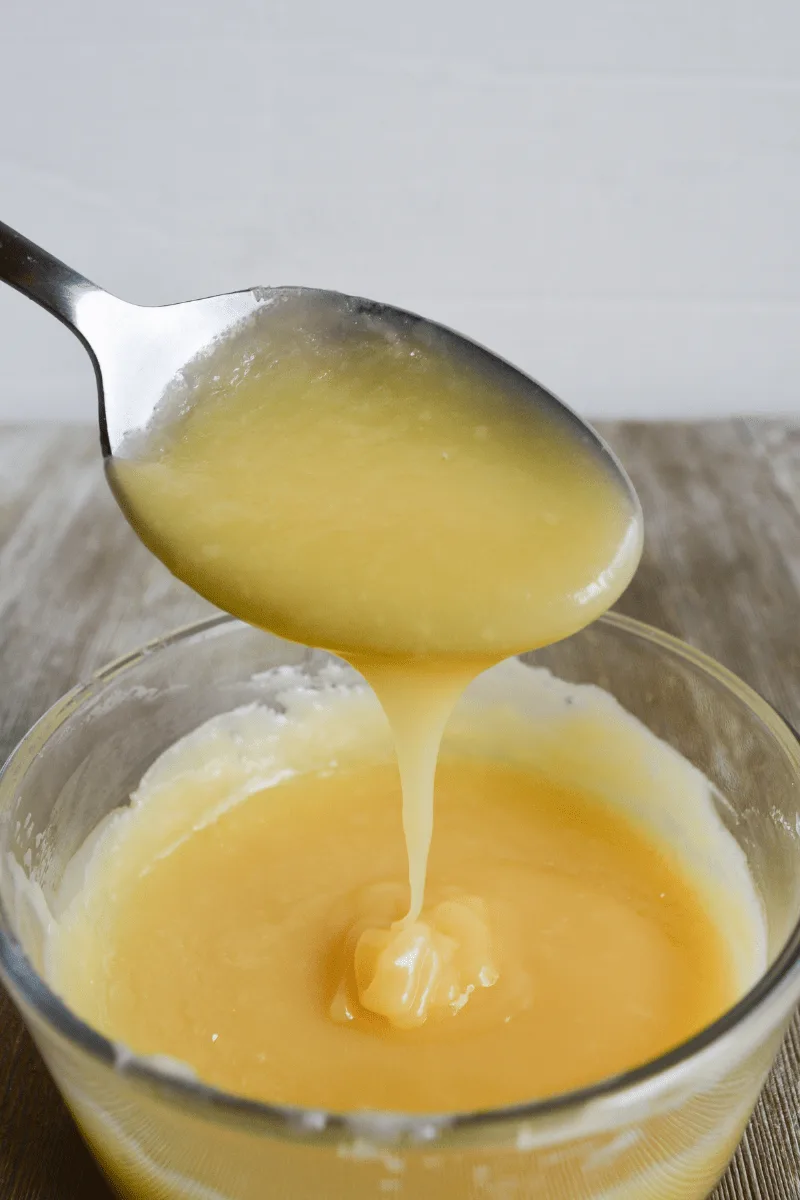 This low carb liquid gold is super easy and SO delicious. All you need is:
One cup of Heavy Whipping Cream
2 Tablespoons of Butter (I use Salted)
⅓ Cup of Erythritol (again, it doesn't matter if it's powdered or granular--I've made it with both)
1 Teaspoon Vanilla Extract
In a medium saucepan, pour all four ingredients and heat on medium (on the lower side of medium) stirring with a spatula regularly. Be sure to scrape the sides and incorporate well.
Within just about 15 minutes, the mixture will reduce and create this thick, sweet and tasty sweetened condensed milk.
From this point if you're carrying on with the fudge recipe, you can really just turn off the heat, let it rest for a bit (15 minutes, or until it starts to kind of solidify), and mix in the chocolate chips.
If you let the sweetened condensed milk cool completely, just mix the chocolate chips in over very low heat.
Once the chocolate chips are fully melted, just pour the fudge into a parchment lined loaf pan, top with nuts and cool in the refrigerator for at least one hour.
The Best Keto Chocolate Fudge Nutrition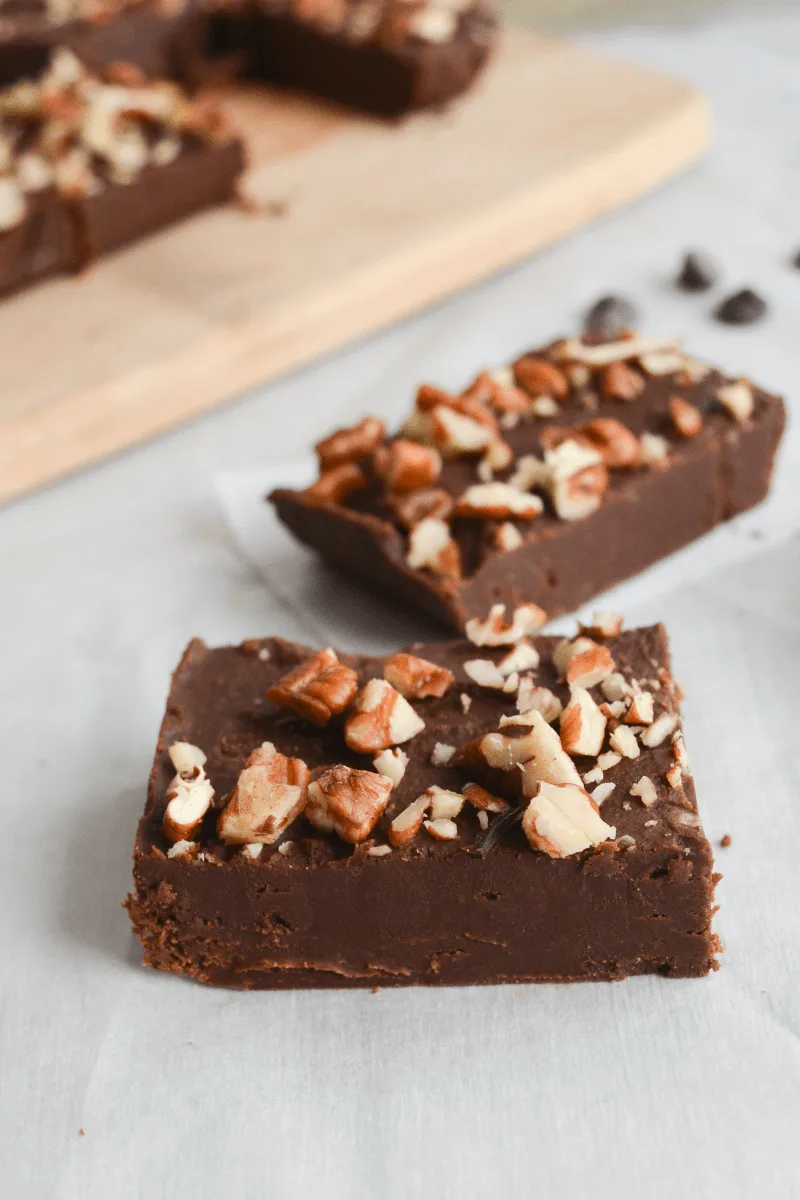 You're probably going to want to eat the whole pan... but if you have more self-control than I do, here's the breakdown of nutrition for just one piece (recipe makes 12 servings). This fudge is very rich so you might want to keep a cold glass of almond milk nearby!
Calories: 154.77 Calories
Total Carbs (including erythritol): 14.79g
Fiber: 4.59g
Sugar Alcohols: 7.29g
Net Carbs: 2.92g
Protein: 1.87g
Fat: 15.05g
And here's the breakdown per ingredient:
The Best Keto Chocolate Fudge Notes
I haven't tried this recipe with Stevia because I don't really care for the taste, but it may be possible to make the sweetened condensed milk with Stevia instead of Erythritol. If you do give it a shot, please let me know how it turns out!
To make this fudge in an 8x8 pan, just double the recipe!
If you are only able to find low carb chocolate chips like sugar free Hershey's or Enjoy Life, this recipe should still work, but keep in mind the nutrition will be different. Also, many major brands sweeten their sugar free candies with ingredients like maltitol, which can cause digestive distress when consumed in large amounts.
Excited to make this recipe and really can't find low carb chocolate chips/bars?

I added ⅓ cup unsweetened cocoa powder to the completely cooled (IMPORTANT) sweetened condensed milk, and put it in the refrigerator to set. It tasted different, but I think it still turned out good.
If you go this route, be sure to taste as you mix because you might find you'd like to add some extra powdered erythritol to make it sweeter.
Also, if you make it with the cocoa powder, just be aware that you'll end up with less fudge because there's less mass than chocolate chips/bars being added to the sweetened condensed milk. The nutritional information will be considerably different as well.
Yield: 12 Servings
The Best Keto Chocolate Fudge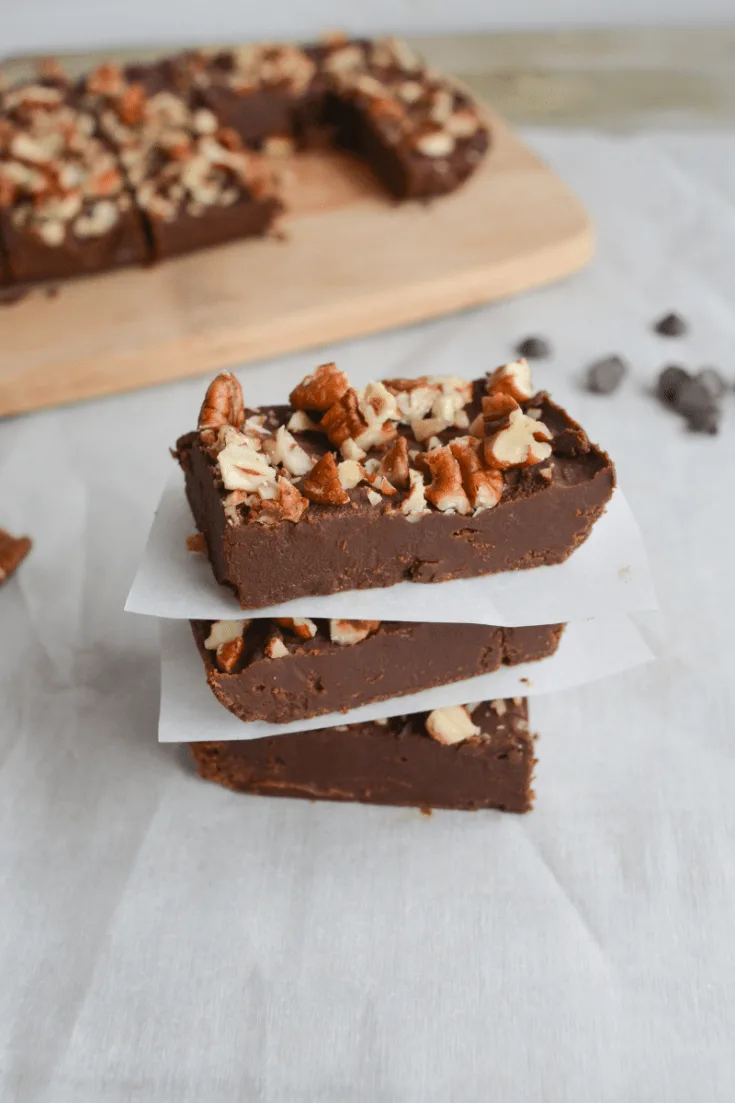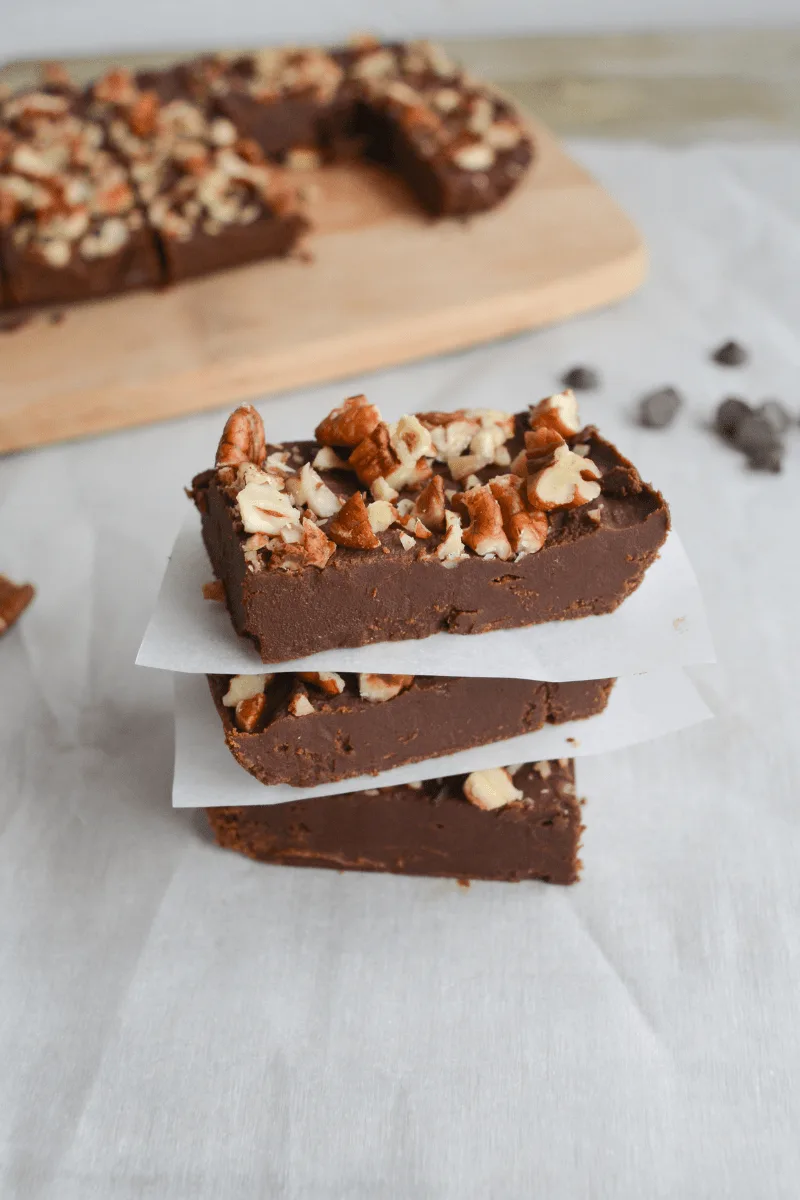 This is the BEST keto chocolate fudge. I say that because not only is it delicious and made of simple ingredients, it also doesn't melt in your hands!
Additional Time
15 minutes
Ingredients
1 cup Heavy Whipping Cream
⅓ cup Erythritol
2 tablespoon Butter
1 teaspoon Vanilla Extract
1 cup Low Carb Chocolate Chips
¼ cup Chopped Pecans
Instructions
In a medium pan over medium heat, mix together the Heavy Whipping Cream, Erythritol, Butter, and Vanilla Extract, stirring often for about 15 minutes until a slightly browned, thick sweetened condensed milk forms
Remove from heat and let cool for 15 minutes before stirring in chocolate chips.
Once chocolate chips are melted, pour mixture into a parchment lined loaf pan and top with pecans before cooling in refrigerator for at least 1 hour.
Notes
Please note that I am not a certified nutritionist. Any nutritional information that is discussed or disclosed in this post should only be seen as my best amateur estimates based on NET carbs. If nutrition is important to you, I highly encourage you to verify any data you see here with your favorite nutrition calculator.
Nutrition Information:
Yield:
12
Serving Size:
1 Piece
Amount Per Serving:
Calories:

154.77
Total Fat:

15.05g
Carbohydrates:

2.92 NETg
Fiber:

4.59g
Protein:

1.87g