This Keto Lasagna Bake ditches the noodles, and it's so simple, you'll wonder why you didn't try it sooner. Sometimes simple is best, and that's exactly what this recipe is!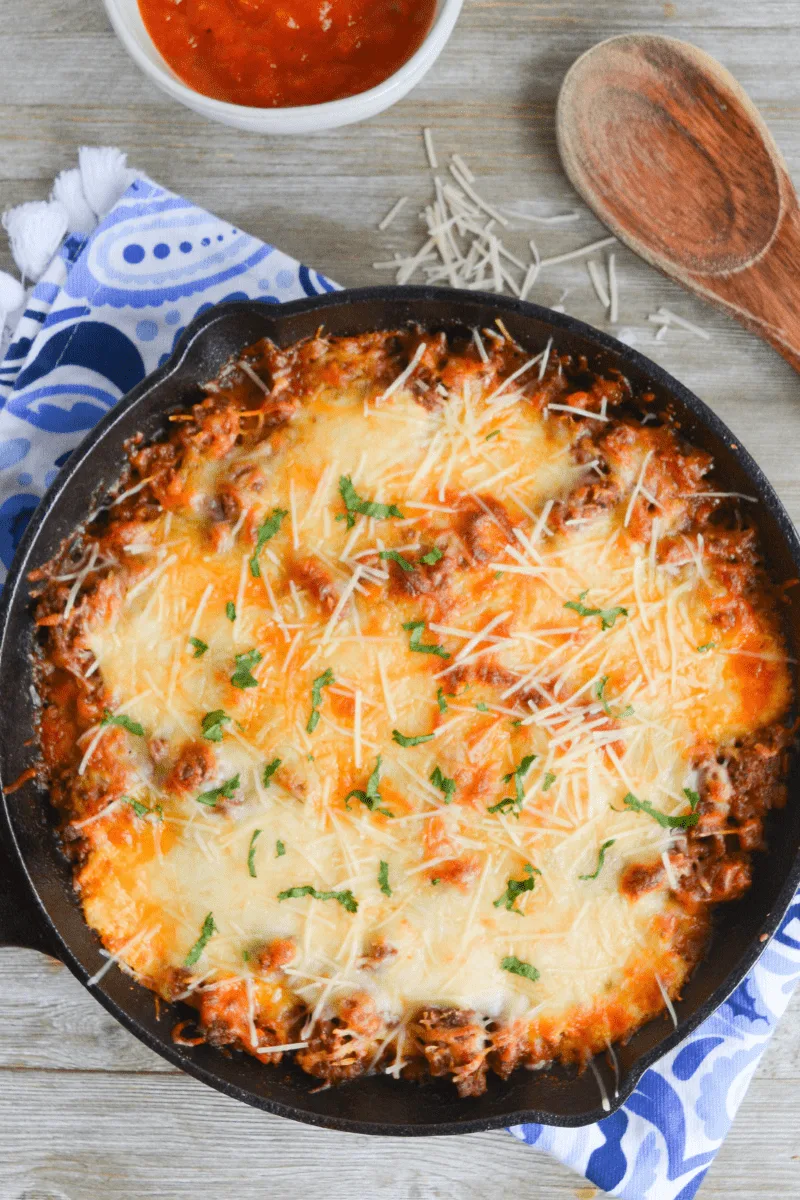 When I think about my favorite things about lasagna, of course my mind wanders to the gooey mozzarella, the creamy ricotta, the savory marinara and the perfectly seasoned meat.
We all know what's missing from my list...the noodles, of course.
But that's my point with this recipe...the rest of the ingredients are so overwhelmingly delicious, it's easy to forget the noodles completely. So why not create an easy, low carb lasagna recipe that's so good you won't feel like you're missing the noodles?
Keto Lasagna Bake

Sometimes noodle replacements are a really good idea, like in my Low Carb Taco Cabbage Skillet or my Keto Cheeseburger Helper recipes. The cabbage is a nutritious addition that adds a nice texture.
Same with my Easy Keto Lasagna, a white sauce lasagna that uses cauliflower as the "noodle" layer. It's a bit time intensive, but it is yummy!
But sometimes it's easier to ditch the noodles for an equally filling meal that eats more like a casserole.
Note: If you just can't ditch the noodles, definitely check out this recipe for low carb lasagna, it's really delicious!
What ingredients do I need for a Keto Lasagna Bake?
One of the best parts about this recipe is that the ingredients are so simple. All you for this completely mouthwatering dish need is:
Ground Beef
Italian Sausage
Ricotta Cheese (If you don't like this you can swap for cottage cheese. But adding seasoning to the ricotta, if you haven't before, might change your mind.)
Shredded Mozzarella Cheese
Grated Parmesan Cheese
Marinara Sauce (I prefer Rao's)
Chopped White Onion
Garlic Powder
Oregano
Keto Lasagna Bake Nutrition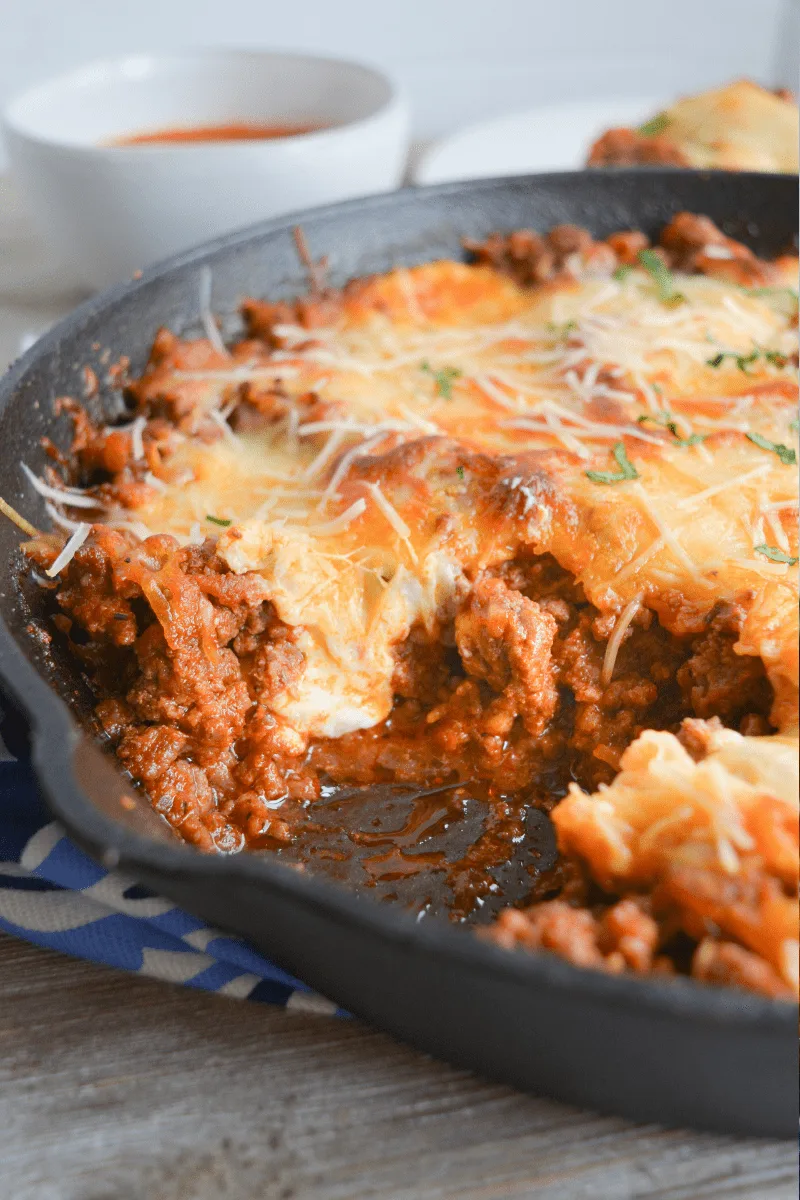 I calculated the nutrition for one serving being ⅙ of the recipe. I think that's a fair and filling amount that you can adjust to best fit your macros. With that serving in mind, the nutrition info is:
Calories: 514.1 Calories
Total Carbs: 4.9g Total
Fiber: 0.3g
Net Carbs: 4.6g Net
Protein: 21.1g
Fat: 28.5g
And here's a breakdown for each ingredient:
Yield: 6 Servings
Easy Keto Lasagna Bake | Ditch the Noodles!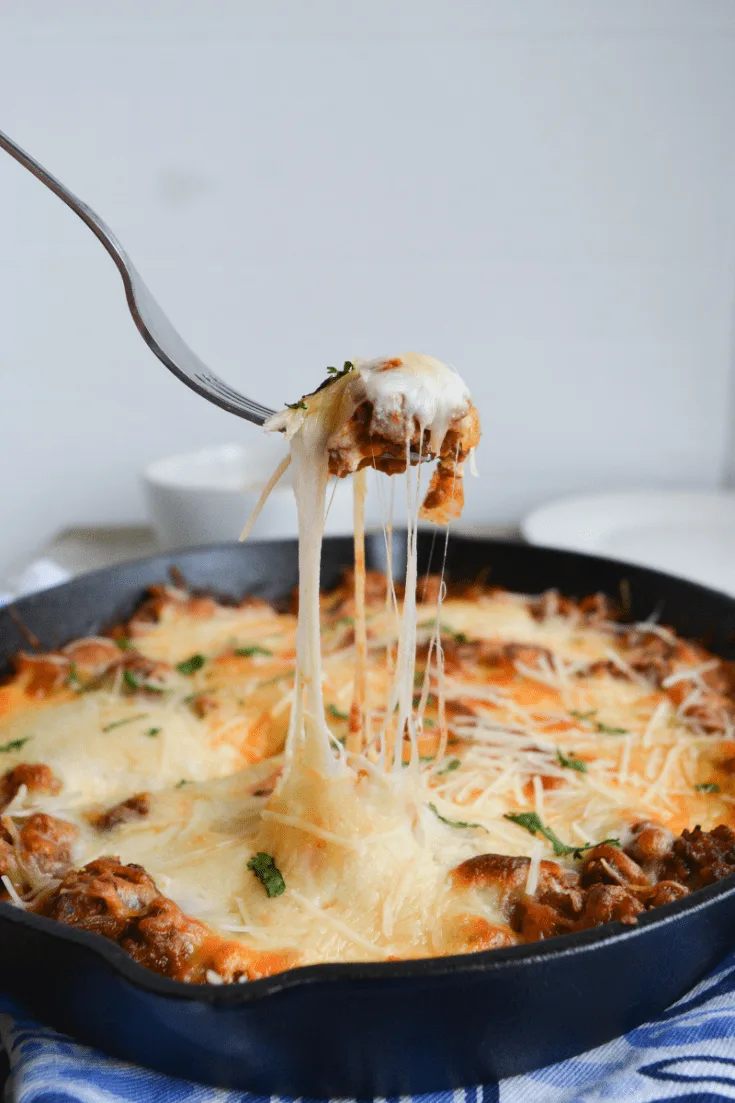 This Keto Lasagna Bake ditches the noodles, and it's so simple, you'll wonder why you didn't try it sooner. Sometimes simple is best, and that's exactly what this recipe is!
Ingredients
1 lb Ground Beef
½ lb Italian Sausage
¼ cup chopped white onion
1 ½ cup Marinara Sauce
¾ teaspoon Garlic Powder, divided
1 teaspoon Oregano, divided
½ cup Ricotta Cheese
1 cup Shredded Mozzarella, divided
⅔ cup Parmesan Cheese, divided
Chopped parsley, for garnish (optional)
Instructions
Preheat the oven to 400 degrees.
In a 12-inch cast iron skillet (or other oven safe equivalent), brown the ground beef and ground sausage together over medium heat on the stovetop until no pink remains (about 15 minutes). Drain the excess fat and return to heat.
Add the onion to the pan and saute with meat until it begins to soften, 3-5 minutes. Pour the sauce, ½ teaspoon oregano and ½ teaspoon garlic powder into the pan with the meat sauce and allow to simmer for 5 minutes.
In a medium bowl, mix the ricotta, ½ cup of mozzarella, and ⅓ cup of the Parmesan. Add a bit of salt and pepper to taste and add the remaining oregano and garlic powder to the cheese mixture and fold until completely combined.
Turn off the heat and spread the meat around the pan until it's an even layer. Place spoonfuls of the cheese mixture around the pan, pushing them down a bit with your spoon to the bottom of the pan.
Sprinkle the top with the remaining mozzarella and Parmesan. Bake for 20 minutes until bubbling and the top begins to turn golden. Garnish with chopped parsley, if desired. Serve warm.
Notes
Please note that I am not a certified nutritionist. Any nutritional information that is discussed or disclosed in this post should only be seen as my best amateur estimates based on NET carbs. If nutrition is important to you, I highly encourage you to verify any data you see here with your favorite nutrition calculator.
Nutrition Information:
Yield:
6
Serving Size:
⅙ of recipe
Amount Per Serving:
Calories:

514.1
Total Fat:

28.5g
Carbohydrates:

4.9 Total, 4.7 Netg
Fiber:

.3g
Protein:

21.1g