This recipe for keto lemon bars is an absolute low carb dream! With only 4g of net carbs per serving, you'll be happy to indulge in this bright and tangy treat without a shred of guilt!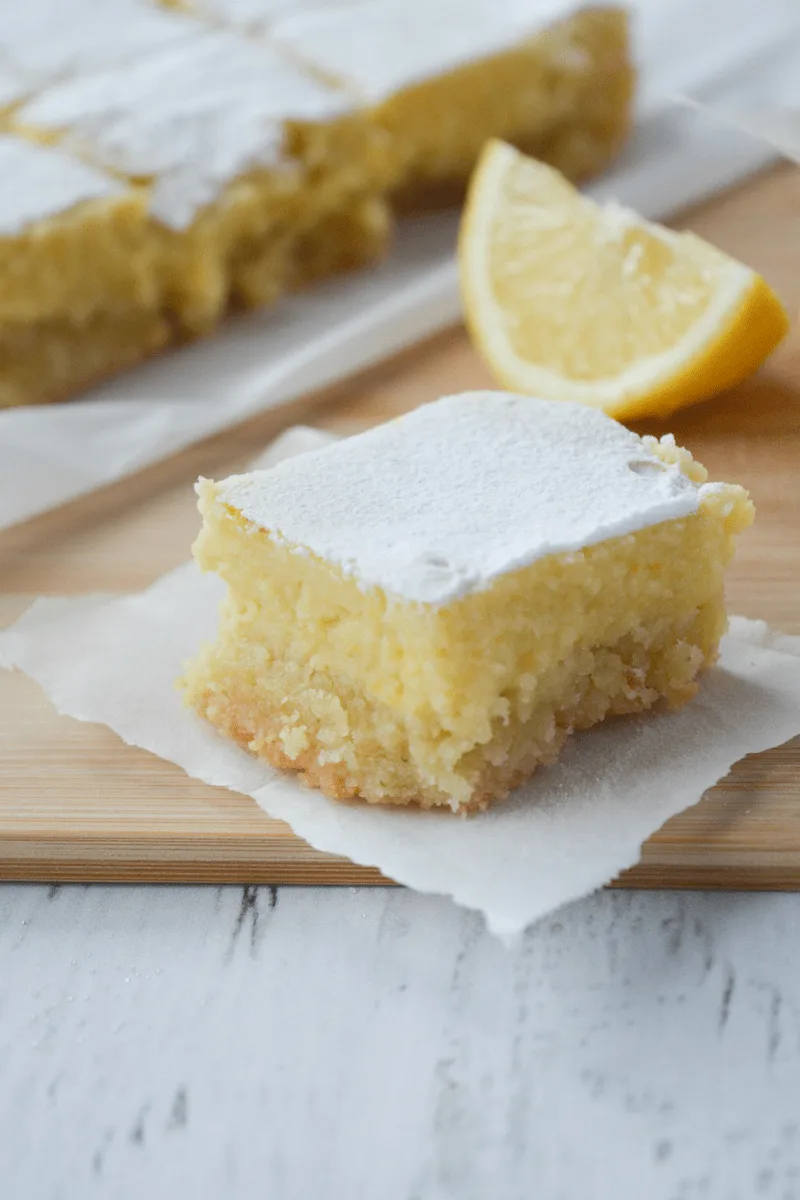 Are you missing fruity goodness on your keto diet?
I'm not one who subscribes to the belief that keto is a "no fruits" diet, and this is because I think many fruits are still great whole food options, that are nutritious than other artificial foods.
But some fruits are very high in NET carbs (total carbs minus fiber minus sugar alcohols) for someone following keto. This is mostly because of the high amount of natural sugars.
For example:
An apple is about 20.6g net carbs, an orange is about 8.3g net carbs, and a banana is about 23.9g net carbs. (source: Google)
Because of this, I would say those aren't great options for Keto, but other fruits, like berries are much better.
One cup of blackberries is about 6 net carbs, one cup of raspberries is about 7 net carbs, and a cup of whole strawberries is about 8.1g net carbs. Those numbers are much better, and when you think about it...one cup of any of these fruits is a pretty significant amount!
I love to put lower carb fruits into my desserts, like in my Keto Yogurt Recipe so I'm super excited to share this recipe with you...it's a real winner!
Keto Lemon Bars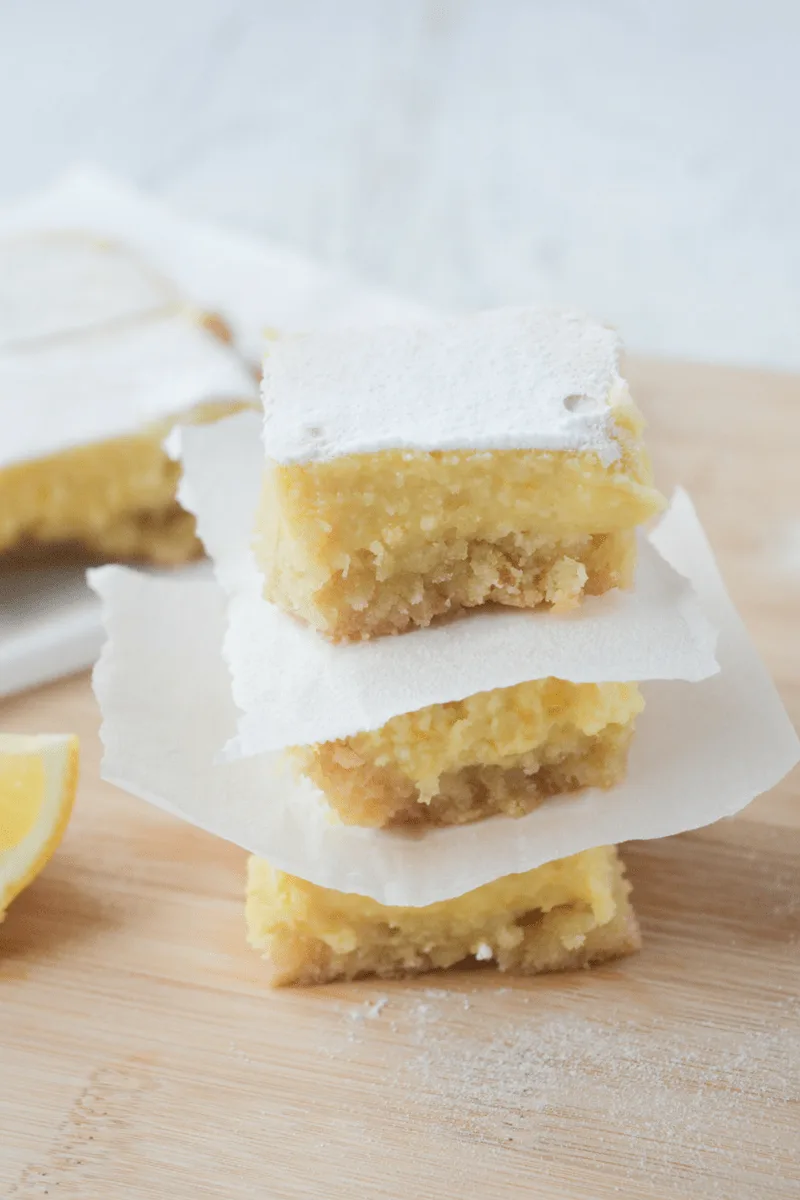 Thanks so much to Tasteaholics for letting me share this recipe! It comes straight from their Dessert in Five, eCookbook, which features 30 DELICIOUS recipes that all can be made with just 5 ingredients and are only 5g (or less) of net carbs per serving!
There's also Breakfast in Five, Lunch in Five and Dinner in Five. The best option would be to buy the whole bundle. You won't regret it!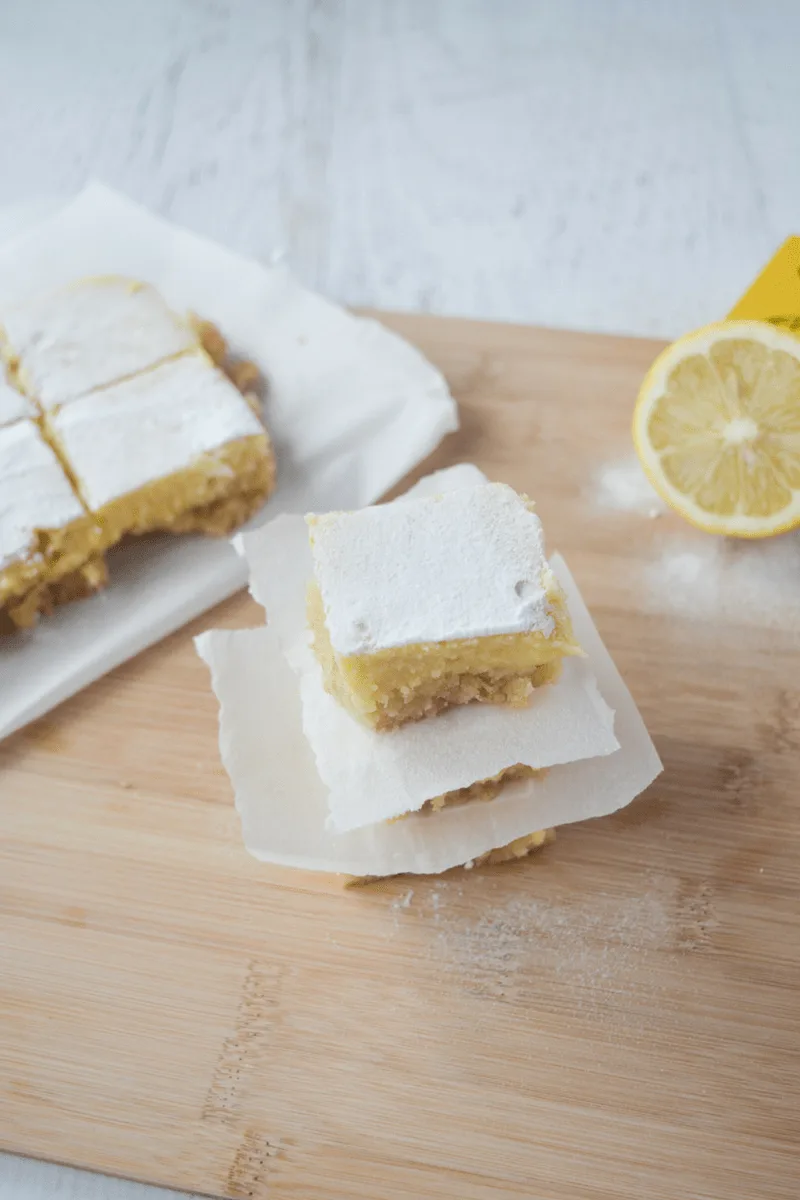 The fruit in this recipe is lemons...which are about 3.4g net carbs per fruit. And you're not using very much of it so the carbs stay low!
The other hero of this recipe is what makes it sweet...erythritol. Erythritol is a mild sugar alcohol with a glycemic index of 0. It's my favorite sweetener, and I believe the powdered version is the very best. It tastes and bakes like confectioner's sugar, AND really cuts down on the cooling effect that erythritol typically carries.
And what's REALLY cool, is Tasteaholics has their own brand called So Nourished that manufactures affordable erythritol!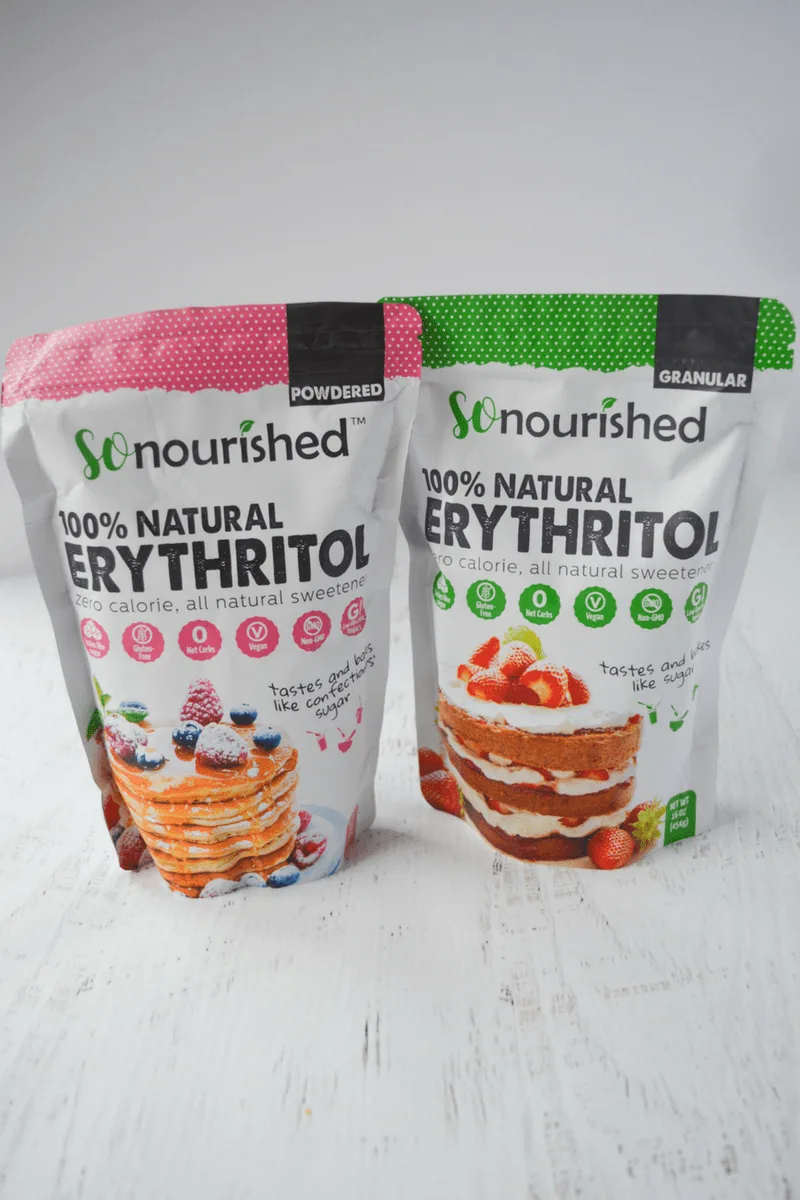 You can buy it on Amazon along with their Ketone Test Strips and Hand Held Spiralizer. If you've been following me for any amount of time, you know that I love to support small business, so I'm so happy to promote this quality brand!
Back to the recipe. When I tried the Keto Lemon Bars I was so impressed. It tastes so fresh and natural, unlike the processed junk you might be used to if you're new to Keto. And the nutrition info is great! Here's a breakdown per serving:
Calories: 272
Net Carbs: 4g
Fat: 26g
Protein: 8g
Here's how you make them!
Yield: 8 servings
Keto Lemon Bars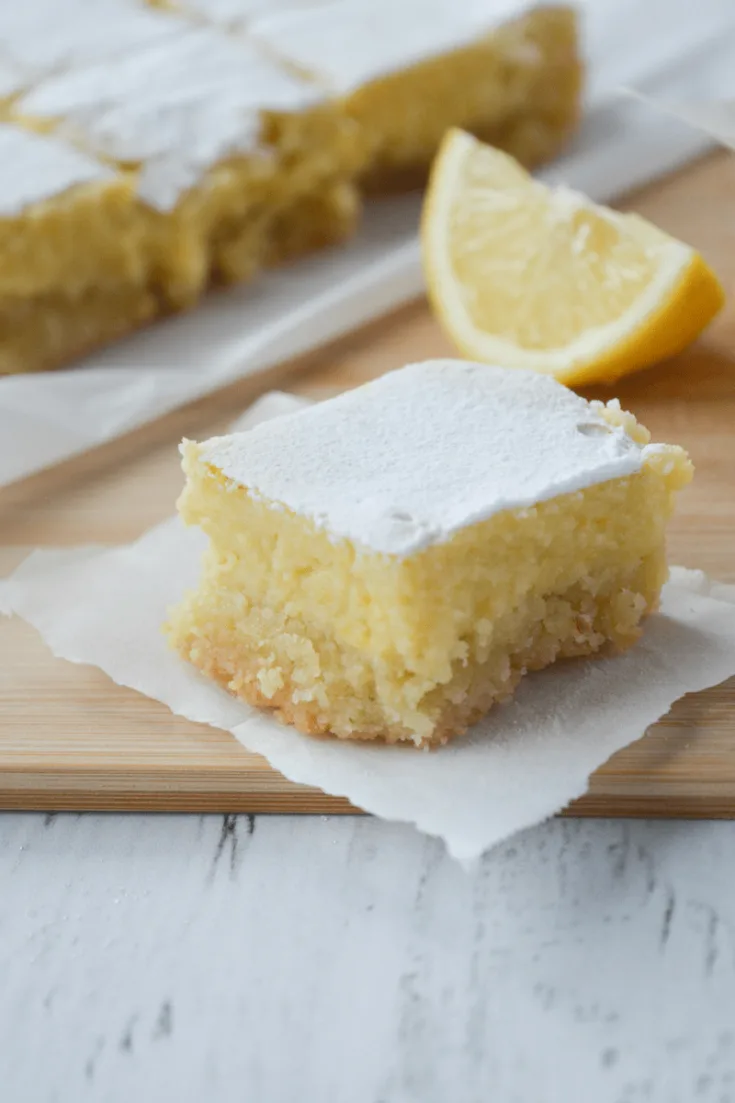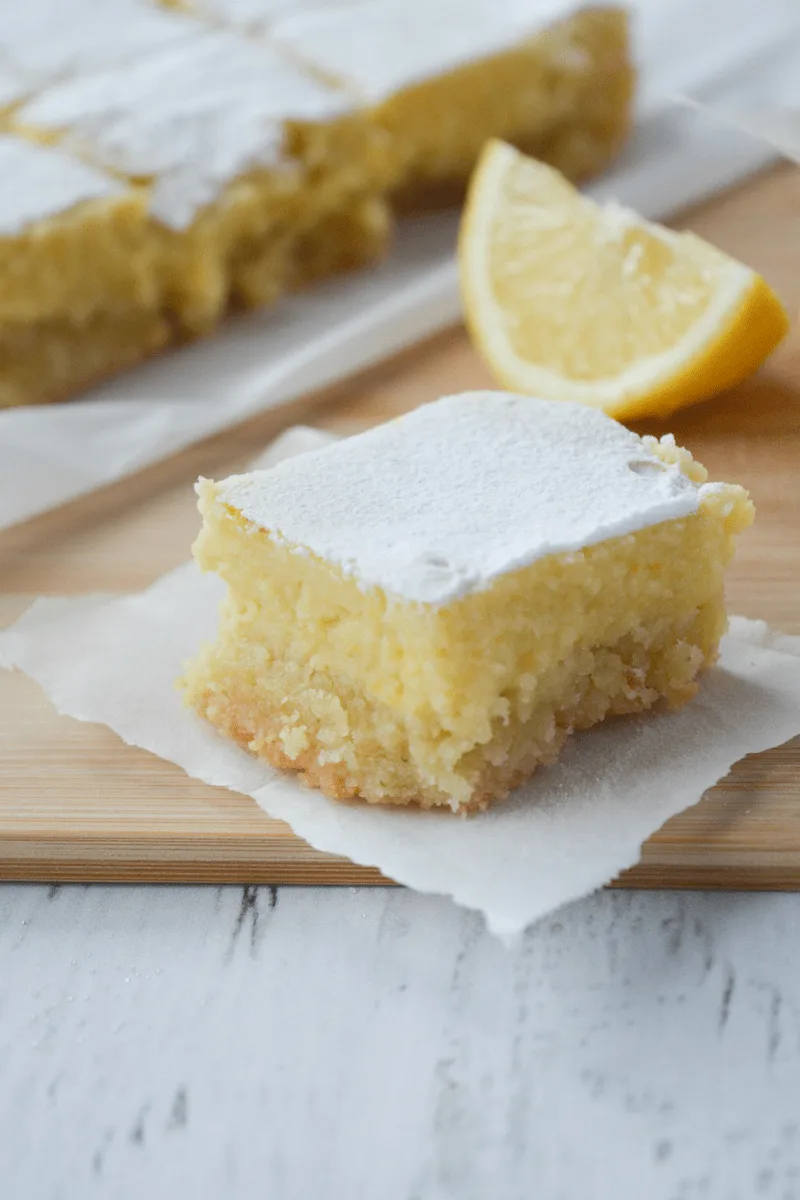 You and your guests will be left satisfied after these dense, wonderful lemon dream bars! Finish them off with lemon and a sprinkle of erythritol.
Additional Time
30 minutes
Total Time
1 hour
20 minutes
Ingredients
½ cup butter, melted
1 ¾ cups almond flour
1 cup powdered erythritol
3 medium lemons
3 large eggs
Instructions
Mix butter, 1 cup almond flour, ¼ cup erythritol, and a pinch of salt. Press evenly into an 8x8" parchment paper-lined baking dish. Bake for 20 minutes at 350 degrees F. Then, let cool for 10 minutes.
Into a bowl, zest one of the lemons, then juice all 3 lemons, add the eggs, ¾ cup erythritol, ¾ cup almond flour & pinch of salt. Combine to make filling.
Pour the filling onto the crust & bake for 25 minutes.
Serve with lemon slices and a sprinkle of erythritol.
Notes
If adding vanilla extract to crust is something you're used to, feel free to mix ½ teaspoon into the crust.
I recommend letting the bars cool for at least 30 minutes before cutting.
Cutting the bars with unflavored dental floss is a GREAT way to get a clean cut.
Please note that I am not a certified nutritionist. If nutrition is important to you, I highly encourage you to verify any data you see here with your favorite nutrition calculator.
Nutrition Information:
Yield:
8 servings
Serving Size:
1 bar
Amount Per Serving:
Calories:

272
Total Fat:

26g
Carbohydrates:

4g
Protein:

8g
You may also enjoy...