These Keto Peanut Butter Chocolate Chip Cookies are the ultimate gooey, chewy and deliciously rich low carb dessert! You might want to wash them with a cold glass of unsweetened almond milk!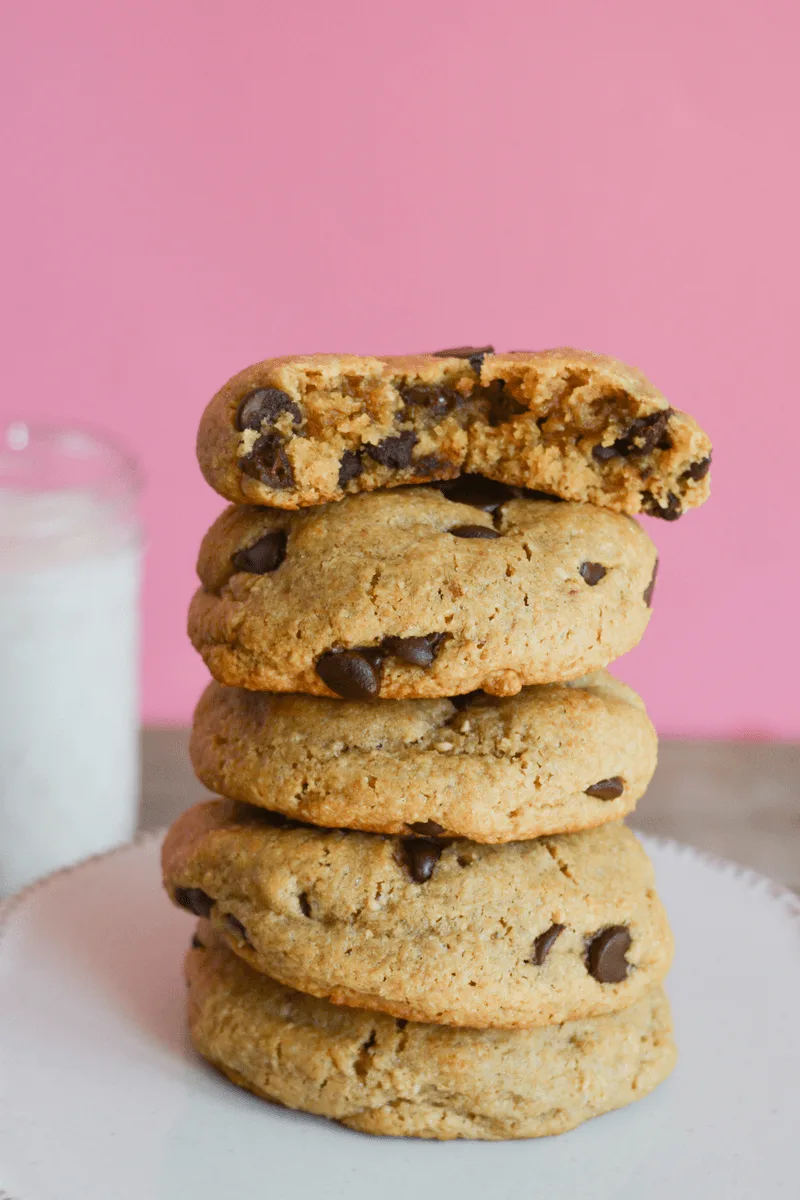 Cookies are one of my all time favorite Keto treats. They're the perfect dessert for when you really just need some sweet low carb, high fat goodness.
With just a few swaps, delicious, chewy keto cookies are totally achievable! Don't be discouraged by the almond flour or sugar substitutes. This recipe for keto peanut butter chocolate chip cookies is easier than you might think!
Not feeling the peanut butter? Check out my recipe for easy keto chocolate chip cookies. These are absolutely amazing!
I've always been more of a crunchy cookie lover, and if you are too, you definitely need to check out my recipe for chocolate chip pecan and coconut cookies, but if you're here for gooey cookie amazingness keep on reading!
Joe was testing peanut butter cookies this morning and struck absolute gold....so much so that we knew we had to get this recipe up on the blog ASAP!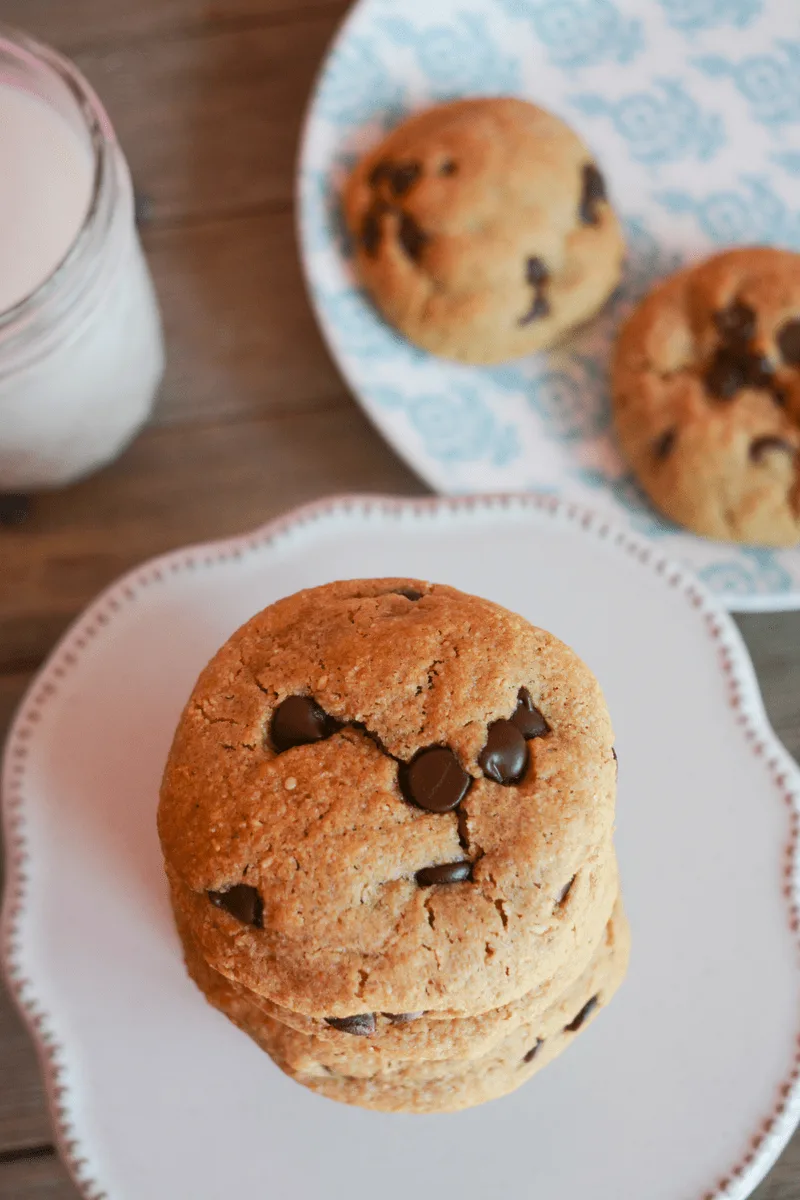 What ingredients do I need to make keto cookies?
The ingredients are pretty simple, and mostly made up of staples for a typical keto kitchen. For this recipe you'll need:
Melted Butter - I almost always just use salted butter
Unsweetened Natural Peanut Butter - The lowest carb peanut butters have a maximum of two ingredients - peanuts and salt
Brown Swerve or Regular Granular Swerve - I've made this recipe with both, and I definitely recommend going with the Brown Swerve. The cookies come out with a richer flavor.
Egg - I used a large egg in this recipe.
Almond Flour - specifically not almond meal. I use finely sifted almond flour. Blue Diamond is my current favorite brand.
Baking Powder
Baking Soda
Salt
Low Carb Chocolate Chips - Lily's is my favorite brand of keto-friendly chocolate chips, but feel free to use your go-to!
Is peanut butter keto?
I know peanut butter is a bit controversial on a keto diet. The main argument is that peanuts are technically a legume...more closely related to beans than nuts, and therefore not a typical part of a strict keto diet.
The way I do keto, if it fits your macros it's good to go. And if you use an unsweetened, natural peanut butter (maximum 2 ingredients: peanuts and salt) you'll find that the carbs are very reasonable.
For instance, in this recipe we only use 2 tablespoons of peanut butter, which only amounts to 4 net carbs. If it's still not your jam, feel free to use an alternate butter like almond butter. Everybody's keto journey is different.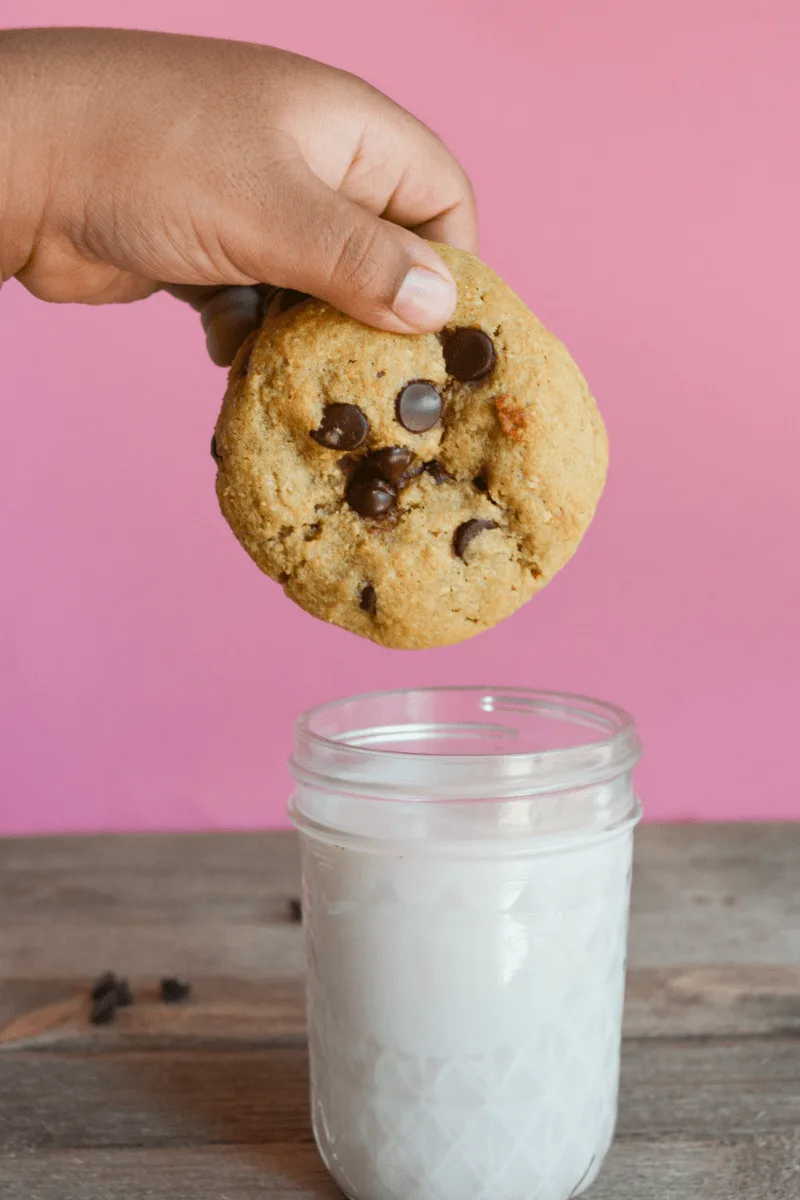 Nutrition Info for these keto cookies
For one serving (1 cookie) we're looking at 5 net carbs. I love how big and gooey the cookies come out when you separate the batter into 8 cookies. To reduce the carbs even more, simply roll the dough into smaller cookies.
I think this dough could easily make 12 smaller cookies.
Here's the nutrition for one cookie out of an 8 cookie batch:
Calories: 145 Calories
Total Carbs: 7.75g
Fiber: 2.75
Net Carbs: 5.00g
Protein: 5.62g
Fat: 11.47g
Here's a breakdown of the nutrition for the ingredients:
If you like this recipe, you might also enjoy
Easy Keto Chocolate Chip Cookies
If you've tried this keto peanut butter chocolate chip cookies recipe or any other recipe on my site, let me know in the comment section how it turned out. We love hearing from our readers! You can also follow along with me on PINTEREST, FACEBOOK and INSTAGRAM to see more amazing recipes!
Here's how you make them!
Yield: 8 Large Cookies
Keto Peanut Butter Chocolate Chip Cookies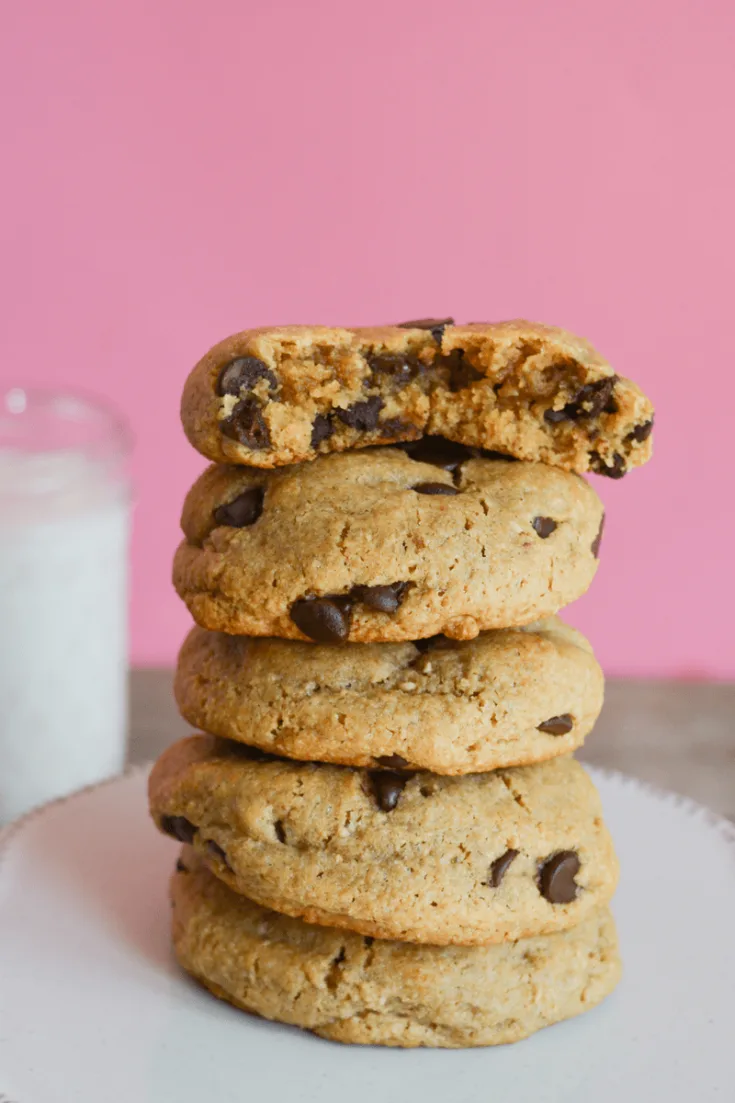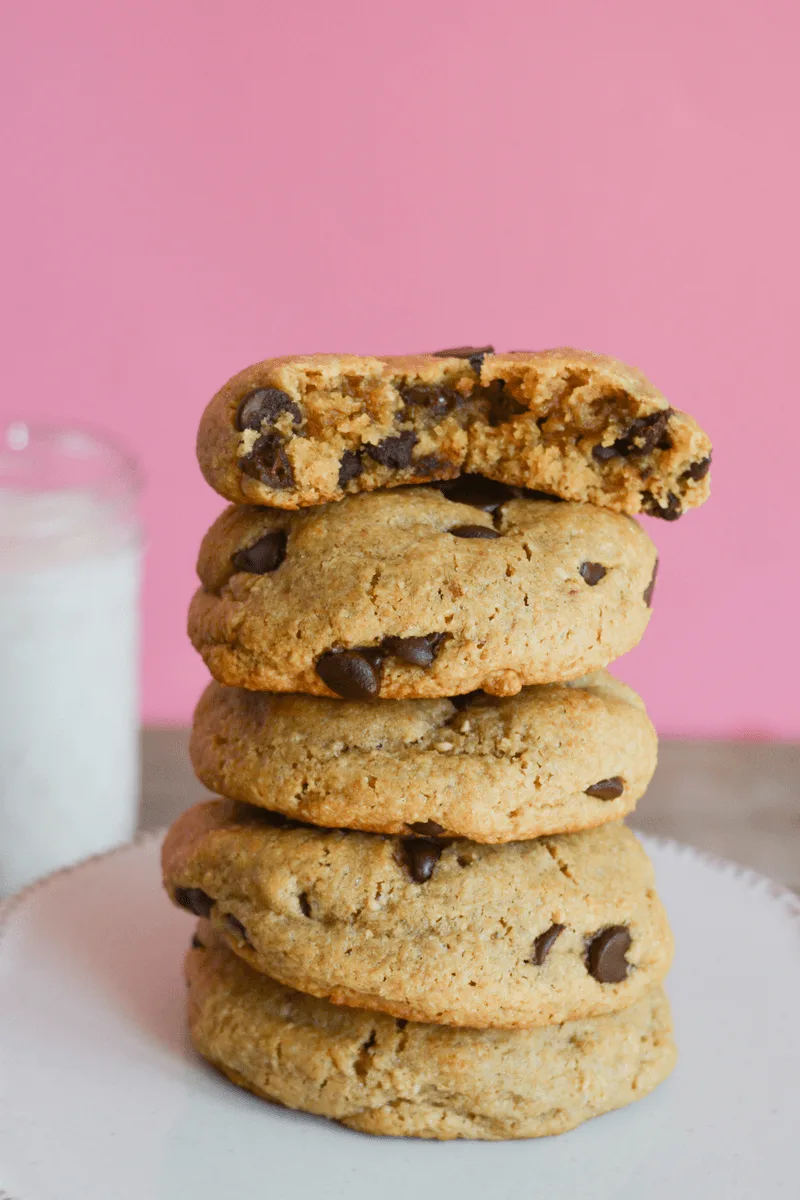 These Keto Peanut Butter Chocolate Chip Cookies are the ultimate gooey, chewy and deliciously rich low carb dessert! You might want to wash them with a cold glass of unsweetened almond milk!
Ingredients
2 Tablespoons Melted Butter
2 Tablespoons Unsweetened Natural Peanut Butter
½ Cup Brown Swerve or Regular Granular Swerve
1 Egg
1 Cup Almond Flour
½ Teaspoon Baking Powder
¼ Teaspoon Baking Soda
¼ Teaspoon Salt
¼ Cup Low Carb Chocolate Chips (I use Lily's)
Instructions
Preheat Oven to 350 degrees Fahrenheit
In a medium bowl mix melted butter, peanut butter, swerve, and egg until very smooth, set aside.
In a separate bowl mix almond flour, baking powder, baking soda, and salt until well combined.
Add flour mixture to butter mixture and mix until combined.
Add chocolate chips to combined mixture and stir until just incorporated.
Roll dough into 8 large balls and place on parchment lined baking sheet.
Bake for 15 minutes at 350 degrees. Allow cookies to cool completely before digging in!
Notes
We made these cookies with both the new Brown Swerve and Regular Granular Swerve. The Brown Swerve gives the flavor more depth, and is definitely the preferred taste, but the Regular is also very delicious.
Please note that I am not a certified nutritionist. Any nutritional information that is discussed or disclosed in this post should only be seen as my best amateur estimates based on NET carbs. If nutrition is important to you, I highly encourage you to verify any data you see here with your favorite nutrition calculator.
Nutrition Information:
Yield:
9
Serving Size:
1 Cookie
Amount Per Serving:
Calories:

145
Total Fat:

11.47g
Carbohydrates:

5g
Fiber:

2.75g
Protein:

5.62g