This Keto Chicken Taco Soup is your answer when the colder months ask what delicious dish you'll be warming yourself up with! It's easy, delicious, and full of low carb goodness!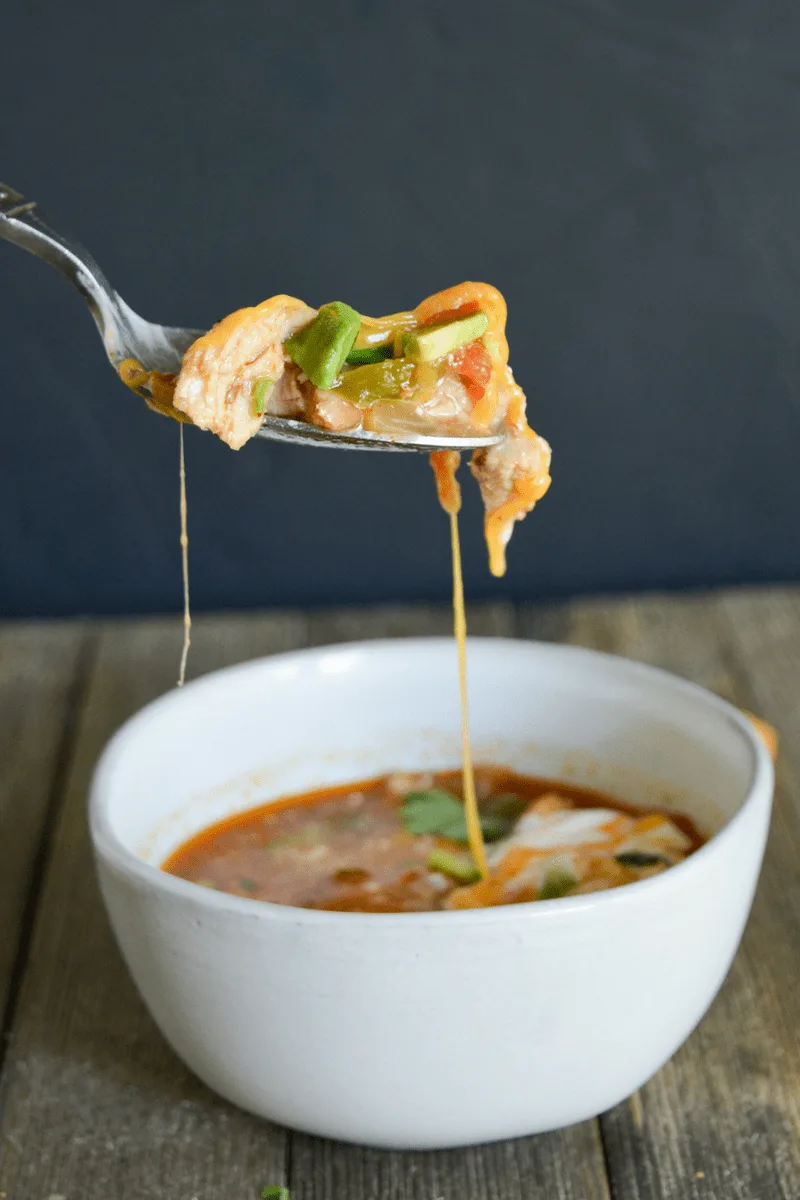 Fall is JUST around the corner, and here in Missouri we recently got a taste of it, with weather so chilly we were in sweaters in AUGUST.
I say that means it's time for SOUP!
There are already some other awesome recipes on the blog for when the weather starts to cool down. Check out:
All to satisfy your tastebuds low carb style! I'm really excited about the flavors in today's recipe, which is sort of a fun twist on Chicken Tortilla Soup!
This soup is fully loaded, bursting with flavor and incredibly filling!
Keto Chicken Taco Soup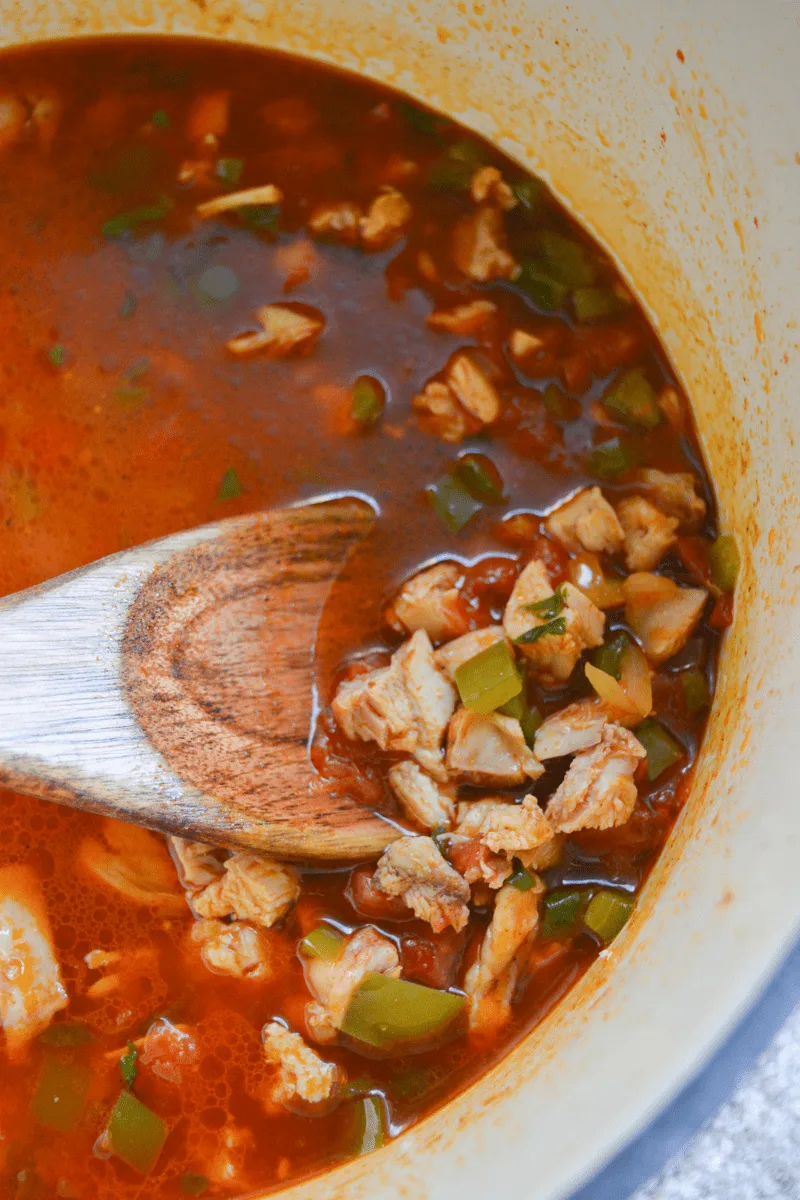 The key to this recipe's deliciousness is the seasoning! We all know that chicken is a very versatile, easy and convenient source of protein and it's really easy to get the flavors right by seasoning in layers.
What does that mean? It means we gradually season the dish as we're cooking it rather than dumping it all in at once.
For this recipe I used seasoning when searing the chicken thigh but then added a little later on as well. Adding a pinch of salt after each large ingredients addition is helpful too.
The difference may be subtle to you, but I think it's a great way to better penetrate the food with all those yummy spices!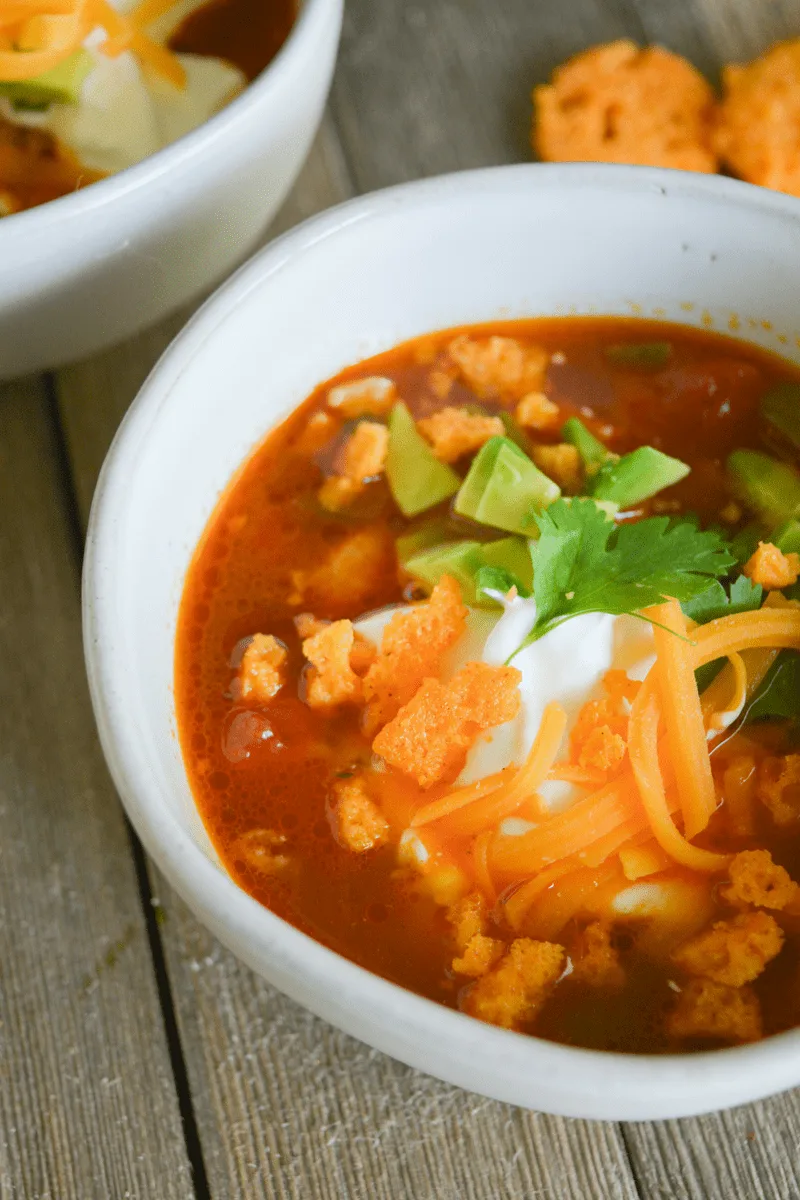 This Keto Chicken Taco Soup is very filling, largely due to the yummy fats that also make it a great Keto-friendly meal.
Here's a breakdown of the nutrition:
Calories: 395 Calories
Total Carbs: 10.4g
Fiber:3.8g
Net Carbs: 6.6g
Protein: 27.1g
Fat: 28.8g
If you prefer a little crunch in your soup, and don't want to go to low carb tortilla route, feel free to use a cheddar crisp like Cello Whisps or ParmCrisps to add some flavor and a really nice crunch!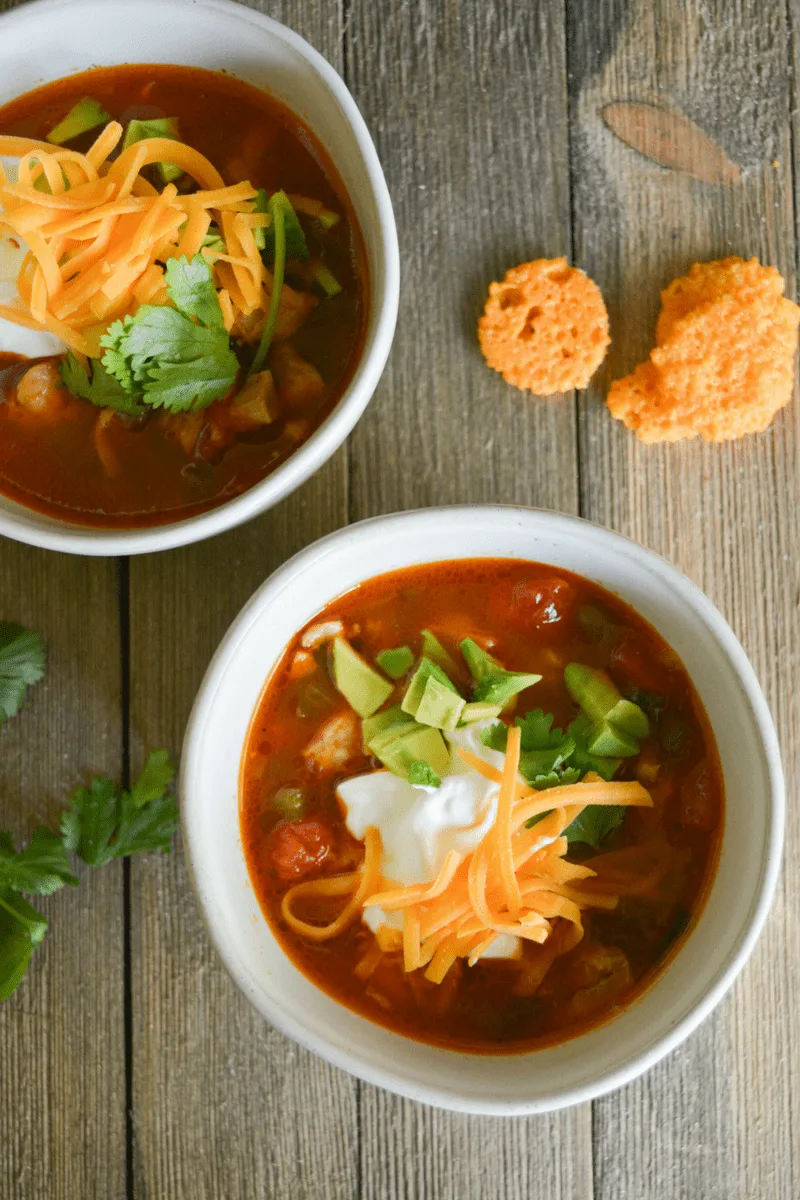 Yield: 4 cups, 1 cup per serving
Keto Chicken Taco Soup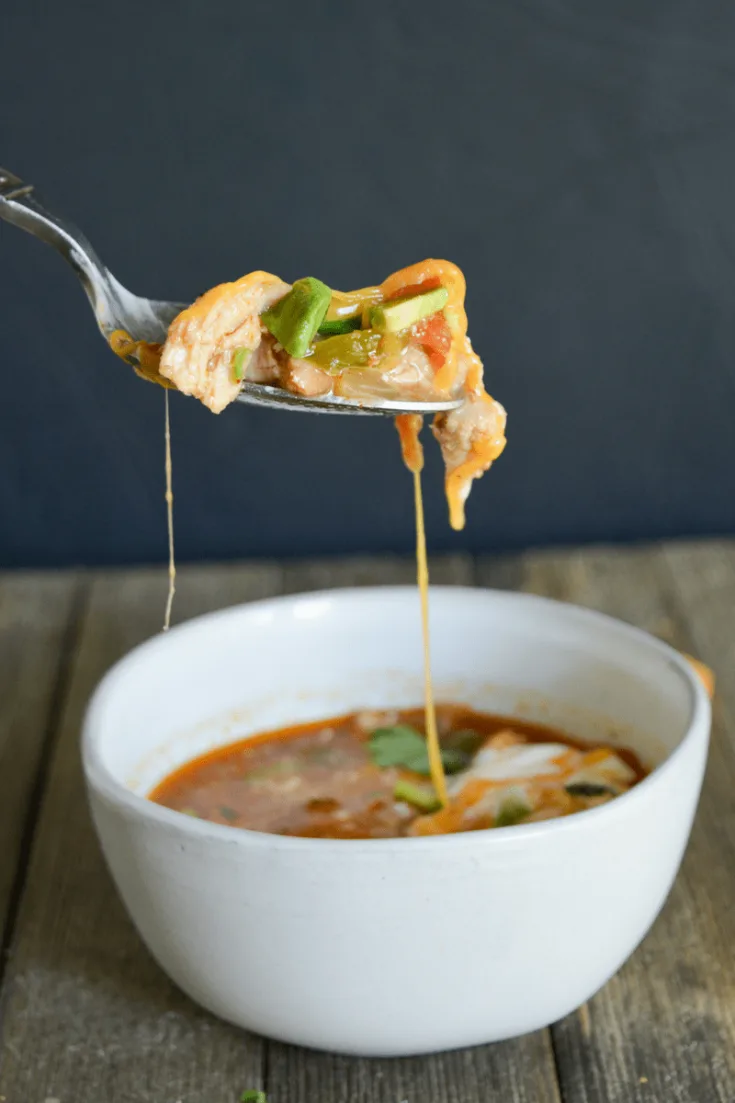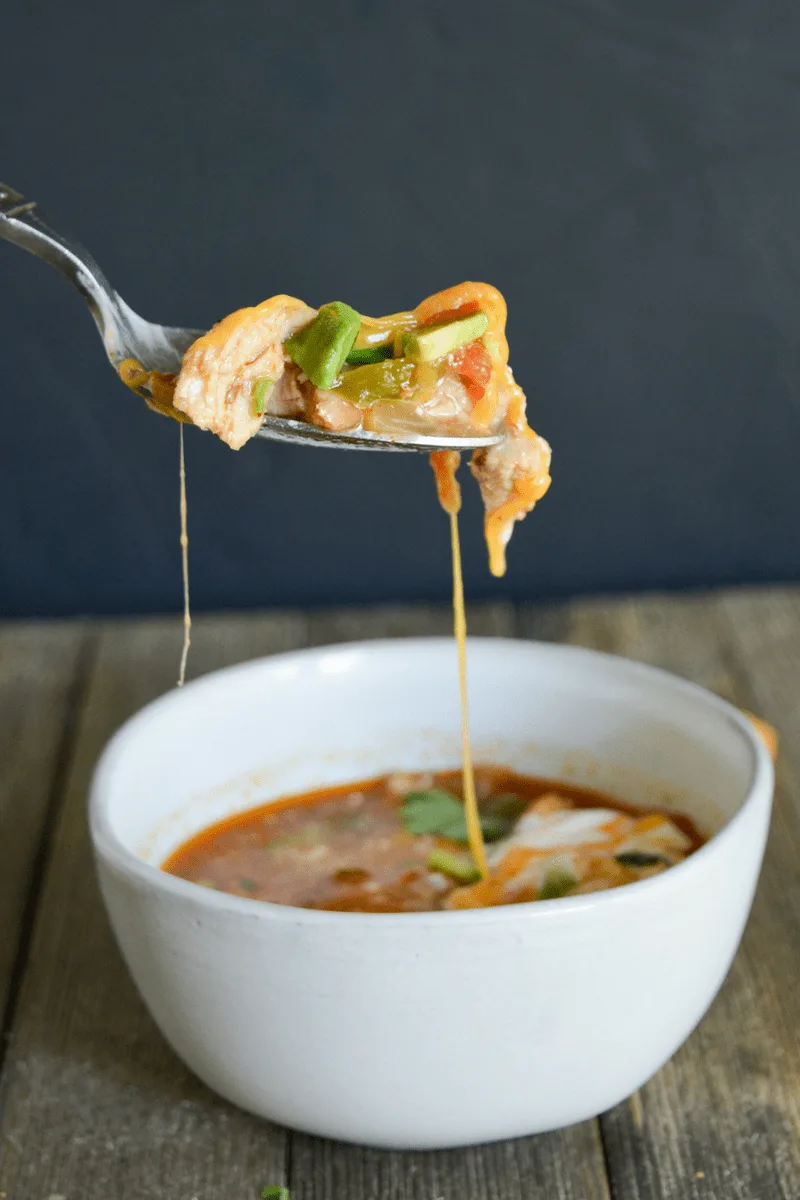 This Keto Chicken Taco Soup is your answer when the colder months ask what delicious dish you'll be warming yourself up with! It's easy, delicious, and full of low carb goodness!
Ingredients
½ tablespoon chili powder
1 teaspoon cumin
½ teaspoon garlic powder
2 tablespoons coconut oil
1 pound boneless skinless chicken thighs
¼ cup chopped white onion
½ 4'inch jalapeno, diced
½ green bell pepper, chopped
½ cup diced tomatoes and chilies, drained
3 cups chicken broth
2 tablespoons tomato paste
2 tablespoons butter
¼ cup cilantro, chopped, divided
1 avocado, pitted, peeled, and diced
4 tablespoons sour cream, for topping
1 cup mild cheddar cheese, for topping
Salt and pepper, to taste
Instructions
In a small bowl, mix the chili powder, cumin, and garlic powder. Sprinkle half of the mixture over the chicken thighs and add salt and pepper to your preference.
In a large pot over medium-high heat, warm the coconut oil, about 2-3 minutes. Carefully add the chicken thighs to the pot and sear then reduce the heat and continue cooking until chicken is cooked fully, reaching at least 165 degrees (F) internal temperature. Mine took about 15 minutes in a heavy dutch oven.
Remove the chicken from the pan and set aside. Add the onion, jalapeno, and green bell pepper to the pan. Saute in oil for 2 minutes then add diced tomatoes and chilies. Use a wooden spoon to scrape the bottom of the pan as the tomatoes release juice. This will get all the tasty chicken seasoning into the soup. Let the veggies cook for about 5 minutes or until they begin to soften and become fragrant. Sprinkle with remaining seasoning from the small bowl in step 1 and stir.
Pour the broth and tomato paste into the pan, stir, and bring to a boil. Let the soup boil for 1-2 minutes then reduce to a simmer.
Cut the cooled chicken into small bite size cubes. Add back into simmering soup along with butter. The butter will remove any extra acidity in the soup.
Let the soup simmer for 15 minutes to let the flavors come together. When done, turn off the heat and sprinkle with half of the cilantro. Omit this step if you don't like cilantro.
To serve, add ¼ of avocado to each dish, 1 tablespoon of sour cream,¼ cup of shredded cheese and a sprinkle of cilantro for garnish. If you like a bit of crunch, feel free to add crumbled up 100 % cheese crisps such as Parm Crisps or Whisps.
Notes
To freeze: Place desired amount of servings into a freezer zippable storage bag. Lay flat in the freezer if possible for quickest thaw time. To reheat, let thaw under cool water or place in the fridge then either microwave or pour into pot over medium heat until warm and heated through.
Quick recipe: To make this even fast, feel free to use a rotisserie chicken. Debone then shred or cube and skip the coconut oil sear step. Add into the pot after the broth step. Note, this will lower your fat content a bit.
Customize it: You don't have to add the same toppings as I did. (But it's delicious that way) To adjust to your own macros or toppings, use an app like My Fitness Pal or Cronometer and input the brands you used and the amounts for the most accurate nutrition information.
Nutrition Information:
Serving Size:
1 Cup
Amount Per Serving:
Calories:

395
Total Fat:

28.8g
Carbohydrates:

10.46g
Fiber:

3.8g
Protein:

27.1g
You may also enjoy...