This Keto White Chicken Chili is an amazing comfort food for the changing seasons. It's filling, tasty and can easily be a crockpot/freezer meal!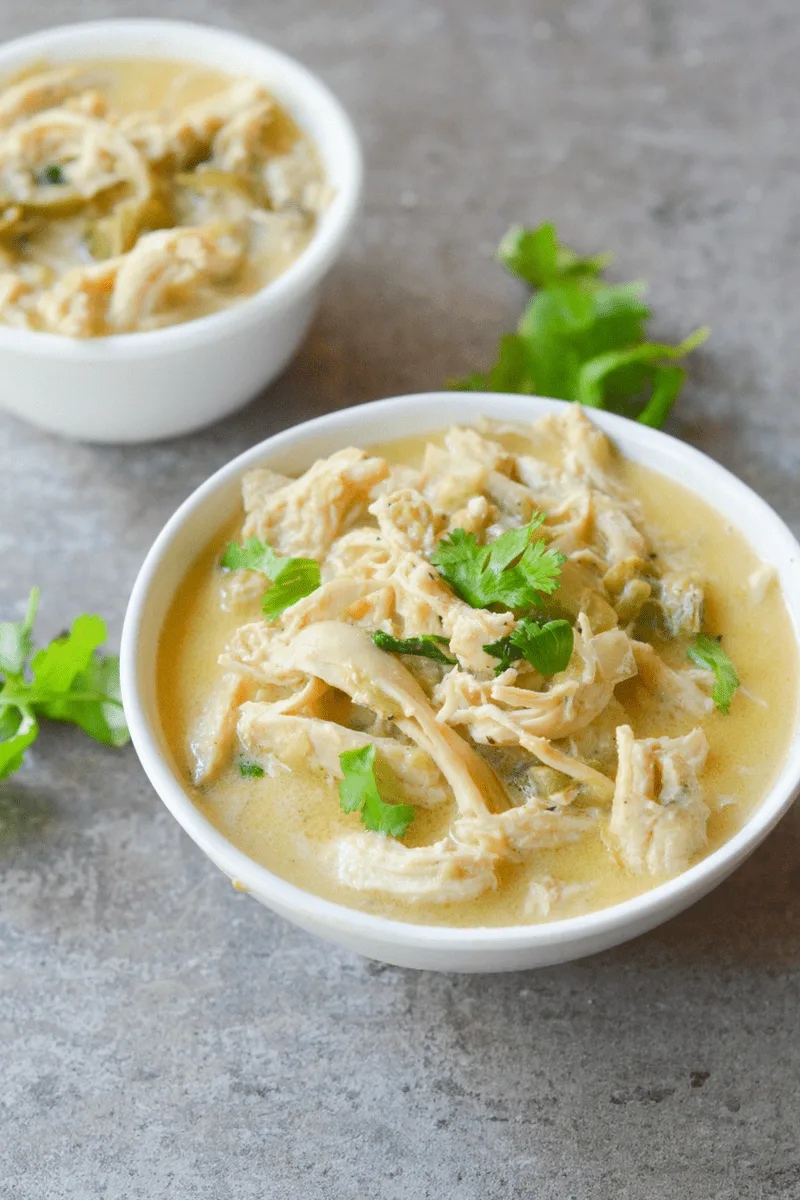 Traveling is always a ton of fun, but there's something so comforting about coming home to your own bed...and fridge.
Last week we went to visit my parents just a few hours away in Springfield. It was our 6 month old's first mini road trip, and it went amazingly well.
I was a bit unsure because she tends to dislike cars, and doesn't take a pacifier... so I was kind of bracing myself.
But guess what? She slept nearly the whole time!
It was such a relief and she continued to so well the entire trip.
We all had a fantastic time, ate delicious keto food, and went to an aquarium! Wonders of Wildlife, which just opened last month.
Real talk, I have been waiting for this place to open since I was a kid. Literally. It took FOREVER for them to finally build it.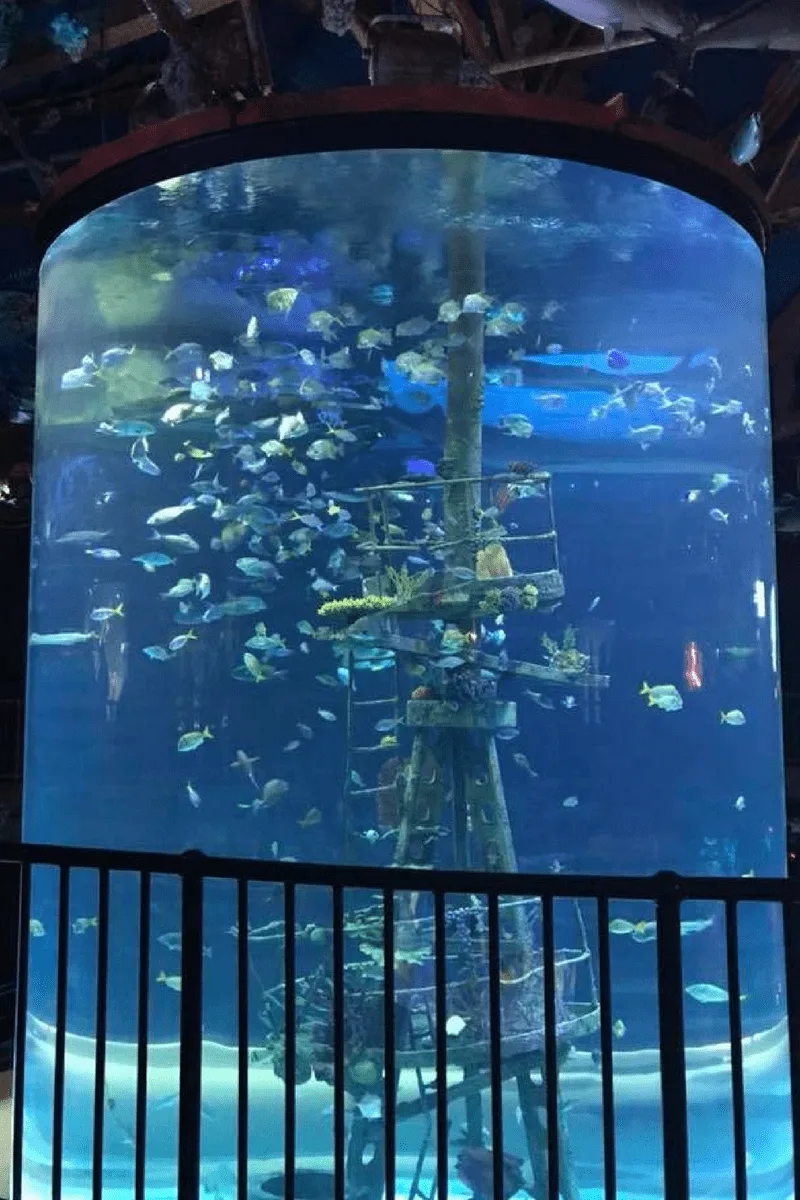 It. Was. Incredible.
We went early on a rainy Sunday morning, before it had a chance to get crowded.
My absolute favorite part? The jellyfish. They were mesmerizing.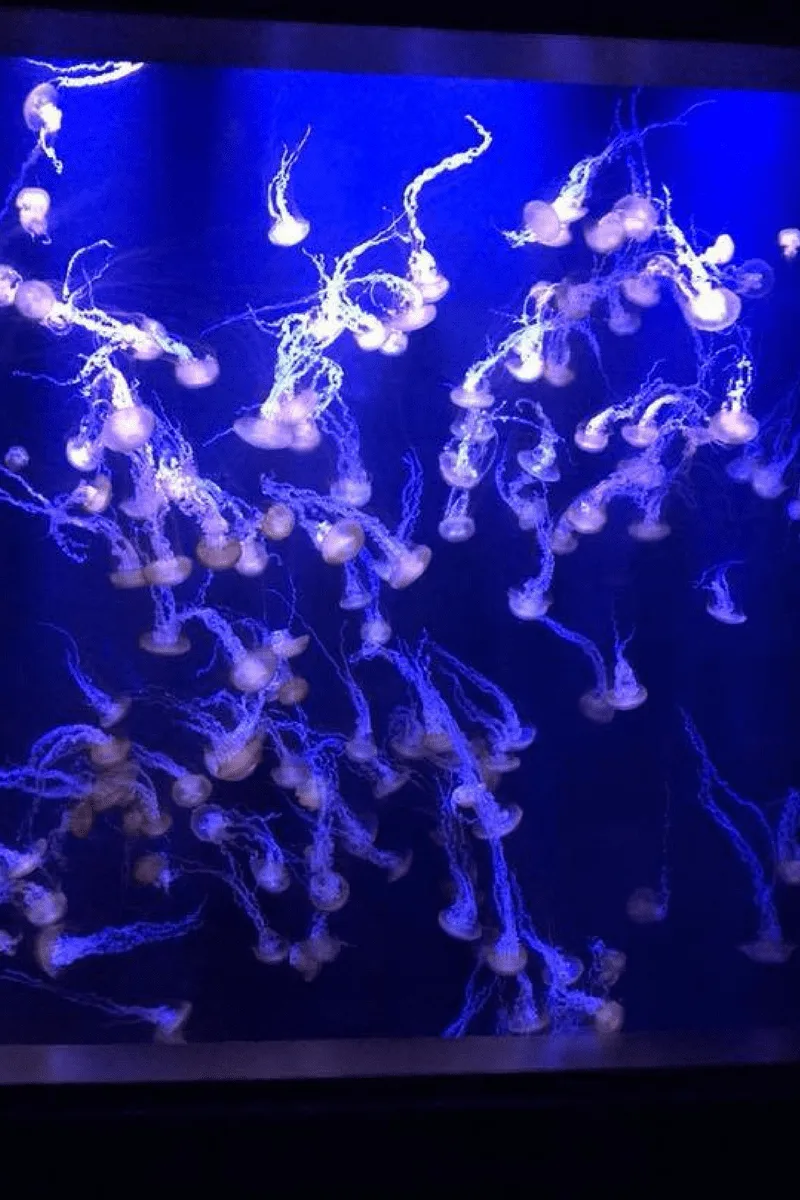 Since we have two kiddos no, we had even less time to sit down and eat. My husband and I have been more into Intermittent Fasting lately or, IF.
I started doing 16/8 which means 16 hour fast with an 8 hour eating window. You can read more about the benefits of IF here. During our trip, and a couple days before I naturally shifted into 20/4.
Doing IF during while traveling made things much easier. The kids had to eat frequently as usual, but my husband and I just waited until we got back to the hotel at night and had a feast! It was so much fun. Grocery store rotisserie chicken, Qdoba bowls, pickles, tons of almonds and wings out the wazoo.
As good as all that food was, it was still super nice to come home to our own fridge. No studying nutrition labels, or strategic food planning...just a bunch of food we're used to that we know we can eat and enjoy.
Some time during the second half of our trip fall arrived. And it came HARD.
By the time we got back home it was COLD, going from highs in the 80s to lows in the 20s in just a few days.
Cold weather calls for warm meals. And chili is one of my favorite fall dishes.
Keto White Chicken Chili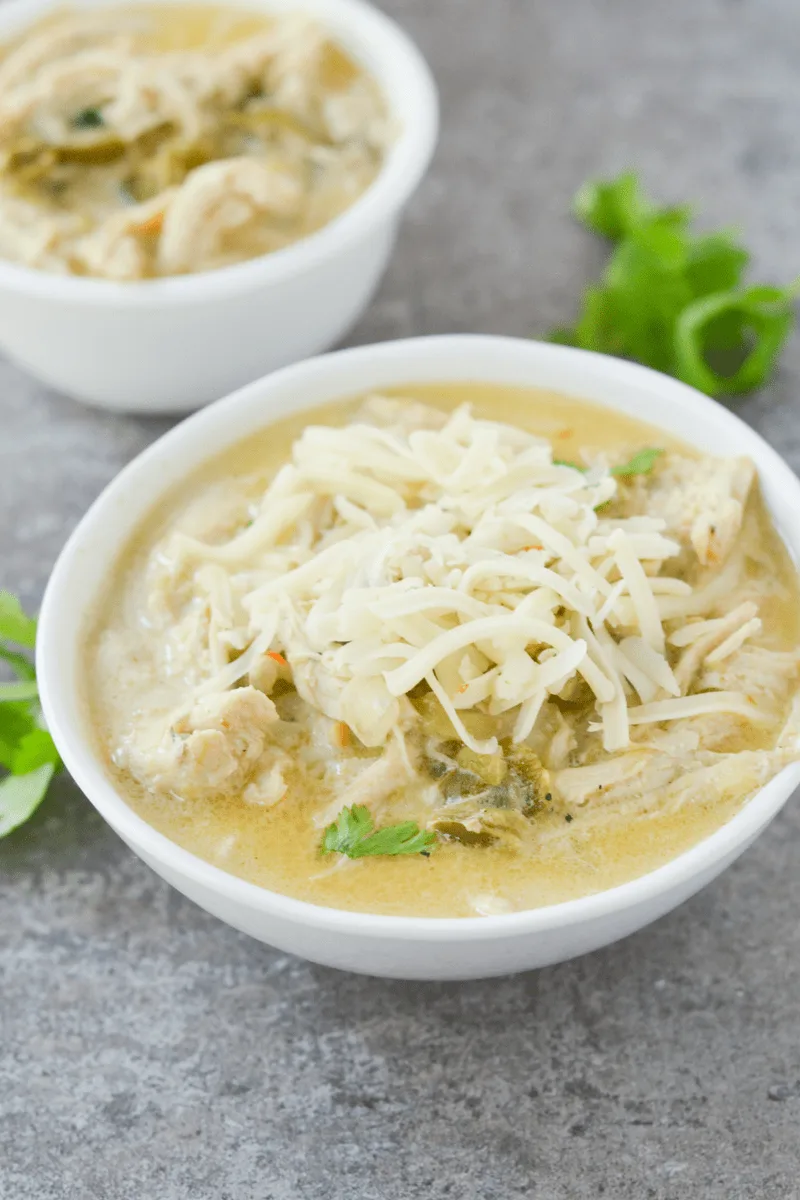 Sometimes it's hard for people to understand how you can enjoy chili without beans...but it's easier than you might think!
Throwing in some extra chicken and veggies adds even more flavor.
This chili is made with shredded chicken, peppers and spicy pepper jack cheese.
It's not as thick as traditional chili, but it's loaded with flavor...and I promise you it's filling!
You can even add one of my keto dinner rolls on the side. They taste like a wheat roll to me, and can be made in less than 15 minutes while the chili cooks.
All the extra fats in this white chicken chili will help keep you full without all the carbs that beans carry.
Here's the nutrition info for a one cup serving:
Calories: 481
Total Carbs: 5g
Fiber: 1g
NET Carbs: 4g
Protein: 39g
Fat: 30g
This is also an excellent meal to make in the crockpot AND the perfect freezer meal.
To make in the crockpot just add all the ingredients except the heavy cream and cook for 4 hours on low, shred the chicken, return to the crock pot and stir in the heavy cream.
Just put it in a large freezer ziplock bag and when you're ready to make it put it in a bowl of cold water to thaw it out.
Once it starts getting soft, put it in a large pot on the stove, add a little salt, and warm it up. As a bonus you can throw in some herbs like cilantro to help freshen up the dish.
This Keto white chicken chili is super easy to make and takes as little as 30 minutes in a pinch, or can be cooked low all day in a slow cooker.
Here's how I made it!
Print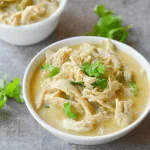 Keto White Chicken Chili
---
Author:

Total Time:

45 minutes

Yield:

4

1

x
Description
This Keto White Chicken Chili is an amazing comfort food for the changing seasons. It's filling, tasty and can easily be a crockpot/freezer meal!
---
1 lb chicken breast
1.5 cups chicken broth
2 garlic cloves, finely minced
1 4.5oz can chopped green chiles
1 diced jalapeno
1 diced green pepper
¼ cup diced onion
4 tbsp butter
¼ cup heavy whipping cream
4 oz cream cheese
2 tsp cumin
1 tsp oregano
¼ tsp cayenne (optional)
Salt and Pepper to taste
---
Instructions
In large pot, season chicken with cumin, oregano, cayenne, salt and pepper
Sear both sides over medium heat until golden
Add broth to pot, cover and cook chicken for 15-20 minutes or until fully cooked
While chicken is cooking, melt butter in medium skillet
Add chiles, diced jalapeno, green pepper and onion to skillet and saute until veggies soften
Add minced garlic and saute additional 30 seconds and turn off heat, set aside
Once chicken is fully cooked, shred with fork and add back into broth
Add sauteed veggies to pot with chicken and broth and simmer for 10 minutes
In medium bowl, soften cream cheese in microwave until you can stir it (~20 sec)
Mix cream cheese with heavy whipping cream
Stirring quickly, add mixture into pot with chicken and veggies
Simmer additional 15 minutes
Serve with favorite toppings such as: pepper jack cheese, avocado slices, cilantro, sour cream
Notes
I did not add thickening agents to this chili such as xanthan gum so the liquid will be thinner but the amount of veggies and meat make it a hearty dish
I did not measure the amount it serves, I just separated it into 4 equal servings in bowls
Prep Time:

15

Cook Time:

30
Nutrition
Serving Size:

1 Cup

Calories:

481

Fat:

30g

Carbohydrates:

5g Total Carbs, 4g Net Carbs

Fiber:

1g

Protein:

39g
You may also enjoy...