Eating these Keto Strawberry Donuts is like taking a bite out of paradise. With their amazing flavor and texture, you'll never believe they're low carb!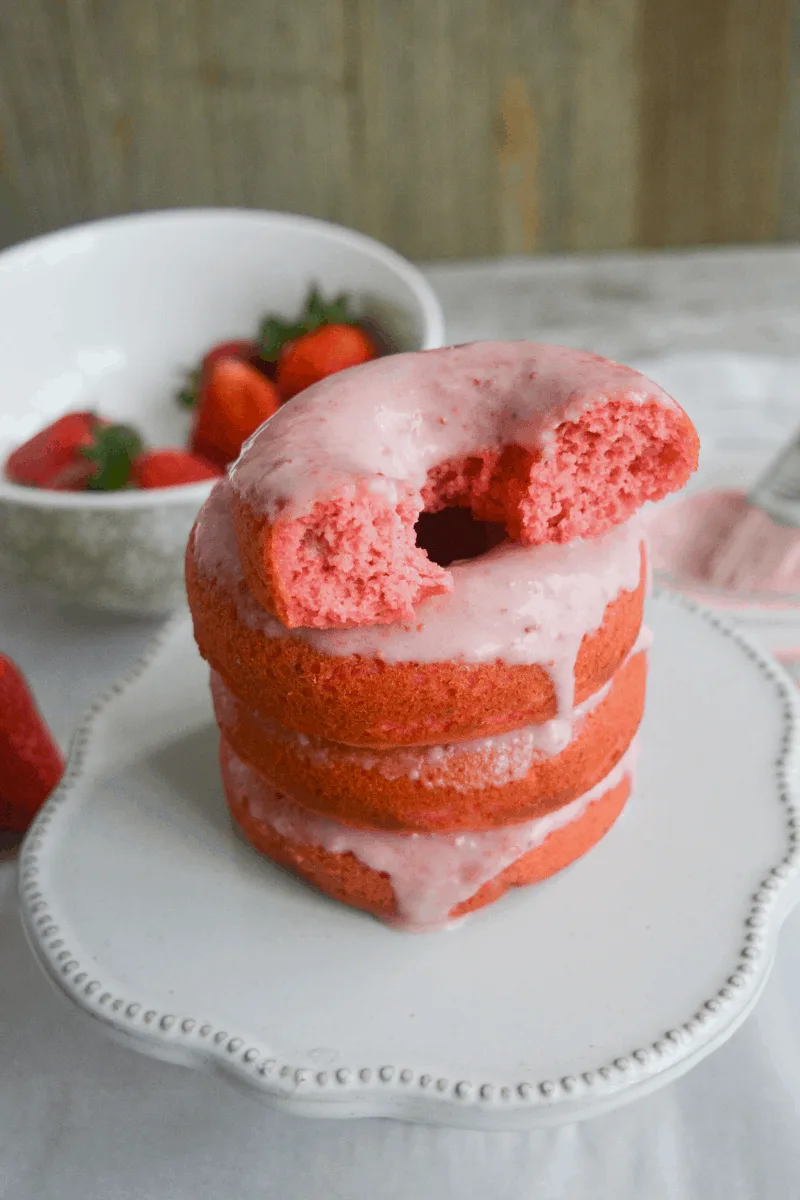 Wow. That's all we could say when we finally tried these donuts. When I say we have struggled to come up with the perfect keto donut recipe, I mean we have STRUGGLED.
Everything from flat and crumbly messes to burnt hands from wild frying oil, it's definitely been a journey, but today...today we overcome.
What ingredients do you need to make keto donuts?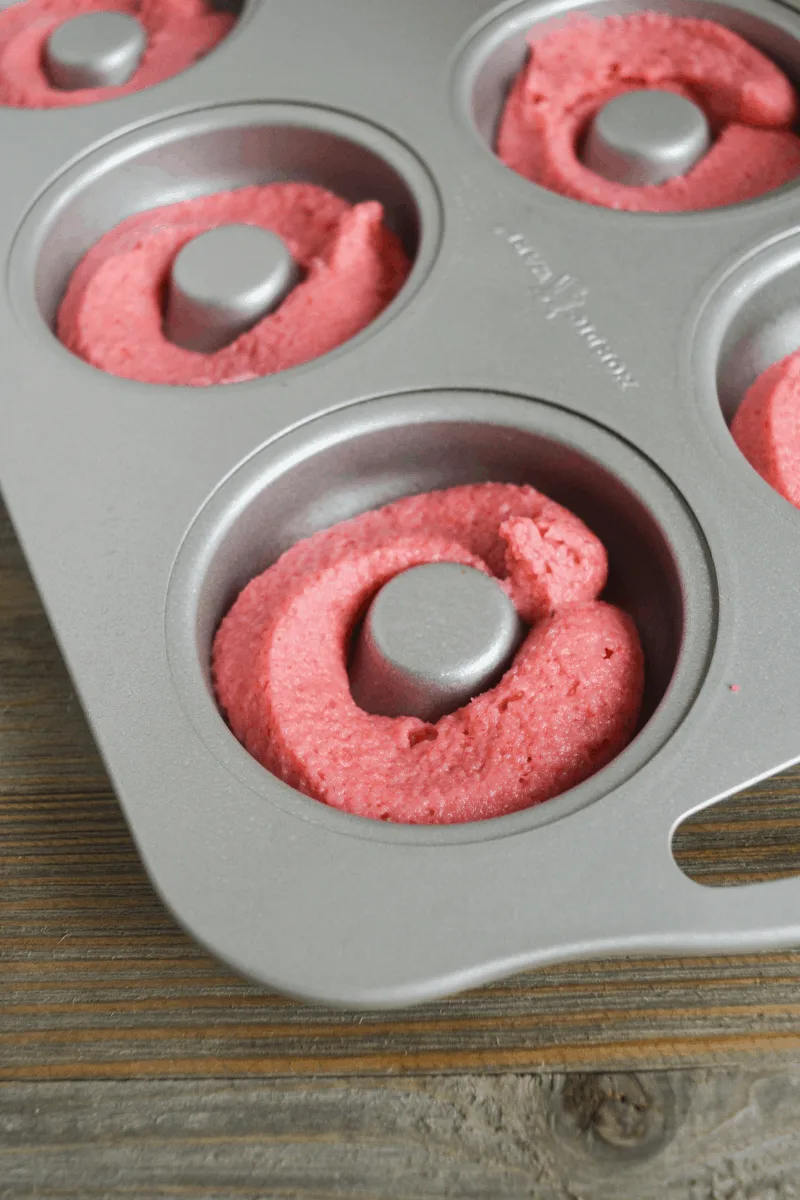 The most important thing I can think to say here is, if your lifestyle preferences don't allow you to eat sugar free jello, this recipe may not be for you.
I know it can be a bit of a controversial ingredient based on how strict your personal keto diet is, but I truly believe it is essential to the strawberry flavor in these donuts.
I'm aware of the sweetener in jello and the other ingredients. Make sure to read your label.
For me, it's a sometimes treat and I have decided it's fine. Recipes like this help keep me on track. I plan on making this for my daughters birthday next week. It's something we can enjoy as a family.
If it's not okay for you, that's fine too. Let's keep in mind that everyone's journey looks different.
That said, here's the list of all the ingredients you'll need:
Almond Flour - I highly recommend blanched finely ground. Not almond meal (I used Blue Diamond)
Unflavored Protein Powder (I used Bob's Red Mill)
Egg Whites
Sour Cream (I used Daisy)
Cream Cheese (I used Philadelphia)
Erythritol (I used Swerve Granular)
Butter (I prefer Salted)
Vanilla Extract
Baking Powder
Fresh Strawberries
Strawberry Sugar Free Jell-O (I used Jell-O)
Lemon Juice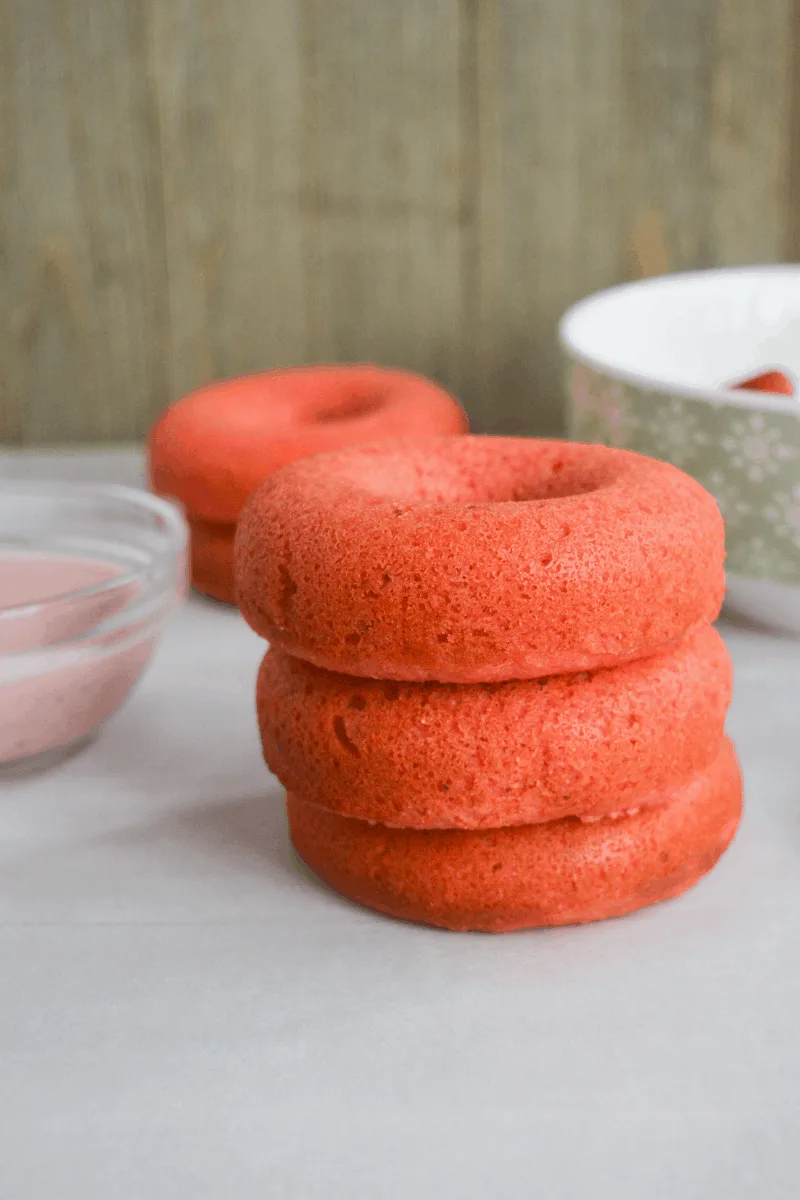 That list is a but longer than what I usually stick to, but the good news is these are all very easy to find and chances are you probably have most, if not all of them, in your kitchen right now.
The recipe is super easy to make even for beginners. You simply mix the dry ingredients together, wet ingredients together then place into a ziplock bag to pipe! I found this was less messy and easier to portion.
How does the nutrition look for this recipe?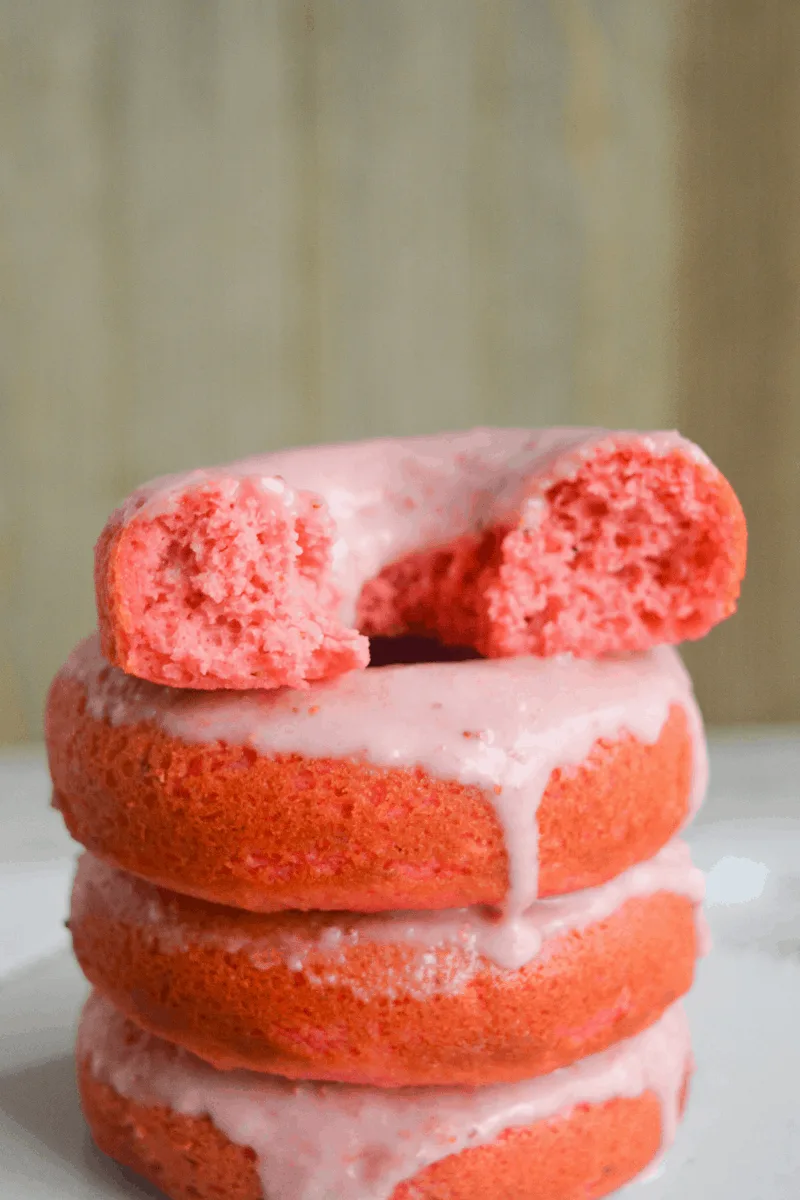 I'm really excited about how the nutrition info came out for this recipe. For one donut (recipe makes 12) you're looking at:
Calories: 221 Calories
Total Carbs (including erythritol): 12.9g
Fiber: 2.1g
Erythritol: 8g
Net Carbs: 2.7g
Protein: 6g
Fat: 20.3g
This crowd-pleasing recipe can fit right into your daily macros with ease. Remember, net carbs are total carbs minus fiber minus sugar alcohols.
Here's a breakdown of the nutrition of each ingredient. Be sure to check your own nutrition labels because it varies from brand to brand.
And here's how you make them!
Yield: 12 Donuts
Keto Strawberry Donuts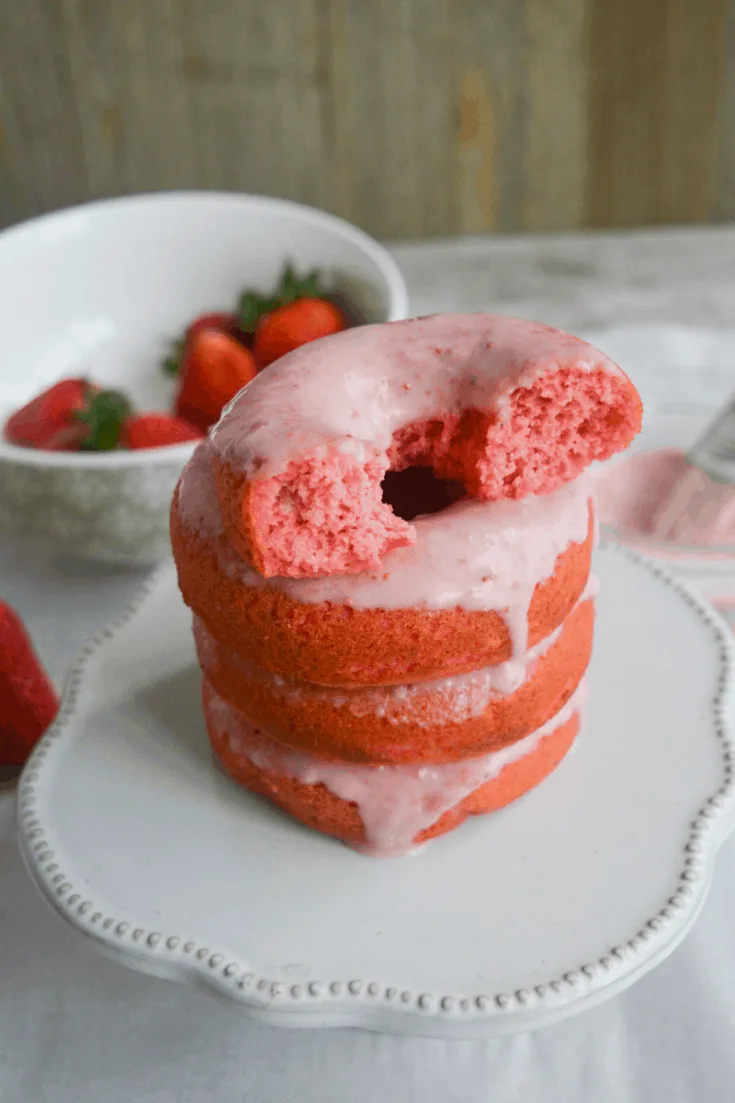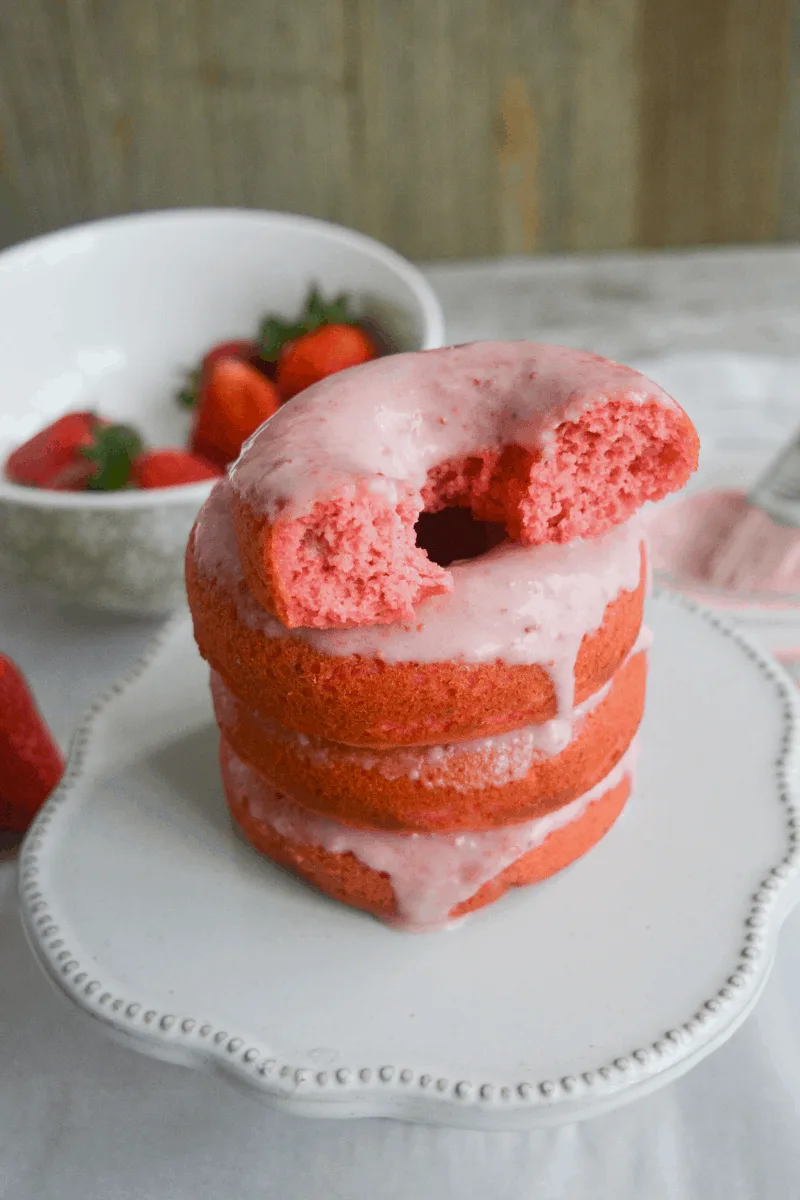 Eating these Keto Strawberry Donuts is like taking a bite out of paradise. With the amazing flavor and texture, you'll never believe they're low carb!
Ingredients
For the Donuts:
2 Cups Blanched Finely Ground Almond Flour
2 Tablespoons Unflavored Protein Powder
2 Teaspoons Baking Powder
1 0.3oz Packet Sugar-Free Strawberry Jell-O Powder
½ Cup Butter
2 Ounces Cream Cheese
¼ Cup Sour Cream
1 ½ Teaspoons Vanilla Extract
½ Cup Erythritol
10 Strawberries
2 Teaspoons Lemon Juice
2 Teaspoons Water
2 Egg Whites
For the Glaze:
4 Strawberries
2 Tablespoons Heavy Whipping Cream
2 Tablespoons Powdered Erythritol
2 Teaspoons Water
Instructions
For the Donuts
Preheat oven to 350 degrees Fahrenheit. Butter or (or non stick spray) your donut pan and set aside.
In a large mixing bowl, combine almond flour, protein powder, baking powder and sugar free strawberry Jello-O powder. Set aside.
In a separate bowl, add butter and cream cheese. Microwave for 30 seconds to melt, being careful to not burn the cream cheese. Stir well.
Add sour cream, vanilla extract, and erythritol to the butter and cream cheese mixture. Stir well.
In a blender, Puree strawberries, lemon juice, and water together until no lumps remain.
Add wet ingredients to dry ingredients and stir until very well combined. Then stir in the strawberry puree. Once combined, stir in egg whites until smooth.
Scoop batter into a freezer sized Ziploc bag. Twist the end of the bag to remove air then cut off a lower corner, and pipe the batter into a buttered donut pan. You will need 12 donut molds total, so either two 6-donut pans or work in batches.
Bake for 12 minutes or until a toothpick comes out of the donuts clean.
Cool completely before removing from donut pan. Otherwise the donuts will crumble
For the Glaze:
Put the strawberries, heavy whipping cream and water into the blender then puree. Pour into a small bowl and whisk in erythritol.
Remove from blender and brush evenly across donuts. This glaze is more for extra flavor and moisture so it's a little runny.
Notes
If Sugar Free Jell-O is not for you, you might want to skip this recipe. I believe it's essential to the flavor and can't think of a comparable substitution.
Recommended Products
As an Amazon Associate and member of other affiliate programs, I earn from qualifying purchases.
Nutrition Information:
Yield:
12 Servings
Serving Size:
1 Donut
Amount Per Serving:
Calories:

221 Calories
Total Fat:

20.3g
Carbohydrates:

2.8g Net Carbsg
Fiber:

2.2g
Protein:

6g
You May Also Enjoy...