Fresh grated ginger, red peppers, and minced garlic are all part of this Low Carb Slow Cooker Chinese Five-Spice Beef, a savory dish that will satisfy your Asian-style cuisine cravings!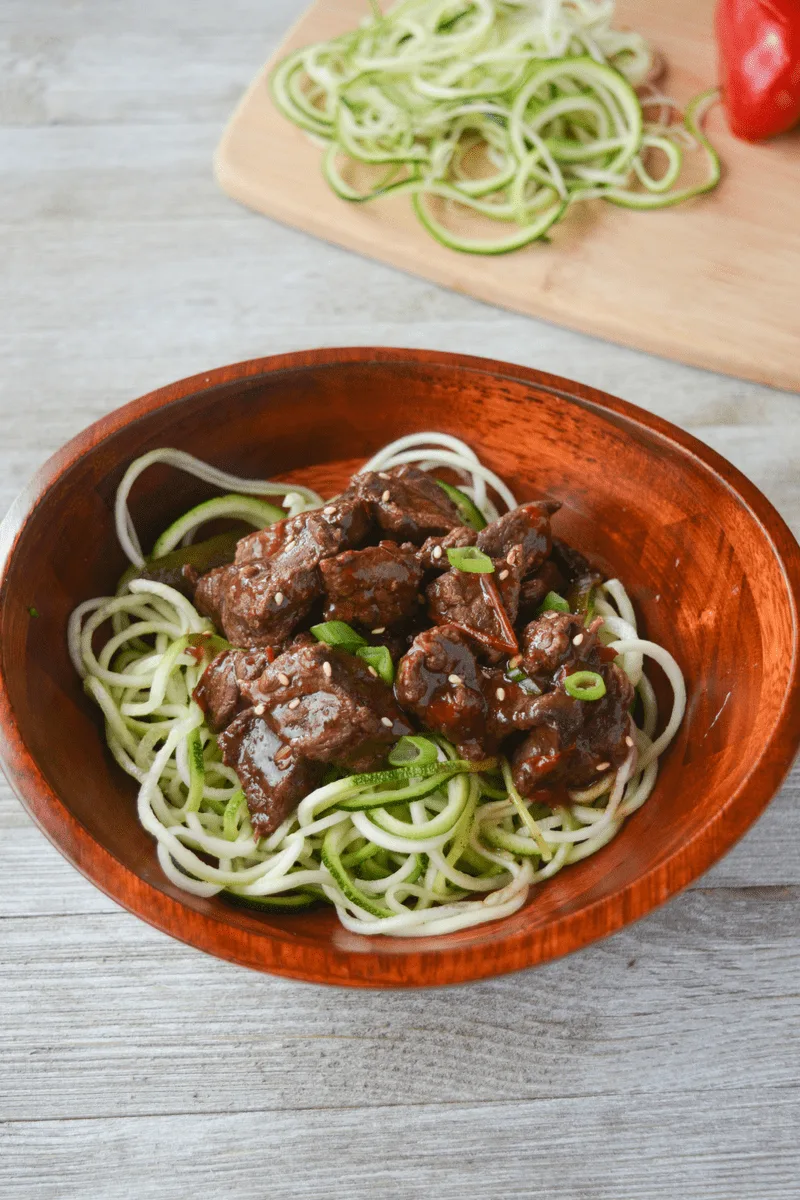 This recipe is used with permission from Craveable Keto by Kyndra Holley.
Before I get to the recipe, I want to share my thoughts on this book because I really love it and think it's a valuable resource to the Keto and low carb community.
I love cookbooks because sometimes the internet can be overwhelming. Sure, there are lots of easy keto recipes online, but when you're just starting out tons of information can be just too much.
Kyndra Holley's site Peace, Love, and Low Carb is a favorite bookmark. If you follow me on Instagram, you've probably seen me make her Keto Flourless Chewy Double Chocolate Chip Cookies about a thousand times. They're my absolute favorite homemade low-carb cookie.
Recently, Kyndra released Craveable Keto Cookbook and It. Is. Beautiful.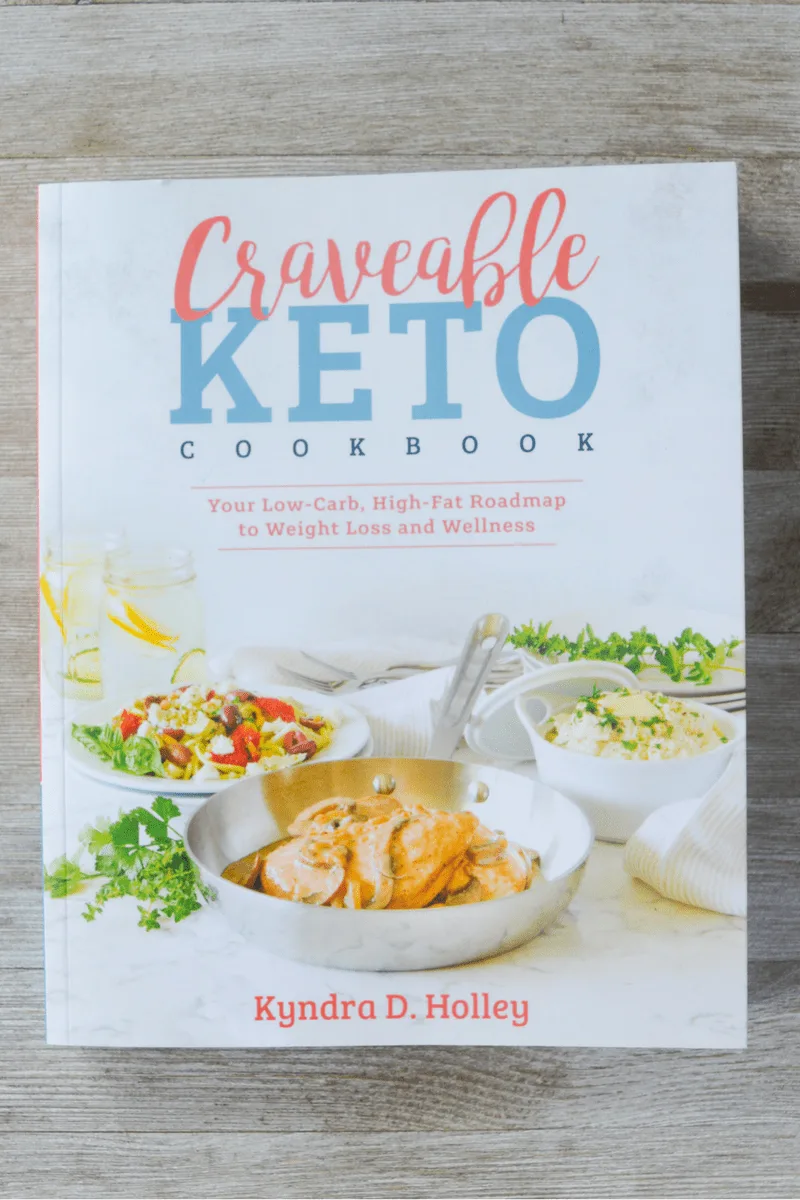 She sent me a copy for free, which was so sweet. Honestly I would buy it anyway because it is seriously that good. You can pick it up anywhere books are sold, including Amazon and Barnes & Noble.
Keto For Weight Loss
Keto for weight loss can look different than keto for general health, and Kyndra gets it. She has struggled with weight gain and loss throughout her life, and she documents it with pictures and journal-like stories.
She shares her story and gives practical advice including tips for not becoming overly obsessive about the scale in the weight loss process.
Keto Macros
For every recipe there is complete nutrition information including pre-calculated net carbs at the top of each page.
I found this especially helpful when bookmarking recipes because the net carbs are so easily visible.
Keto Meal Planning
One of the most unique things about the book was the visual meal plan. There are a few different options to choose from whether you're dairy free, or looking for quick meals.
The visual meal plan has a calendar and photos of each dish, and the page number each recipe can be found on. I'm a super visual person so I found this guide easier to navigate than text.
There's also a ton of helpful information on how to start Keto and even nagivate the grocery store. Here's a peek inside the cover!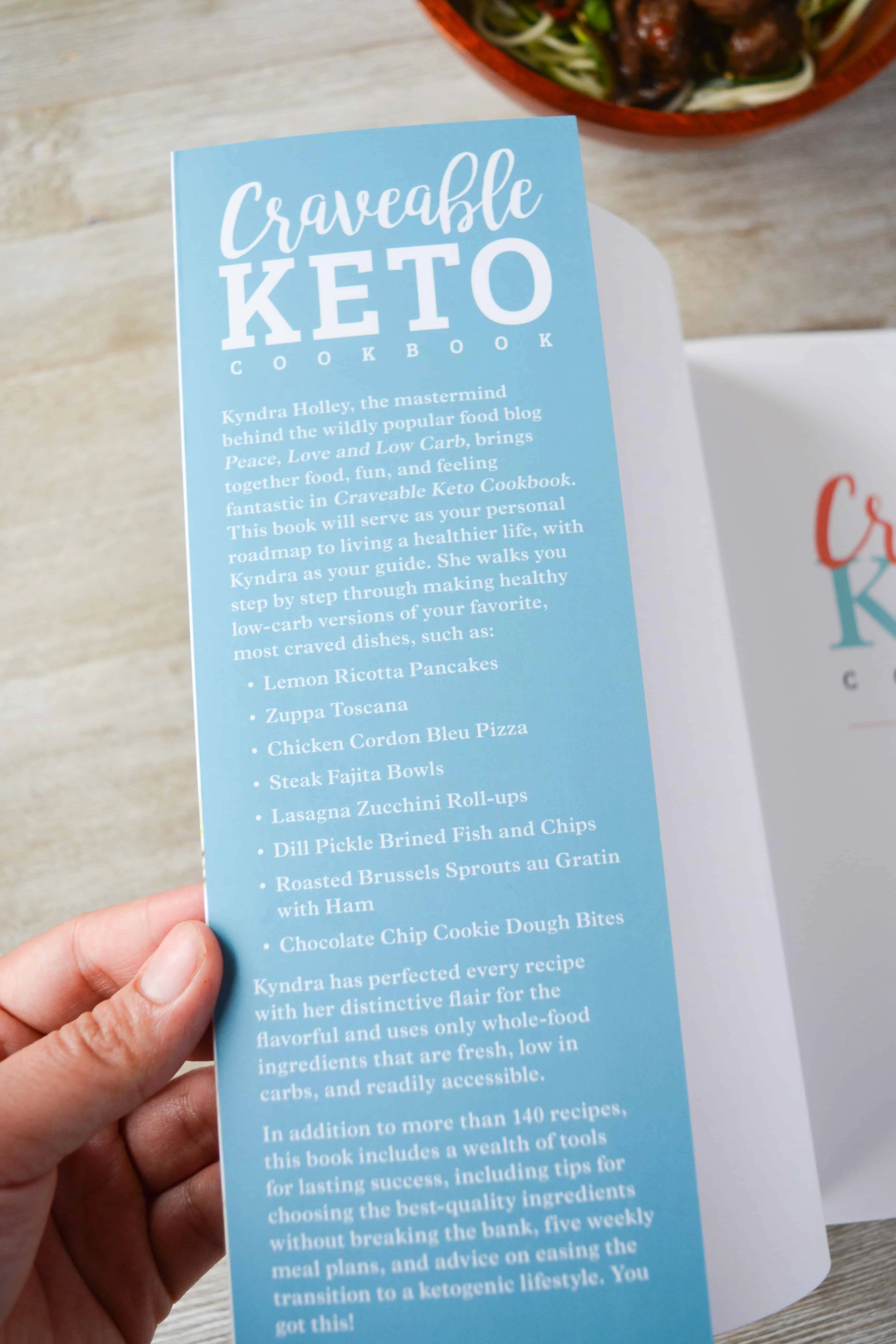 For my first recipe out of the book, I wanted to try something completely different than what I normally eat, which is why I chose this highly seasoned beef recipe.
Low Carb Slow Cooker Chinese Five-Spice Beef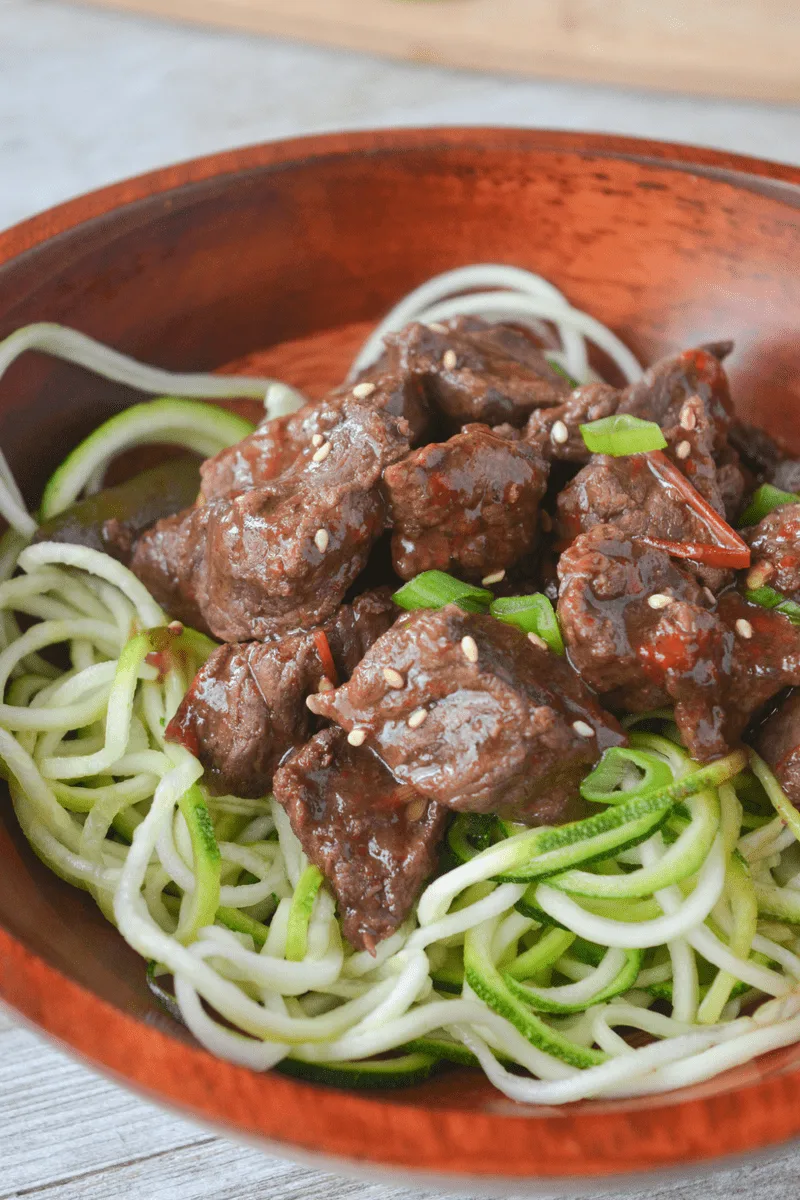 I used my Instant Pot slow cooker function for the first time for this recipe. Since the meat needed to sear it seemed like a good time to try it. It worked perfectly, but any slow cooker will work. (Unless you're Jack Pearson)
Chinese Five-Spice is something I've never worked with. I couldn't even find any in our smallish town so I had to make my own.
It seemed like an odd pairing, but once the beef got cooking the smell was incredible. If you have trouble finding it, here's the Chinese Five-Spice recipe I used. (I just went with the first one on Google.)
I swapped out the cauliflower rice that was suggested in the book for zucchini noodles. You can use either, or just enjoy the beef alone to reduce the carb count of the entire meal.
Here's how I made it!
Print
Low Carb Slow Cooker Chinese Five-Spice Beef
---
Author:

Total Time:

7 hours 20 minutes

Yield:

8

servings

1

x
2 pounds stew beef
Sea salt and ground black pepper
2 tablespoons olive oil
1 cup beef stock
½ cup cooking sherry *
¼ cup coconut aminos or gluten free soy sauce
2 tablespoons unseasoned rice wine vinegar
2 red bell peppers, seeded and sliced
8 ounces cremini mushrooms, quartered
2 large shallots, thinly sliced
3 cloves garlic, minced
1 (2-inch) piece fresh ginger, grated
1 tablespoon plus 1 teaspoon Chinese five-spice powder
1 teaspoon red pepper flakes
2 cups snow peas
2 green onions, sliced on the bias, for garnish
2 tablespoons toasted sesame seeds, for garnish
---
Instructions
Preheat slow cooker on the low setting. Season the stew beef generously with salt and pepper.
Heat the olive oil in a large skillet over medium-high heat. Add the beef and sear until browned on the outside, then transfer it, with juices, to the slow cooker.
To the slow cooker, add the stock, sherry, coconut aminos, vinegar, bell peppers, mushrooms, shallows, garlic, ginger, five spice powder, and red pepper flakes. Stir to combine, cover and cook for 6 hours.
Add the snow peas and cook for an additional hour.
Garnish the beef with green onions and sesame seeds.
Serve over cauliflower rice or zucchini noodles, if desired. These are not included in nutrition information.
Notes
*may be substituted with extra beef stock
To reduce the amount of carbs in this recipe, simply reduce the amount of snow peas and adjust your personal nutrition information accordingly.
The recipe states that it makes 8 servings, I do not have exact measurements. If you need the exact amount, place an empty bowl on your food scale and zero it out. Then add the contents of your slow cooker to the bowl, weighing in grams. Divide that number into 8 and it will give you the amount of grams for each serving.
Prep Time:

20 minutes

Cook Time:

7 hours

Method:

Slow Cooker
Nutrition
Serving Size:

⅛ of recipe

Calories:

332

Fat:

21.5g

Carbohydrates:

8.5g TOTAL, 7g NET

Fiber:

1.5g

Protein:

23g