These Keto Three Cheese Cauliflower Mac and Cheese Cups are an easy way to control portions while enjoying a delicious, low carb pasta substitute.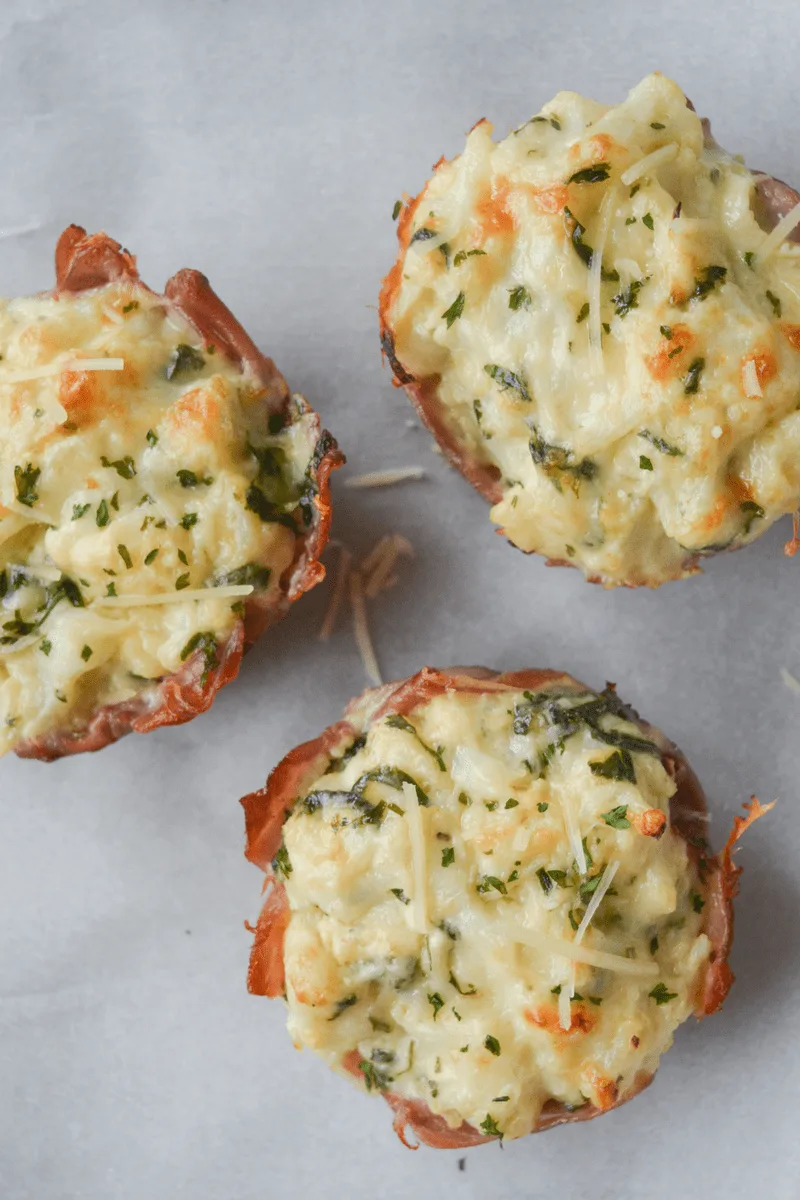 Alright, let's first address the elephant in the room. Cauliflower is not Macaroni. I know. I get it. It's a popular healthy substitute, but I'm not going to pretend that it tastes the same.
I wanted to address that, though, because often when we see foods that look like other foods our minds trick us into believing that they should also taste EXACTLY like what they're substituting.
Unfortunately this is almost never the case...but it doesn't take away from the deliciousness of something like cauliflower mac and cheese. It's just something to be aware of.
I love this recipe because I love finding great ways to incorporate cauliflower into my family's meals. Cauliflower is usually pretty bland and unexciting, but if you know how to work it, like in this Keto Cauliflower Mexican Rice or Loaded Keto Cauliflower Bowl, it can be completely delicious in addition to being full of nutrients.
With this recipe you'll be well on your way to another tasty cauli-dish.
Keto Three Cheese Cauliflower Mac and Cheese Cups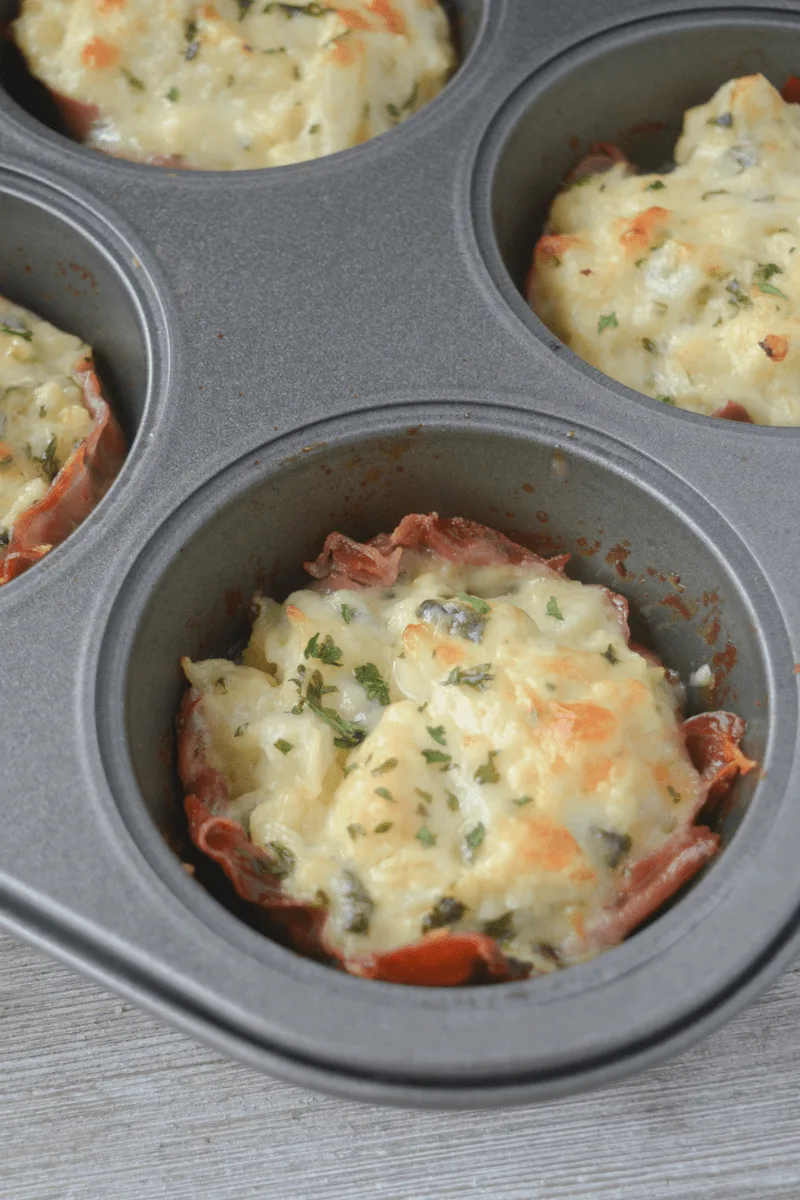 The ingredients are simple, savory, and sooo delicious. I assembled this recipe in a jumbo muffin tin (if you don't have one, I'd highly recommend it) and lined each cup with __ strips of prosciutto before adding the cauliflower.
You could also use bacon. If you do use bacon, please let me know how it turns out...because I'm practically salivating just thinking about it.
Anyway, the saltiness from the prosciutto/bacon will definitely help balance the cheesiness of the cauliflower. After this comes out of the oven...oh my goodness.
And the macros are great too! Based on a serving size of one jumbo cup here's the nutrition info:
Calories: 391 Calories
Total Carbs: 11g
Fiber: 4g
Net Carbs: 7g
Protein: 24g
Fat: 29g
So far I've been able to store these in the fridge and pop them in the microwave to reheat. I'm excited about that because it's about to make meal prepping a whole lot easier!
Here's how I made them!
Print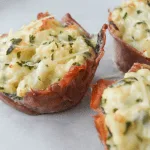 Keto Three Cheese Cauliflower Mac and Cheese Cups
---
Author:

Yield:

4

Jumbo Cups

1

x
Description
These Keto Three Cheese Cauliflower Mac and Cheese Cups are an easy way to control portions while enjoying a delicious, low carb pasta substitute.
---
1 medium head fresh cauliflower
2 tablespoons salted butter
2 tablespoons diced onion
2 cloves garlic, minced
2 ounces cream cheese, softened
¼ cup heavy whipping cream
½ teaspoon Italian seasoning of choice
Salt and Pepper, to taste
¼ teaspoon xanthan gum*
1 cup spinach, sliced into strips
¾ cup white cheddar, shredded
¼ cup mozzarella, shredded
12 slices prosciutto**
6 tablespoons Parmesan cheese, shredded
---
Instructions
Preheat oven to 400 degrees.
Add a couple cups of water to a large pot, place steamer basket into pot above water, and bring to boil. While the water is heating, prepare cauliflower.
Remove core and leaves from cauliflower. Chop into bite-size pieces. When water is boiling, carefully add cauliflower to steamer basket. Cover and let steam for 5-7 minutes or until fork tender.
Prepare sauce while cauliflower is steaming. When finished, turn off heat and set aside until ready to add to sauce.
Sauce
In skillet over medium-low heat melt butter. Add onion and cook for 2-4 minutes until onion is tender and becoming translucent.
Add garlic and softened cream cheese. Softened cream cheese will be easier to smooth into sauce. Using wooden spoon or rubber spatula, press cream cheese flat into pan to help smooth as it warms and gently stir.
Pour in heavy whipping cream, seasoning, and xanthan gum. Stir ingredients until smooth, raising temperature slightly if needed to get sauce fully mixed.
Add spinach, white cheddar, mozzarella to sauce and turn off heat. Continue stirring for a few minutes, until spinach begins to wilt and cheeses are fully melted and smooth.
Add steamed cauliflower to pan and fold into cheese sauce. I did not remove any moisture from mine. (See notes section)
Using large muffin tin (1 cup capacity) place two slices of prosciutto in X to cover the bottom of the tin and stretch up around the sides as much as possible. It may rip a little, that's ok. Just be sure the bottom is covered.
Place ½ cup of cheesy cauliflower mixture into prosciutto cups and top with 1 tablespoon of Parmesan.
Bake for 15-20 minutes or until bubbly and brown. Serve warm.
Notes
SERVING SIZE NOTE: I have not made this in smaller muffin tins. If you do, it will make more servings and you would likely only need 1 slice of bacon/prosciutto per cup. Adjust personal macros accordingly in a program such as My Fitness Pal. It will also alter the amount you need per cup.
If specific weight is important to you, place empty bowl on food scale and add cauliflower and cheese mixture. Weigh mixture in grams and divide by 6 to get more accurate serving amount.
*xanthan gum is a thickening agent. I added to the cheese sauce to ensure it stayed together in the cups. If you prefer not to eat this ingredient or do not have it, feel free to omit. Sauce may be more runny.
**Prosciutto is a dry cured ham. You can find this in the deli section often near the higher quality cheese. Feel free to swap bacon and adjust the cook time and nutrition accordingly.
Steaming cauliflower: If cauliflower seems super excessively wet or soggy (this can happen in microwave steamer bags), remove some of the water with a towel or pat down dry. It does need some moisture to complete sauce. I used the Instant Pot for this step. 1 cup of water, cauliflower pieces on steamer rack, close lid and set to "steam" for 1 minute. Quick release pressure.
Frozen cauliflower: you may use frozen cauliflower for this but I have not tried it myself so you may need to remove excess water and intuitively adjust the recipe.
These cups are large and could easily be a meal. For a side dish, we found sharing one was plenty.
Please note that I am not a certified nutritionist. Any nutritional information that is discussed or disclosed in this post should only be seen as my best amateur estimates based on NET carbs. If nutrition is important to you, I highly encourage you to verify any data you see here with your favorite nutrition calculator.
Nutrition
Serving Size:

1 Cup

Calories:

391 Calories

Fat:

29g

Carbohydrates:

11g Total, 7g Net

Fiber:

4g

Protein:

24g