Waffle omelettes are here to make over your mornings! This simple low carb breakfast option couldn't be easier or more delicious!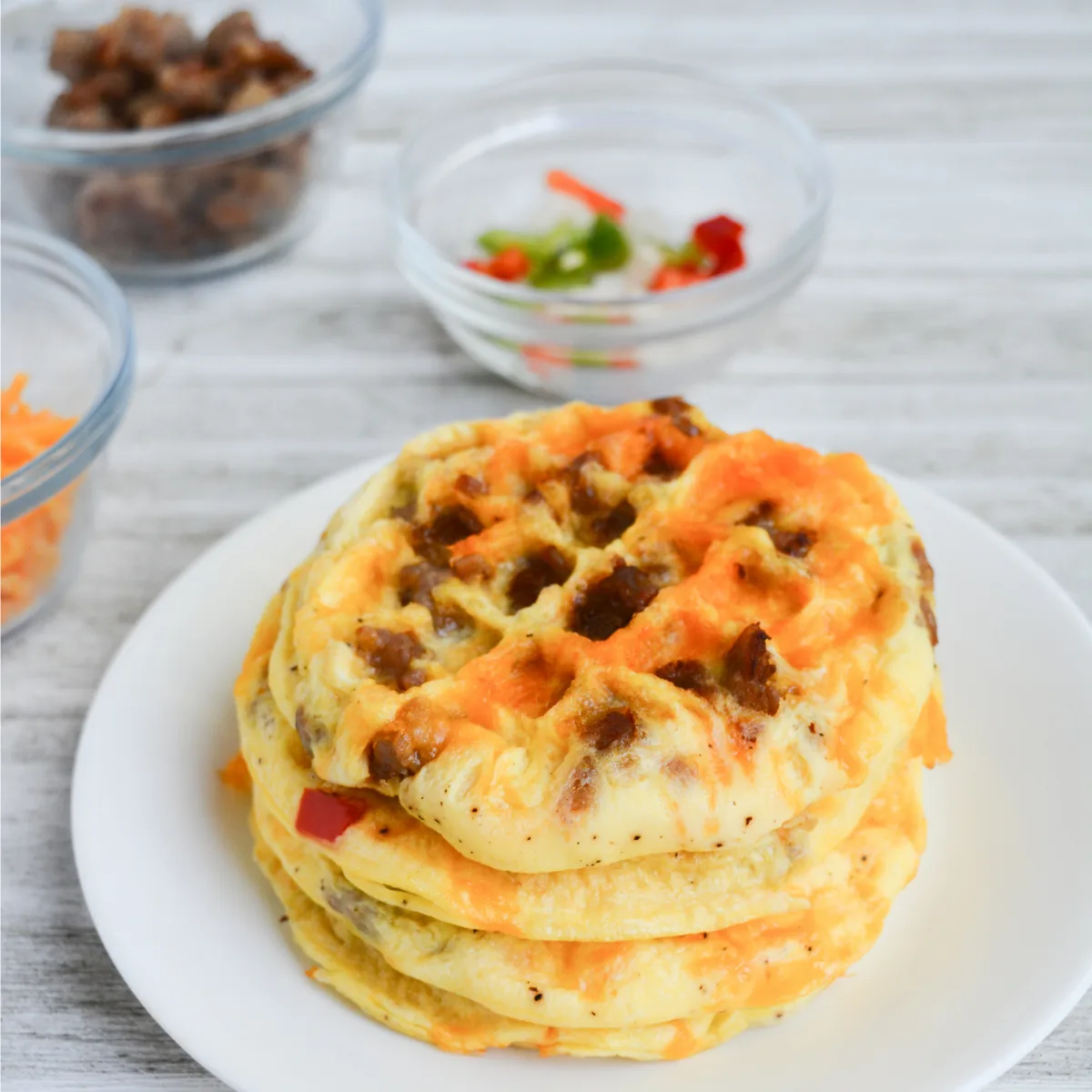 Omelettes are among the tastiest dishes in the breakfast kingdom. Fact.
But who among us hasn't had the stress and ultimate failure in executing the perfect omelette flip? You know, that flip that starts out so confident, but ends up with a pile of scrambled eggs?
Yep.
Thinking there has to be an easier way? Me too. Enter waffle omelettes.
Waffle omelettes aren't too terribly different from keto chaffles and they're even easier than a keto breakfast quiche.
They're an egg based, highly customizable, keto friendly breakfast option that cooks up beautifully right in your waffle iron.
No matter what flavor profile you're in the mood for, you can always easily whip up the perfect thing with keto waffle omelettes.
(Wanting to keep putting that waffle iron to work? Try out my recipe for traditional keto waffles!)
Ingredients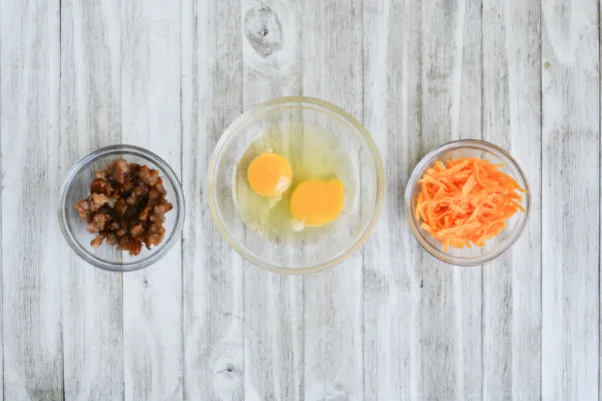 The ingredients are largely up to you, but I'll give you the base and some ideas to start you in the right direction.
Eggs - Well, of course. You can't have an omelette of any sorts without eggs. I use large eggs for all of my recipes.

Also! While we're on the subject of eggs, be sure to check out my fluffy parmesan scrambled eggs for a fancier breakfast.

My husband made me these on Mother's Day...perfection!

Cheese! - I added an exclamation mark because cheese means that much to me. I love a good sharp cheddar on my omelettes, but this is one place that you can really let your creative flag fly.

Breakfast meats - Who doesn't love a good egg and sausage combo? But truly when the question is asked: sausage or bacon...I always say both!

Veggies - Don't be afraid of low carb vegetables! They taste great and can be very good for you!
How to make keto waffle omelettes
1. Preheat a 4-inch waffle iron. In a small bowl, whisk your eggs. If you're using meats, like breakfast sausage or bacon, take this time to pre-cook them.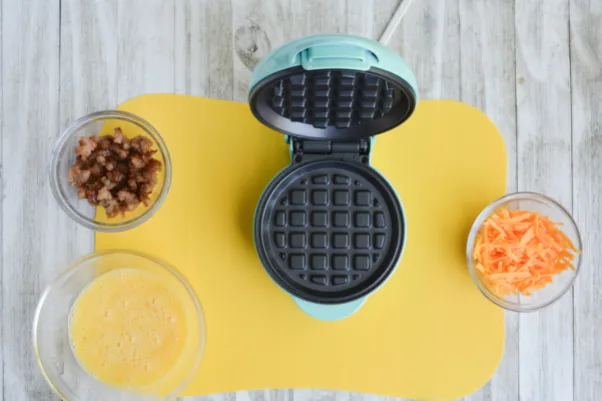 2. Pour about ¼ cup ( the equivalent of about 1 large egg) of whisked eggs onto the pre-heated waffle iron. It's okay if it looks like a thin layer, it will puff up.
Top with shredded cheese and any other add-ins you choose. Aim for no more than 2 tablespoons of add-ins to avoid over spilling.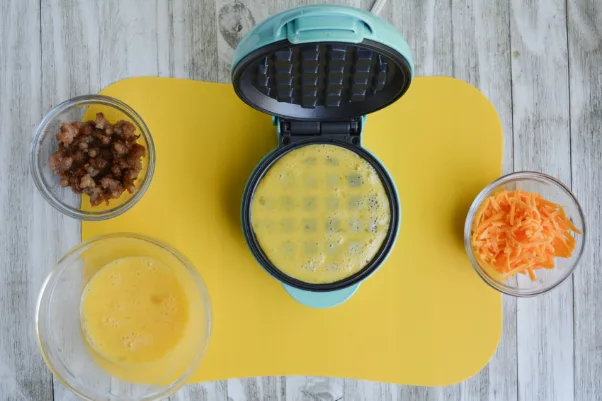 3. Close the waffle iron and cook waffle omelette for about 2 minutes, until it's slightly brown and crispy on the edges. Your waffle omelette will puff up and the lid of your waffle iron may not close all the way but do not force it down, it will still cook.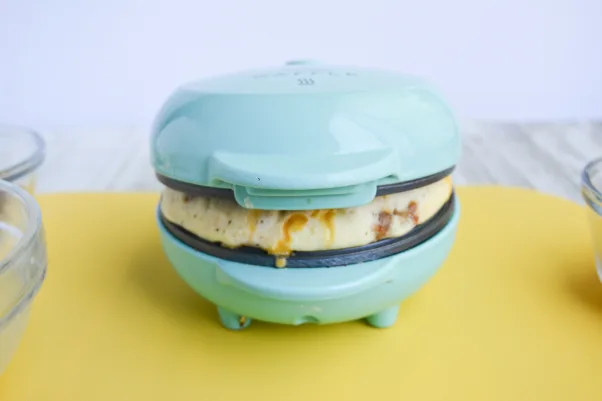 4. When done, it will look fluffy and should not be wet looking. It will be soft like an omelette, so carefully use a fork to move it to a plate for serving.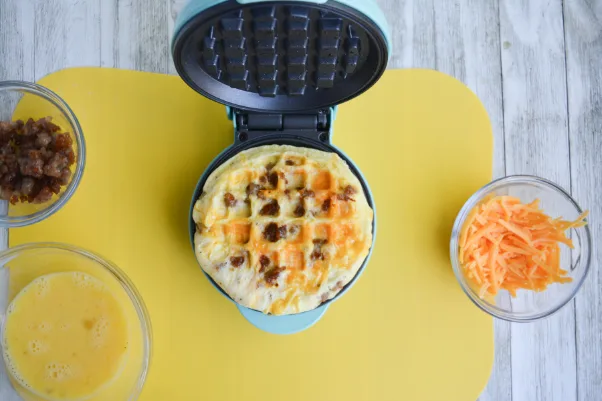 What waffle maker should I use?
The most popular waffle maker for making waffle omelettes is the Dash Mini Waffle Maker. You can, however, use any 4-inch, mini waffle iron or double the recipe to use a larger waffle iron that you already own.
The biggest perk to using a mini waffle maker is that the serving size is already perfectly portioned for you, making for a more manageable meal whether you're cooking something quickly or prepping your meal plan.
Can you freeze waffle omelettes?
I don't really mess around with frozen eggs, especially because this recipe is so quick and easy. If you would like to make these ahead of time, I would recommend storing them in the refrigerator for up to 2 days.
When it comes time to reheat them, pop them in the microwave, air fryer, or right back on the waffle iron.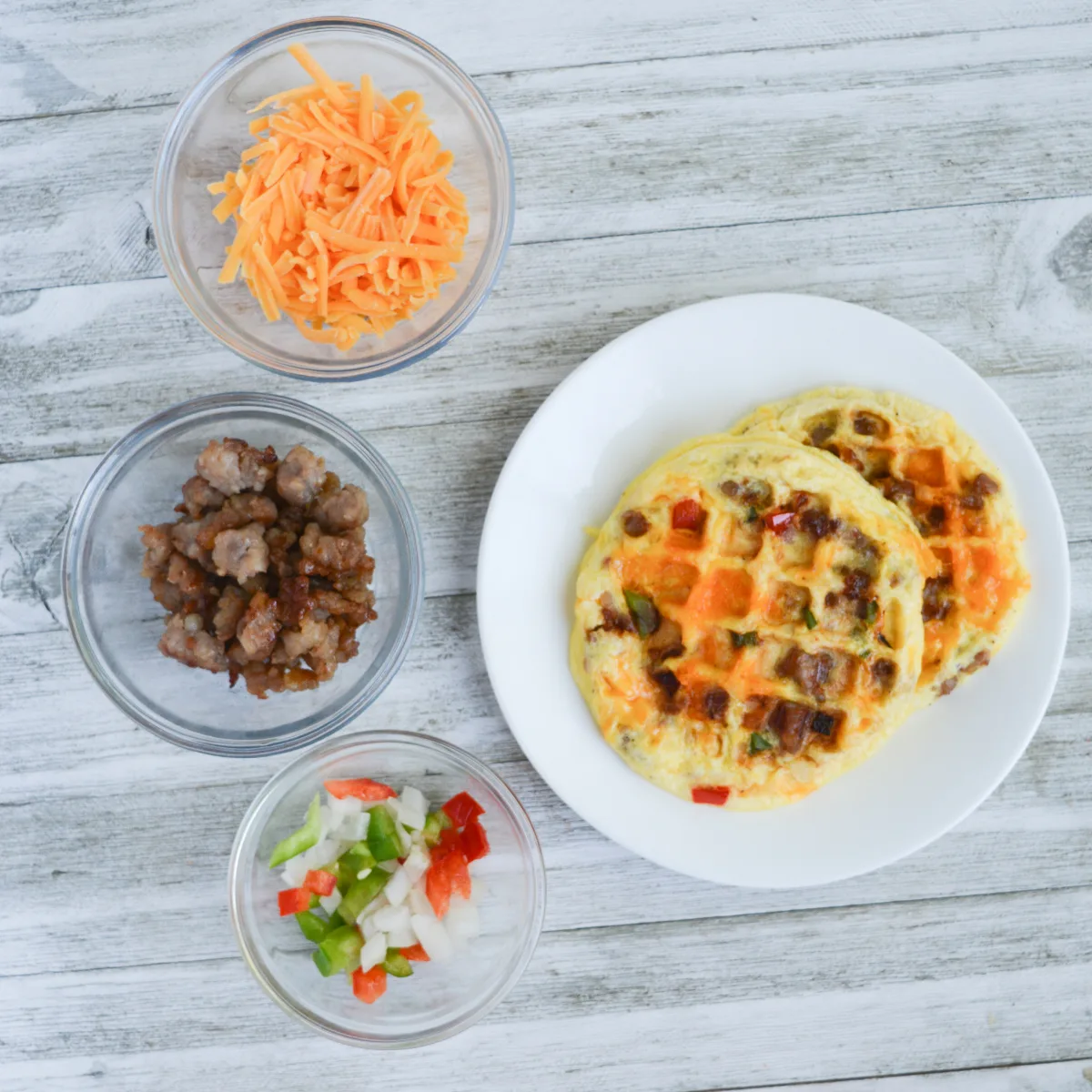 Waffle Omelette Variations
Switch up your breakfast with these fun ideas!
Jalapeno Popper Waffle Omelettes
Add a dollop of cream cheese and a tablespoon of sliced jalapeños to your egg mixture. For extra spice throw in some crushed red pepper flakes!
Ham and Cheese Waffle Omelettes
A classic option, but always a good one! Diced ham is a staple for breakfast omelettes around here. And it comes already cooked, making your morning even easier!
Quiche Lorraine Waffle Omelettes
This is a super condensed version of my keto quiche lorraine. Throwing in some sautéed onions, bacon, and swiss cheese would change the game in a delectable way!
Nutrition Info
The nutrition of this recipe varies wildly based on the ingredients you put into your omelette. For a basic base, just using the eggs, cheese, and sausage you're looking at:
Calories: 281.63 Calories
Total Carbs: 1.99 grams
Fiber: 0 grams
Net Carbs: 1.99 grams
Protein: 18.63 grams
Fat: 21.43 grams
And here's a breakdown based on ingredients:
Yield: 2 waffle omelettes, 1 serving
Waffle Omelettes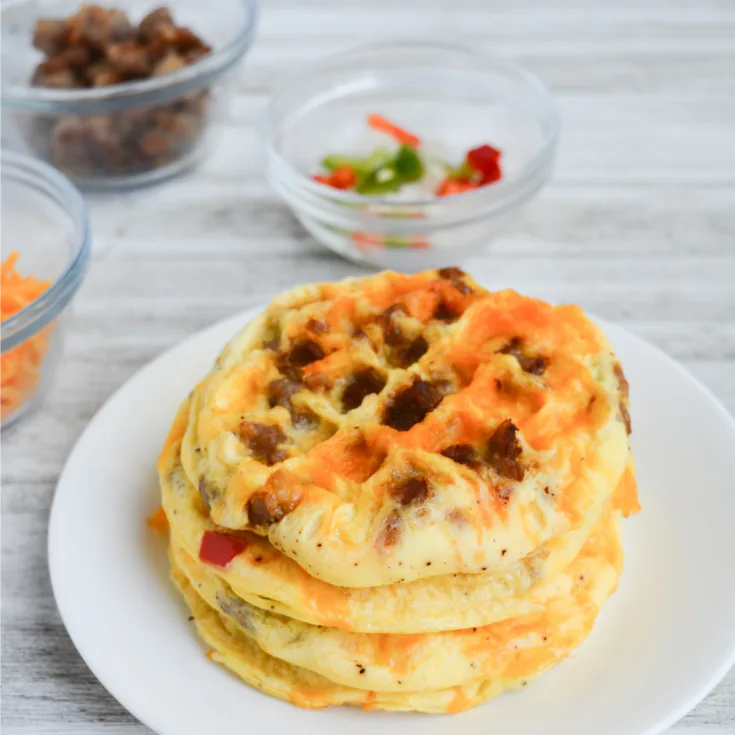 Waffle omelettes are here to make over your mornings! This simple low carb breakfast option couldn't be easier or more delicious!
Ingredients
2 large eggs
2 tablespoons shredded cheddar, divided
2 tablespoons cooked pork breakfast sausage
Dash of salt and pepper
Instructions
If you're using meats, like breakfast sausage or bacon, take this time to pre-cook them then set aside.
Preheat a 4-inch waffle iron. In a small bowl, whisk your eggs with salt and pepper.
Pour ¼ cup of whisked egg into the heated waffle iron. This is the equivalent of about 1 large egg.
Sprinkle 1 tablespoon of shredded cheese on top of the egg and 1 tablespoon of cooked crumbled sausage. Close the waffle iron and cook for 2 minutes.
When done, the waffle will be soft like an omelet and not appear runny. Use a fork to carefully move to a plate for serving. Repeat with the remaining ingredients to make the second waffle omelette. Serve warm.

Notes
When scaling the recipe, remember that the 4-inch waffle iron holds about 1 large whisked egg at a time. If you're scaling down to 1 large egg, simply half all the ingredients in this recipe and if you're increasing, simply use 1 large egg to 2 tablespoons of add-ins to avoid over filling.
If you're using a larger waffle iron, you will be able to fit more fillings but may need to play around with the amount to determine how much yours holds.
Recommended Products
As an Amazon Associate and member of other affiliate programs, I earn from qualifying purchases.
Nutrition Information:
Yield:
1
Serving Size:
2 Waffle Omelettes
Amount Per Serving:
Calories:

281.63
Total Fat:

21.43g
Carbohydrates:

1.99g
Fiber:

0g
Protein:

18.63g
Please note that I am not a certified nutritionist. Any nutritional information that is discussed or disclosed in this post should only be seen as my best amateur estimates based on NET carbs. If nutrition is important to you, I highly encourage you to verify any data you see here with your favorite nutrition calculator.