Cilantro lime cauliflower rice is an excellent keto friendly side dish to round out your low carb meal! Easy and delicious!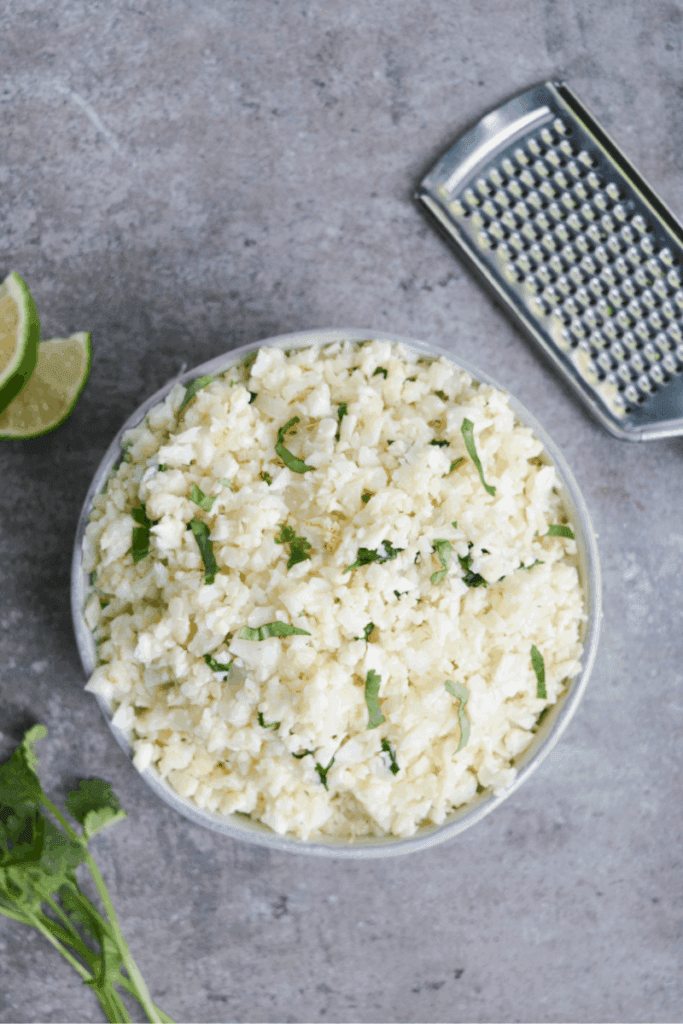 Who doesn't love rice? It's a filling and…kind of comforting side that makes our meals feel more complete.
It also soaks up the flavor of whatever it's sitting next to on the plate, and helps provide balance to a heavy entree.
Rice is pretty great. But traditional rice isn't a great fit for a low carb diet. With about 42 grams of net carbs in a cup, it would be very difficult to fit rice into a keto lifestyle.
Enter cauliflower rice.
Cauliflower rice is a great option for keto because it's very low carb, loaded with nutrients, and gives you that ricey texture your mouth has been missing.
On top of that, it's super easy to customize for different flavor profiles. Just check out my keto Mexican cauliflower rice and my keto chicken fried cauliflower rice.
But today we're making cilantro lime cauliflower rice, a light and simple side that pairs especially well with cilantro lime chicken thighs!
What ingredients do I need to make cilantro lime cauliflower rice?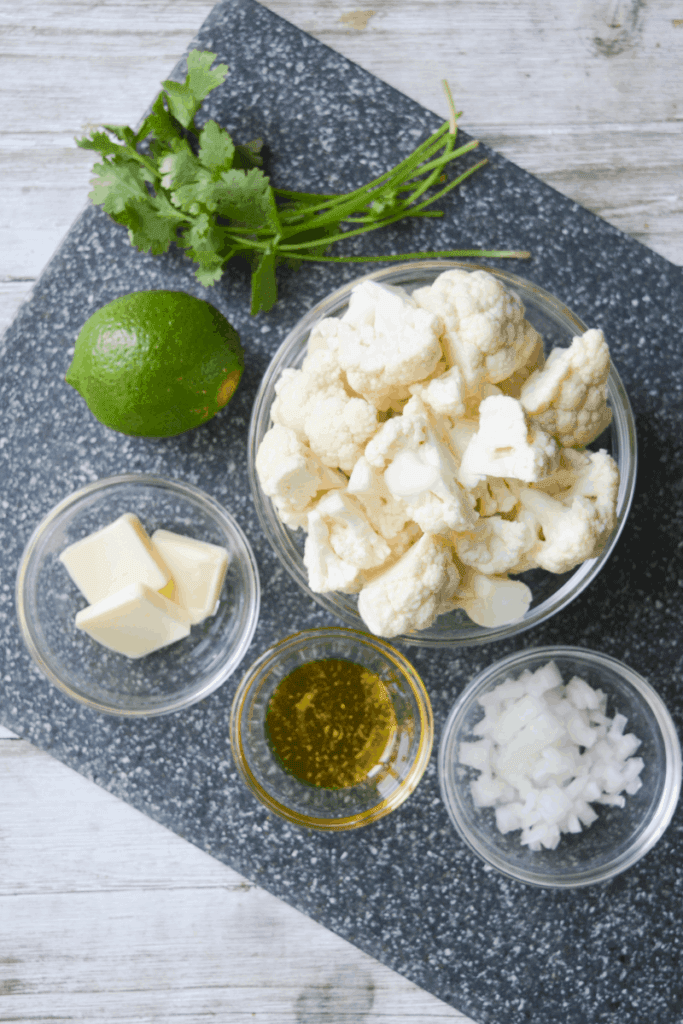 There are at least a handful of different methods for making cauliflower rice, but for this tasty recipe, we only need the following simple ingredients:
Olive oil
Butter
Riced cauliflower
Lime juice
Lime zest
Fresh cilantro
Salt and pepper
Nutrition info
I like to go heavy on the veggies so I would eat half of this recipe with my meal, but if you prefer to go lighter I would suggest having 1/4 of this recipe.
When split into 4 servings, each one comes out to about:
Calories: 127 Calories
Total Carbs: 10g
Fiber: 5.7g
Net Carbs: 4.3g
Protein: 3.1g
Fat: 9.9g
And here's a breakdown of the nutrition for each ingredient: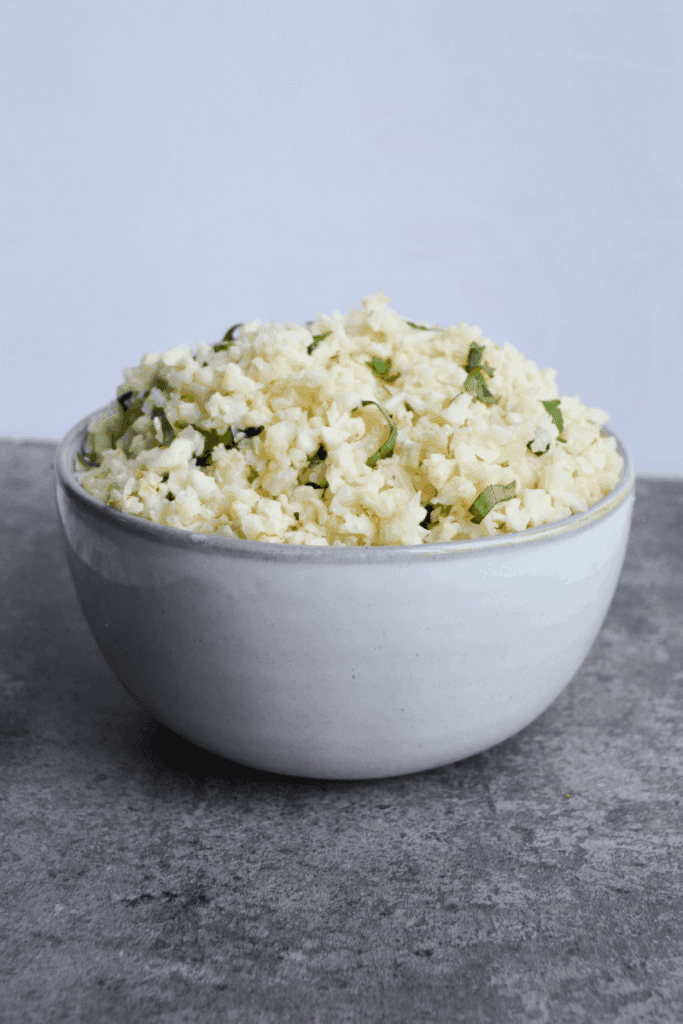 Yield: Yield 4 Servings
Cilantro Lime Cauliflower Rice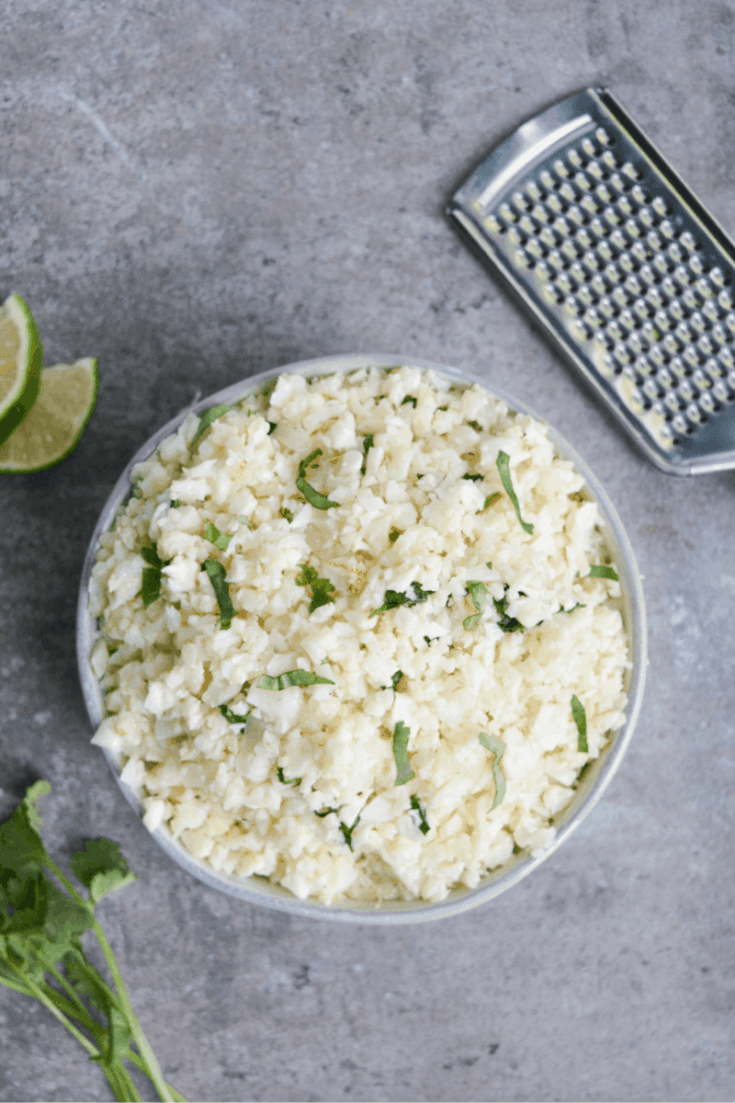 Cilantro lime cauliflower rice is an excellent keto friendly side dish to round out your low carb meal! Easy and delicious!
Ingredients
1 medium head cauliflower, leaves and stem removed
1 tbsp olive oil
2 tbsp butter
1/4 cup white onion, diced
1 tsp minced garlic
Salt and Pepper, to taste
1/4 cup fresh lime juice
1 tablespoon lime zest
1/4 cup chopped cilantro
Instructions
Cut the cauliflower heat into florets then place into food processor. Pulse 10-15 times or until cauliflower is a rice-like texture. Set aside.
Pour the olive oil into a skillet over medium heat. Add the butter and allow to melt then add the onion. Saute 2-3 minutes or until the onion is fragrant and beginning to turn translucent.
Add the garlic and saute for 30 seconds until fragrant.
Add the riced cauliflower to the skillet and sprinkle with salt and pepper. Stir to combine.
Pour in the lime juice and stir in the chopped cilantro. Continue cooking for 5-7 minutes until cauliflower rice is tender, stirring occasionally. Finish with extra squeeze of lime or additional chopped cilantro, if desired. Serve warm.