This Keto Chicken Fried Cauliflower Rice is a flavorful low carb side dish that could really be enjoyed as a meal! If you've been missing Chinese food, this recipe is a must try!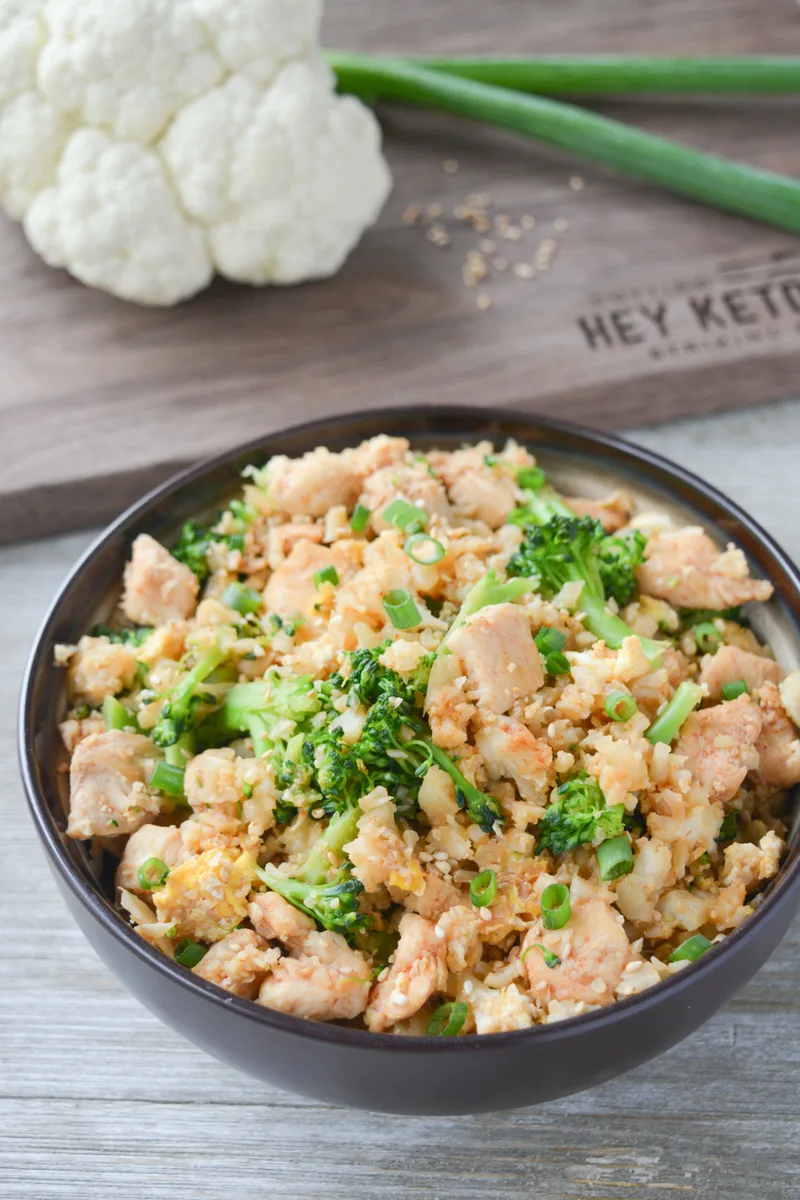 My love for Chinese food runs deep. I expect that's the case for most of you as well because it's just. so. delicious! Who can argue with that?
I don't even want to know how much I spent on Chinese take-out in college, well before starting a low carb lifestyle.
But Chinese food isn't often enjoyed on a Keto diet largely because the classic dishes we're used to don't always translate well given the breading and sauces.
These carby, sugary additions seem essential to those dishes, but once you start Keto, you'll soon realize that these aren't the best options for your body anymore.
But there's hope! And this keto chicken fried cauliflower rice is proof of that!
How do you make Chicken Fried Rice keto friendly?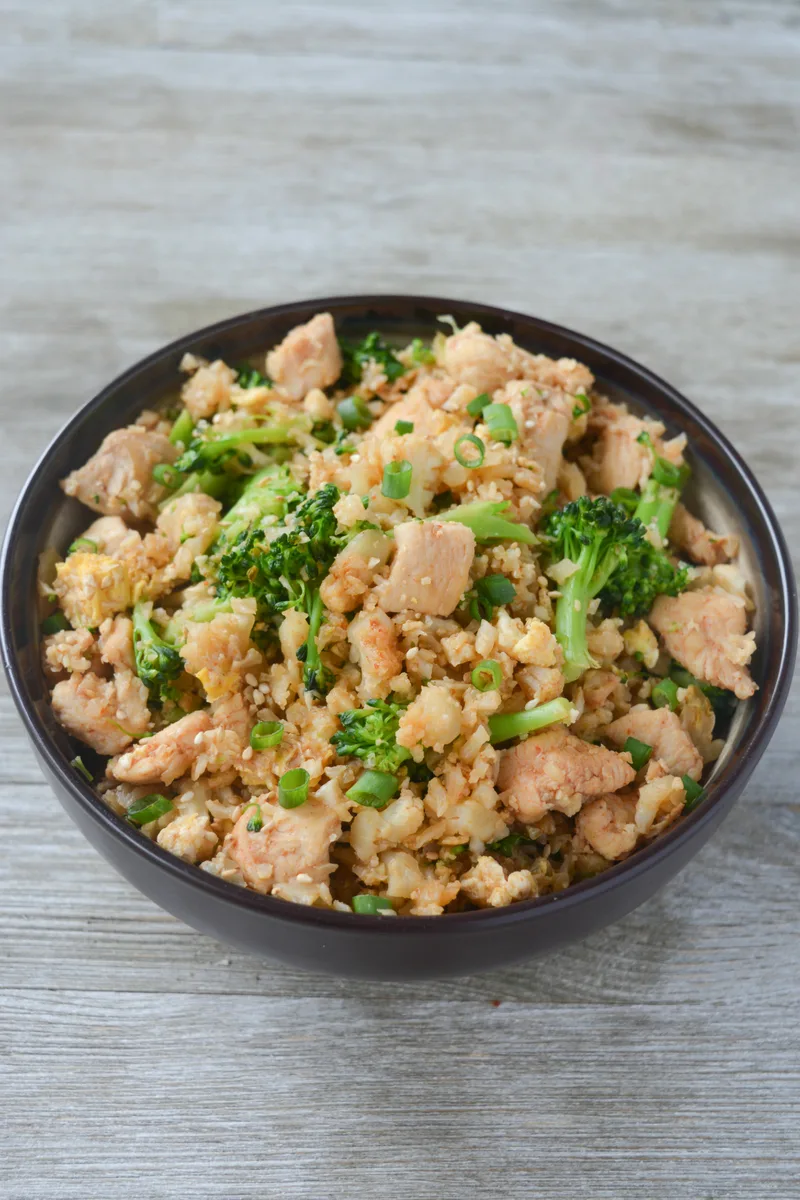 Keto allows for a ton of creativity, so making healthy swaps isn't as hard as you might think! Just look at this low carb slow cooker Chinese five-spice beef and this low carb kung pao chicken!
If you're a rice lover, cauliflower rice might not be your first choice, but trust me...if it's flavored properly, it can be absolutely delicious!
Plus it's low carb and full of nutrients!
To reduce the carbs even more, we're not going to add in EVERYTHING that you might expect in chicken fried rice. For example, peas and carrots are two veggies I like to steer clear of. There are 4.3g of net carbs in 1 medium carrot and 14g of net carbs in 1 cup of green peas.
I don't miss them, but if you feel like they're necessary, just be sure to update your nutrition information.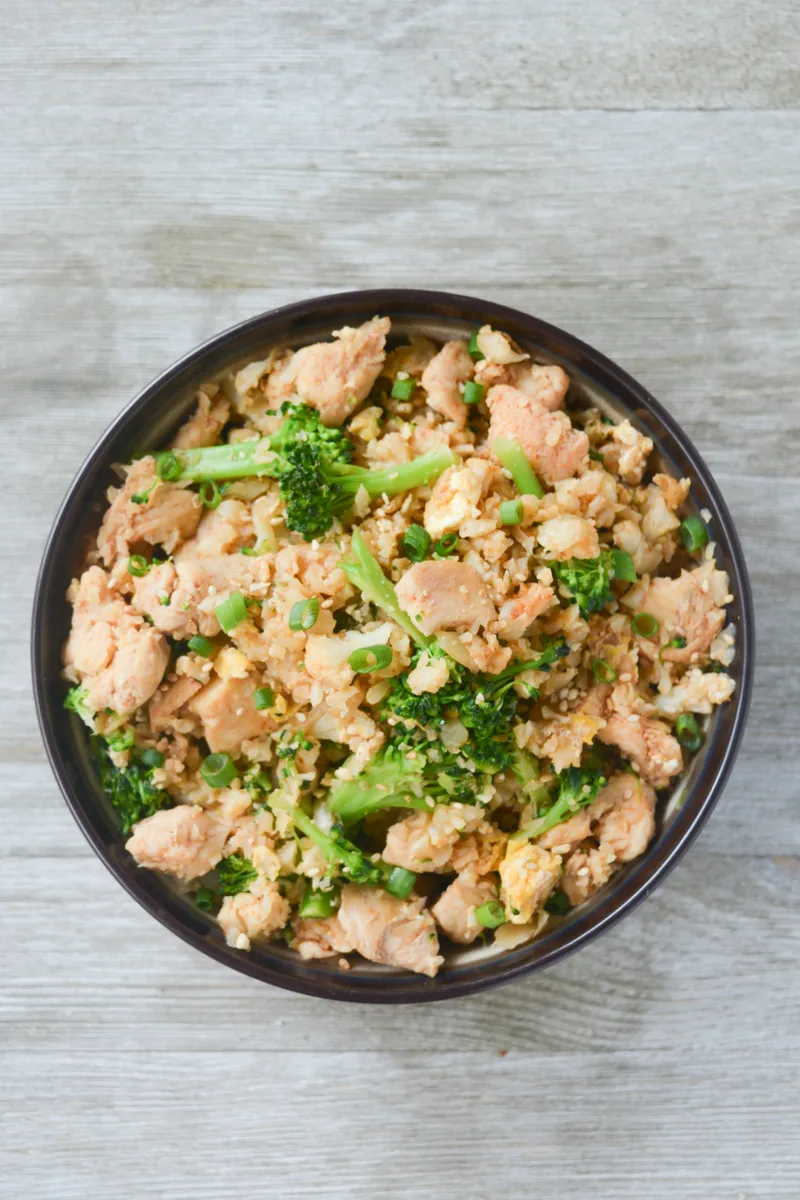 To get that flavor we all know and love you can definitely have your choice between soy sauce, coconut aminos, and liquid aminos.
I know some people are a little iffy about soy on keto, so I want to make sure you know it's not the end all be all.
How many calories in one serving of keto cauliflower rice?
Here's the nutrition info for one serving (¼ of the recipe) If this won't fit in your daily macros, simply reduce your portion. This amount (¼ of the recipe) will definitely be enough for a full meal:
Calories: 289 Calories
Total Carbs: 10.74g
Fiber: 3.09g
Net Carbs: 7.65g
Protein: 39.6g
Fat: 9.2g
And here's how you make it!
Yield: 4 Servings
Keto Chicken Fried Cauliflower Rice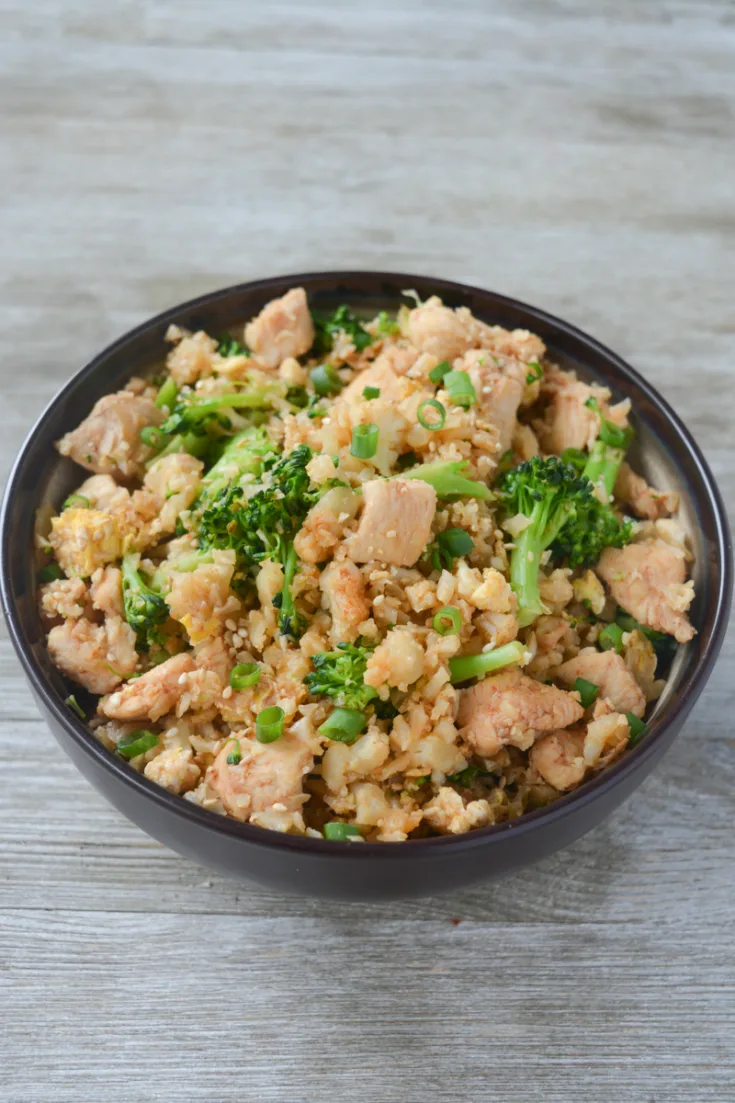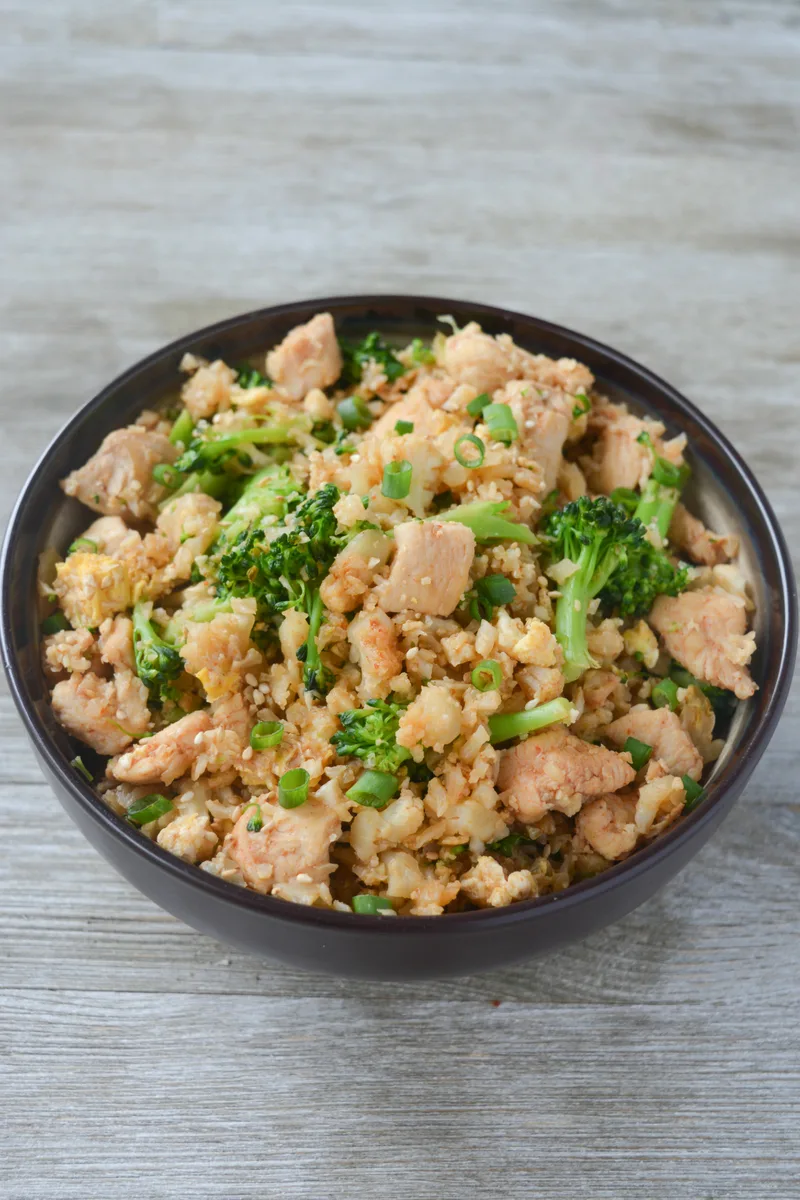 This Keto Chicken Fried Cauliflower Rice is a flavorful low carb side dish that could really be enjoyed as a meal! If you've been Chinese food, this recipe is a must try!
Ingredients
1 small head of cauliflower, riced
1 tablespoon coconut oil
¼ cup onion, chopped
1 pound uncooked chicken breast, cubed
½ teaspoon garlic powder
Salt and pepper, to taste
1 tablespoon sriracha
2 tablespoons soy sauce or liquid aminos, divided
2 cups broccoli, cut into small florets
2 tablespoons water
1 egg
1 stalk green onion, sliced
1 teaspoon sesame seeds
Instructions
Remove core and leaves from cauliflower. Cut into florets and place into food processor. Pulse until rice-like texture, set aside in large bowl. Use steamer bag of pre-riced cauliflower, if preferred. ~4 cups.
In skillet over medium heat, place coconut oil. When melted, add onion to pan and saute until fragrant.
Add chicken to skillet and sprinkle with garlic powder, salt and pepper. Saute chicken until cooked through and golden.
Pour sriracha and half of soy sauce into pan to coat chicken.
Add broccoli and water to pan and cover. Allow to steam for about 5-7 minutes, until it begins to soften.
Place cauliflower rice in pan, sprinkle with a little salt and add remaining soy sauce.
Gently stir so cauliflower rice is coated. Continue cooking for about 15-20 minutes until broccoli is fork tender and cauliflower rice is soft.
Push the cauliflower rice and veggies to the edges of the pan leaving a hole in the center. Crack the egg open in the center of the pan. Let it fry, breaking the yolk apart with a fork.
Once the egg is completely cooked, gently mix it in with the cauliflower rice. Garnish with sliced green onions and sesame seeds, if desired.
Nutrition Information:
Yield:
4 Servings
Serving Size:
¼ of Recipe
Amount Per Serving:
Calories:

289
Total Fat:

9.2g
Carbohydrates:

10.74 Total, 7.65 Netg
Fiber:

3.09g
Protein:

39.6g
Please note that I am not a certified nutritionist. Any nutritional information that is discussed or disclosed in this post should only be seen as my best amateur estimates based on NET carbs. If nutrition is important to you, I highly encourage you to verify any data you see here with your favorite nutrition calculator.