These keto coconut flour cupcakes are a moist and delicious low carb version of a childhood favorite. If you love coconut, you'll go crazy for these cupcakes! Perfect for your next grain-free, nut-free celebration!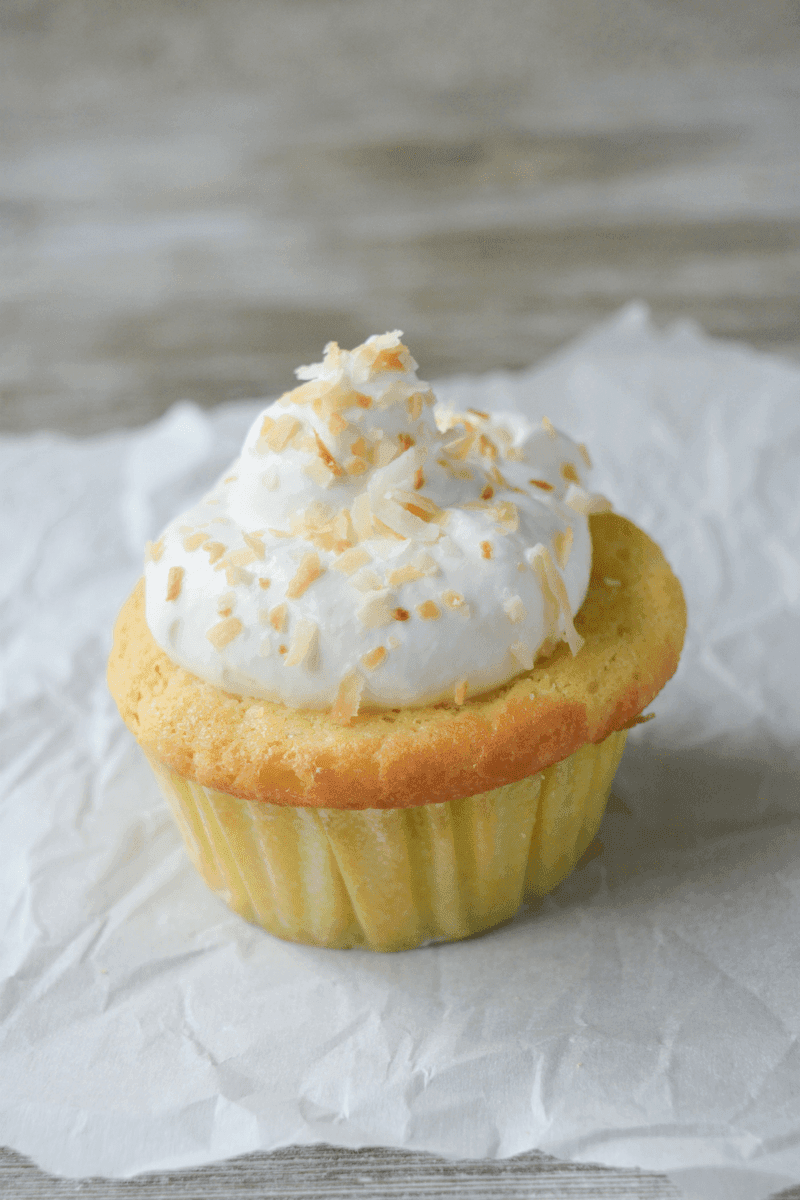 My relationship with coconut can best be described as..interesting. Kind of like how Joe swears he's allergic to bananas, but can't get enough banana nut muffins. We haven't experimented a ton with coconut flour, just because of our preference for almond flour...but after many requests for an alternative, especially from those who are allergic to almonds, we decided it was time to immerse ourselves in the coconut world.
Keto cake can be difficult. Sometimes tough to bake, sometimes difficult ingredients that are hard to find...sometimes not quite what you were expecting. My goal is to make keto baking as easy as possible for you, and that includes developing this delicious recipe that's a low carb version of a childhood favorite.
For another amazing keto cake that's actually cooked in your air fryer, check out this keto chocolate cake!
How to make keto Coconut Flour Cupcakes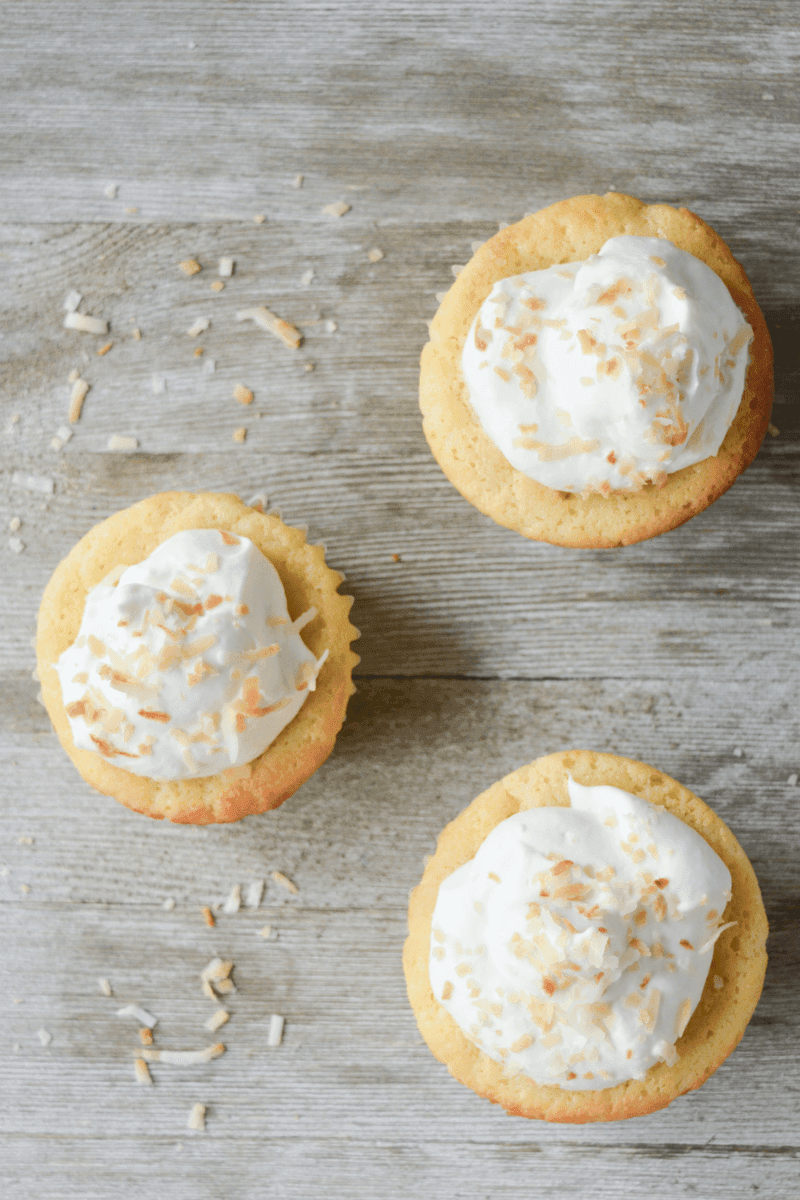 Coconut cake was one of Joe's favorite...I mean FAVORITE desserts in his teen years. He's often told the story of the best coconut cake he ever ate, served at his high school during lunch. He hasn't had coconut cake in at least 10 years, but he was happy to work on this recipe.
And he knocked it out of the park!
These cupcakes are based on the recipe for our Keto Vanilla Pound Cake, which is a super moist and delicious treat that I could probably eat every single day. If you haven't made it yet, you have to check it out!
Some substitutions that were made include coconut flour instead of almond flour (we used Arrowhead Mills which we just picked up from Walmart) and Thai Kitchen Coconut Cream, which was also available at Walmart.
This recipe is dense and delicious, so it follows the rules of most other Keto desserts...keep an eye on it while it's baking and check on it intermittently, and let it cool COMPLETELY before frosting or eating. My recommendation is at least a couple of hours, but if you can do overnight you'll be golden. If you're pressed for time, throw them in the fridge...letting them cool is not optional.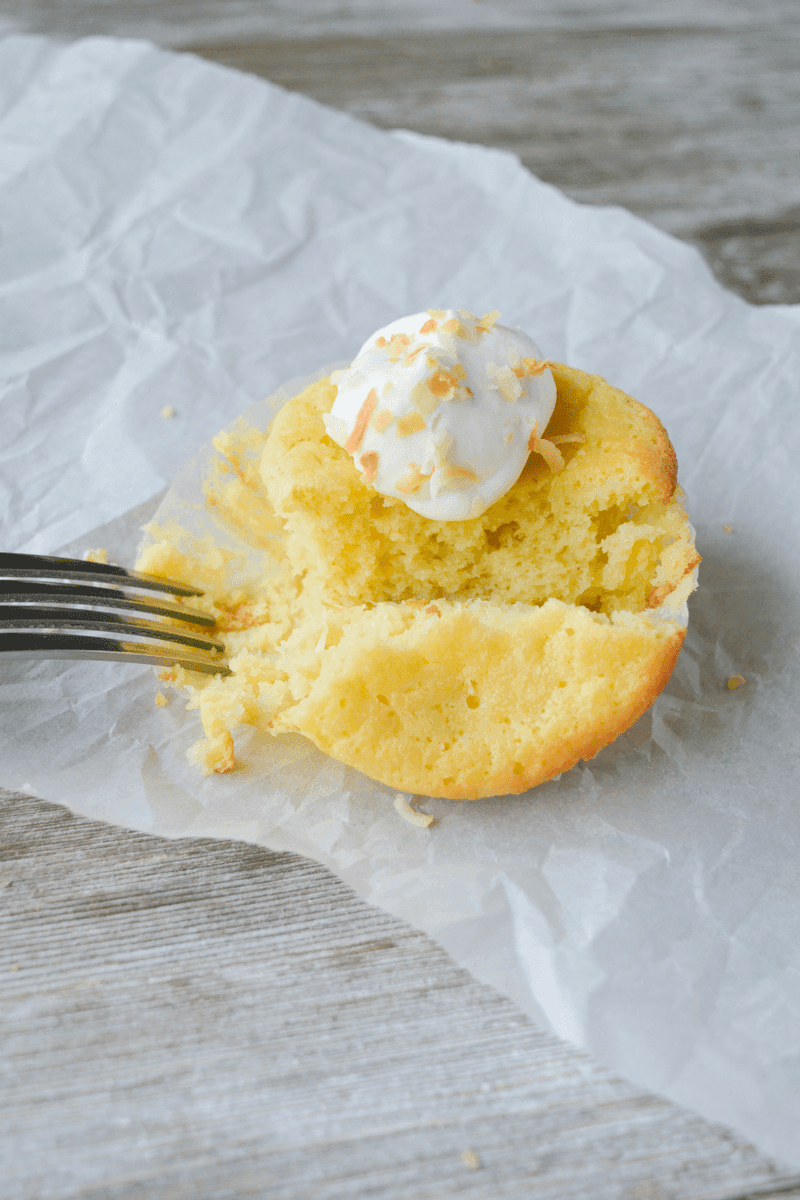 How many calories in coconut cupcakes?
Here is the nutrition information for one cupcake without frosting, based on the brands I used:
Calories: 177 Calories
Total Carbs (including erythritol): 20.7g
Fiber: 2.67g
Sugar Alcohols: 16g
Net Carbs: 2.04g
Protein: 3.47g
Fat: 15.74g
How do you make the frosting?
If you need a yummy topping, we mixed up a quick and tasty frosting with

1 cup of heavy whipping cream
1 teaspoon of vanilla extract
2 tablespoons of powdered erythritol
¼ cup of coconut milk (the leftovers from the can after taking out the cup of cream).

You just whisk it until fluffy, then sprinkle some unsweetened coconut flakes on top!
Yield: 12 Cupcakes
Keto Coconut Flour Cupcakes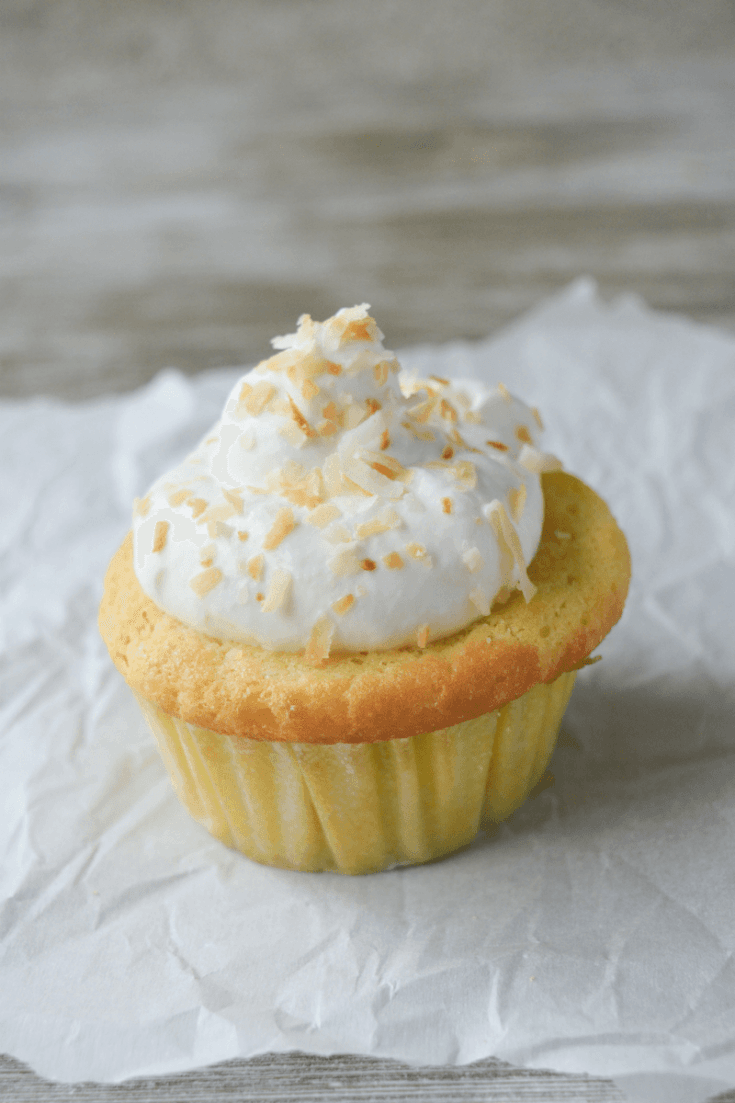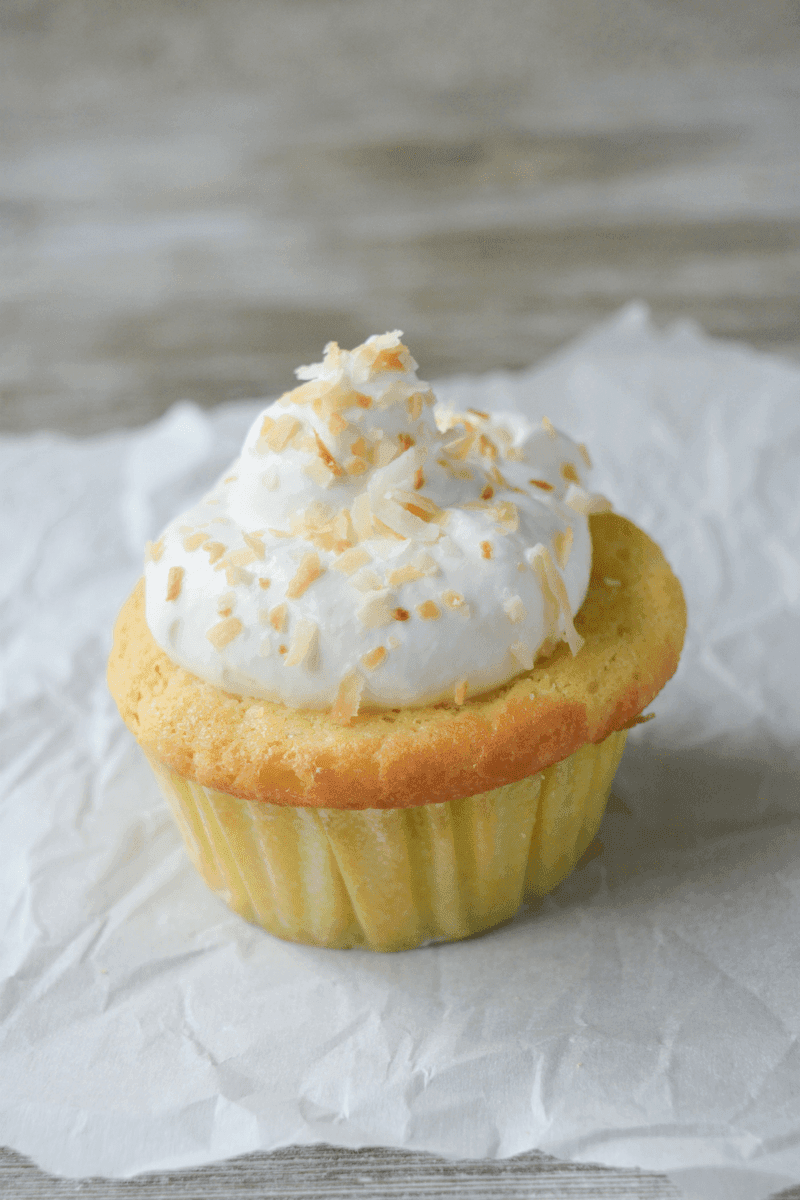 These keto coconut flour cupcakes are a moist and delicious low carb version of a childhood favorite. If you love coconut, you'll go crazy for these cupcakes! Perfect for your next grain-free, nut-free celebration!
Ingredients
⅔ Cups Coconut Flour
½ Cup Butter
1 Cup Erythritol
2 Teaspoons Baking Powder
1 Teaspoon Vanilla Extract
1 Cup Coconut Cream
2 Ounces Cream Cheese
4 Large Eggs
Instructions
Preheat oven to 350 degrees Fahrenheit
Line cupcake tin with liners or generously butter 12 individual cups
Combine coconut flour and baking powder in a large bowl, set aside
Cut butter into several small squares and put in separate bowl, add cream cheese
Microwave butter and cream cheese for 30 seconds. Be careful to not burn cream cheese. Stir these wet ingredients together until well combined.
Add erythritol, vanilla extract, and coconut cream to butter and cream cheese mixture. Stir well.
Pour wet ingredients into large bowl of coconut flour and baking powder. Stir well.
Add eggs to batter. Stir well.
Pour batter into cupcake tin, place in oven and bake for 35 minutes or until a toothpick placed in the cake comes out clean.
For best results, let cake cool completely for at least 2 hours, preferably overnight. If you remove it too soon, it may crumble a bit.
Notes
Coconut cream is very similar to coconut milk. If you want you can refrigerate coconut milk to make the cream separate from the water, and use that in this recipe. Separation can happen in as little as 30 minutes.
Every oven is different. Be sure to keep an eye on your cake, and check on it during baking.
If your cake looks overly wet place it back in the oven in 5 minute intervals until cooked. It should bounce back when gently touched but may have a little jiggle. This is typical with coconut flour desserts until completely cool.
Recommended Products
As an Amazon Associate and member of other affiliate programs, I earn from qualifying purchases.
Nutrition Information:
Yield:
12
Serving Size:
1 Cupcake
Amount Per Serving:
Calories:

177.48
Total Fat:

15.74g
Carbohydrates:

20.72 Total, 2.04g NETg
Fiber:

2.66g
Protein:

3.47g
Please note that I am not a certified nutritionist. Any nutritional information that is discussed or disclosed in this post should only be seen as my best amateur estimates based on NET carbs. If nutrition is important to you, I highly encourage you to verify any data you see here with your favorite nutrition calculator.