Tired of eggs for keto breakfast? These Keto Banana Nut Muffins are so simple and delicious, your kids will love helping you make them on the weekends just as much as they'll love helping you eat them!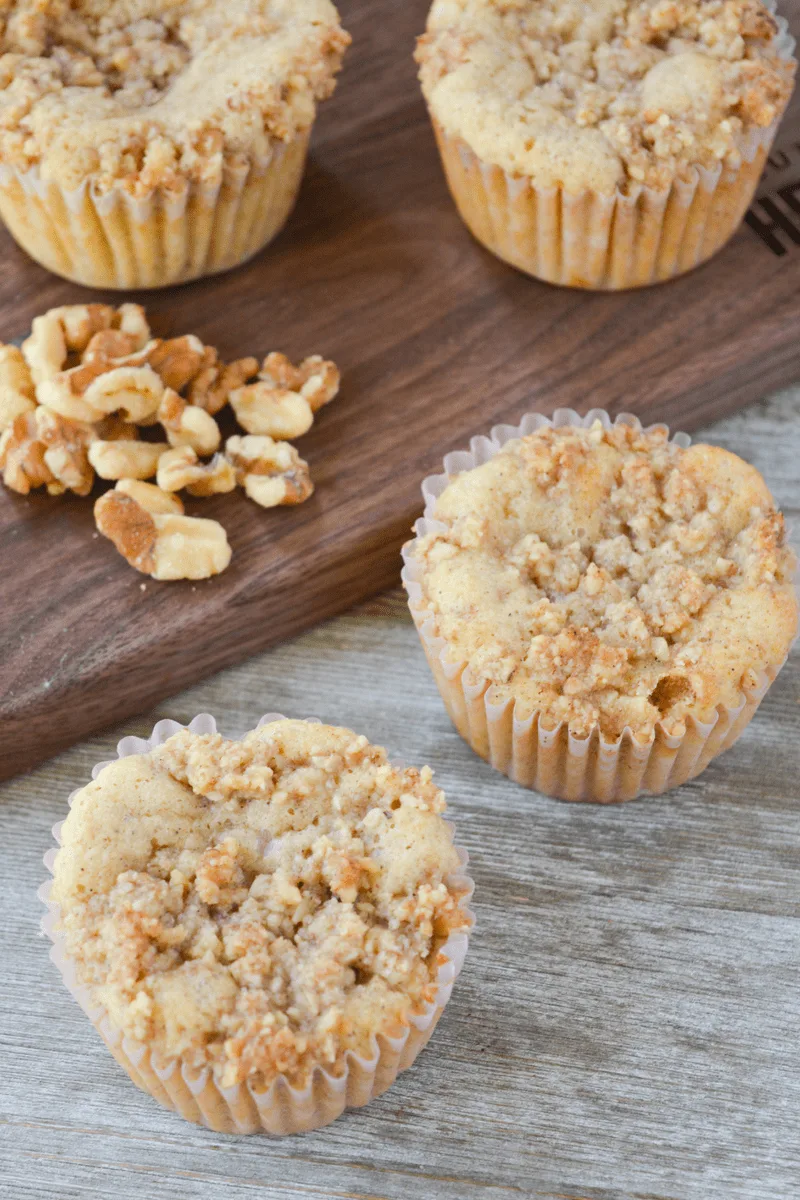 Let's just address the big banana in the room right off the bat. I would argue that actual bananas are not a great option for Keto. Why? Because, according to a quick Google search, one medium banana contains 27 grams of total carbs! Even if you took a banana and split it between several servings, that's still more carbs that I'd like for a recipe!
That doesn't mean I don't love the flavor of bananas. Even my husband, Joe, loved the flavor, and he's "allergic" to bananas (self-diagnosed).
*cough* he just dislikes them *cough*
This recipe uses banana extract to achieve that delicious banana-y taste. I was admittedly a bit skeptical at first, but it works! You can find it at any grocery store near the spices and things like vanilla extract, or you can buy it online.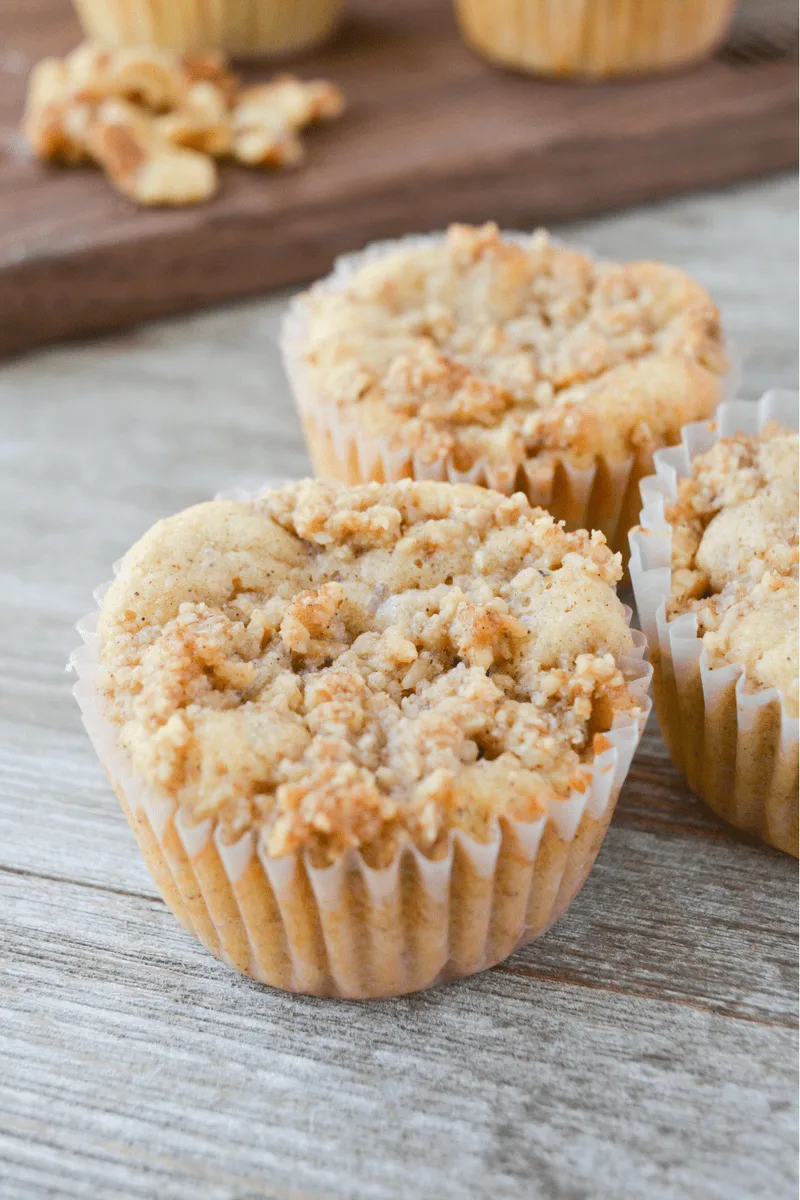 There's always a lot of chatter and debate over eating fruits on a ketogenic diet. I think knowledge about how many carbs is in the fruit you're interested in and listening to how your body reacts are super important to figuring out what works for you. That said, if you're looking for another fruity dish check out these amazing keto lemon bars!
Anyway, the recipe we're focused on today is for these very moist (sorry if you hate that word, but they are!) and tasty muffins that are perfect for any time of day!
Keto Banana Nut Muffins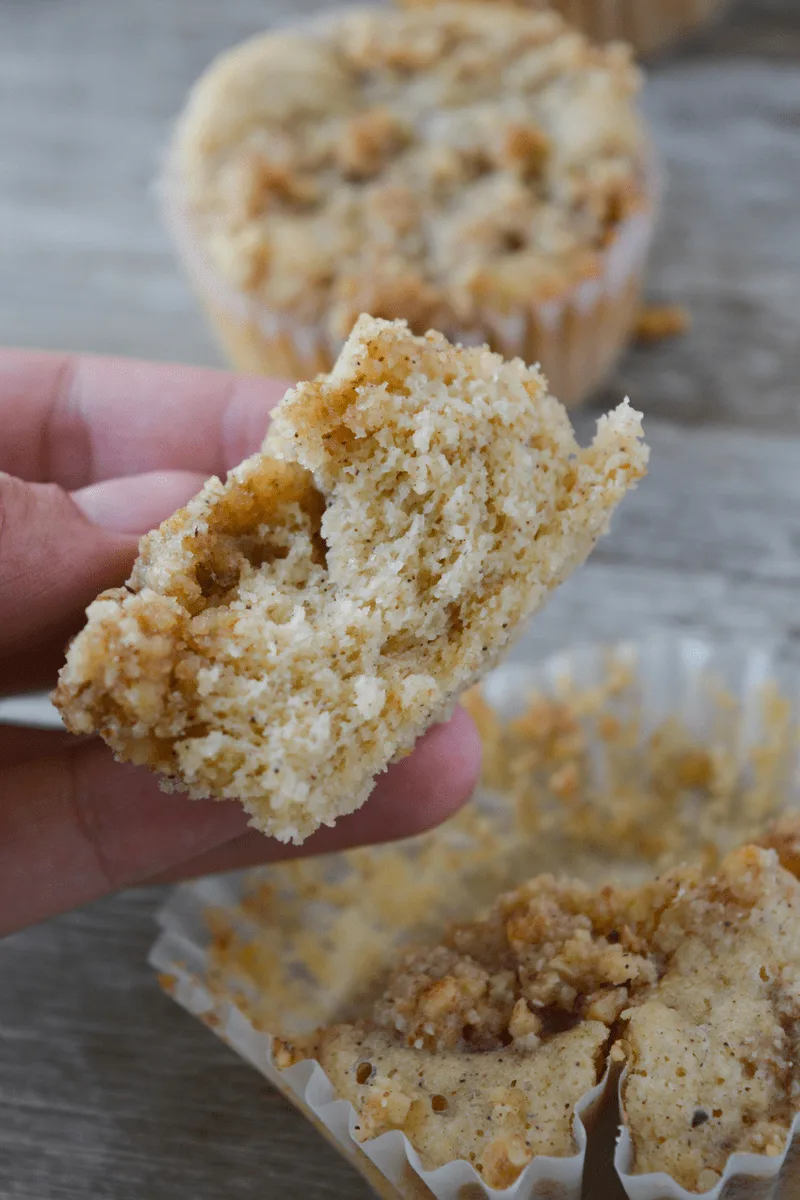 For this recipe we're using a base of almond flour. I haven't tried it with coconut flour, but I do believe with some tweaking that could work...the issue is, it's not always an easy swap. So feel free to play around with it, and let me know the results!
We all know that Keto Breakfasts can be difficult, especially if you get tired of eggs easily... so if I were you I'd definitely bookmark this gem ASAP 🙂
Lately I've been working on more keto, kid-friendly recipes to help encourage kids who are a part of the low carb lifestyle to get in the kitchen with their parents to create yummy, and easy meals.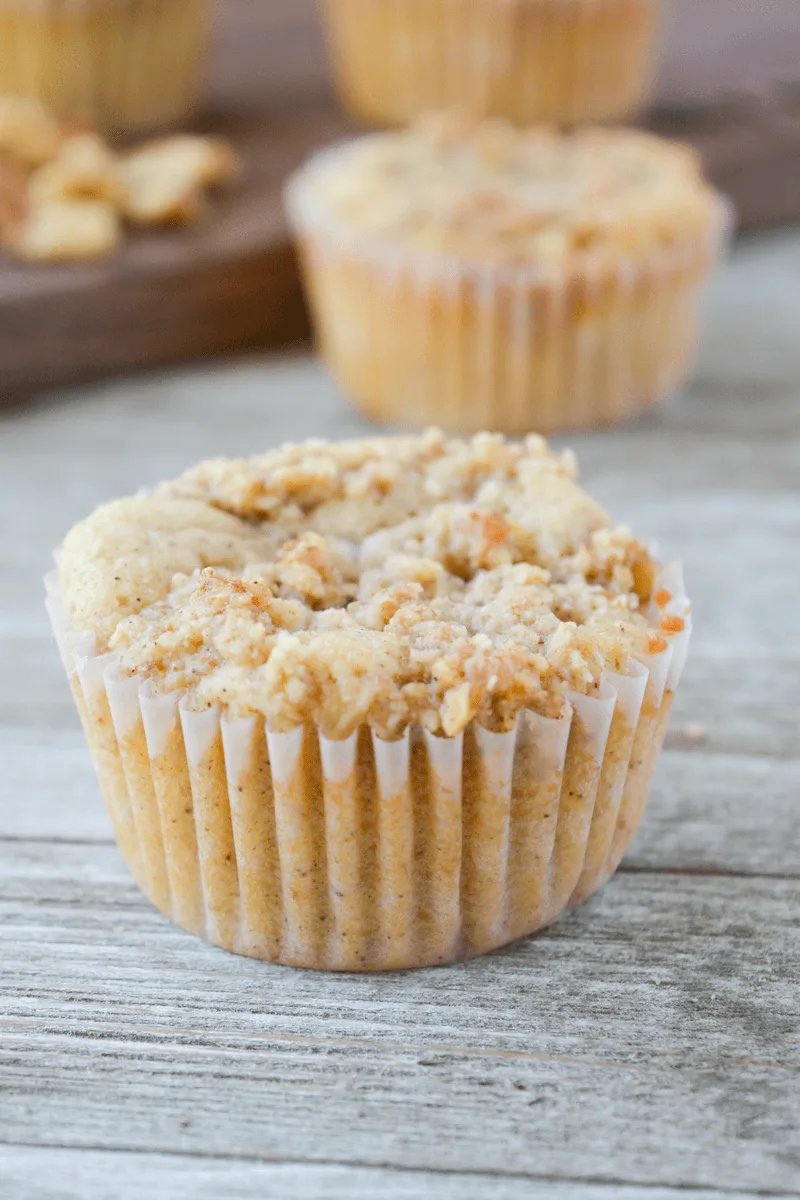 This recipe definitely fits the bill, and it has awesome macros! Here is the nutritional information per serving (1 muffin - makes 10 total), without adding the walnut crumble. I think the crumble adds a nice texture to the top of the muffins, but if you don't want that on top, feel free to just add ¾ cup walnuts to the batter! That's what this info is based on:
Calories: 184
Total Carbs: 7g
Fiber: 3g
Net Carbs: 4g
Protein: 7g
Fat: 14g
and here's the nutrition for each serving with the bells and whistles of the almond flour, chopped walnuts, butter, and erythritol on top:
Calories: 248
Total Carbs: 7g
Fiber: 3g
Net Carbs: 4g
Protein: 7g
Fat: 22g
Here's a more in depth breakdown if you're interested in seeing the nutritional information for all of the ingredients I used:
I hope you enjoy these delicious keto banana nut muffins!
Here's how I made them!
Yield: 10 Muffins
Keto Banana Nut Muffins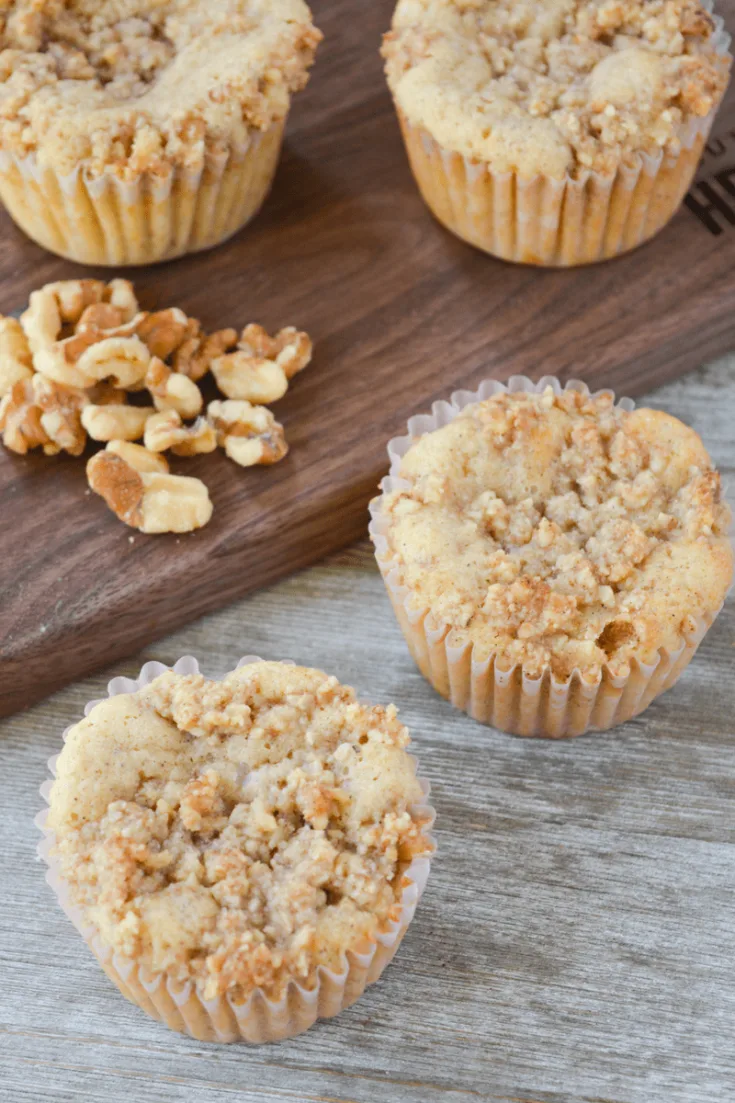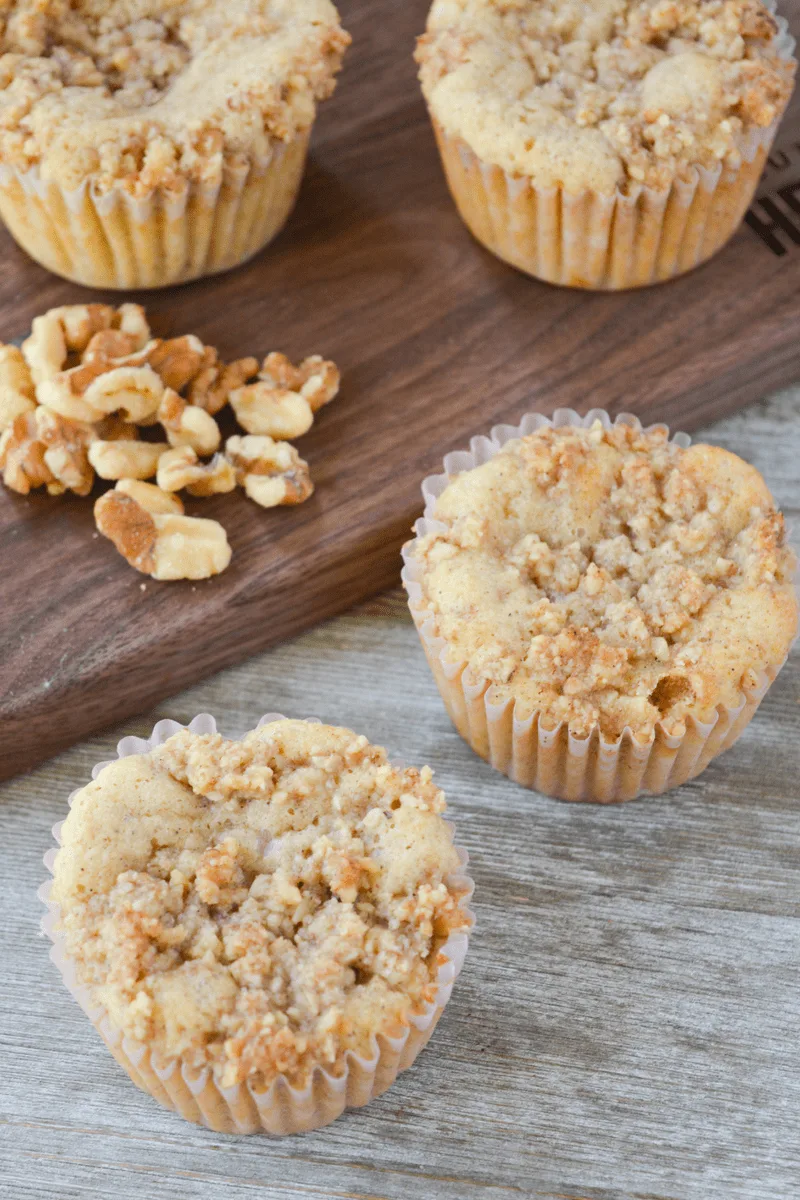 Tired of eggs for keto breakfast? These Keto Banana Nut Muffins are so simple and delicious, your kids will love helping you make them on the weekends just as much as they'll love helping you eat them!
Ingredients
1 ¼ Cup almond flour
½ Cup powdered erythritol
2 tablespoons ground flax (feel free to omit if you don't have it...it just adds a bit more depth to the flavors)
2 teaspoons baking powder
½ teaspoons ground cinnamon
5 tablespoon butter, melted
2 ½ teaspoons banana extract
1 teaspoon vanilla extract
¼ cup unsweetened almond milk
¼ cup sour cream
2 eggs
¾ cup chopped walnuts
1 tablespoon butter, cold and cut in 4 pieces
1 tablespoon almond flour
1 tablespoon powdered erythritol
Instructions
Preheat oven to 350 Prepare muffin tin with 10 paper liners, and set aside.
In a large bowl, mix almond flour, erythritol (or preferred sweetener) flax, baking powder and cinnamon.
Stir in butter, banana extract, vanilla extract, almond milk, and sour cream. Add eggs to mixture and gently stir until fully combined.
Fill muffin tins about ½-3/4 full with mixture.
**If you need more accurate measurements, weigh the batter on a food scale and divide by 10. That will give you the grams of batter per cup.
Crumble Topping
Add walnuts, butter, and almond flour to food processor. Pulse a few times until nuts are chopped into small pieces. If mixture seems too dry (sometimes some walnuts are softer than others) feel free to add another tablespoon of butter.
Sprinkle bits of the mixture evenly over batter and gently press down. Sprinkle erythritol on top of crumble mixture.
Bake for 20 minutes or until golden and toothpick comes out clean. Let cool for at least 30 minutes, an hour or more if possible. This lets them firm up.
*If they seem to be cooking faster, take them out sooner to avoid burning. Alternatively, if they are still wet looking, return them to the oven for a few minutes keeping a close eye on them.
Notes
Please note that I am not a certified nutritionist. Any nutritional information that is discussed or disclosed in this post should only be seen as my best amateur estimates based on NET carbs. If nutrition is important to you, I highly encourage you to verify any data you see here with your favorite nutrition calculator.
Recommended Products
As an Amazon Associate and member of other affiliate programs, I earn from qualifying purchases.
Nutrition Information:
Yield:
10
Serving Size:
1 Muffin
Amount Per Serving:
Calories:

248
Total Fat:

22g
Carbohydrates:

7g
Fiber:

3g
Protein:

7g