This Low Carb Stuffed Cinnamon Roll is an amazing treat that's very easy to make. It starts with the magical fathead dough base, and adds lots of yummy goodness!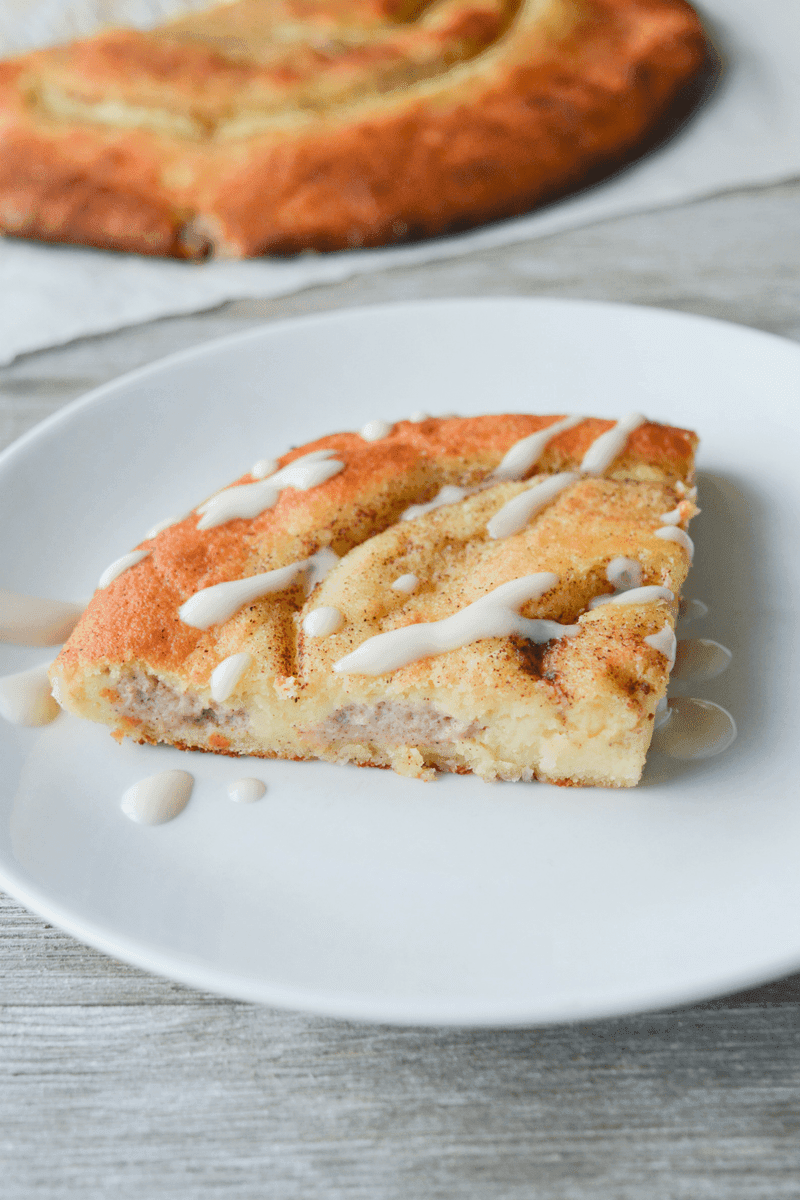 I love cinnamon rolls so much, and adore how easy they are to make even when you're cutting the carbs.
At first I was, like many people, pretty skeptical about mozzarella cheese being a major ingredient in a sweet dough...but bear with me. You can't even tell. I mean it.
I've been interested in doing something a little more unique for a while, and that makes me really excited for this recipe.
To be completely honest, I was a little hesitant to post it even though it's completely delicious. Reason being...it is a little higher in carbs than I would normally eat per serving.
That said, if you can fit this stuffed cinnamon roll in your macros, I know you're really going to enjoy it!
I know most keto-ers stick to 20 net carbs per day so this can definitely work, but I'd also classify it as a sometimes treat.
Low Carb Stuffed Cinnamon Roll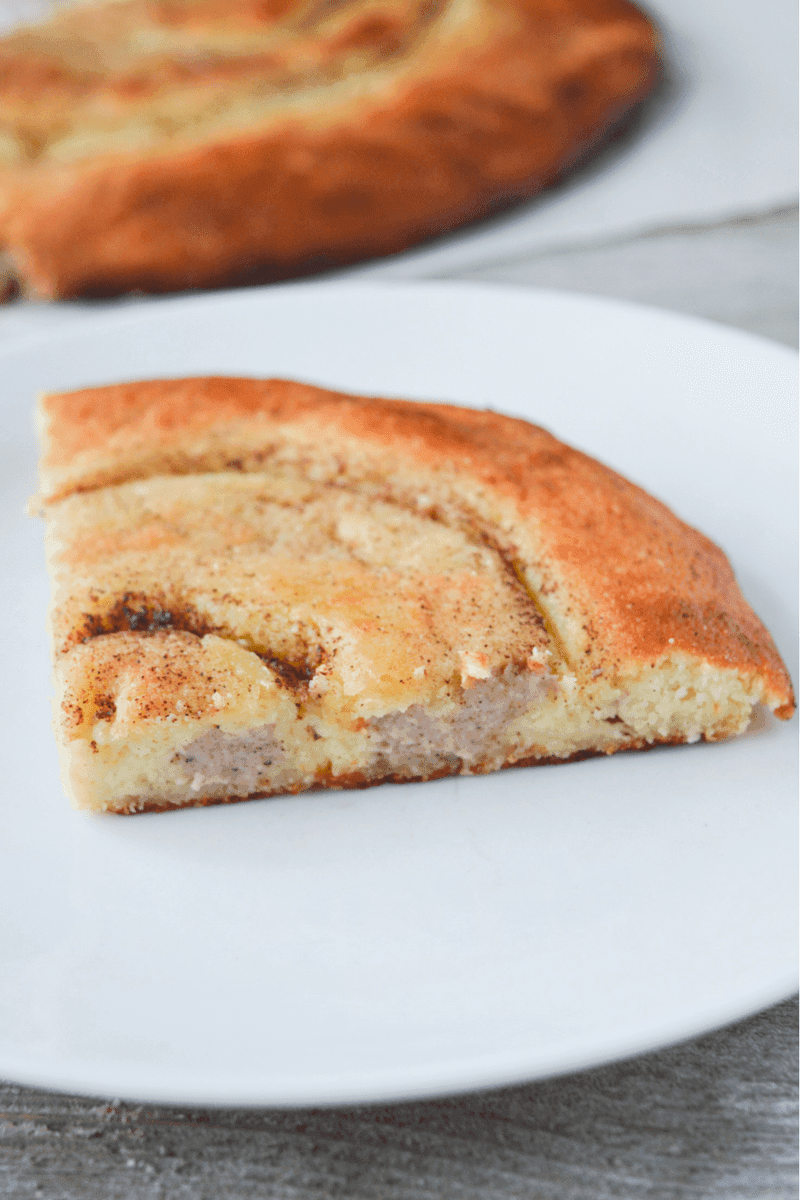 The ingredients for this dish are really simple. Almond flour, mozzarella, cream cheese, an egg, ground cinnamon, vanilla extract...pretty much all Keto staples that are likely in your refrigerator or pantry right now.
While the ingredients are great, it's important to remember that they all have carbs, and if you're tracking your carbs closely, knowledge is key.
If you're doing lazy keto (when you eat low carb foods, but don't track) it's a different story, but I've noticed some who do keto for weight loss struggling with very low carb versus no carb foods. Foods like eggs and mozzarella have very low carbs, but sometimes when your food label says zero, it just means less than one. (They're allowed to round down).
According to the USDA, 1 large egg has 0.6g of net carbs and 1 cup of mozzarella has 4g. Not big amounts at all, but they can add up!
Here's the breakdown for this recipe, per ⅙ of the total recipe:
Just a friendly reminder that Net Carbs (or effective carbs) are Total Carbs minus Fiber minus Sugar Alcohols:
Calories: 308.82
Total Carbs (including erythritol): 27.78g
Fiber: 2.28g
Erythritol: 19.33g
NET Carbs: 6.17g
Protein: 16.35g
Fat: 23.34g
And a more in depth breakdown if you're interested!
Here are a few photos to help you understand the dough filling. I pressed the dough out into a large rectangle with my hands. (Use wet hands when working with fathead to prevent sticking)
If your dough is very sticky (it shouldn't be) try wetting your hands and kneading it for a minute. Sometimes it just needs to cool a little.
It's not really important to know the exact measurements for the next part. Make it about ¼ thickness. As long as it's a rectangle, this will work.
I placed the filling into a large ziplock/pastry bag and snipped the tip. This will let you make an easy straight line.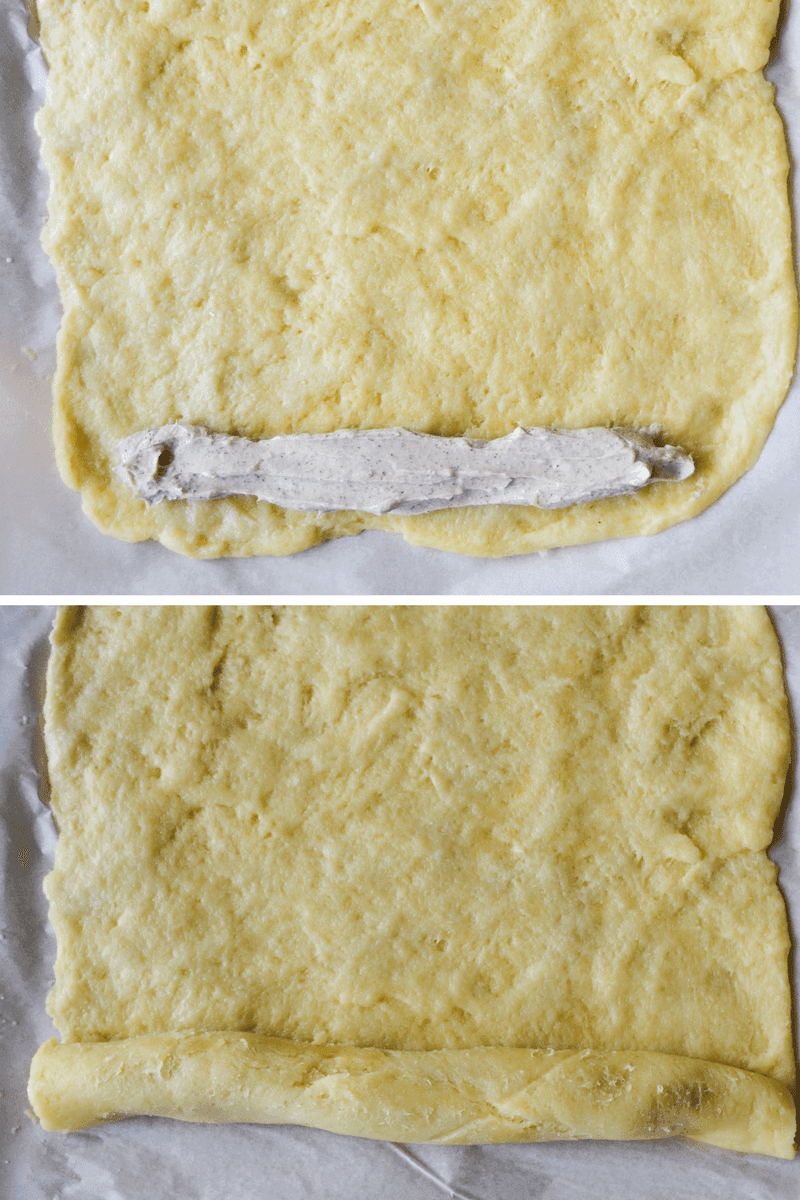 Brush and bake!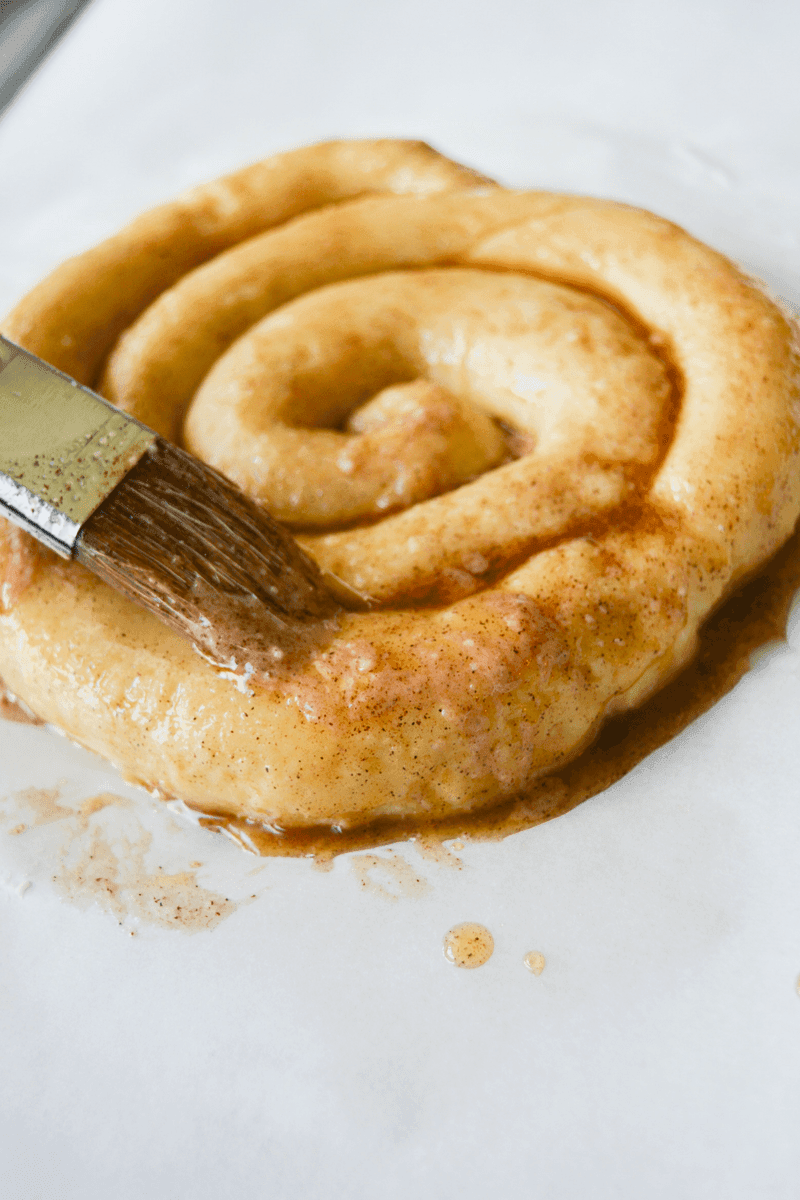 And for a yummy cream cheese frosting, try this recipe by Low Carb Maven!
Yield: 6 Servings
Low Carb Stuffed Cinnamon Roll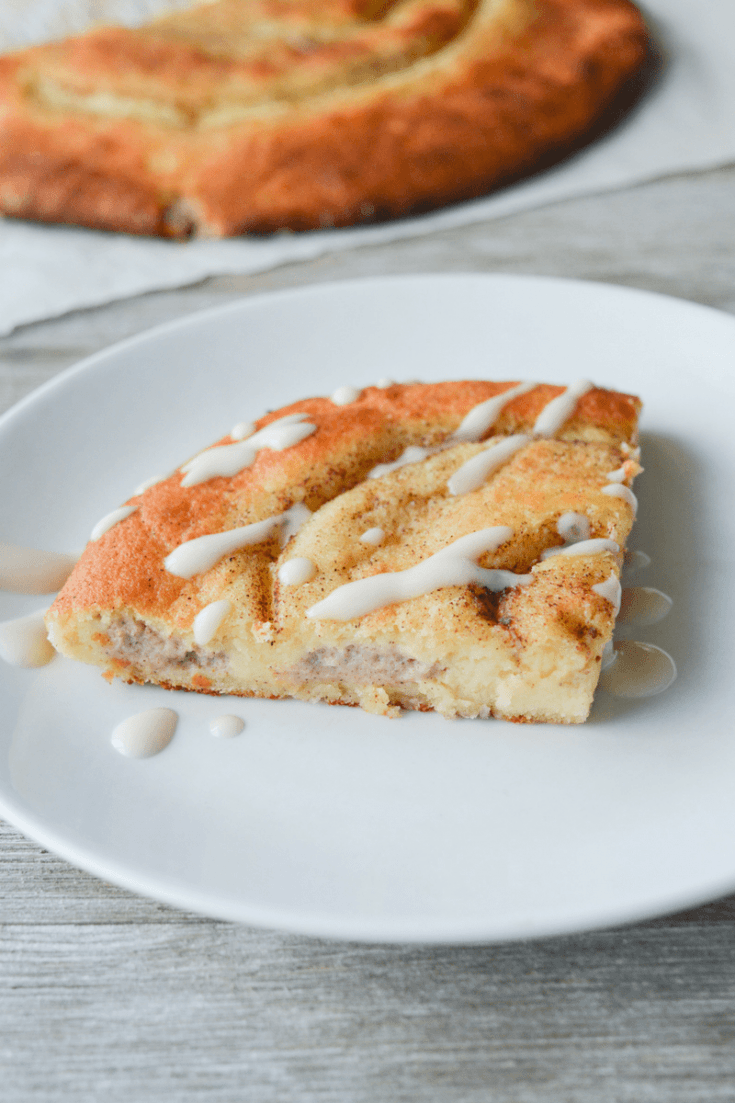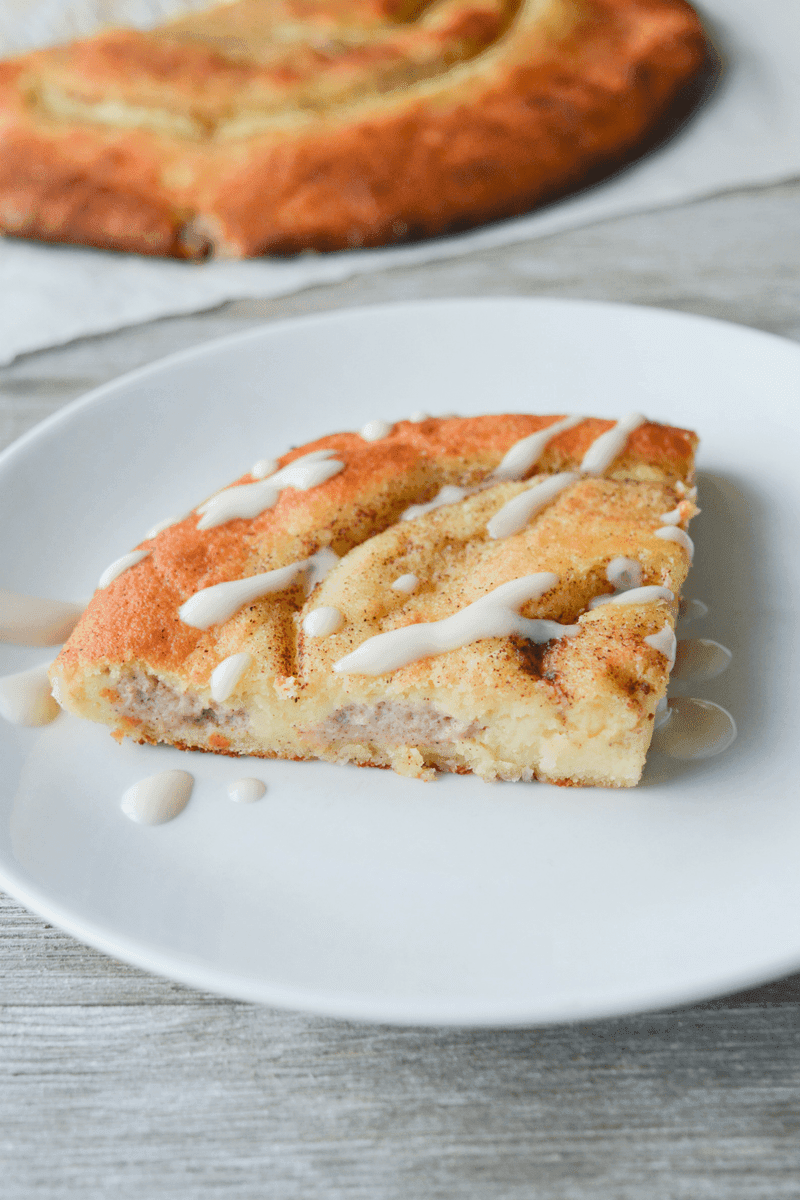 This Low Carb Stuffed Cinnamon Roll is an amazing treat that's very easy to make. It starts with the magical fathead dough base, and adds lots of yummy goodness!
Ingredients
4 ounces cream cheese, softenend
⅓ cup powdered erythritol
1 teaspoon cinnamon
½ teaspoon vanilla extract
Dough
1 ½ cup shredded mozzarella
1 cup almond flour
1 ounce cream cheese, softened
¼ cup powdered erythritol
1 egg
½ teaspoon vanilla extract
Cinnamon Sugar Butter
1 tablespoon butter, melted
¼ teaspoon cinnamon
1 teaspoon powdered erythritol
Instructions
Prepare
Preheat oven to 375 degrees Fahrenheit
Line large baking sheet with parchment, set aside.
Filling
In a large bowl, mix cream cheese, erythritol, cinnamon and vanilla. Fill small storage ziplock-type bag or pastry bag with mixture, snip the end and set aside. (this will make it easier to pipe evenly)
Dough
In large bowl, add mozzarella and almond flour. Break cream cheese into pieces and place in bowl. Microwave bowl for 1 minute.
Remove from microwave and add vanilla, erythritol, and egg. Mix until fully combined. The egg makes the mixture wet, but if you keep stirring it will incorporate and make a solid dough ball.
Press or roll dough to about ¼ inch thick large rectangle on parchment. Pressing it out with my hands worked great. If you roll it, be sure to use a second piece of parchment on top of the dough to avoid sticking to rolling pin.
Assembly
Pipe a thick line of the filling slightly above the bottom edge of the dough rectangle.(Refer to photos in post)
Gently roll the dough upwards around the filling until it is fully covered by the dough. Using a knife, gently cut a line below the roll to remove it.
Pinch the roll edges closed, using a dab of water to seal if needed. Set roll aside and repeat 3-4 times or until all dough is used.
Take 1 roll and create a spiral on the parchment. Connect other rolls around, pinching edges and sealing with water as you go to form a large spiral.
In small bowl, mix melted butter, cinnamon and erythritol. Brush gently over spiral.
Bake for 20-25 minutes. Edges will turn medium-golden brown and spread out. This is normal.
Let cool for at least 30 minutes, it will firm up. Add glaze if desired. Refrigerate leftovers.
Notes
I haven't tried this with coconut flour.
You may your choice of sweetener, I just personally prefer powdered erythritol.
Wetting your hands with a little water makes dough handling much easier.
If roll appears wet or excesively undercooked, return to the oven and watch closely. A toothpick should come out mostly clean. Almond flour is a bit soft when hot, so allow it to cool completely to fully firm up. This took mine about 30 or more minutes.
Recommended Products
As an Amazon Associate and member of other affiliate programs, I earn from qualifying purchases.
Nutrition Information:
Yield:
6
Serving Size:
⅙ of Roll
Amount Per Serving:
Calories:

308.82
Total Fat:

23.34g
Carbohydrates:

6.17 NETg
Fiber:

2.28g
Protein:

16.35g
Please note that I am not a certified nutritionist. Any nutritional information that is discussed or disclosed in this post should only be seen as my best amateur estimates based on NET carbs. If nutrition is important to you, I highly encourage you to verify any data you see here with your favorite nutrition calculator.
You may also enjoy...