This recipe for coconut flour keto pancakes gives you an easy way to make a delicious, low carb breakfast that the whole family will love!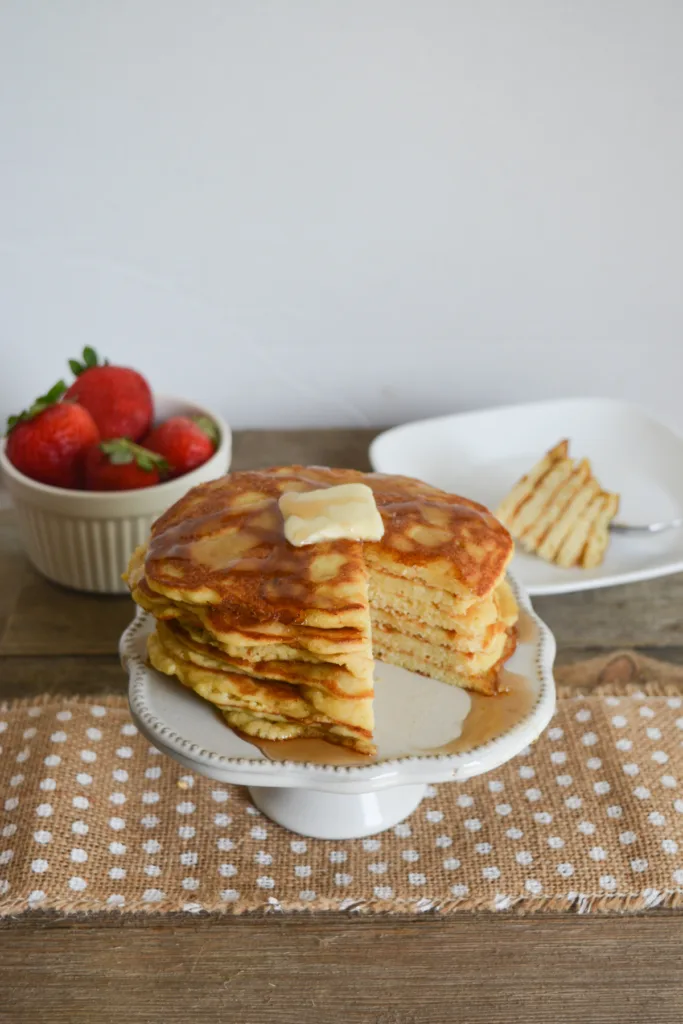 As far as breakfast goes, I don't think it gets much better than pancakes. But of course, traditional pancakes are too high in carbs to fit into a keto diet.
The good news is, you don't have to give up one of your favorites! And this recipe is so good, it can satisfy people who don't even follow a keto diet.
I've already posted my recipe for keto waffles, and I realized, especially as more and more people are on the hunt for delicious keto breakfasts, I needed to get these yummy keto pancakes on the blog!
When it comes to pancakes, the fluffier the better. These tasty coconut flour pancakes are not only mouthwateringly delicious, but also by using coconut flour we avoid any nut sensitivities in order to create a breakfast for everyone!
This recipe comes from my cookbook, The Keto Kids Cookbook. If you haven't checked it out, it's got 75 delicious, low carb, kid-friendly recipe ideas!
What ingredients do I need to make keto pancakes?
Coconut flour
Granular Erythritol (Swerve)
Baking soda
Eggs
Vanilla extract
Butter
Unsweetened almond milk
Water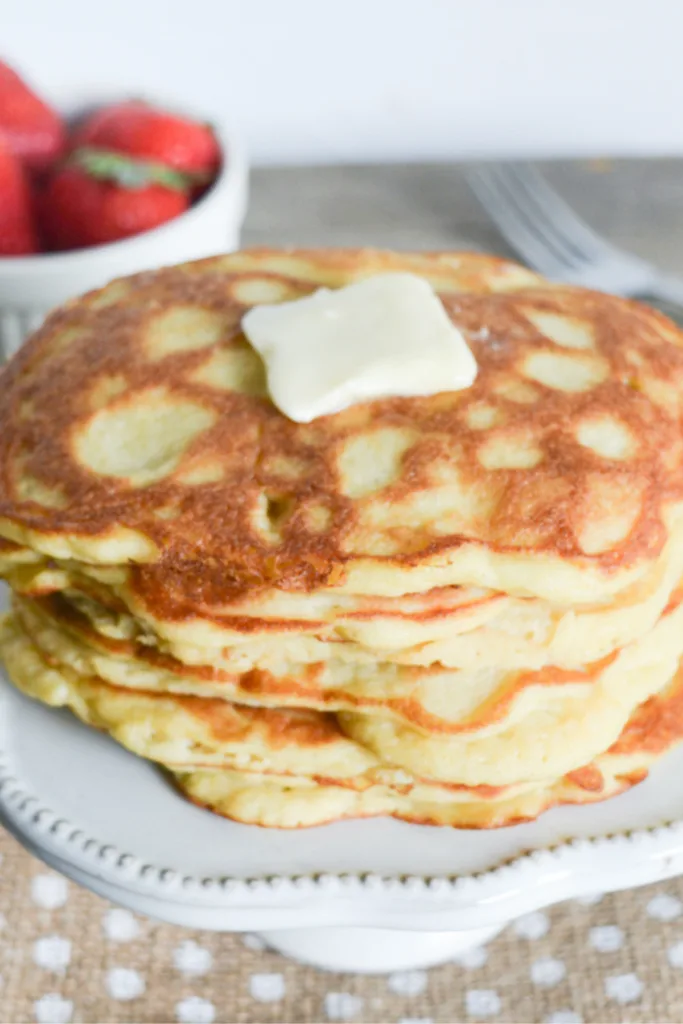 How many of these delicious low carb pancakes can I eat?!
This recipe makes 6 pancakes. One pancake is one serving. For one serving you're looking at:
Calories: 89 Calories
Total Carbs: 6.8 grams
Fiber: 2.2 grams
Sugar Alcohols: 3 grams
Net Carbs: 1.7 grams
Protein: 2.9 grams
Fat: 6.4 grams
What should I put on top of my coconut flour pancakes?
You might know that traditional breakfast syrups are absolutely loaded with sugar! One tablespoon of maple syrup can have 14 grams of sugar!
The good news is, there are plenty of low carb syrups these days, some you can even find in your grocery store! Keep an eye out for sugar-free syrups (preferably those that don't contain maltitol) or order online from a great brand like ChocZero or Good Dee's!
Alternatively, I also love to top my keto pancakes with whipped cream and sliced fresh strawberries. Absolutely delicious!
More great keto breakfast ideas: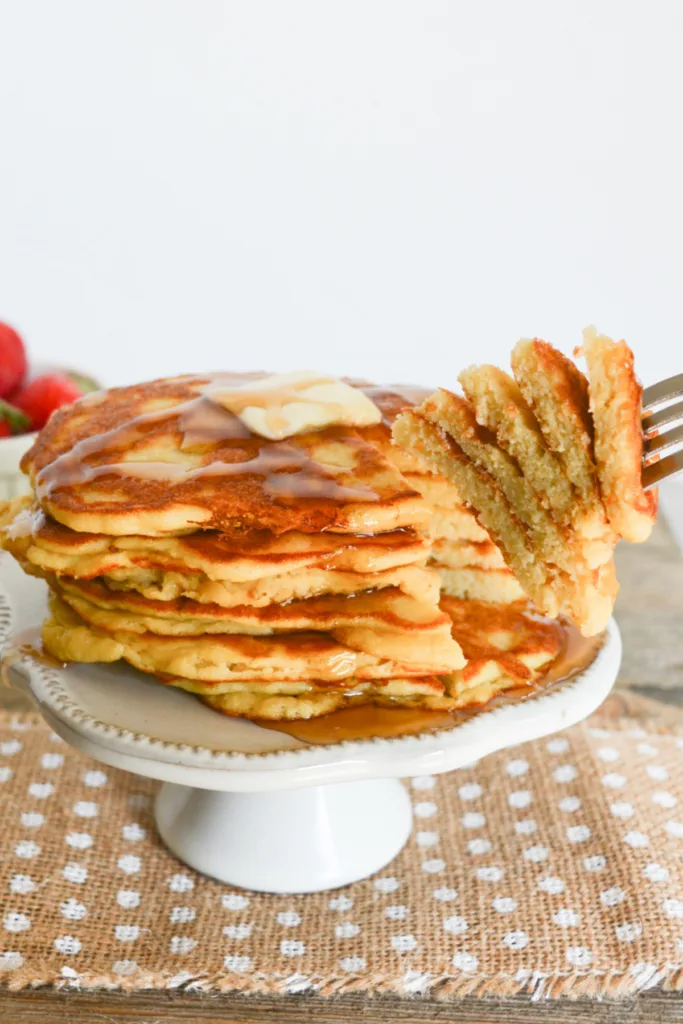 Yield: 6 pancakes
Fluffy Coconut Flour Keto Pancakes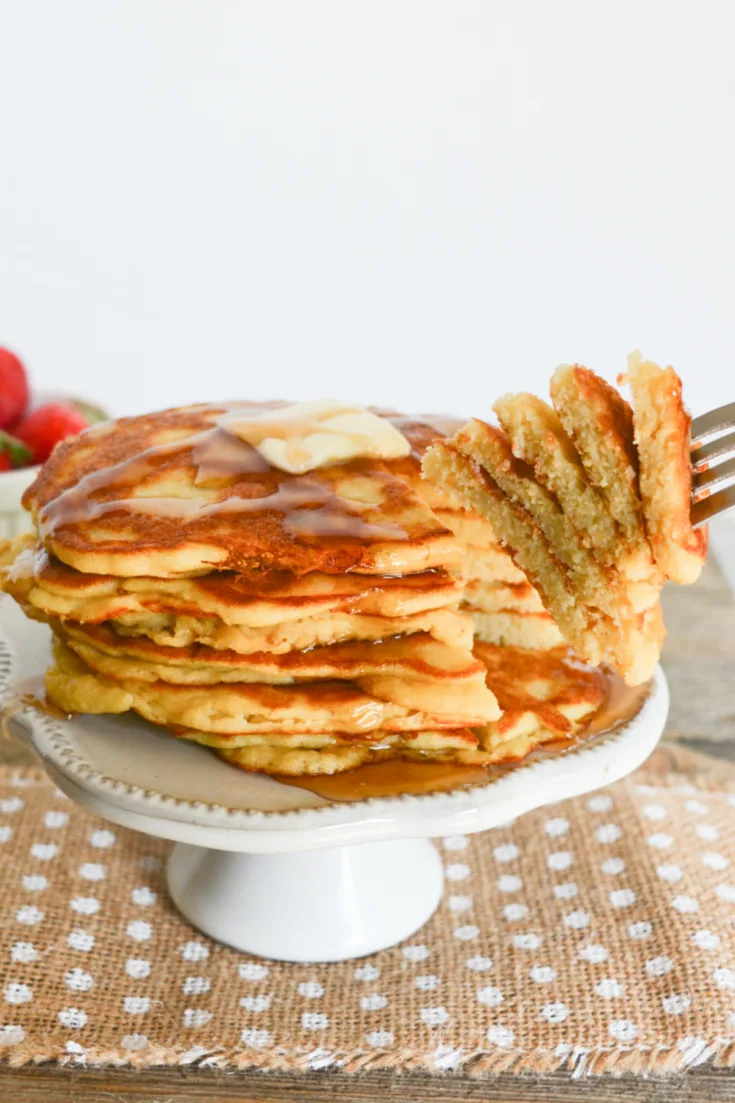 This recipe for coconut flour keto pancakes gives you an easy way to make a delicious, low carb breakfast that the whole family will love!
Ingredients
½ cup coconut flour
2 tablespoon granular erythritol
½ teaspoon baking soda
2 eggs
½ teaspoon vanilla extract
4 tablespoon butter, divided
⅓ cup unsweetened almond milk
2 tablespoon water
Instructions
In a large bowl, mix together the coconut flour and baking soda. Add the eggs, vanilla, 2 tablespoons of the butter, almond milk and water. Mix until a thick, but pourable batter forms.
In a skillet over medium heat, melt the remaining 2 tablespoons of butter. Add 2 tablespoons of batter to the pan for each pancake, working in batches as needed. Cook for 2 to 4 minutes per side, until the edges begin to puff, then flip and cook for 1 to 3 minutes.
Serve warm with low-carb syrup or sugar-free whipped cream.
Nutrition Information:
Yield:
6 pancakes
Serving Size:
1 pancake
Amount Per Serving:
Calories:

89
Total Fat:

6.4g
Carbohydrates:

6.8g
Net Carbohydrates:

1.7g
Fiber:

2.2g
Sugar Alcohols:

3g
Protein:

2.9g