This keto bbq sauce recipe will save your low carb grilling season and kick up for your bbq flavors all year round. It has the perfect easy shortcut to a delicious sauce in minutes!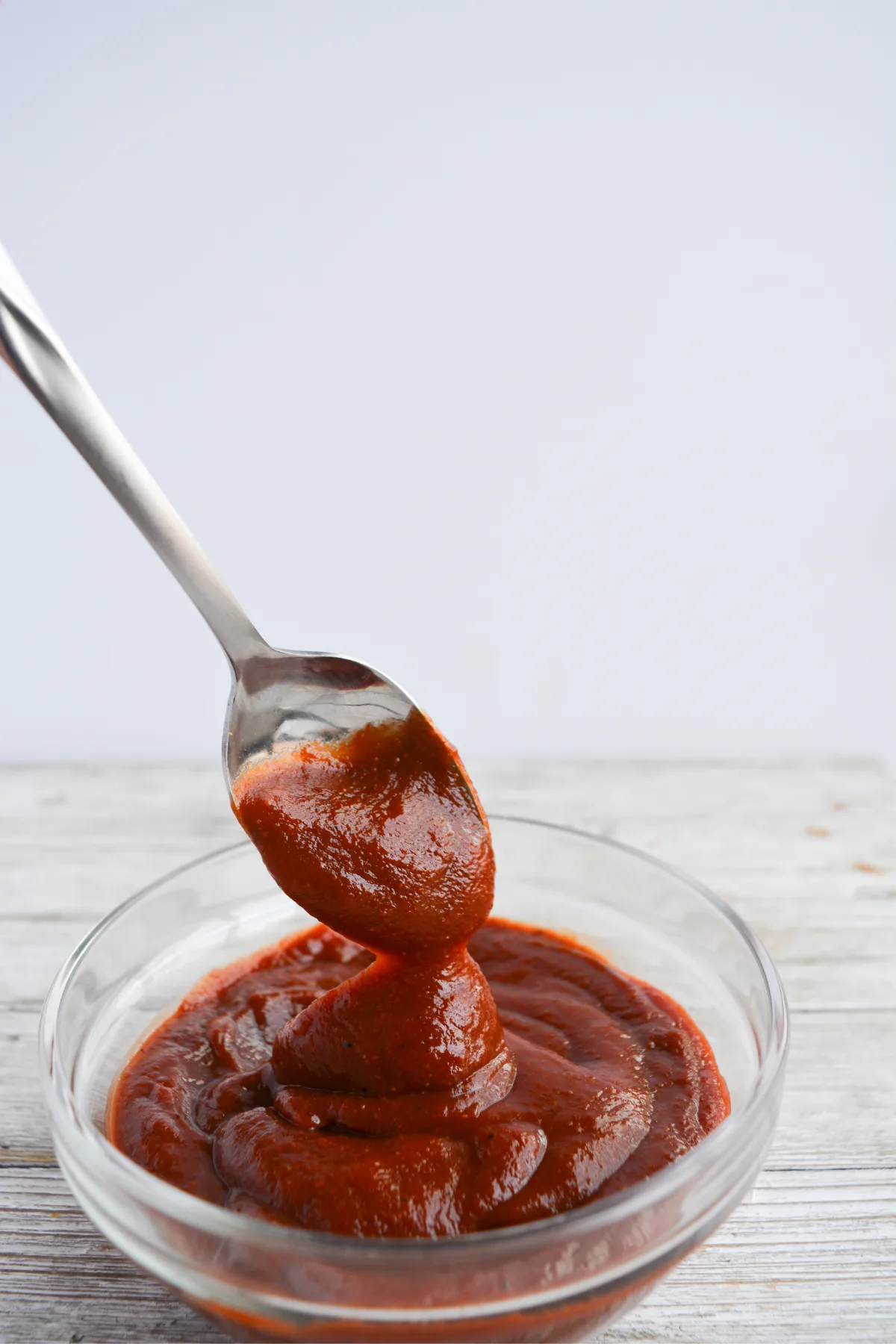 When it comes to summer grilling, you have to have bbq sauce. Whether that's for your chicken, ribs, or burgers, bbq sauce always completes the flavor profile and takes the taste to the next level.
A great BBQ sauce is thick, tangy, and zesty, but is bbq sauce keto friendly? When you look on the grocery store shelves, most options are tough to fit in a keto diet, especially if you love to sauce it up as much as I do.
The reason traditional bbq sauces aren't considered keto is because they're loaded with added sugar, which many would argue is also the reason they taste so good.
But there's hope! The good news is I'm going to show you a couple of smart swaps for making homemade keto bbq sauce. AND I've got some of the best store bought brands to keep your carbs low and the flavors high.
Can you have bbq sauce on keto?
Typically on a keto diet, you follow a very low carb way of eating, usually between 20-50 grams of carbs per day. Some follow a stricter practice that includes avoiding ingredients that aren't deemed clean, such as wheat and certain sweeteners.
My approach, that has been personally successful for me, is to eat foods that fit within my carb allowance regardless of what they are. Even still, most bbq sauces you can find at the store do not fit into a keto diet because of their high carb count due to all of the sugar.
Here are some popular bbq sauce brands and their carb counts per serving:
Sweet Baby Ray's BBQ Sauce - 18 grams of carbs per 2 tbsp
Famous Dave's Rich & Sassy BBQ Sauce - 14 grams of carbs per 2 tbsp
King's Hawaiian Sweet Pineapple BBQ Sauce - 15 grams of carbs per 2 tbsp
Kraft Hickory Smoke BBQ Sauce - 13 grams of carbs per 2 tbsp
Best keto bbq sauce brands
Good news for people following a low carb diet! There are an increasing amount of store-bought, ready to eat keto bbq sauces, and the taste keeps getting better. Here are some of my favorites:
(note: I'm only including keto bbq sauces that I've actually tried and enjoyed. I'll update this section as new, tasty sauces come available and I try them)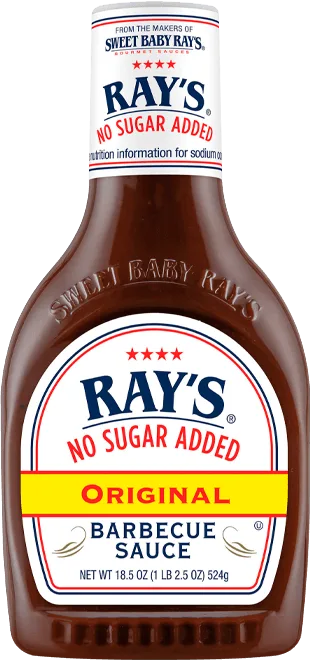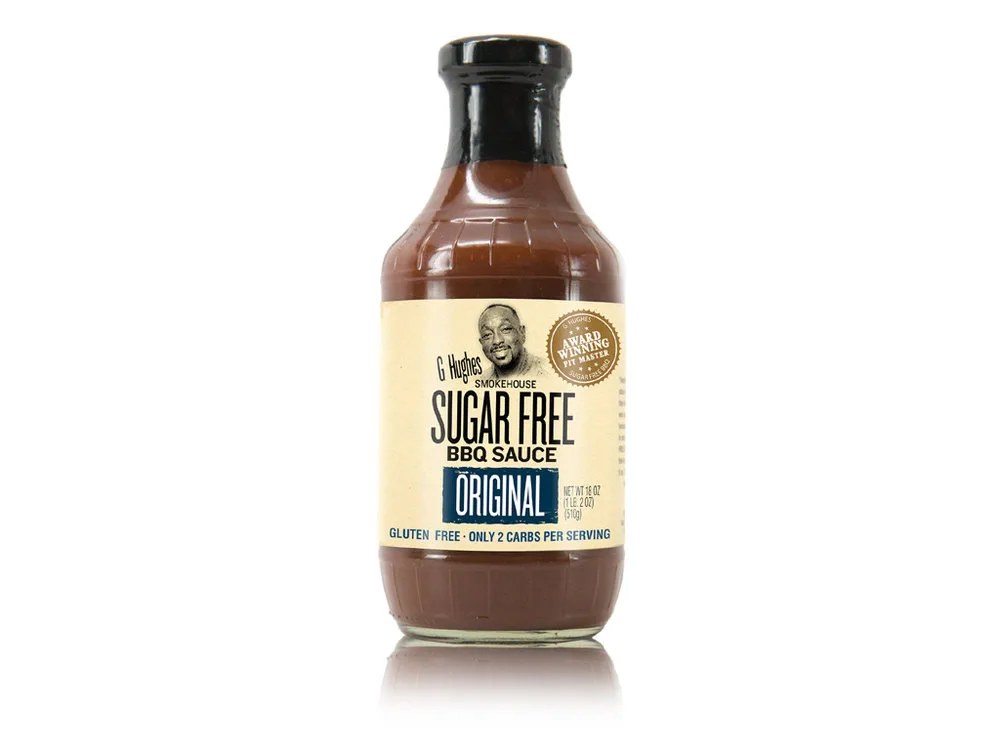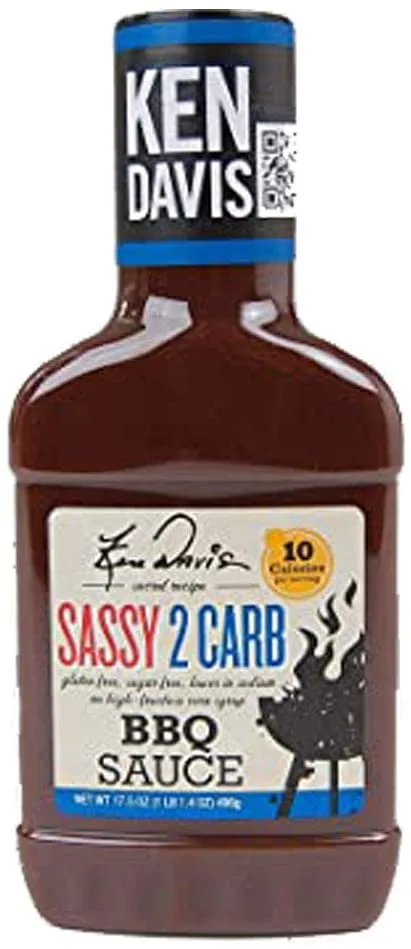 How to make your own low carb bbq sauce
To make this recipe, which uses the shortcut of no sugar added ketchup, you only need these ingredients:
Low Sugar Ketchup - I prefer Heinz No Sugar Added Ketchup, but if you have a preferred brand already feel free to give that a try.
Worcestershire Sauce - This sauce does have fish in it. If you have a seafood allergy or are avoiding soy, I have heard of people having success substituting coconut aminos instead of Worcestershire sauce.
Liquid Smoke - Liquid smoke is pretty essential to the classic bbq sauce flavor, and it should be pretty easy to find at your grocery store.
Apple Cider Vinegar
Brown Swerve
Garlic Powder
Salt
Black Pepper
Ground Mustard Powder
Cayenne Powder (optional)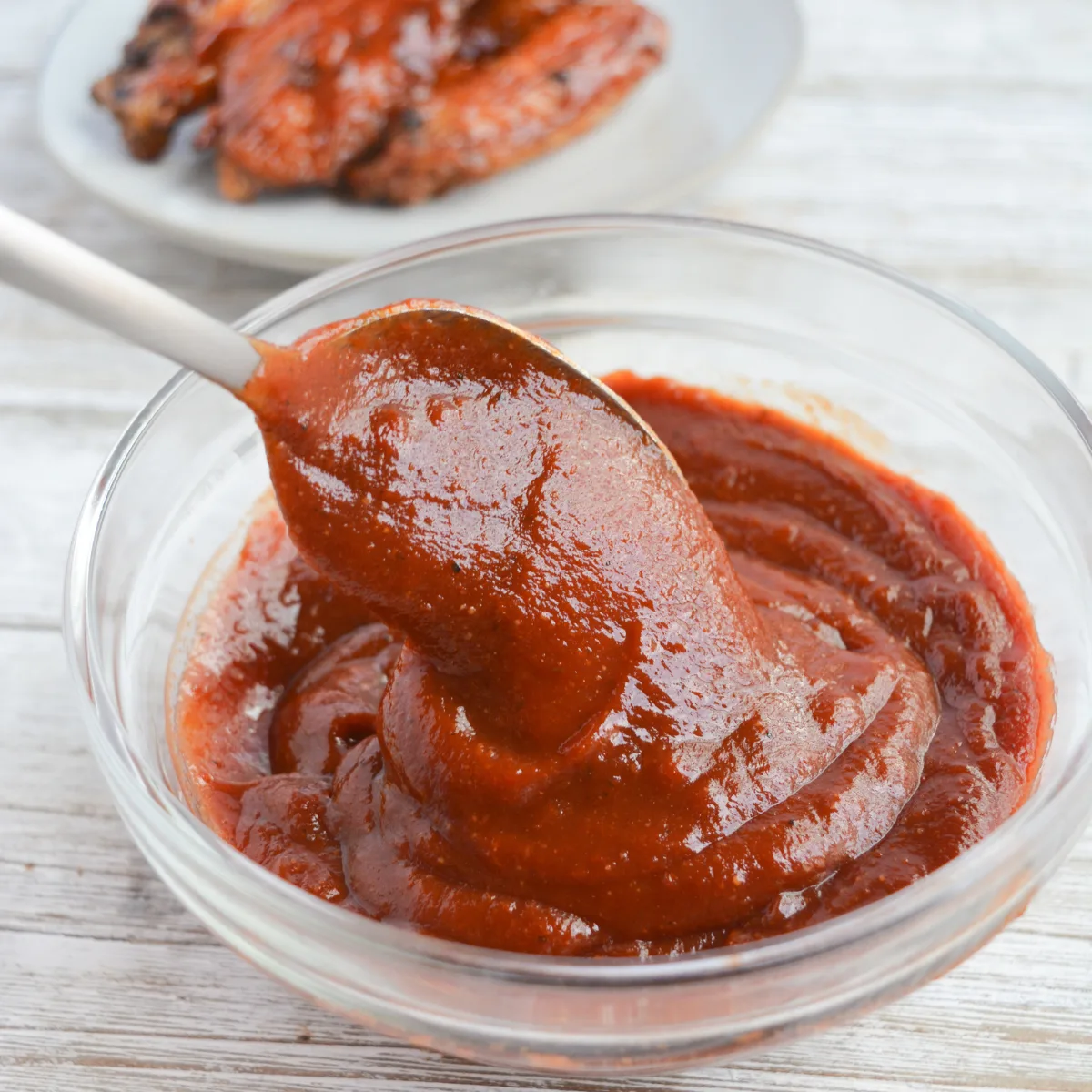 Is no sugar added ketchup keto?
Like I mentioned before, my personal diet includes foods that are low in carbs regardless of what they are. Some choose to avoid low sugar ketchup because it is sweetened with sucralose.
This is not a deal breaker for me, especially because 1 tablespoon of the brand I use only has 1 carb.
Heinz No Sugar Added Ketchup - 1 gram of carbs per 1 tbsp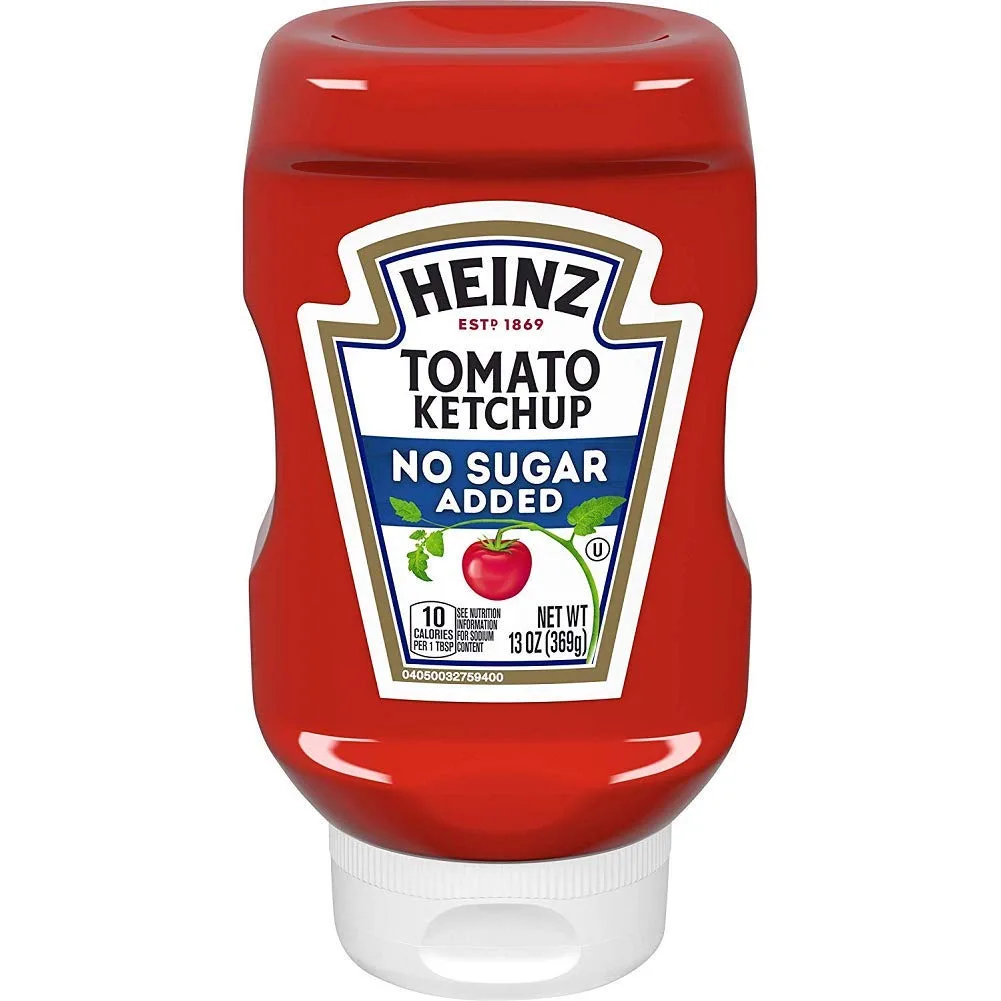 If low sugar ketchup doesn't fit in your diet, you can still make a delicious homemade keto bbq sauce. Check out this low carb bbq sauce recipe from Wholesome Yum!
Nutrition Info
For one serving (2 tbsp) of my keto bbq sauce, you're looking at:

Calories: 29 Calories
Total Carbs: 5.5g Total Carbs
Fiber: 0.05 grams fiber
Sugar Alcohols: 1.5 grams
Net Carbs: 3.93 grams net carbs
Protein: 0.14 grams protein
Fat: 0.04 grams fat
And here's a breakdown based on ingredients:
Recipes to enjoy this bbq sauce with
Yield: 16 Servings
Keto BBQ Sauce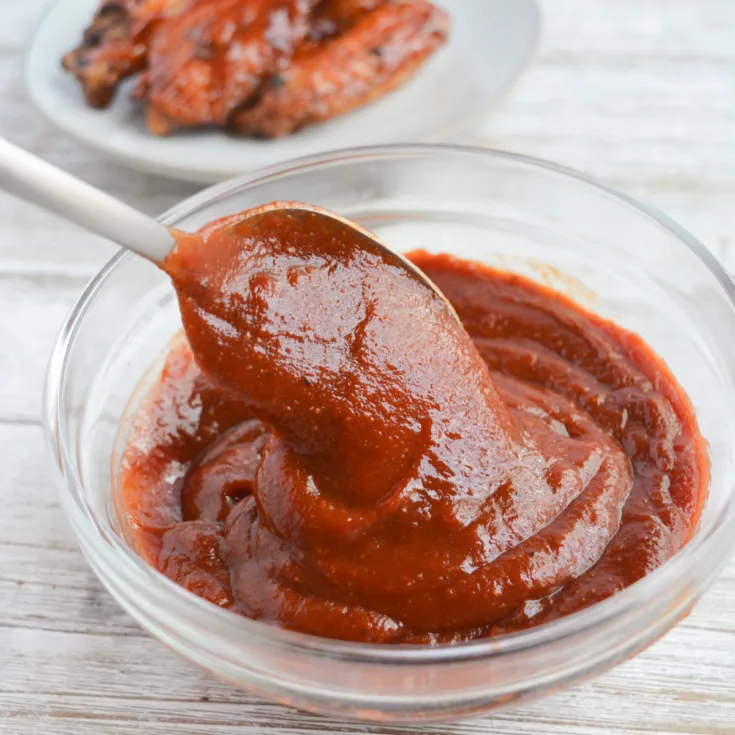 This keto bbq sauce recipe will save your low carb grilling season and kick up for your bbq flavors all year round. It has the perfect easy shortcut to a delicious sauce in minutes!
Ingredients
2 cups no sugar added ketchup
½ cup worcestershire sauce
4 teaspoons liquid smoke
2 tablespoons apple cider vinegar
¼ cup Brown Swerve
1 teaspoon garlic powder
1 teaspoon salt
½ teaspoon black pepper
½ teaspoon ground mustard powder
¼ teaspoon cayenne powder
Instructions
Add all ingredients to a medium saucepan, stirring until combined.
Bring the sauce to a low boil (medium-high heat) for 10 mintues, stirring frequently.
Reduce the sauce to a simmer (medium-low heat) for 20 minutes, stirring occasionally.
When sauce has reduced, thickened, and become a dark marroon color, remove from heat and transfer to a bowl for serving.
Store sauce, covered, in the refridgerator.
Nutrition Information:
Yield:
16
Serving Size:
2 tbsp
Amount Per Serving:
Calories:

29
Total Fat:

.04g
Carbohydrates:

5.48g
Net Carbohydrates:

3.93g
Fiber:

.057g
Sugar Alcohols:

.039g
Protein:

0.14g