This recipe for keto garlic bread meatball sliders is a great way to prepare a cheesy, saucy, savory low carb comfort food in just 30 minutes!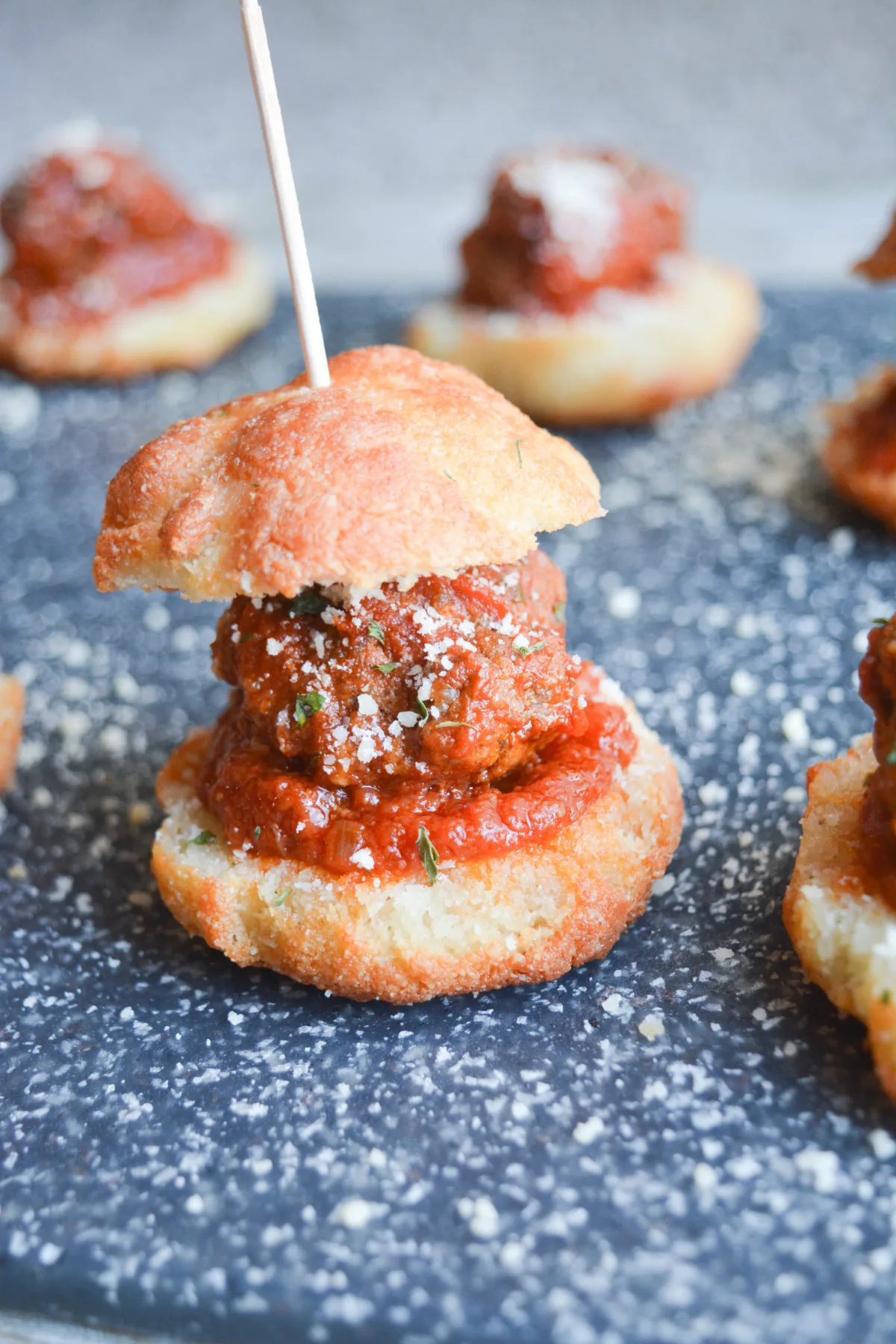 I'm one of those people who loves to mix up the different things on my plate to make the perfect bite. If you've ever combined cornbread stuffing with just the right amount of cranberry sauce and just a little bit of turkey, you know exactly what I'm talking about.
That's exactly what this recipe is about. The perfect bite, every in every bite.
Garlic bread is the perfect companion for juicy Italian meatballs, and it's made even better when the two are combined! These sliders are a savory, handheld meal filled to the brim with a symphony of perfectly matched flavors. The bread is both cheesy and buttery, which is perfect for the savory meatballs in marinara sauce.
By the way, for another great main dish to go with garlic bread, you have to check out this keto air fryer lasagna!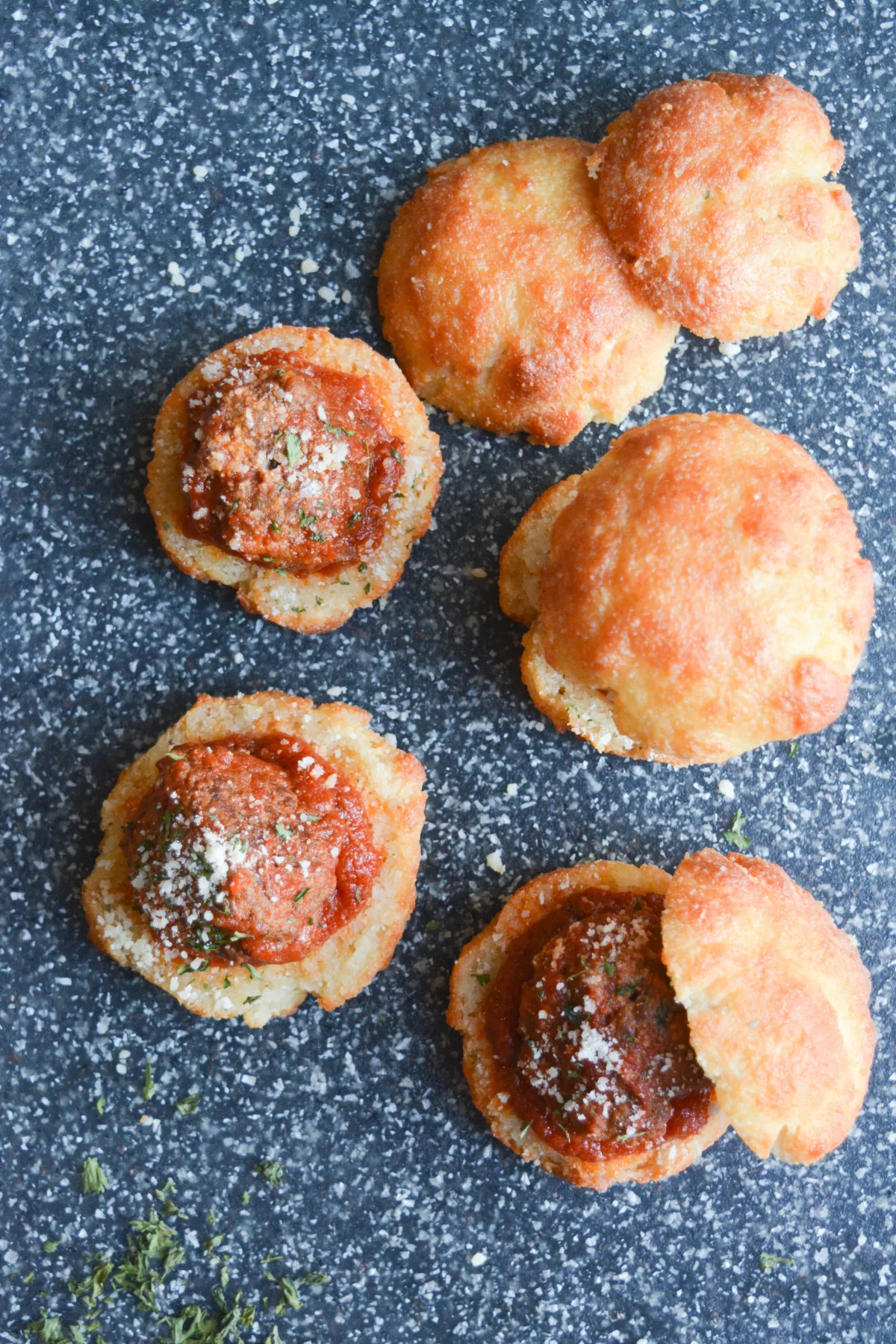 This recipe comes from my new book, Keto Comfort Foods: 100 Keto-Friendly Recipes for Your Comfort Food Favorites! This is a great book for anyone looking for low carb replacements to some of your favorite foods. There's even entire chapter just for pizza!
Here's a short description:
In Keto Comfort Foods you will find 100 satisfying, keto-friendly versions of traditionally carb-loaded dishes. From mac and cheese to lasagna to low-carb pastries, you are sure to find new favorites that will please everyone at the table. Including complete nutritional statistics like the total and net carbohydrates, this recipe book will help you kick your carb cravings to the curb and stay on track with your keto diet goals.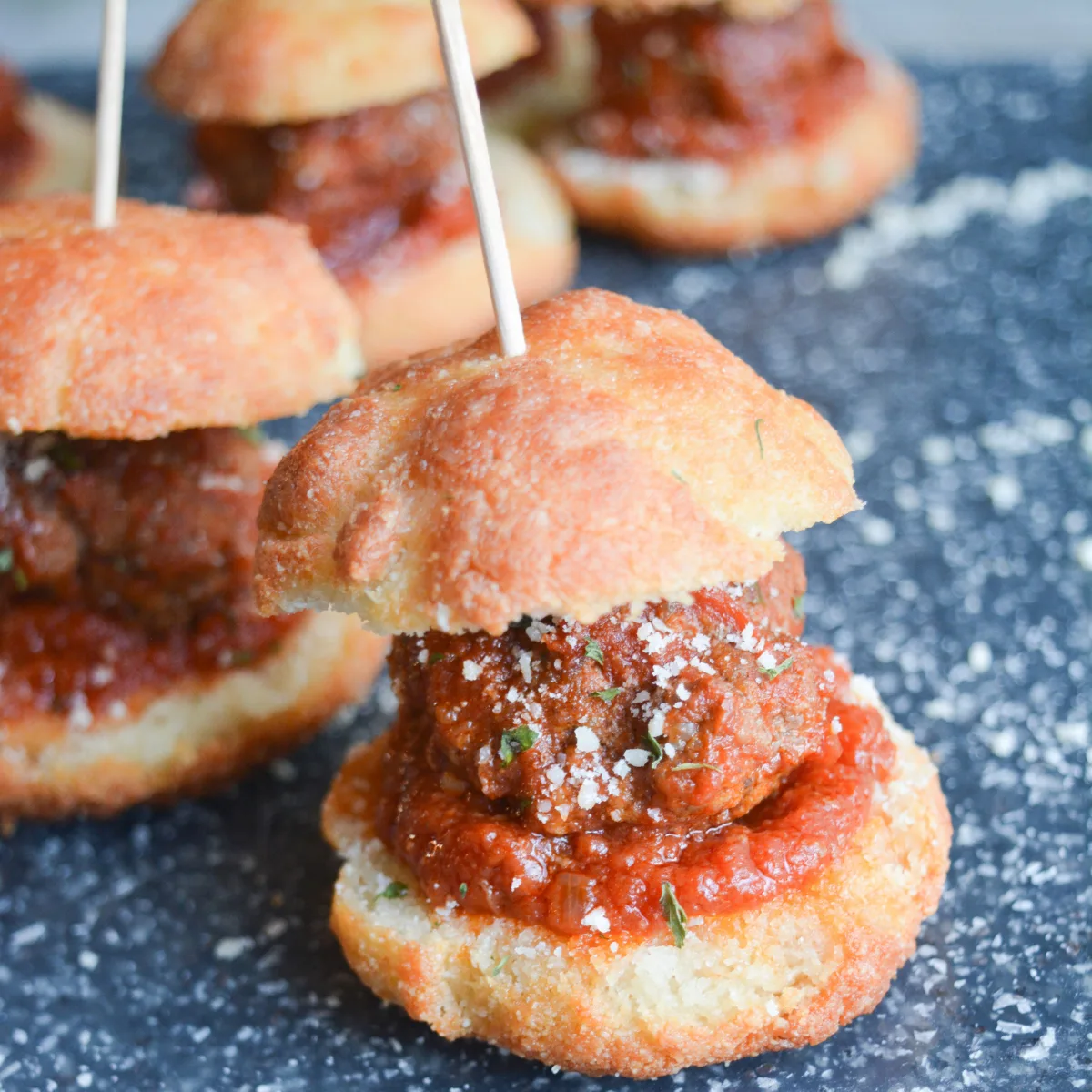 Ingredients
Try not to be intimidated by the ingredients list. Putting it all together is pretty simple. We just want to make sure we get everything properly seasoned and delicious. And since we have to also make the keto bread, there are a few more steps.
For this recipe you'll need:
Mozzarella Cheese
Butter
Almond Flour
Baking Powder
Apple Cider Vinegar
Egg
Garlic Powder
Ground Beef
Dried Basil
Dried Oregano
Ground Black Pepper
Salt
Coconut Oil
Low Carb Marinara Sauce
Grated Parmesan Cheese
Nutrition Info
This recipe makes 8 servings. Feel free to customize that for what makes sense to you. Because you're making your own bread and your own meatballs, you can make as many, or as few as you'd like.
For one serving as written, you're looking at:
Calories: 438 Calories
Total Carbs: 10 grams
Fiber: 3 grams
Net Carbs: 7 grams
Protein: 23 grams
Fat: 33 grams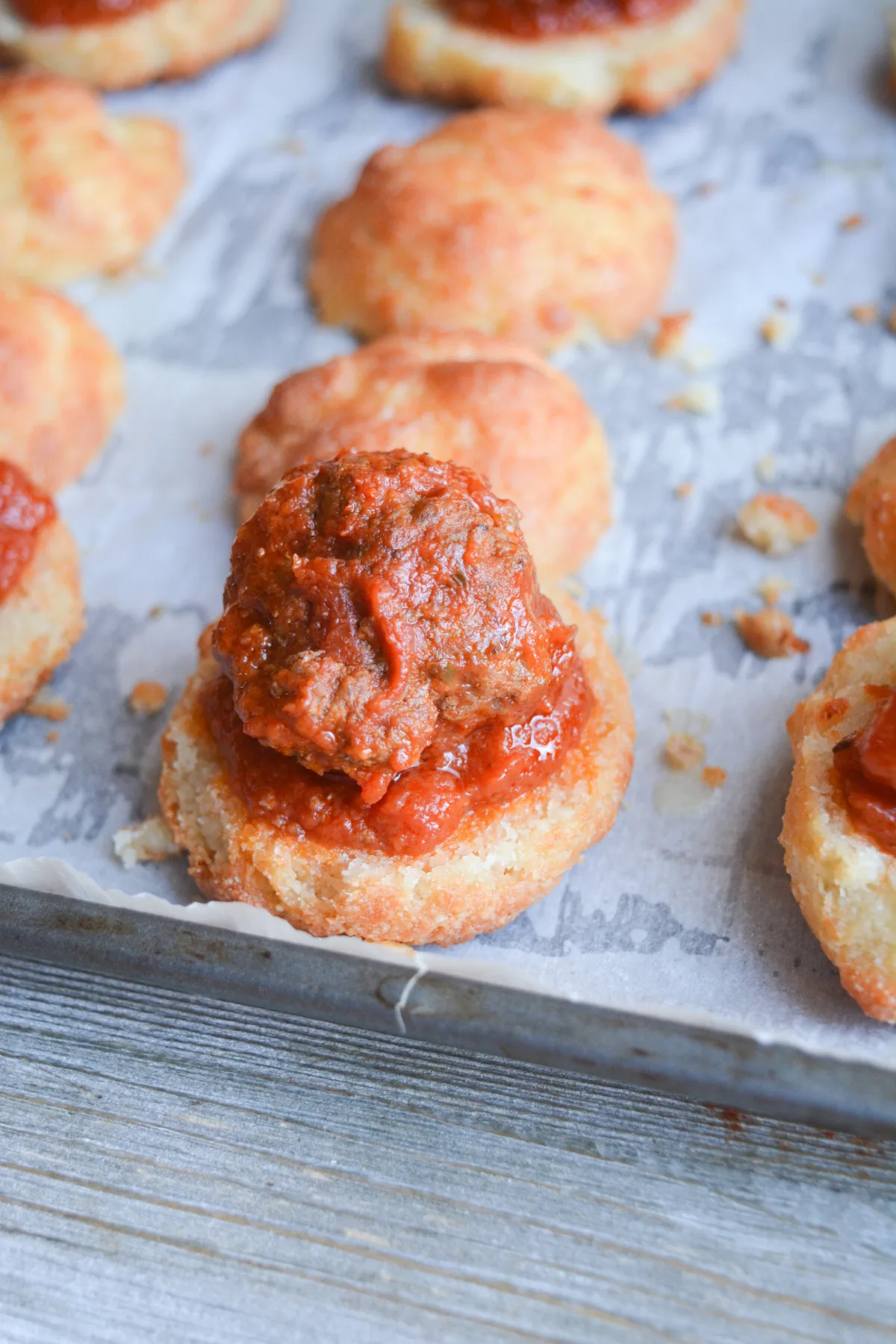 Yield: 8 Servings
Keto Garlic Bread Meatball Sliders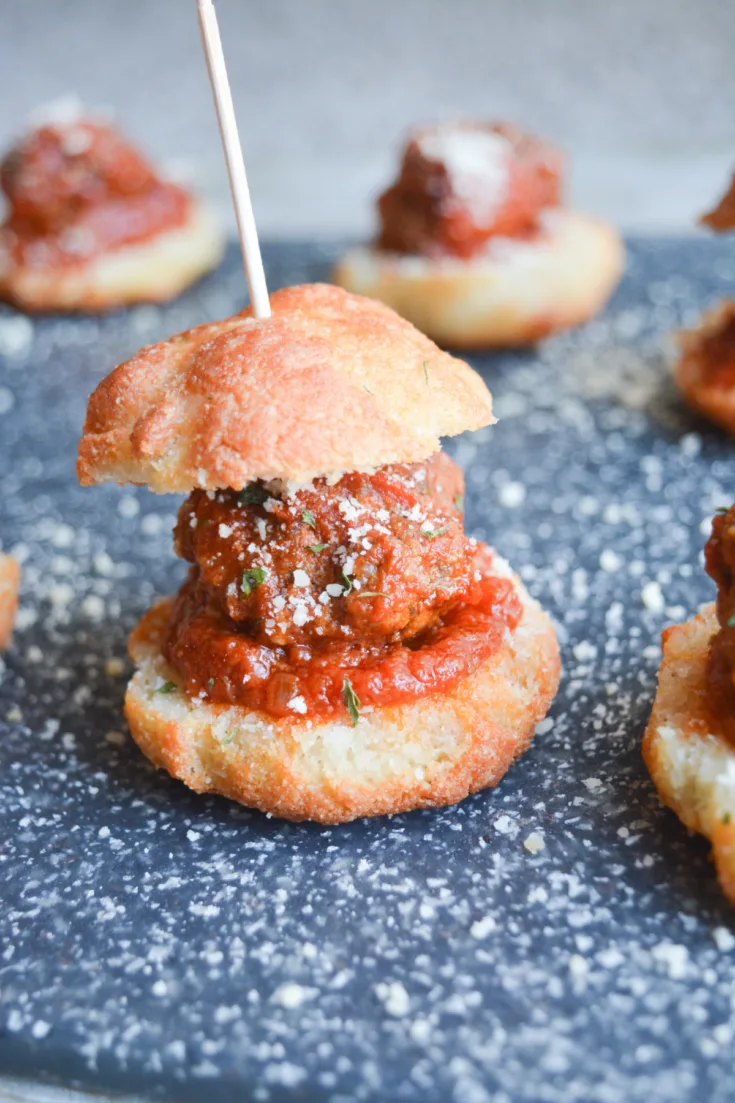 This recipe for keto garlic bread meatball sliders is a great way to prepare a cheesy, saucy, savory low carb comfort food in just 30 minutes!
Ingredients
2 cups shredded mozzarella
3 tablespoons salted butter, divided
2 cups finely ground blanched almond flour
1 ½ teaspoons baking powder
1 teaspoon apple cider vinegar
1 medium egg, whisked
¼ teaspoon garlic powder
½ pound ground beef
¼ teaspoon dried basil
⅛ teaspoon dried oregano
⅛ teaspoon ground black pepper
¼ teaspoon salt
1 tablespoon coconut oil
1 cup low carb marinara sauce
½ cup grated Parmesan
Instructions
Preheat the oven to 400°F. Line a baking sheet with parchment paper.
In a large microwave-safe bowl, add mozzarella, 2 tablespoons butter, and almond flour.
Microwave for 45 seconds, then stir. Microwave for an additional 15 seconds, then add baking powder and vinegar. Stir until a soft ball of dough forms.
Separate the ball into two even portions, then cut each portion into four. Roll each into a ball, then slightly press down to flatten. Place on the prepared baking sheet. Brush the tops with egg.
Bake for 15 minutes or until golden on the bottom and sides. Set aside to cool for at least 15 minutes. In a small bowl, mix the remaining 1 tablespoon butter and garlic powder, then brush over the rolls.
In a large bowl, mix ground beef, basil, oregano, and pepper until combined. Form into eight meatballs, about 2 heaping tablespoons of beef per ball. Sprinkle with salt.
In a large skillet over medium heat, melt coconut oil. Add the meatballs to the pan and sear, turning to brown each side, about 2 minutes. Reduce the heat to a simmer over low heat, then add marinara sauce to the pan and cover for 7-10 minutes or until the meatballs have an internal temperature of at least 160°F.
Slice each roll in half like a bun and place one meatball and 2 tablespoons sauce on each bottom. Sprinkle with 1 tablespoon Parmesan, then place the tops on the sliders and secure with a toothpick, if desired.
Nutrition Information:
Amount Per Serving:
Calories:

438
Total Fat:

33g
Carbohydrates:

10g
Net Carbohydrates:

7g
Fiber:

3g
Protein:

23g