This Keto Cornbread Stuffing is an amazing side dish for your low carb-friendly Thanksgiving table! Easy to make, and delicious to eat, your guests will love the savory flavors and the refreshing carb count!
Stuffing is a must on any traditional Thanksgiving table, and it's also one of my favorite side dishes. I don't actually stuff it inside of the turkey, so I guess this is technically "dressing," but in either case, it is SO delicious.
Be sure to check out some of my other Thanksgiving and Fall-friendly recipes like:
How to make keto cornbread stuffing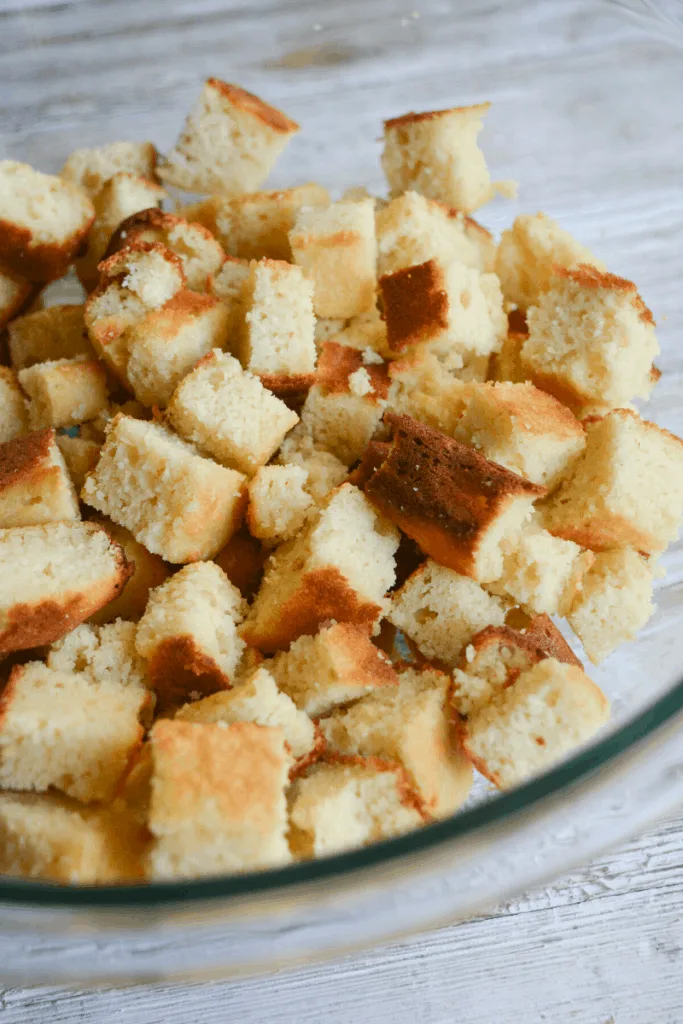 First it starts with a great cornbread recipe! Of course there's no actual corn in there (a box cornbread can run you about 15 grams of carbs per serving), but it's a great, healthy substitute for your keto diet.
I've heard of some people finding success with adding a keto-friendly cornbread flavoring (like OOOflavors) to a corn-less bread recipe. I haven't tried it myself, but if you do give it a try please let me know how it works out!
All you'll need for the cornbread is:
Melted Butter
Sour Cream
Eggs
Almond Flour
Sweetener (I like to use Swerve)
Baking Powder
Salt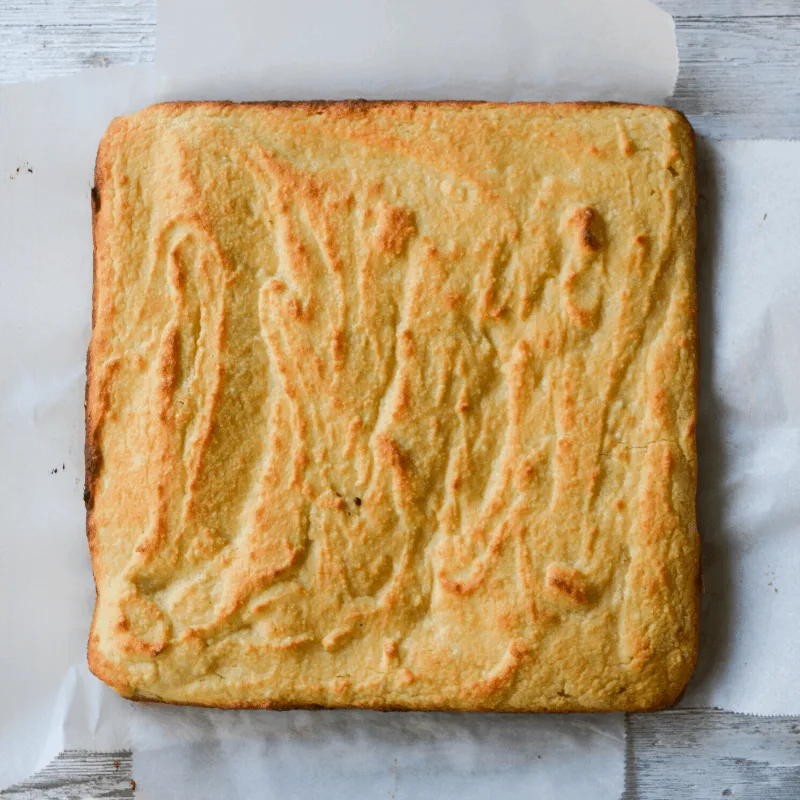 Once the keto cornbread is in the oven, you can get started cooking the sausage on the stove. I know sausage isn't always a part of traditional stuffings, but I just love the flavor it adds in this recipe!
Low Carb Cornbread Stuffing Nutrition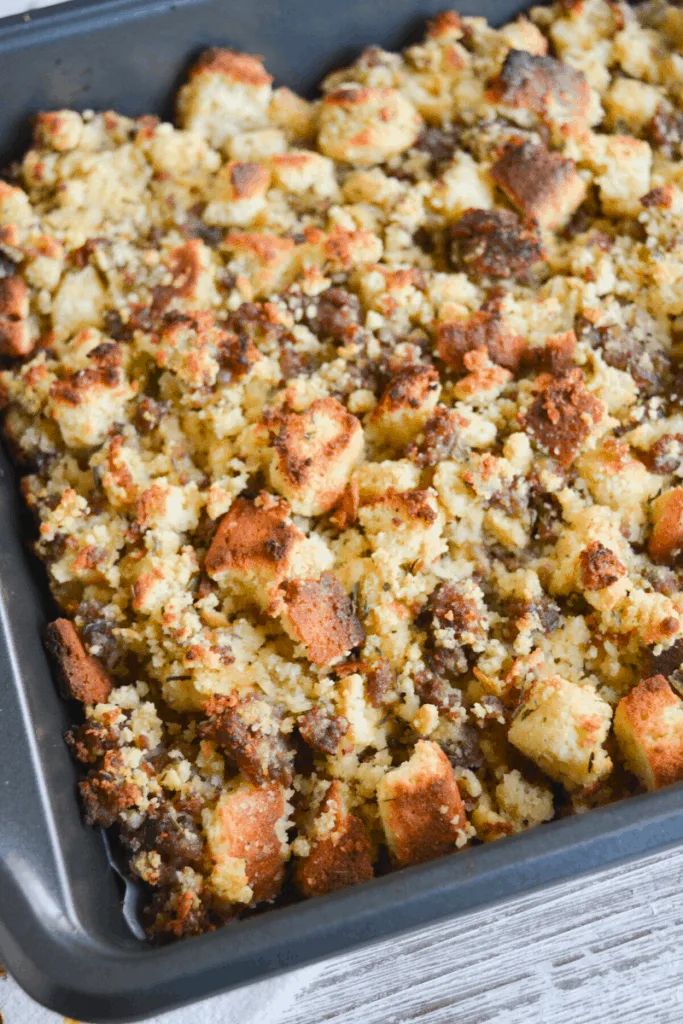 For one serving of this stuffing (1/12 of an 8x8 baking dish) you're looking at:
Calories: 309 Calories
Total Carbs (including erythritol): 7.8g
Fiber: 2.1g
Sugar Alcohols: 3g
Net Carbs: 2.7g
Protein: 11.5g
Fat: 27.6g
Here's a breakdown of the nutrition info for each ingredient that went into this recipe:
And here's how you make this delicious dish!
Yield: 12 Servings
Low Carb Cornbread Stuffing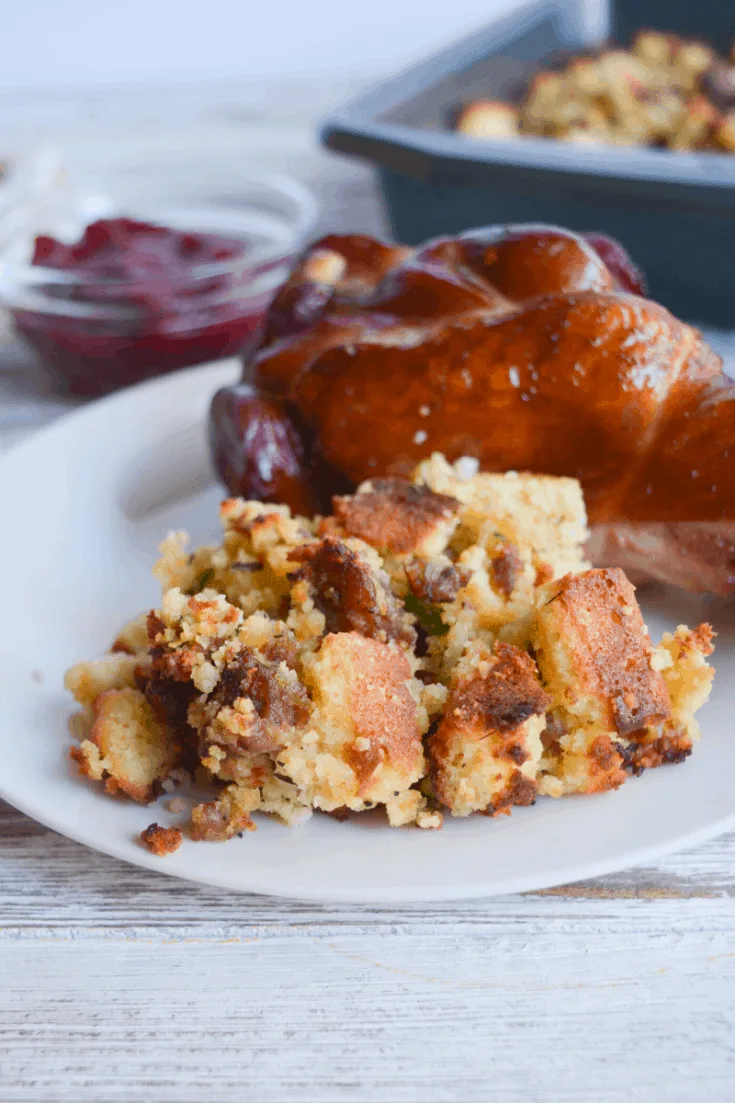 This Low Carb Cornbread Stuffing is an amazing side dish for your keto-friendly Thanksgiving table! You'll love the savory flavors and the great carb count!
Total Time
1 hour
20 minutes
Ingredients
For the cornbread
4 tablespoons melted butter
¼ cup sour cream
2 large eggs
2 cups blanched finely ground almond flour
¼ cup sweetener (I used Swerve)
1 teaspoon baking powder
½ teaspoon salt
For the stuffing
1 pound ground pork sausage
1 stalk celery, diced
¼ yellow onion, chopped
1 teaspoon ground sage
½ teaspoon dried thyme
½ cup chicken broth (more, if you prefer a wetter stuffing)
2 large eggs, whisked
Instructions
Preheat the oven to 350 degrees. In a large bowl, mix the butter, sour cream and eggs. Add the almond flour, sweetener, baking powder and salt to the bowl and mix until combined.
Line a 9x9 baking pan with parchment and scrape batter into the pan. Bake for 25-30 minutes or until golden on top and a toothpick comes out clean. If yours seems wet, just keep adding a few minutes until fully cooked, some ovens heat differently. Use photo in post for reference. Let cool completely, about 30 minutes. If it's warm, it's going to crumble faster and not be the right texture.
While the bread is baking/cooling, place the sausage into a large skillet over medium heat. Brown until no pink remains, breaking into small pieces. Drain excess fat. Add celery and onion to the pan with meat and cook together for about 10 minutes, until celery begins to soften.
Set sausage and veggies aside.
When cornbread is cooled, cut into 1-inch cubes. Use picture for reference on how they should look. They should be a dry crumbly texture but feel sturdy. Feel free to crumble or cut smaller if preferred. They WILL get smaller as you mix so go larger than you want then break apart as needed after mixing. I chose to leave a handful of dry cubes out to place around the top.
Increase the oven temperature to 400 degrees.
Place cubed cooled cornbread into a large bowl. Sprinkle with sage and thyme, then add salt and pepper to taste. Gently use your hands to toss. Sprinkle the sausage into the bowl, in thirds, mixing gently to avoid over crumbling of the cornbread.
Pour the broth into the dish and add the eggs while tossing gently to coat. I used my hands for this part just to be careful but you can use a spatula or spoon.
Spray a 9x9 inch baking pan with cooking spray. Scrape the mixture into the dish then gently press into the pan. I like my stuffing fluffy so i just pressed here and there to make sure it would cook evenly. Mine stays together at the bottom and falls apart a little on top when you serve.
If you reserved a handful of dry cubes, place those around the top and sides now. Gently push them into the stuffing but not all the way down so that tops and sides are exposed like in the pictures.
Bake at 400 degrees for 20-22 minutes until edges begin to turn golden. If your stuffing looks wet (it shouldn't) after the cook time, add a few minutes and keep an eye on it until it looks golden and mostly firm. If desired, garnish with additional fresh herbs for presentation. Serve warm.
Notes
As with all special holiday/birthday recipes, I suggest giving this a trial run before the special day so you can be sure you like it and that it will turn out for you.
Nutrition Information:
Serving Size:
1/12
Amount Per Serving:
Calories:

309
Total Fat:

27.6g
Carbohydrates:

7.8g
Net Carbohydrates:

2.7g
Fiber:

2.1g
Sugar Alcohols:

3g
Protein:

11.5g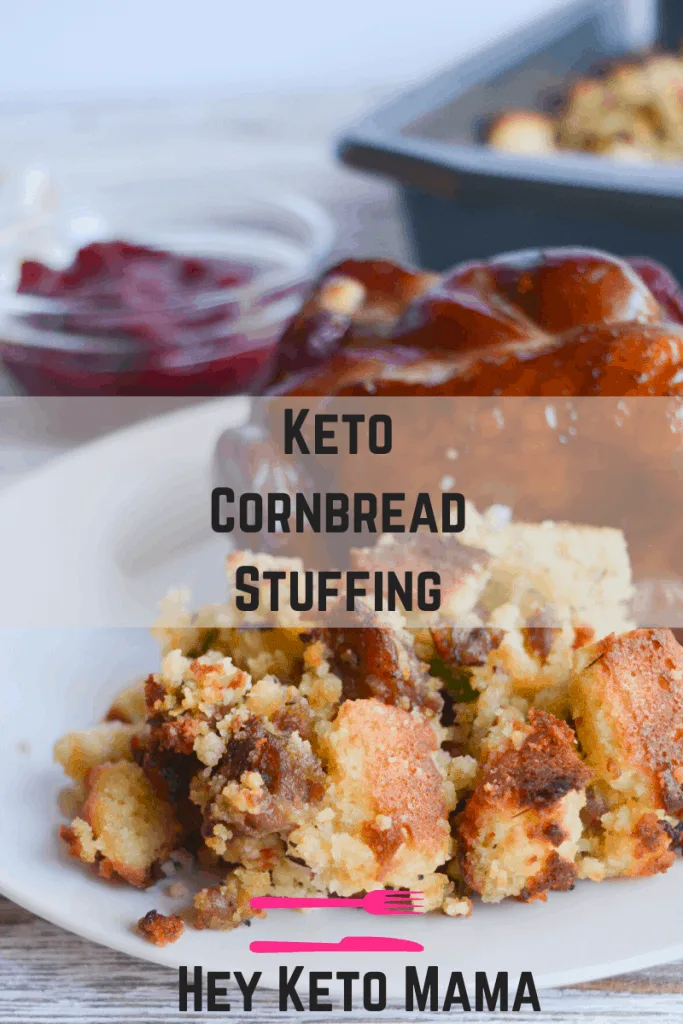 You may also enjoy...
Keto Pumpkin Pie

Easy Keto Fudge

The Best Keto Dinner Rolls