These keto pinwheels are so delicious, you won't even miss the tortilla!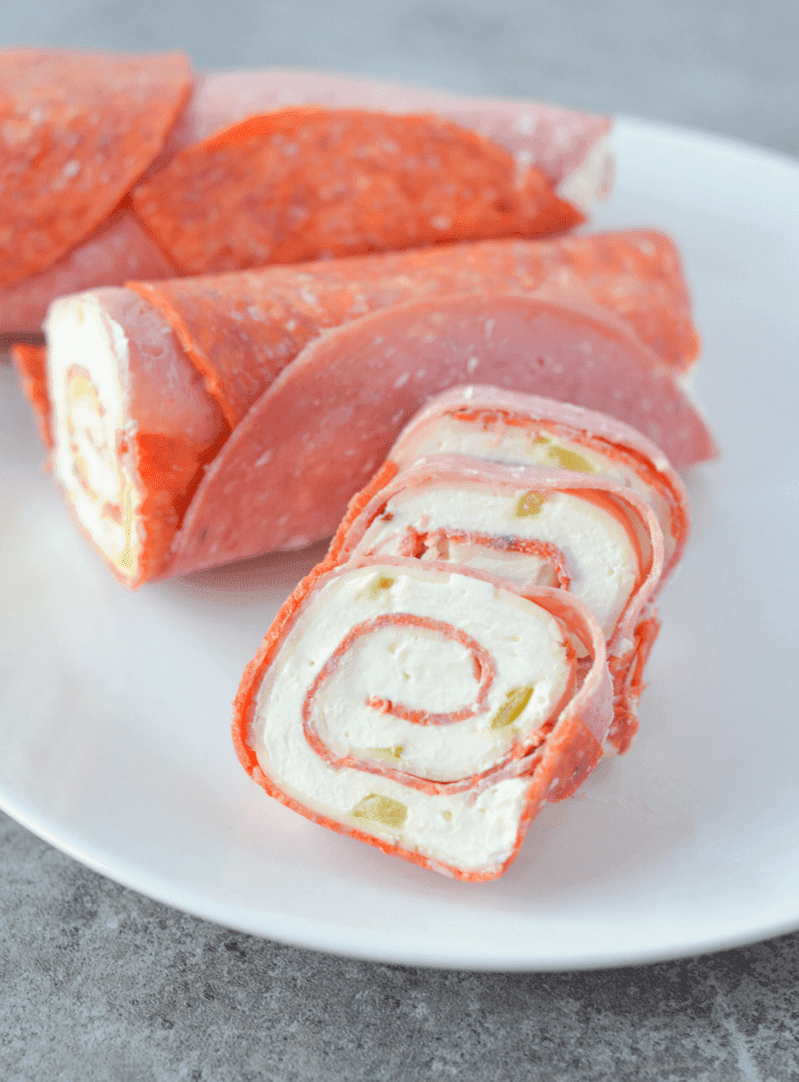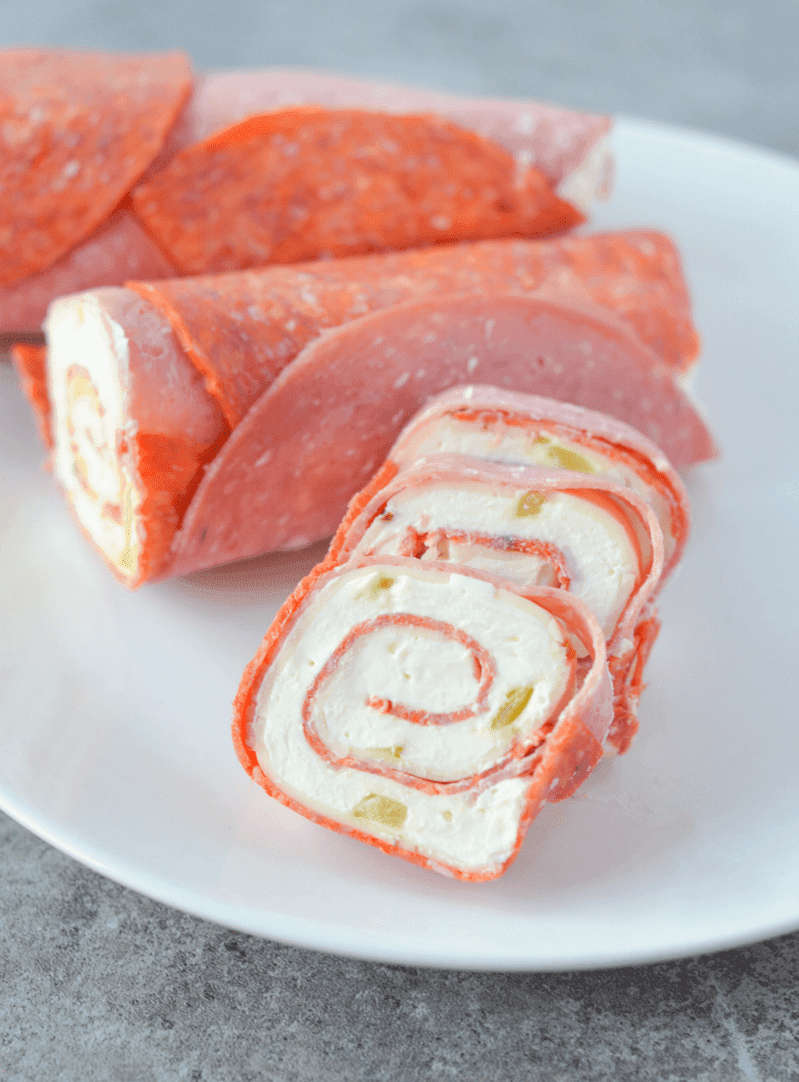 I've always loved eating pinwheels. In fact, I think they're the first thing I ever "cooked" my husband back when we were dating.
I brought pinwheels to every potluck party and would mostly just eat what I brought.
My love for them is serious, y'all.
So I was really excited to make a replacement version that is low carb/keto friendly!
Keto Pinwheels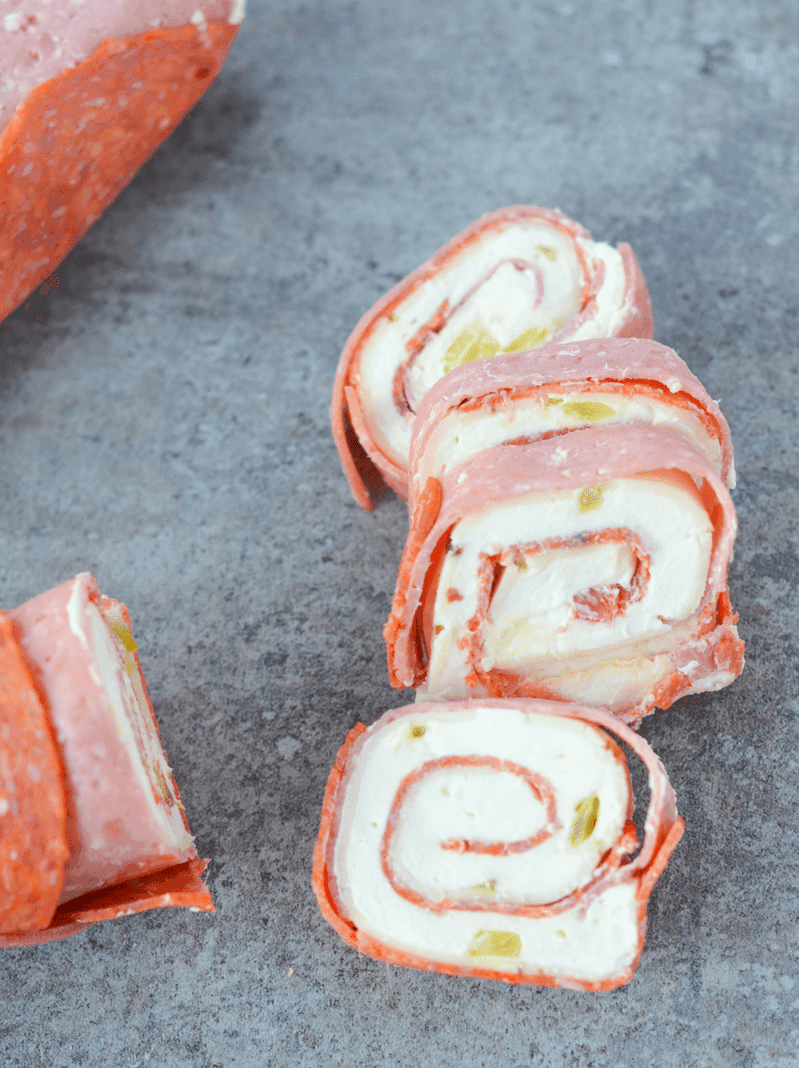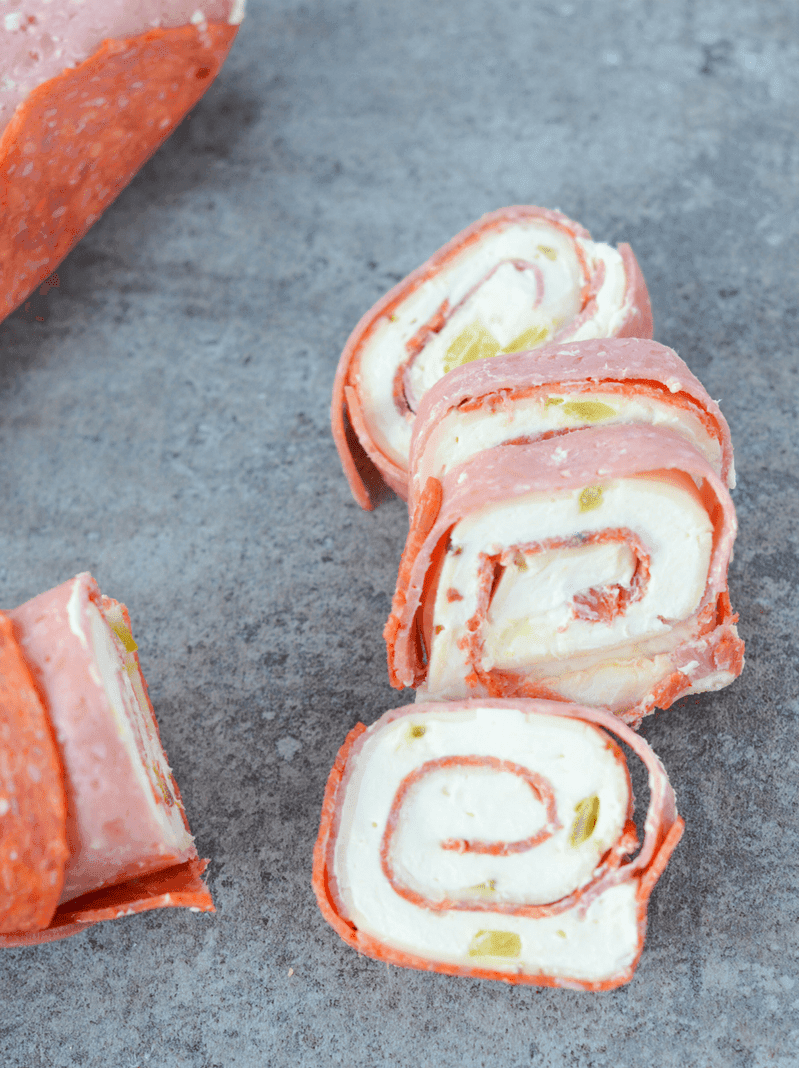 These are super duper easy to make and I don't even miss the tortilla in the slightest. I know some keto-ers are totally comfortable with low carb tortillas, and I'm also not opposed to that because:
Who am I to judge ANYONE?
If it's a low carb tortilla that's going to keep you from falling completely off the wagon and filling your life back up with carbs, I totally think you should do it.
BUT my pinwheels are not made with any form of tortilla. The meat takes their place 🙂
For my delectable treat, I used pepperoni AND genoa salami, pepper jack cheese (I love a little spice!), cream cheese, and pickles!
Trust me…the pickles add the perfect tang, and get some vegetable in there!
Print
Cream Cheese & Salami Keto Pinwheels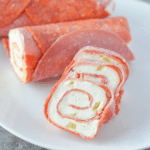 Low carb/Keto Cream cheese and salami pinwheels with pickles
Ingredients
1 8oz block cream cheese
8-10 thin slices of pepperoni and genoa salami *may need more depending on size
4 tbsp. finely diced pickles
Instructions
Bring cream cheese to room temperature and whip until fluffy
Spread cream cheese in a 1/4 inch thick rectangle in the center of a large piece of plastic wrap
Spread pickles over cream cheese
Place salami over cream cheese in overlapping layers so all cream cheese layer is covered
Place a second piece of plastic wrap over salami layer and gently press down
Flip entire rectangle over so bottom cream cheese layer is now facing the top
Carefully peel back plastic wrap off top cream cheese layer
Begin rolling into log shape slowly removing bottom layer of plastic wrap as you go
Place pinwheel in tight plastic wrap and refrigerate at least 4 hours, overnight preferred
Slice into preferred thickness
Nutrition
Serving Size:

1 Pinwheel

Calories:

47

Fat:

4.2

Carbohydrates:

0.8