This keto strawberry shortcake cake is amazingly moist, fresh and fruity! It's the perfect summertime low carb dessert!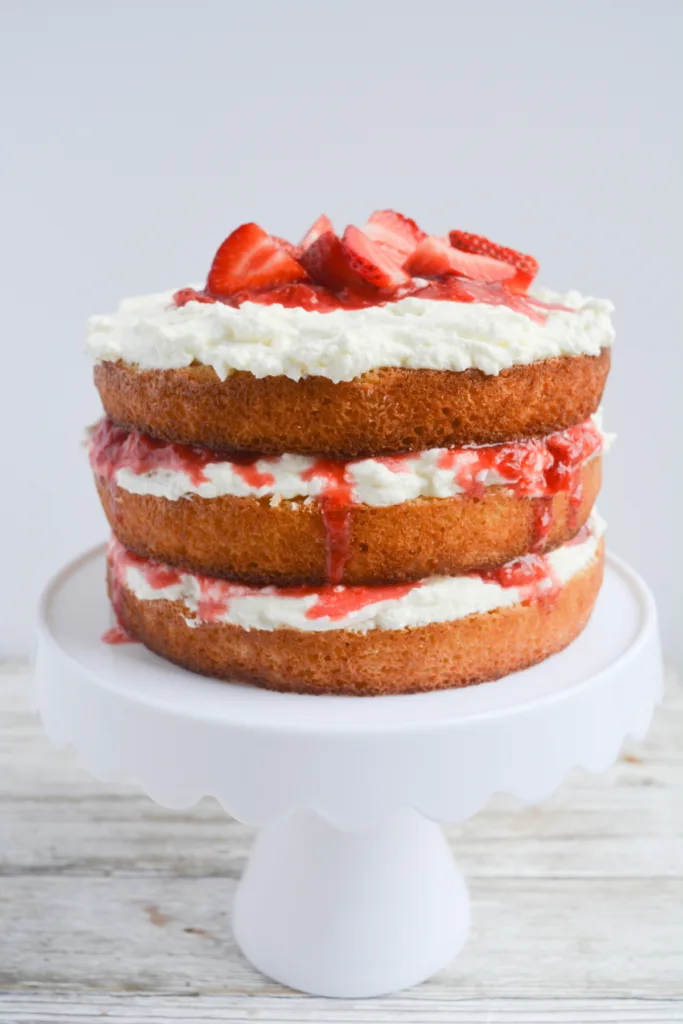 Ingredients
For the cake you'll need:

Butter - I almost always use salted butter, but I haven't noticed much of a difference between salted and unsalted.

Cream Cheese - Any brand is totally fine, but softened cream cheese is the way to go.

Almond Flour - I like to go with a superfine blanched almond flour (not almond meal). Blue Diamond is my preferred brand.

Baking Powder - Be sure to check the date on your baking powder. The fresher the baking powder, the better it works. This is good to keep in mind for all baking because baking powder is used in such small amounts and can last a really long time.

Granular Erythritol - Swerve is my preferred brand, but whatever you have should be totally fine.

Vanilla Extract

Sour Cream

Eggs - I use large eggs.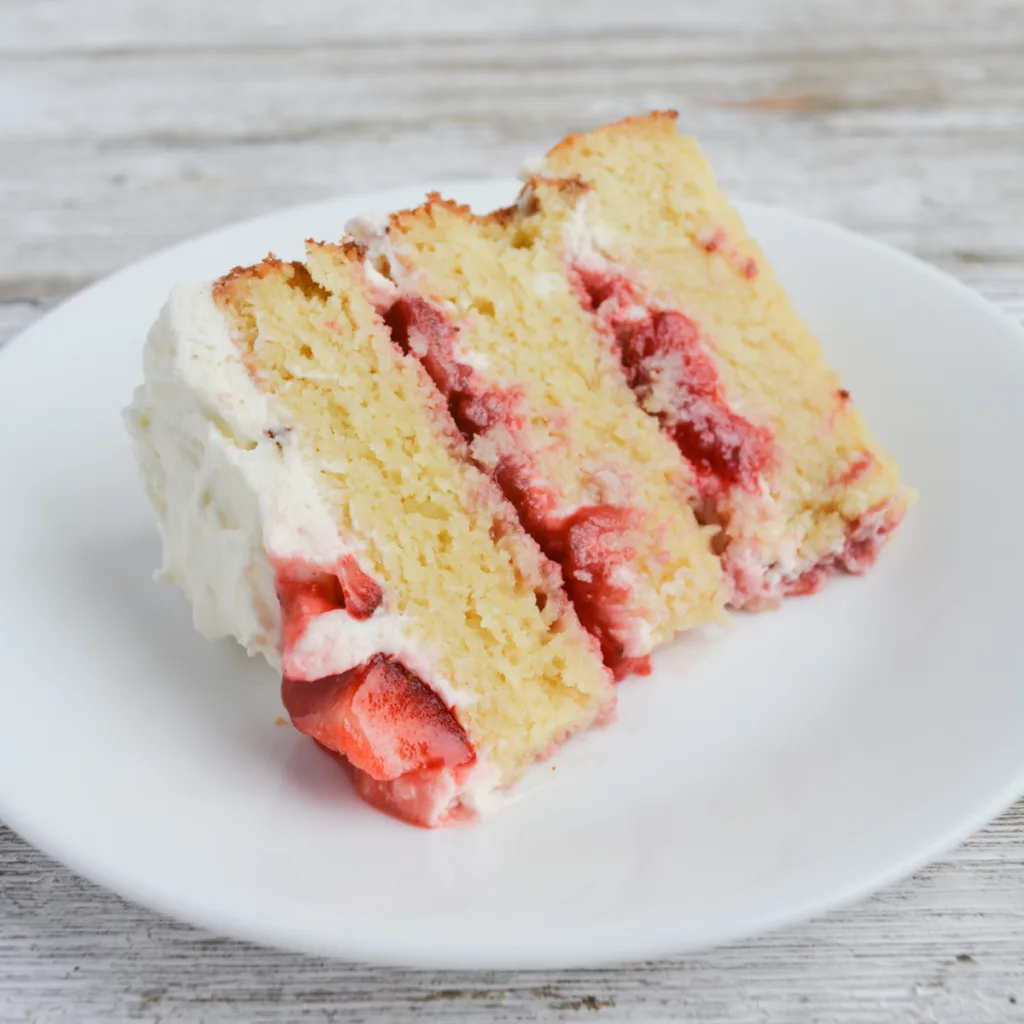 Can you eat strawberries on keto?
Berries are usually very low carb, so they can be great for snacks, desserts and keto smoothies.
For strawberries you're looking at 9.7 grams net carbs per 1 cup, sliced (166 grams).

Check out some other delicious low carb strawberry recipes:

Keto Strawberry Donuts
Low Carb Strawberry Pound Cake
Keto Strawberry Muffins
What low carb frosting should I use?
The frosting in this recipe is my favorite. I could literally eat it with a spoon and strawberries. And I say that every time I make it!
All you need to do is–using an electric mixer– mix 4 ounces (half a brick) of softened cream cheese with ½ cup of powdered erythritol (Swerve) until well combined.

Once they're mixed, just pour in 1 teaspoon of vanilla extract and 1 cup of heavy whipping cream. Then, you'll just keep mixing on high until it's nice and fluffy.
And for the strawberry jam you'll need:
Strawberries - just 12 of them.

Powdered erythritol - I like to buy Confectioner's Swerve, but if you don't have it on hand you can make it yourself by mixing up granular erythritol in a food processor or coffee grinder.
The process for making the jam is simple as well. Just add the ingredients to a saucepan over medium heat and cook for 10 minutes, stirring occasionally.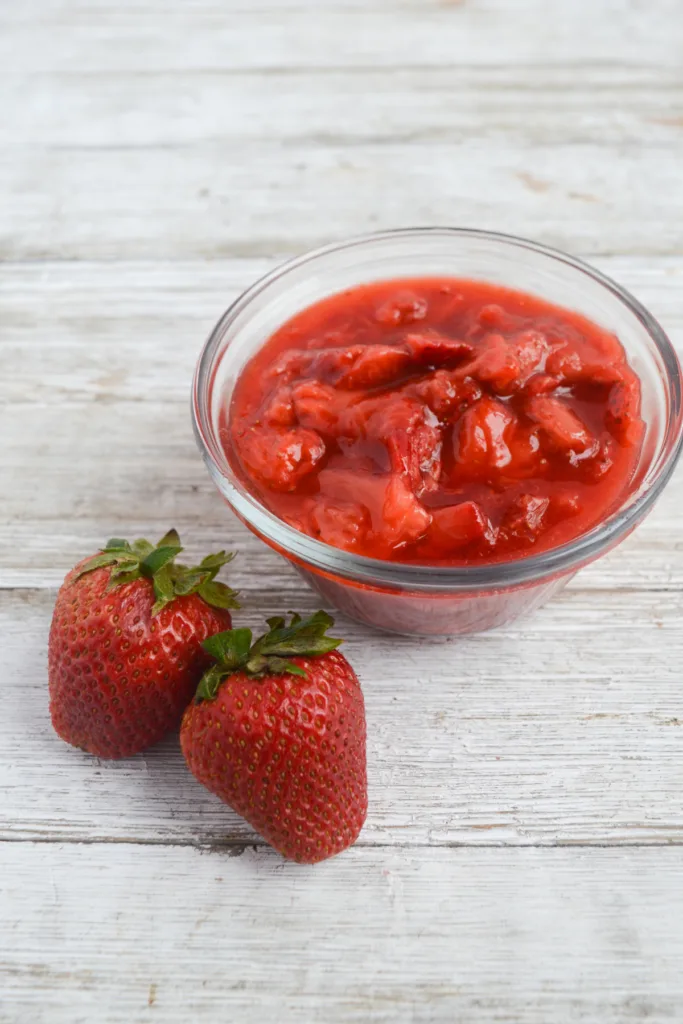 Nutrition Info
This keto strawberry shortcake cake makes 12 servings. For one slice you're looking at:

Calories: 353.62 Calories
Net Carbs: 7.09 grams
Protein: 8.6 grams
Fat: 31.6 grams
And here's a breakdown based on the ingredients I used: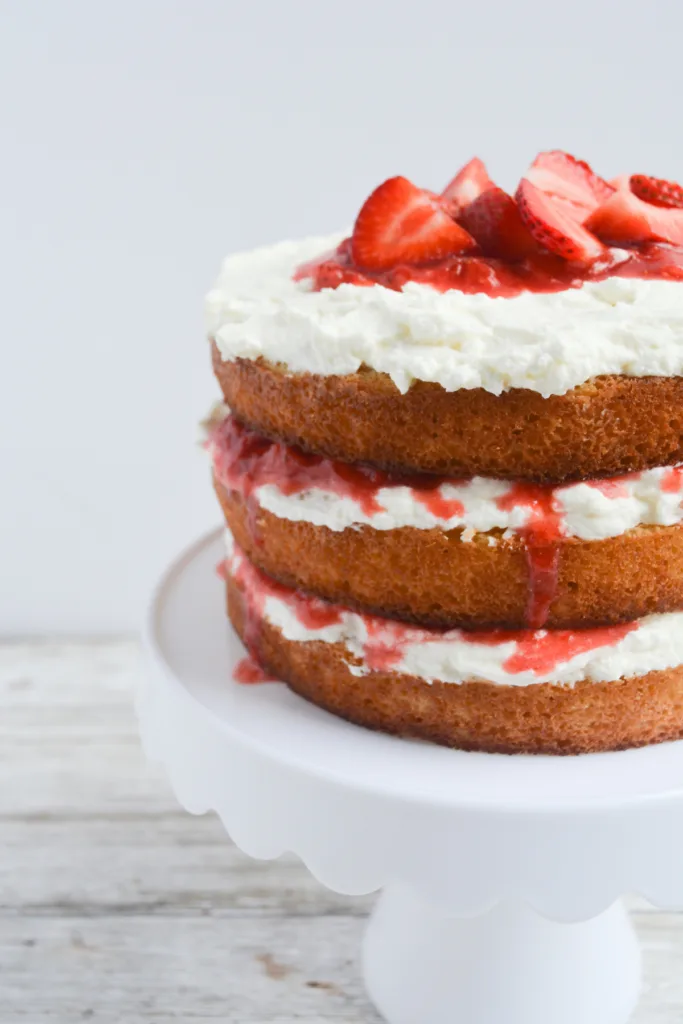 Yield: 12 Servings
Keto Strawberry Shortcake Cake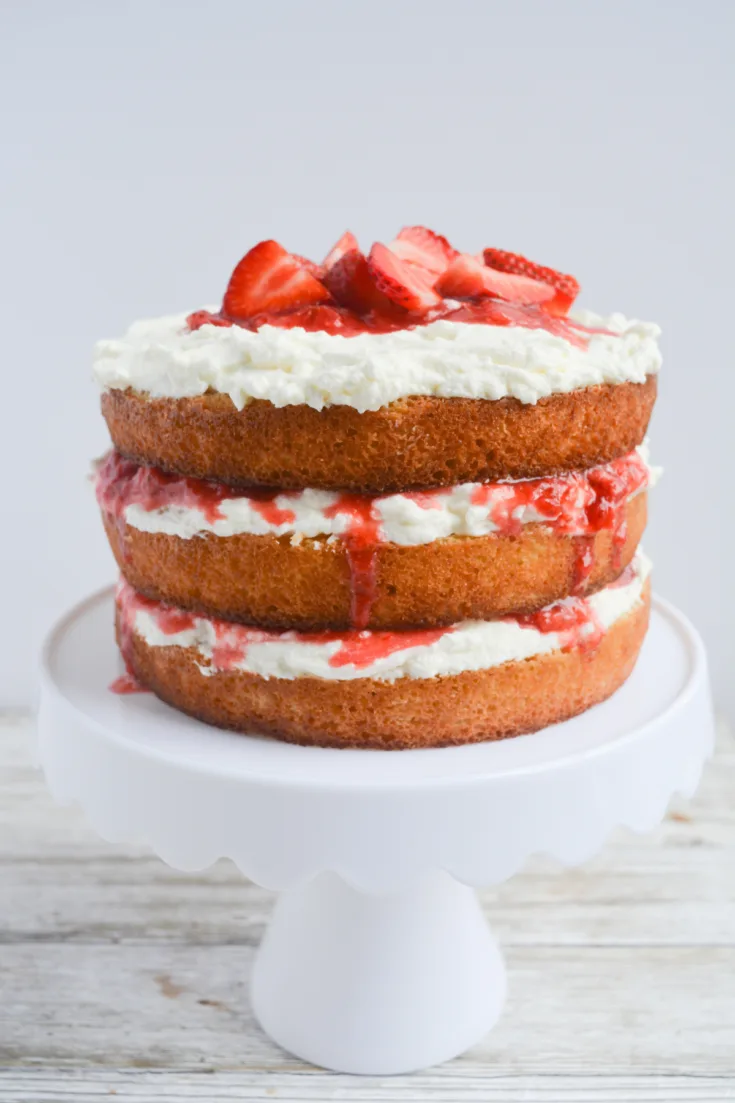 This keto strawberry shortcake cake is amazingly moist, fresh and fruity! It's the perfect summertime low carb dessert!
Ingredients
For the cake
½ cup butter
4 ounces cream cheese
2 cups blanched finely ground almond flour
2 teaspoon baking powder
1 cup granular erythritol
1 teaspoon vanilla
½ cup sour cream
4 large eggs
For the frosting
4 oz Cream Cheese
½ Cup Powdered Erythritol
1 Cup Heavy Whipping Cream
1 teaspoon Vanilla Extract
For the strawberry jam
12 Strawberries, Sliced
2 tablespoon Erythritol
Instructions
Preheat the oven to 350. Prepare three 6-inch baking pans with nonstick spray and parchment paper.
Cut the butter and cream cheese int small chunks and pace into a small microwave-safe bowl. Microwave for 30 seconds and stir. Set aside.
In a large bowl, mix the almond flour, baking powder and granuar erythritol. Slowly pour the melted butter mixture into the large bowl and mix.
Add the vanilla and sour cream to the bowl. Stir in the eggs until just combined. The batter will be pourable.
Pour the batter evenly into the prepared baking pans Place the pans into the oven and bake for 25-30 minutes or until golden and mostly firm. A toothpick inserted into the center should come out of the center mostly clean.
Let the cakes cool completely, for at least 2 hours, before removing them from the pans. They firm up as they cool, and moving too soon can cause them to fall apart
For The Whipped Cream Frosting
1. Using an electric mixer, in a large mixing bowl combine cream cheese and powdered erythritol.
2. Once combined, pour in heave whipping cream and vanilla extract. Mix on high until fluffy.
For The Strawberry Jam
1. Slice 12 strawberries and place the in a saucepan over medium heat.
2 Add powdered erythritol and allow to cook for 10 minutes, stirring occasionally. Pour directly over frosted cake as desired.
For The Cake Assembly
Place the bottom cake on a cake stand or serving plate and add a layer of frosting followed by a layer of strawberry jam Carefully place the second cake on top and repeat with the second and third cakes.
Chill in the refrigerate for at least 2 hours before serving.
Notes
The cake needs to be chilled before served. Don't skip this step if you want a clean, sturdy cut.
Nutrition Information:
Yield:
12 Servings
Serving Size:
1/12 of Cake
Amount Per Serving:
Calories:

353.6
Total Fat:

31.6g
Carbohydrates:

35.49g
Net Carbohydrates:

7.09g
Fiber:

2.4g
Sugar Alcohols:

26g
Protein:

8.6g