Keto Brownies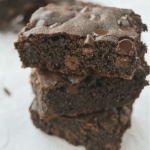 These Keto Brownies are decadent and delicious, fudgey and firm, everything a brownie should be! But the best thing these low carb brownies are is guilt free! You won't want to share them…and you won't have to!
Ingredients
1/2 cup butter, softened
1 cup powdered erythritol
2 eggs
2 teaspoons vanilla extract
3/4 cup blanched finely ground almond flour
1/4 cup unsweetened cocoa powder
1 teaspoon baking powder
1/8 teaspoon salt
1/4 cup low carb chocolate chips (Such as Lily's)
Instructions
Preheat oven to 350 and line an 8×8 baking dish with parchment, set aside.
In a large bowl, cream the butter and erythritol. Mix in the eggs and vanilla.
Add the almond flour, cocoa powder, baking powder and salt. Mixture should be pourable. Fold in chocolate chips and scrape batter into prepared 8×8 baking dish.
Bake for 25-30 minutes. A toothpick should come out mostly clean. It may appear a little jiggly but almond flour sets as it cools. Allow to cool for at least 30 minutes. Cut into 12 pieces.