This Keto Cacao Coconut Granola is a delicious, low carb treat to satisfy your cravings for morning cereal, or just the perfect sweet and crunchy snack!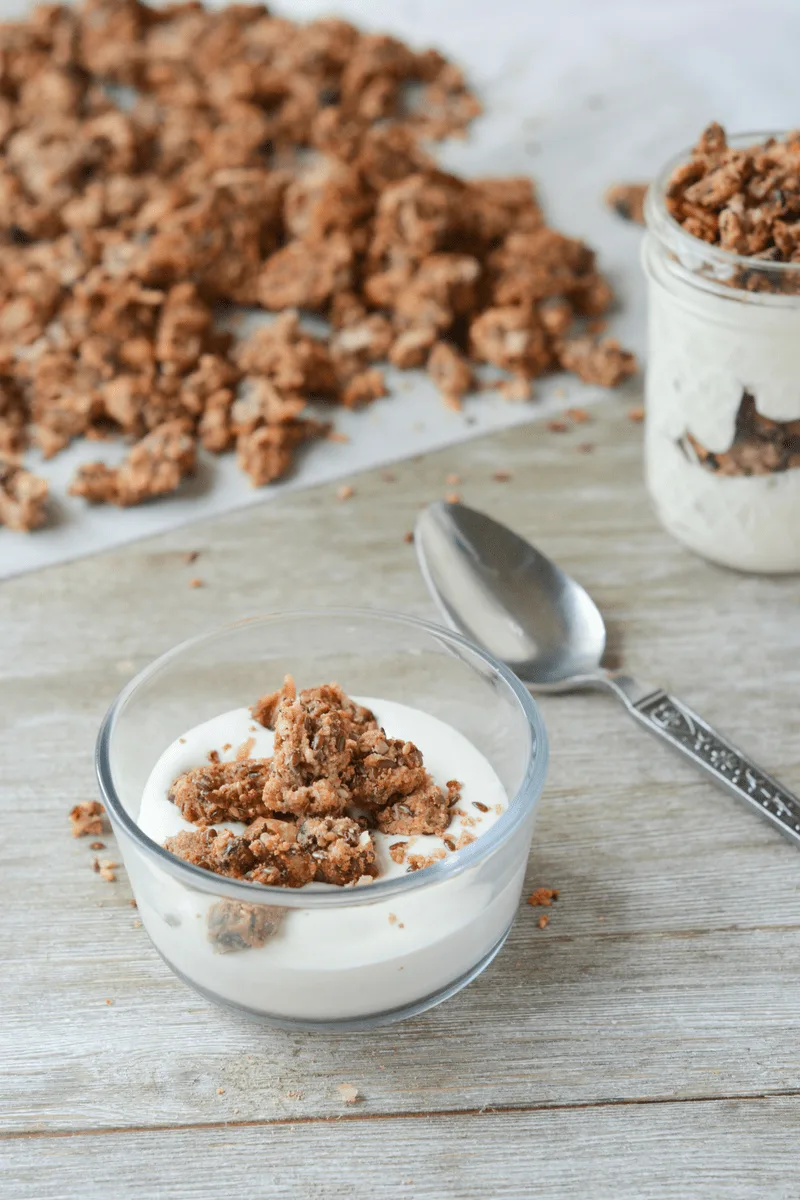 This recipe is used with permission from Keto for Life by Melissa Sevigny
Look what just came in the mail! I am so excited about Keto for Life by one of my favorite food bloggers, Melissa Sevigny of I Breathe I'm Hungry. Even before I started my blog, way back when I was a keto newbie, Melissa's blog was a huge inspiration to help me start my low carb lifestyle right.
I'm so pumped to share a recipe with you!
Keto for Life is full of over 160 delicious keto recipes to make your lifestyle easier and yummier! There's also a TON of information, and helpful reminders on topics like Eating Out on Keto, Staying Keto while on Vacation, and Dealing with a Picky Family. Melissa writes in depth from her own personal experiences to help educate, encourage, and excite!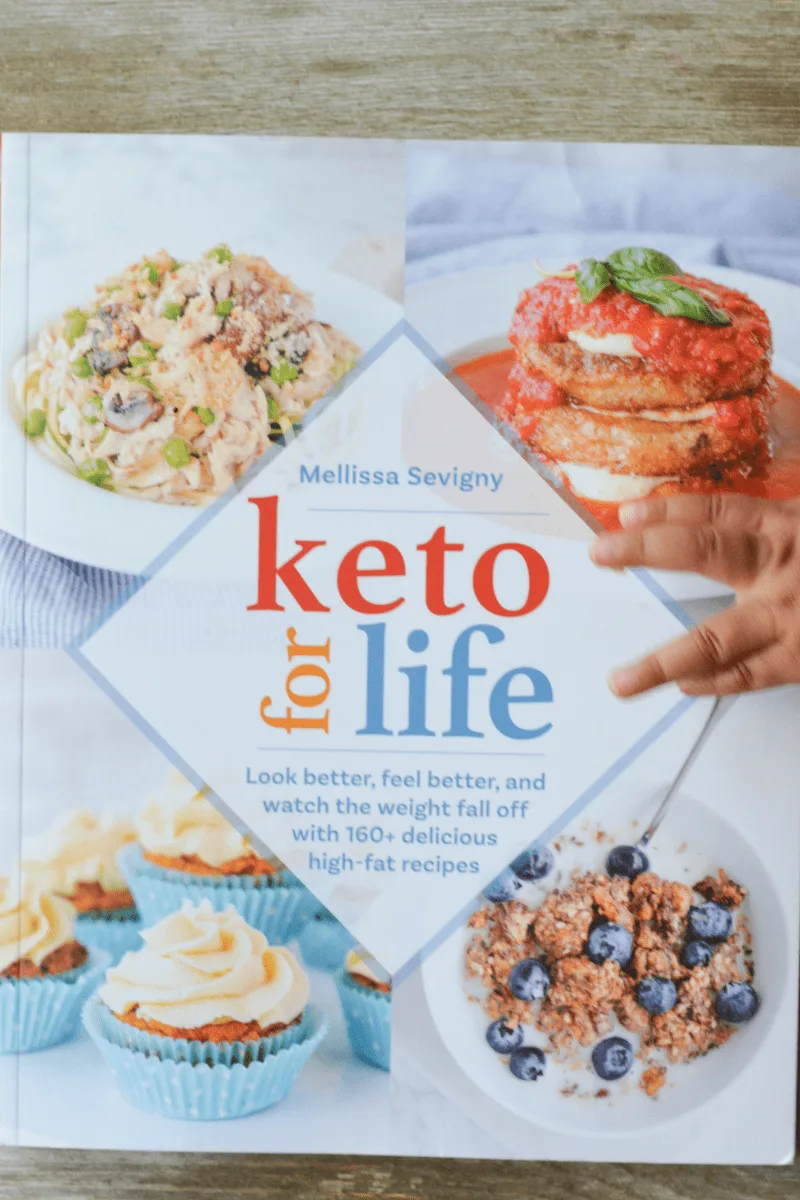 The hand in that photo is Maya, our 1 year old. She's been flipping through the book all day. 🙂
The recipe I'm sharing today is a super easy and delicious dish that's great for a breakfast cereal or really an anytime snack.
Keto Cacao Coconut Granola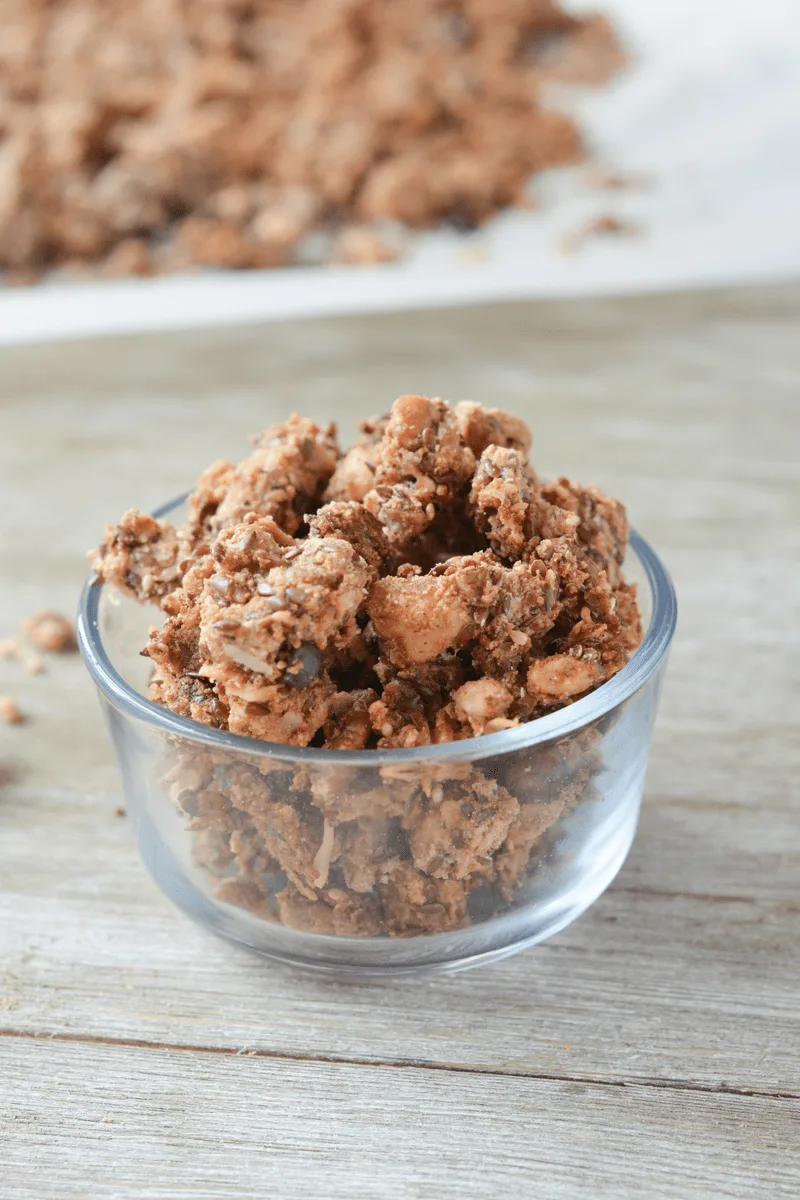 Granola has always been one of my favorite things to eat. I bet that's the same for you because... who doesn't love it? It's the perfect morning, on-the-go, after school, or anytime snack.
This granola recipe would be amazing in a bowl of almond milk with some fresh berries, but I wanted to try it out on my keto "yogurt" recipe. Let me just tell you...parfaits will never be the same. DELICIOUS.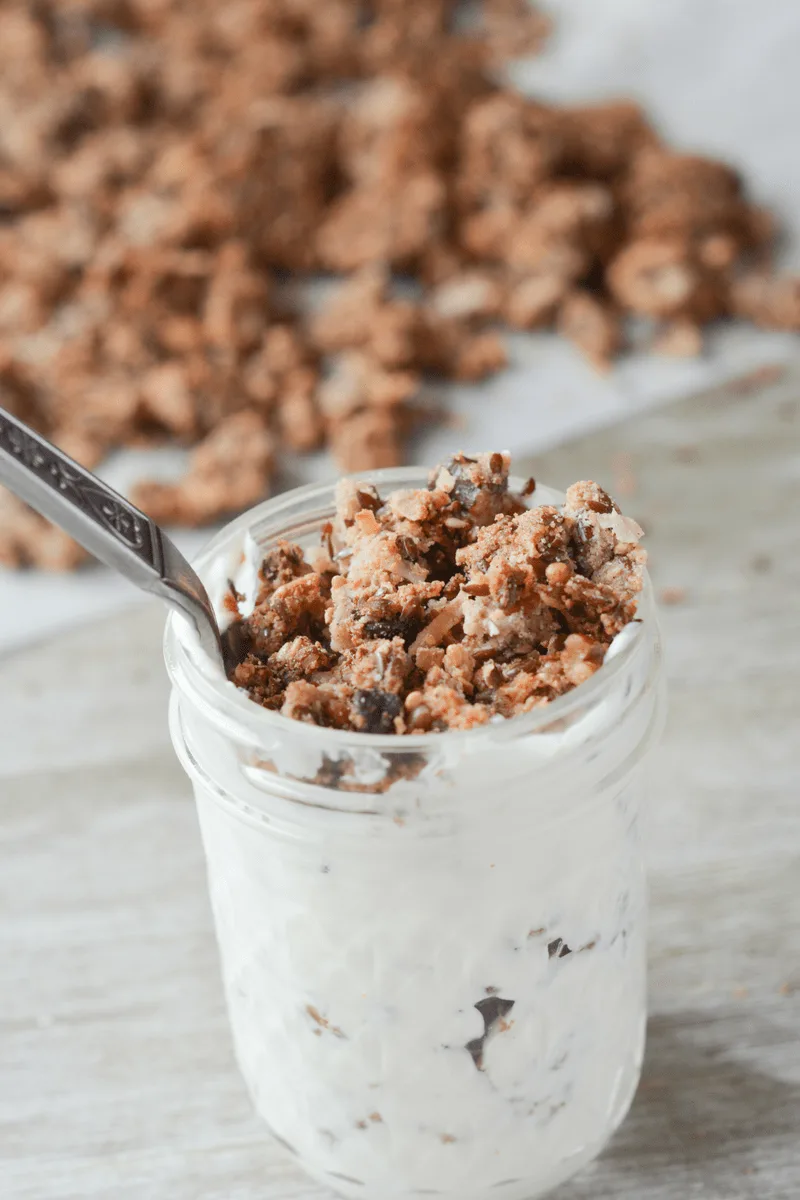 This recipe is incredibly simple, and crunches up in practically no time at all. Because you can store it in your fridge for up to 2 weeks, this is the PERFECT thing to make on a Sunday and eat throughout the week....if it lasts that long. 🙂
And here's a look at just how guilt free this granola is. For a ½ cup serving we're looking at:
Calories: 441 Calories
Total Carbs: 14g
Fiber: 10g
Net Carbs: 4g
Protein: 15g
Fat: 40g
For reference, the same size serving of Nature Valley Oats 'N Honey Granola is 36 grams of NET carbs and only 9g of fat (source: https://www.naturevalley.com/product/granola-oats-n-honey-granola-crunch/)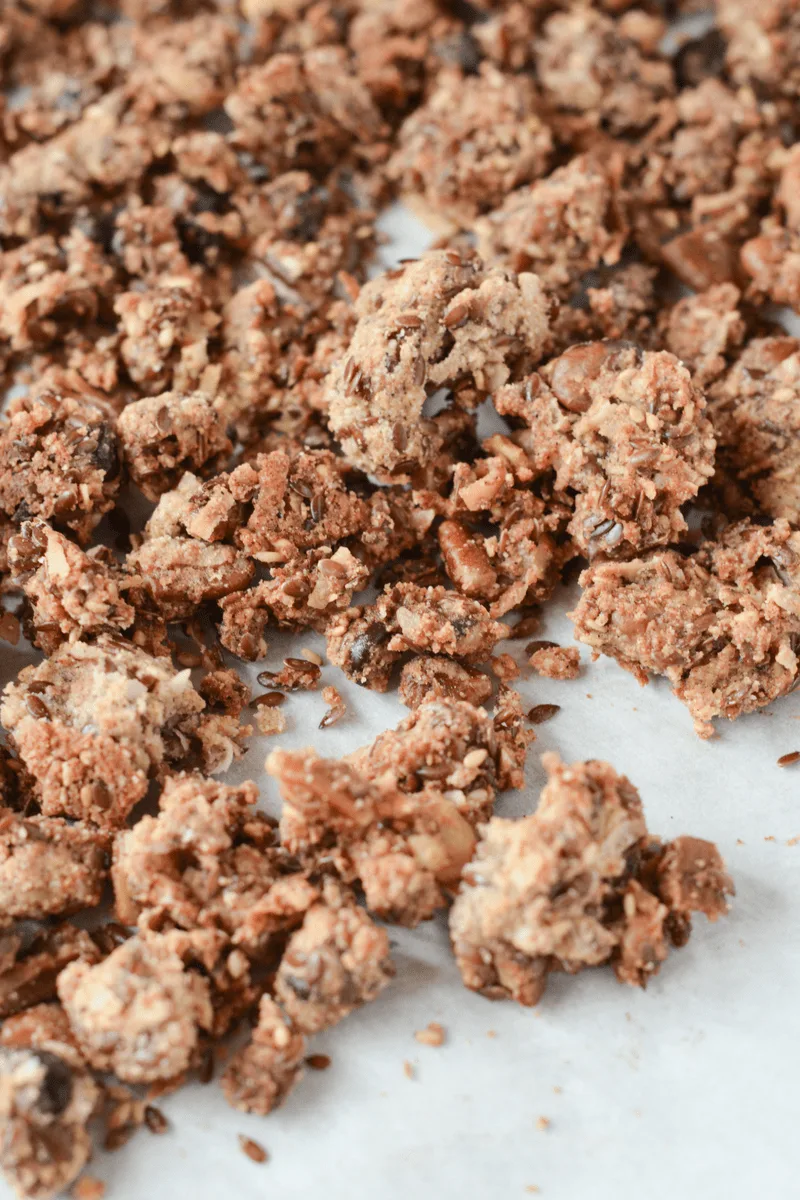 Here's how you make it!
Yield: 3 cups
Keto Cacao Coconut Granola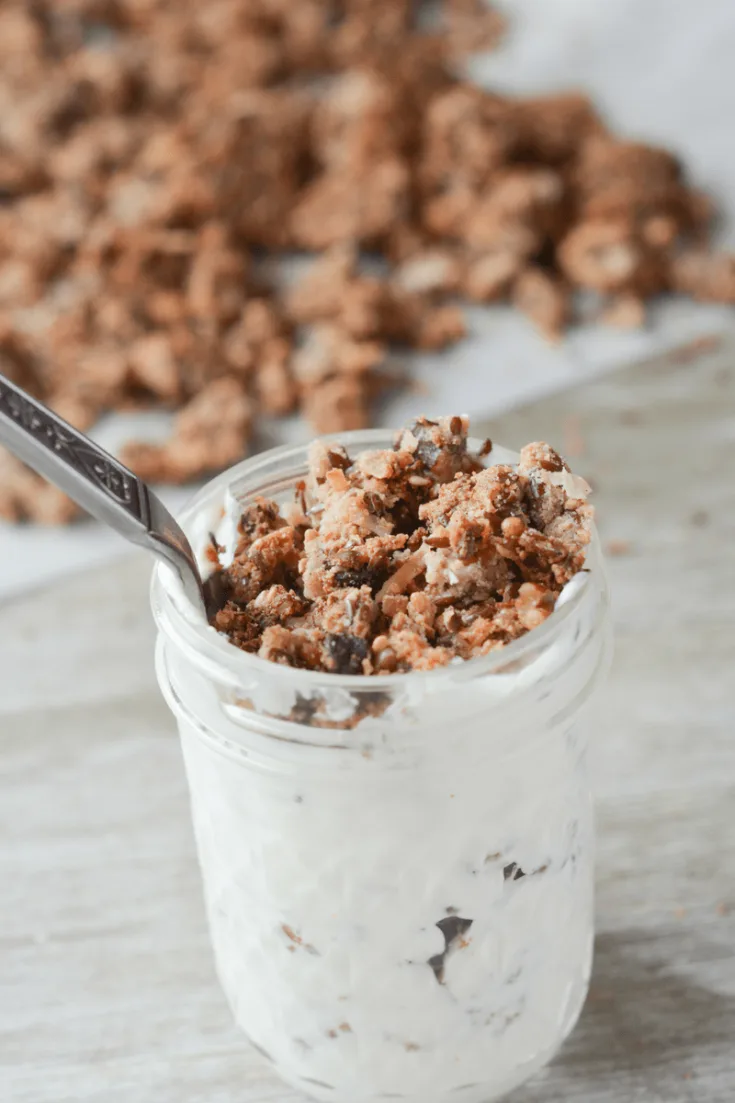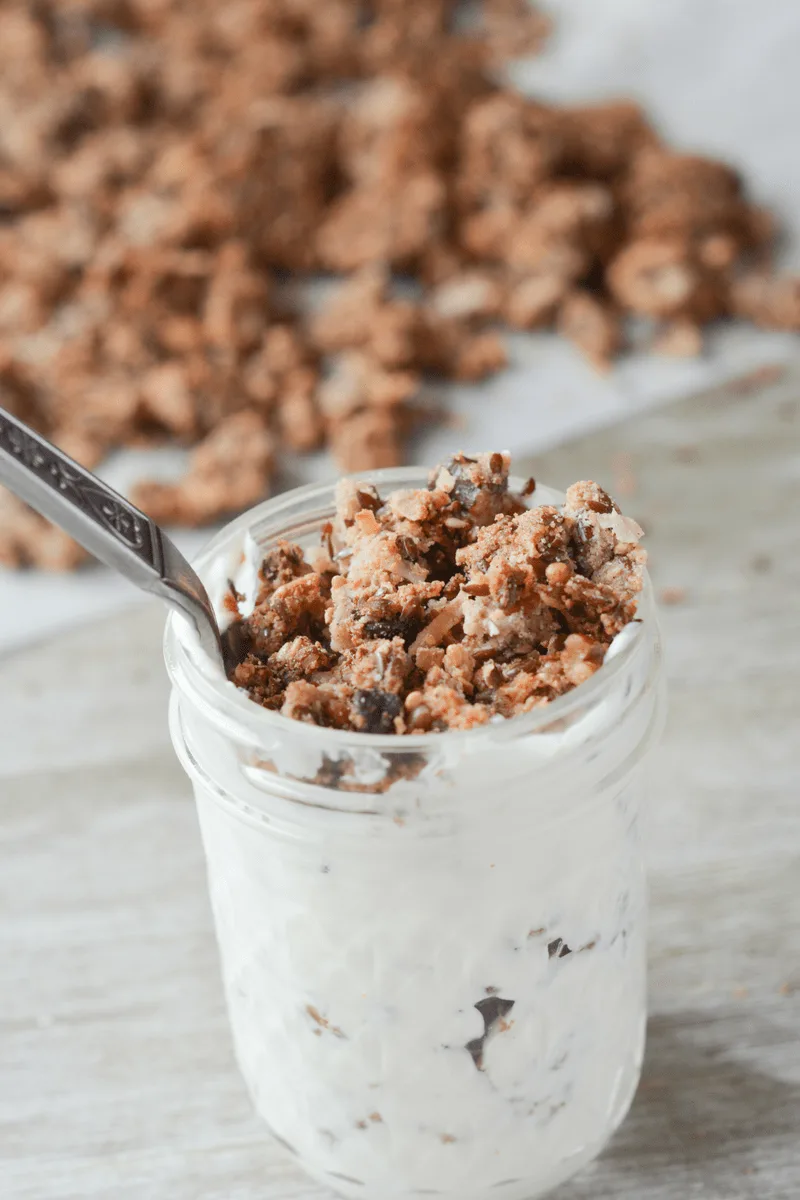 This Keto Cacao Coconut Granola is a delicious, low carb treat to satisfy your cravings for morning cereal, or just the perfect sweet and crunchy snack!
Ingredients
½ cup chopped raw pecans
½ cup flax seeds
½ cup superfine blanched almond flour
½ cup unsweetened dried coconut
¼ cup cacao nibs
¼ cup chopped raw walnuts
¼ cup sesame seeds
¼ cup sugar-free vanilla flavored protein powder (I used this)
3 tablespoons granulated erythritol (I used this)
1 teaspoon ground cinnamon
⅛ teaspoon kosher salt
⅓ cup coconut oil
1 large egg white, beaten
Instructions
Preheat the oven to 300 degrees Fahrenheit. Line a 15 by 10-inch sheet pan with parchment paper.
Place all of the ingredients in a large bowl. Stir well until the mixture is crumbly and holds together in small clumps. Spread out on the parchment-lined pan. Bake for 30 minutes or until golden brown and fragrant.
Let the granola cool completely in the pan before removing. Store in an airtight container in the refrigerator for up to 2 weeks.
Notes
Keep an eye on your granola. Every oven is different. Mine became golden brown and fragrant within about 15 minutes.
Recommended Products
As an Amazon Associate and member of other affiliate programs, I earn from qualifying purchases.
Nutrition Information:
Yield:
6 Servings
Serving Size:
½ cup
Amount Per Serving:
Calories:

441
Total Fat:

40g
Carbohydrates:

4 NETg
Fiber:

10g
Protein:

15g