These Keto Fathead Pizza Pockets are delicious proof that going low carb does not mean giving up your favorite foods!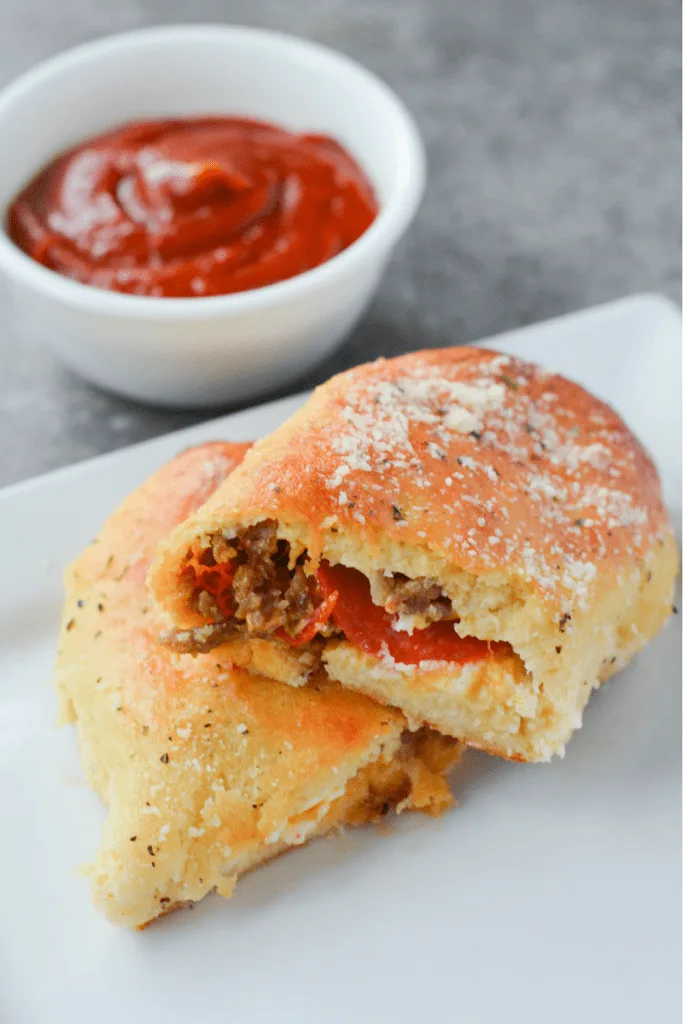 Pizza pockets. Calzones. Giant pizza rolls. Whatever you call them, they're absolutely delicious.
I've obviously been a huge fan of making low carb pizzas for a while now:
A little bit of backstory....in college, my husband Joe and I lived in a dorm that had a dining hall attached to it, but ONLY served pizza on Friday Nights.
And it wasn't the normal run of the mill pizza they served regularly...
They put something in this Friday Night recipe because it was AMAZING. You could sometimes expect a 45 minute wait because the line to get yours was sooo long. But still...we did it.
Every. Single. Friday.
We've kept up with the tradition of Friday Night Pizza, and it became even more important once we went Keto.
I want to make sure that everyone who reads my blog knows that going Low Carb ABSOLUTELY does not mean giving up pizza or getting bored by the same things.
Pizza is delicious. Stuffed Pizza is even better.
Keto Fathead Pizza Pockets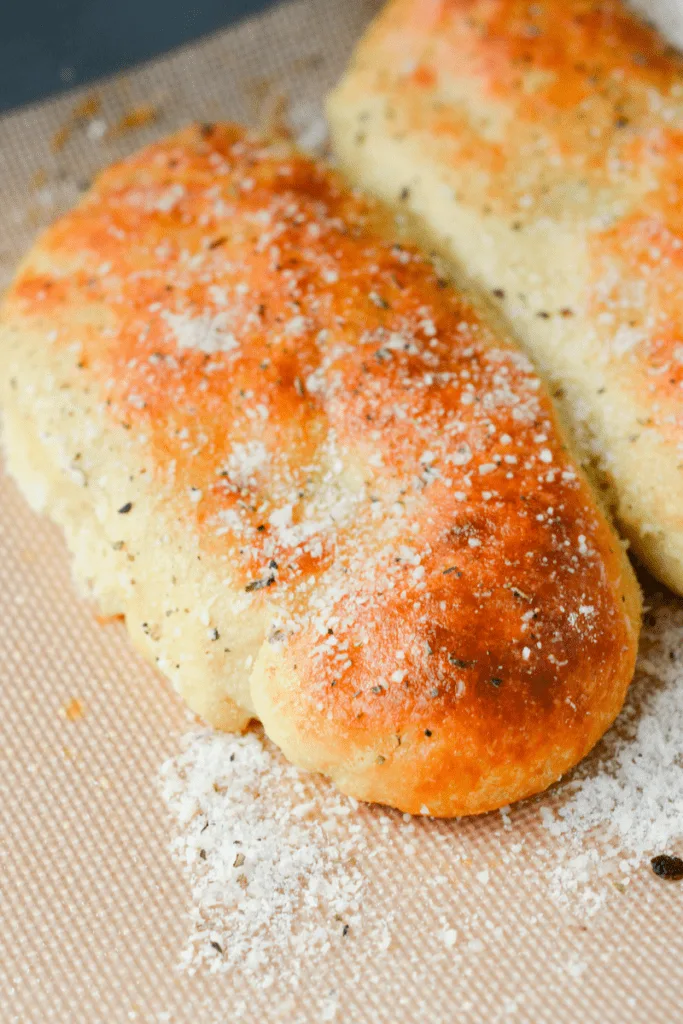 This recipe is a bit of a twist on the regular fathead dough you're probably used to.
The secret ingredient? It uses yeast! And that makes a big difference!
I love that you can stuff these babies with any of your favorite toppings, then chow down on them with your favorite sauce.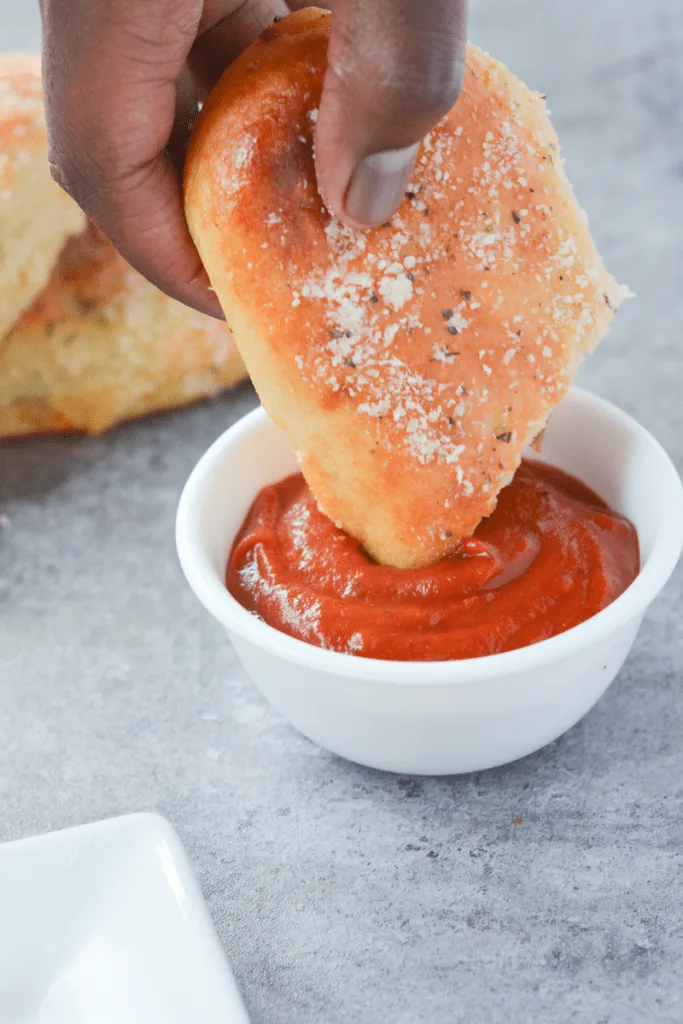 The possibilities are truly endless, and I can't wait to hear what you think!
Here's how to make them!
Print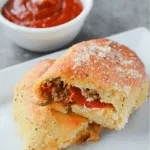 Keto Fathead Pizza Pockets
---
Dough
1 ½ cups

shredded mozzarella

¾ cup

almond flour

5 tbsp

cream cheese

2 tsp

xanthan gum

1

packet instant yeast

3

eggs (2 for dough,1 for egg wash)
Salt, additional seasoning to taste
filling
¼ cup

mozzarella or cheddar

7

slices pepperoni

4 tbsp

cooked italian sausage

2 tbsp

feta
Garnish
¼ cup

shredded parmesan

1 tbsp

butter

1 tsp

italian seasoning
---
Instructions
Dough
Preheat oven to 400
In mixer or large bowl, add almond flour, xanthan gum, yeast and seasoning
Mix dry ingredients throughly then add two eggs
In separate bowl, microwave mozzarella and cream cheese in 30 second intervals until melted
Once melted, add to flour and egg mixture scraping sides down (I used dough hook)
If mixture is too stiff, place it back in the microwave for 30 -45 seconds until pliable
With dough hook or wet hands, knead mixture for 5-10 minutes until fully combined
Using wet hands, separate dough into 4 balls
Flatten the dough balls into desired shape, making small indent in the middle
Fill with choice of ingredients and mold dough around ingredients gently to close
Brush with egg wash
Place on parchment and bake for 20-25 minutes until dough is golden brown
Melt butter and mix with italian seasoning to brush over each pizza pocket
Sprinkle with parmesan
Notes
Wet hands make it easier to handle dough
To create pockets, shape dough around ingredients empanada style folding over and pressing seams closed then patting it and forming until it's your desired shape
Xanthan gum made the crust more sturdy than if you were to omit.
The yeast did appear to make the dough rise more than usual
Please note that I am not a certified nutritionist. Any nutritional information that is discussed or disclosed in this post should only be seen as my best amateur estimates based on NET carbs. If nutrition is important to you, I highly encourage you to verify any data you see here with your favorite nutrition calculator.
Nutrition
Serving Size:

1 Pocket

Calories:

443 Calories

Fat:

34 g

Carbohydrates:

10g Total, 8g Net

Fiber:

2g

Protein:

26 g
You may also enjoy...