This Keto Pecan Pie Cheesecake is PERFECT for the Holiday Season. It's so delectable your non-low carb loved ones will never know the keto difference!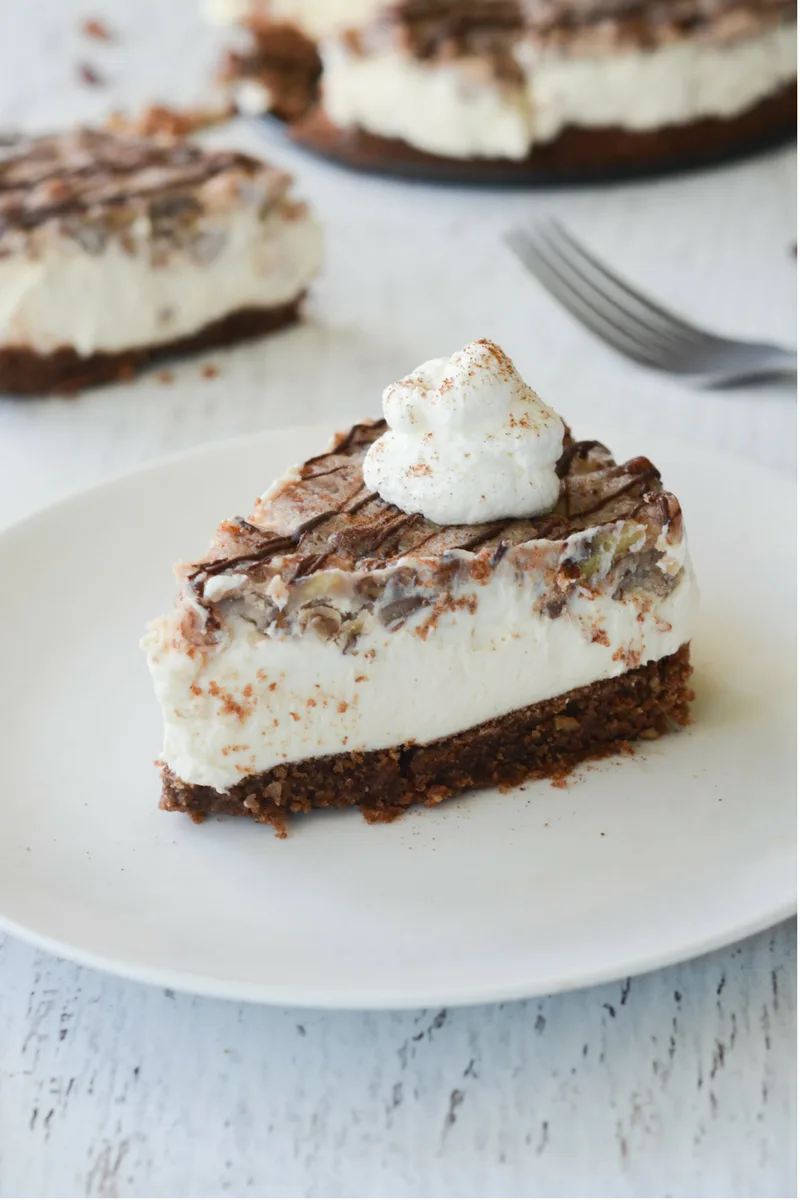 The Holidays are near! Actually...Thanksgiving is this week!
One thing I'm thankful for is that this year my little family of four is taking it easy, not hosting anybody, not traveling to see anybody...just enjoying some relaxation (and Black Friday shopping) together.
And of course, some keto-licious foods!
While we haven't decided what'll be on the menu, one thing we know for sure is we're kicking turkey to the curb. You do you, but we're just not fans of cooking that big bird...
I know the holidays can be difficult for keeping Keto, especially if you haven't been following this way of eating very long.
The good news is, I'm here to help! I remember our first Keto Holiday Season. While we didn't cheat and go binge on our holiday favorites...it was a kind of miserable time.
That's because we were unprepared, and really didn't have any idea of what we could even eat! Of course meats and cheeses are simple...but if you know Joe and I, you know that we have a major sweet tooth.
Always have...always will...there's no shame in our game.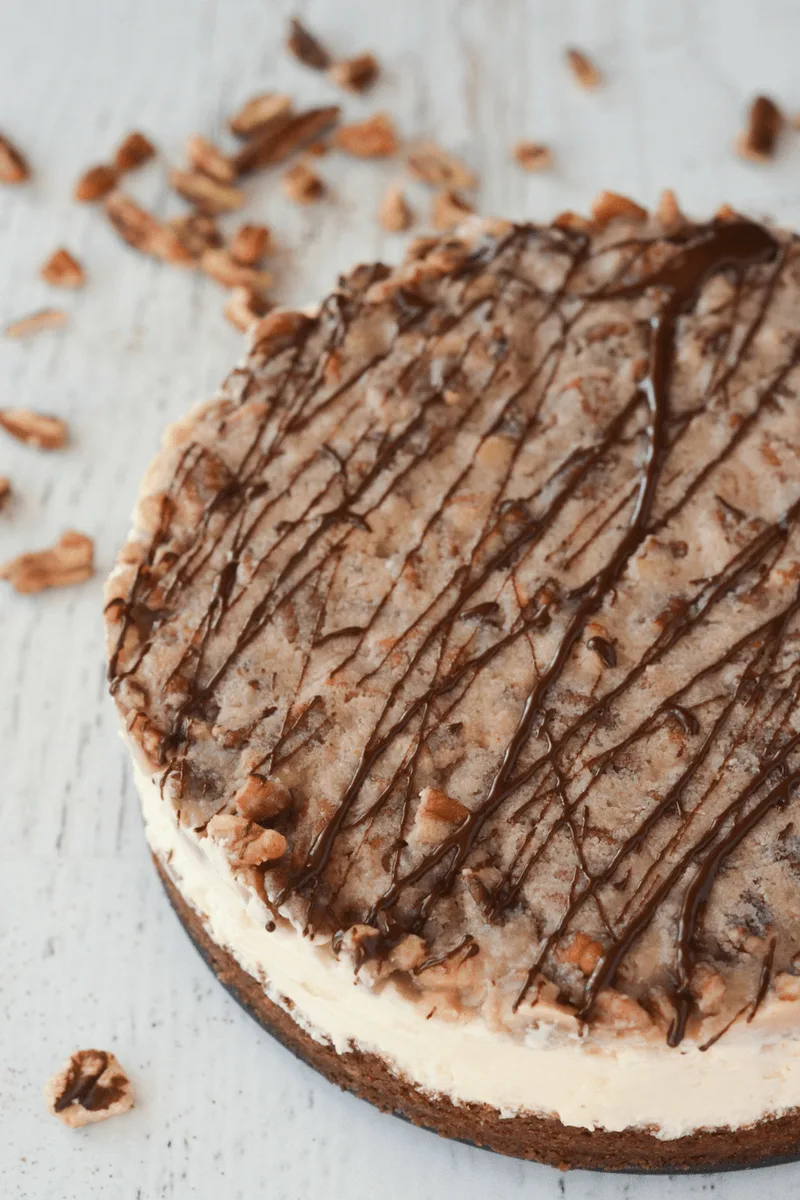 And thankfully, since our first Keto Holiday Season, we've gotten a lot more creative and a lot more knowledgeable about what works, what tastes delicious, and how to keep the times spent with friends and loved ones cheerful and memorable, like they should be!
One key to Keto sweets in my book is Swerve Sweetener. It's an erythritol blend that has proved to be the most sugar-like sugar replacement I've ever tried.
I use the confectioner's variety because I find that it really cuts down on the cooling effect that erythritol has. I know some of you prefer to use stevia as your sweetener of choice. Feel free! I'm just not sure what the amounts would be, so my best tip would be to sweeten to taste.
Today's recipe was dreamed up while noticing a spike in visitors to the keto pecan pie clusters and the pumpkin cheesecake. These two recipes are absolutely delicious, and I'd highly recommend them...especially for Thanksgiving!
But one of Joe's all time favorites growing up was Pecan Pie. That's a hard one to do when you're keto because of the corn syrup that's typically involved. I know it's been done, and done well, by some of my fellow bloggers, but I wanted to try something a little different.
Keto Pecan Pie Cheesecake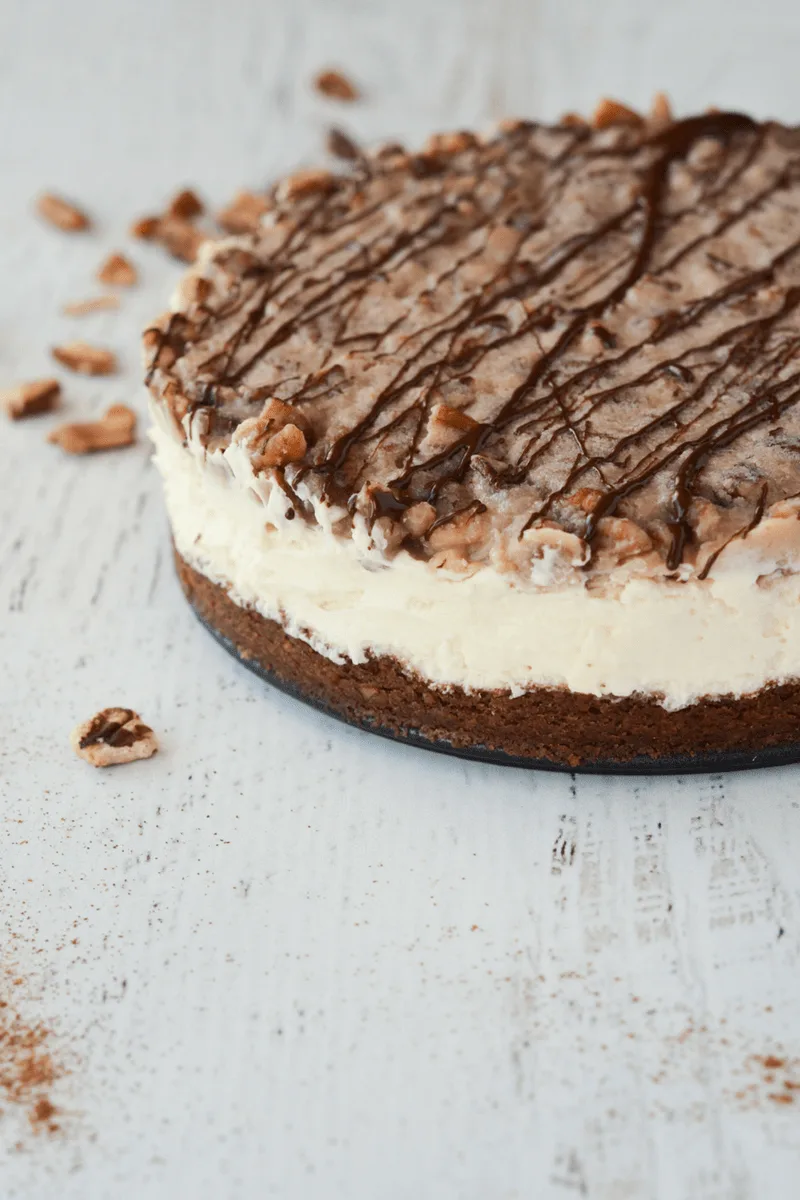 This is the real deal, y'all. Creamy, easy, rich, and low carb. It's perfection. If you're in charge of dessert, you NEED to bring one of these.
Even your non-low carb friends and loved ones will gobble this up!
You're probably looking at these pictures, trying not to lick your screen and wondering what the macros are...
Calories: 450
Total Carbs: 6g
Fiber: 3g
Net Carbs: 3g
Protein: 6g
Fat: 46g
I just mixed up the yummy crust in a food processor, baked it for a little bit in a seven-inch spring-form pan, layered the filling goodness on top, and popped it in refrigerator to set.
This recipe yields 12 servings. The pieces are thick and rich enough, you should be satisfied! But still...you might just want to make two... ; - )
Here's how it's done!
Print
Keto Pecan Pie Cheesecake
---
Author:

Yield:

12

Slices

1

x
Description
This Keto Pecan Pie Cheesecake is PERFECT for the Holiday Season. It's so delectable your non-low carb loved ones will never know the keto difference!
---
Crust
1 ⅓ cup Pecans
1 tbsp Cacao Powder
2 tbsp Swerve Confectioner Sweetener , or preferred sweetener
1 tsp Vanilla Extract
3 tbsp cold butter
Cheesecake Layer
16 oz Cream Cheese
1 cup Swerve Confectioner Sweetener, or preferred sweetener
⅔ cup Heavy Whipping Cream
2 tsp Vanilla Extract
Caramel Layer
5 tbsp Butter; divided
½ cup Swerve Confectioner Sweetener , or choice of sweetener
2 tbsp Heavy Whipping Cream
½ tsp Vanilla Extract
1 ½ cup Chopped Pecans
---
Instructions
Crust
Preheat Oven to 350.
Place all crust ingredients in food processor and pulse until soft dough forms. Press dough into greased 7 inch springform pan. Bake for 12-15 minutes. Set aside, let cool.
Cheesecake Layer
In large mixing bowl, place softened cream cheese and beat for 3 minutes until completely smooth. Add swerve, or preferred sweetener and beat additional 3 minutes.
Add heavy whipping cream and vanilla. Whip for 5-7 minutes or until mixture is completely smooth.
Pour mixture onto cooled (or mostly cooled) crust and spread evenly. Place in freezer while you prepare final layer.
Caramel Pecan Layer
In skillet or saucepan over medium-low heat add 4 tablespoon butter. Once butter is almost completely melted add swerve, or choice of sweetener. Stir frequently with rubber spatula and watch closely as it turns golden brown.
Once it is light or golden brown, add heavy cream and pecans. Continue gentle stirring frequently until dark golden brown. Turn off heat and add final tablespoon of butter. Let mixture cool for 10 minutes.
Mixture should still very hot but cooled from the near boiling point. Remove cheesecake from freezer and pour caramel pecan mixture over top, using rubber spatula to even layer. Try to make sure all pecan pieces are flat and level with caramel for best results. You may need to press them down gently or gently move pan back and forth to level.
Place in fridge overnight to completely cool. If mixture is not completely cool when cut into, the top layer will not stay together.
Place in freezer for 2-3 hours before you're going to eat it. Freezing it will firm up the cheesecake layer and allow you to slice through the top layer without it cracking.
Notes
You may use the sweetener of your choice. I prefer confectioners Swerve and have not tried this with other sweeteners so I'm not sure what amounts should be substituted.
You may use unsweetened cocoa powder in place of cacao, you may need to add additional sweetener,to taste.
Make sure top pecan layer is completely cooled before cutting or it may fall apart.
The cheesecake layer is a no-bake cheesecake. The only thing cooked in the oven in this recipe is the crust.
Please note that I am not a certified nutritionist. Any nutritional information that is discussed or disclosed in this post should only be seen as my best amateur estimates based on NET carbs. If nutrition is important to you, I highly encourage you to verify any data you see here with your favorite nutrition calculator.
Nutrition
Serving Size:

1/12 Cheesecake

Calories:

450 Calories

Fat:

46g

Carbohydrates:

6g Total, 3g Net

Fiber:

3g

Protein:

6g
You may also enjoy...