This Keto Zuppa Toscana soup is so flavorful and hearty! It's made with Italian sausage, kale, and cauliflower that come together in a creamy broth. It's perfect for a fall or winter meal and full of mouthwatering flavor.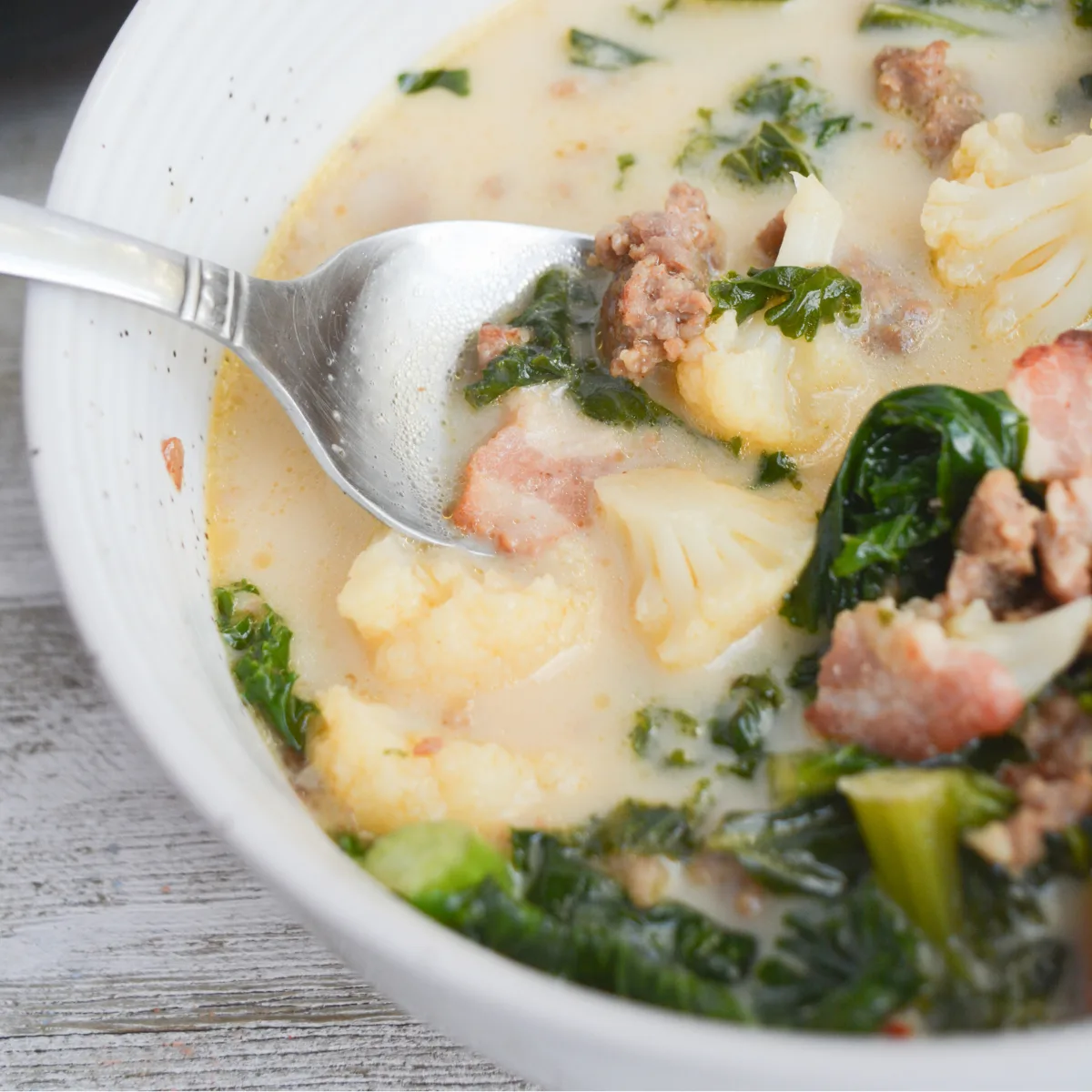 The weather is cooling down, and the soup is heating up. If you've been around for a while, you likely know that Fall is my absolute favorite season. It's time for cozy sweaters, stylish boots, and the ever-important keto comfort foods.
Right off the bat, let me just say: this soup may be higher in carbs than you expected. That's because vegetables, heavy cream, and even seasonings contain carbs. However, I think those are good carbs and worth the little extra because they're also nutritious.
If you are on a different journey and going for as low as possible, feel free to tweak the recipe by reducing the vegetables or enjoying less soup at a time.
This Olive Garden copycat recipe for Zuppa Toscana will warm your insides and satisfy your bellies. Are you interested in even more cozy keto-friendly soup recipes? Some of our other favorite keto comfort foods include my Keto Broccoli Cheddar Soup, Keto White Chicken Chili, and Keto Jalapeno Popper Soup.
What is keto zuppa toscana soup?
Zuppa Toscana, meaning "Tuscan Soup," is a traditional Italian dish. But the popular version you may have had at Olive Garden is slightly different from how it was originally made.
Zuppa Toscana is traditionally made with beans and zucchini, but many recipes omit those ingredients and sub in veggies like kale and potatoes.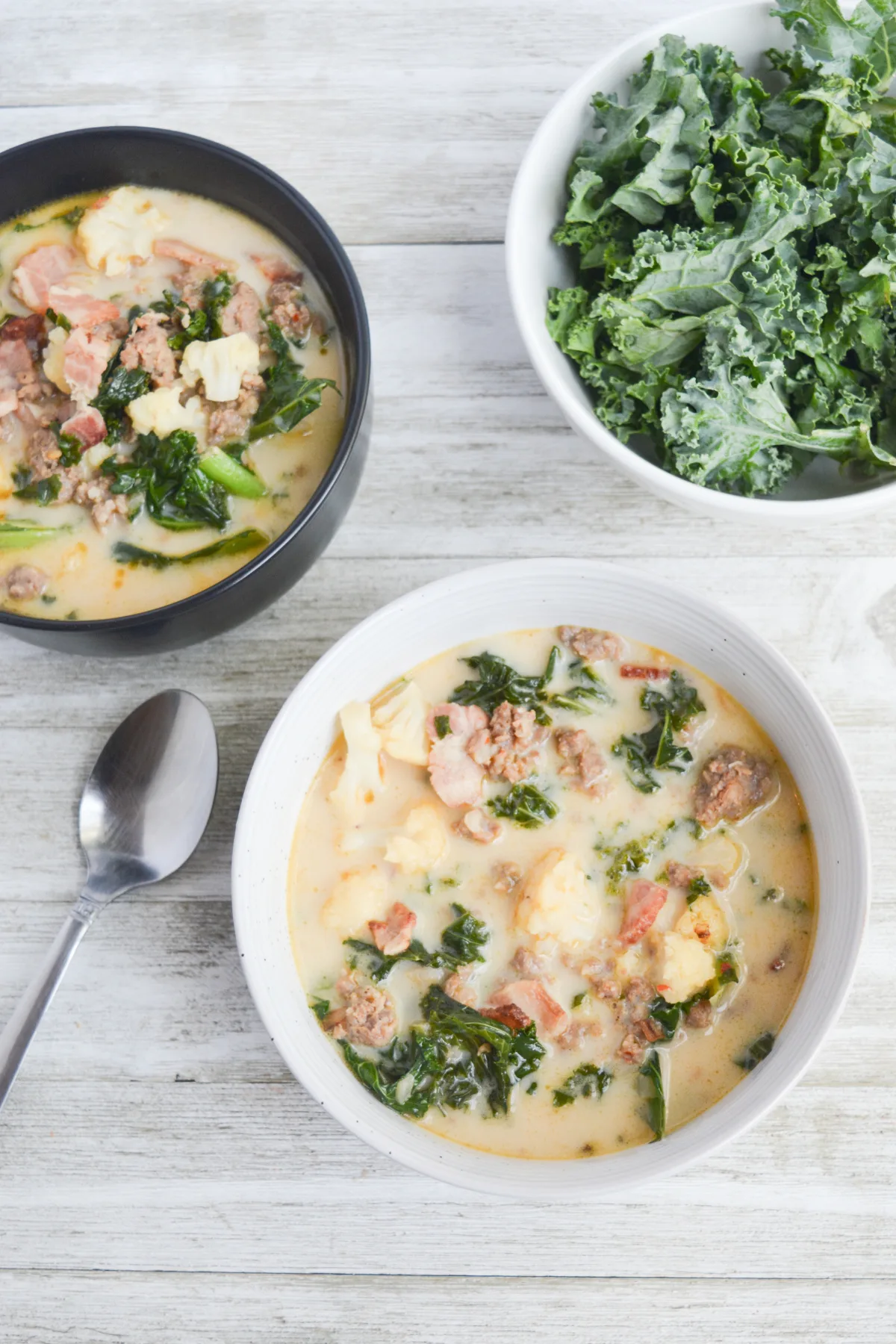 Why this recipe works
This Keto Zuppa Toscana recipe is perfectly creamy, and every spoonful is loaded with delicious flavor.
The Italian sausage gives the soup so much savory and irresistible flavor. It also adds fat to the recipe to help make this dish more filling.

This recipe is budget-friendly. With rising grocery prices, navigating keto recipes with high-priced ingredients can be challenging. This recipe keeps it simple with ingredients you might already have on hand.
Ingredients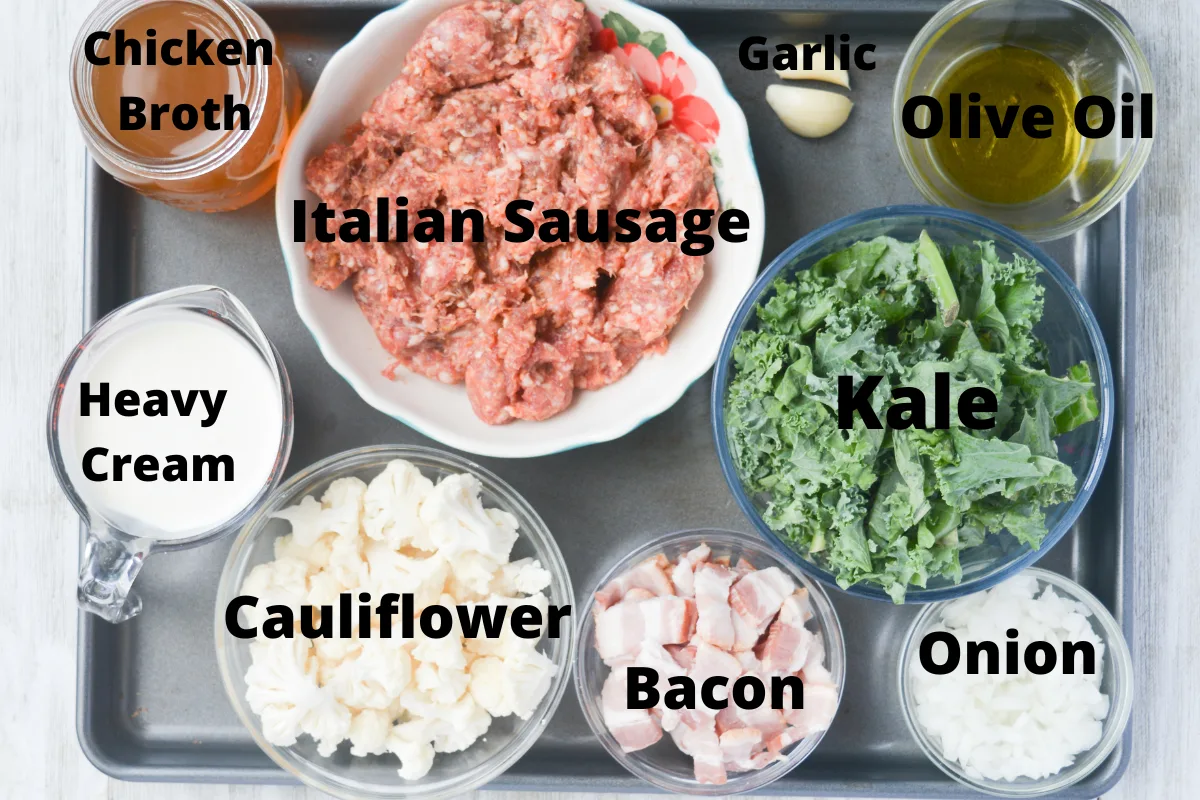 Kale- It's full of nutrients like vitamin A and K. Plus, it adds a pop of color to this creamy soup.
Cauliflower- The classic keto potato replacement. The great thing about cauliflower is that it absorbs flavor and helps bulk up the soup to give it texture.
Italian Sausage- A delicious protein that will add all kinds of flavor. Feel free to swap for breakfast sausage or diced chicken thighs if you're not a fan.
Chicken Broth- I don't really care for beef broth, so I used chicken broth in this recipe. The chicken broth tastes lighter, which is consistent with the taste I wanted for this soup. Use bone broth, beef broth, or your favorite soup base if the chicken isn't your favorite.
Heavy Whipping Cream- Another keto and low carb staple. This is essential for making your soup extra creamy.
Yellow Onion- While onions aren't specifically low carb, it's a great addition to soup. Even half an onion is a minimal amount when it's broken down into multiple servings. Trust me; it's worth the extra carb or two that the onion may add to each serving.
Bacon- Everything is better with bacon. It also adds saltiness to the soup, which helps all the other flavors stand out.
Seasonings- This recipe uses salt, pepper, crushed red pepper flakes, and garlic. If you're not a fan of those or tend to be sensitive to the amounts, feel free to measure intuitively.
It's your meal; simply use this recipe as a guide.
How to make Low Carb Zuppa Toscana Soup
1. The first step to making this delicious low carb soup is to brown the onion. In a large pot over medium heat, add the olive oil, onion, and bacon.
Saute until the onion beings to brown and smells fragrant, and the bacon is crispy. This takes about 3-4 minutes.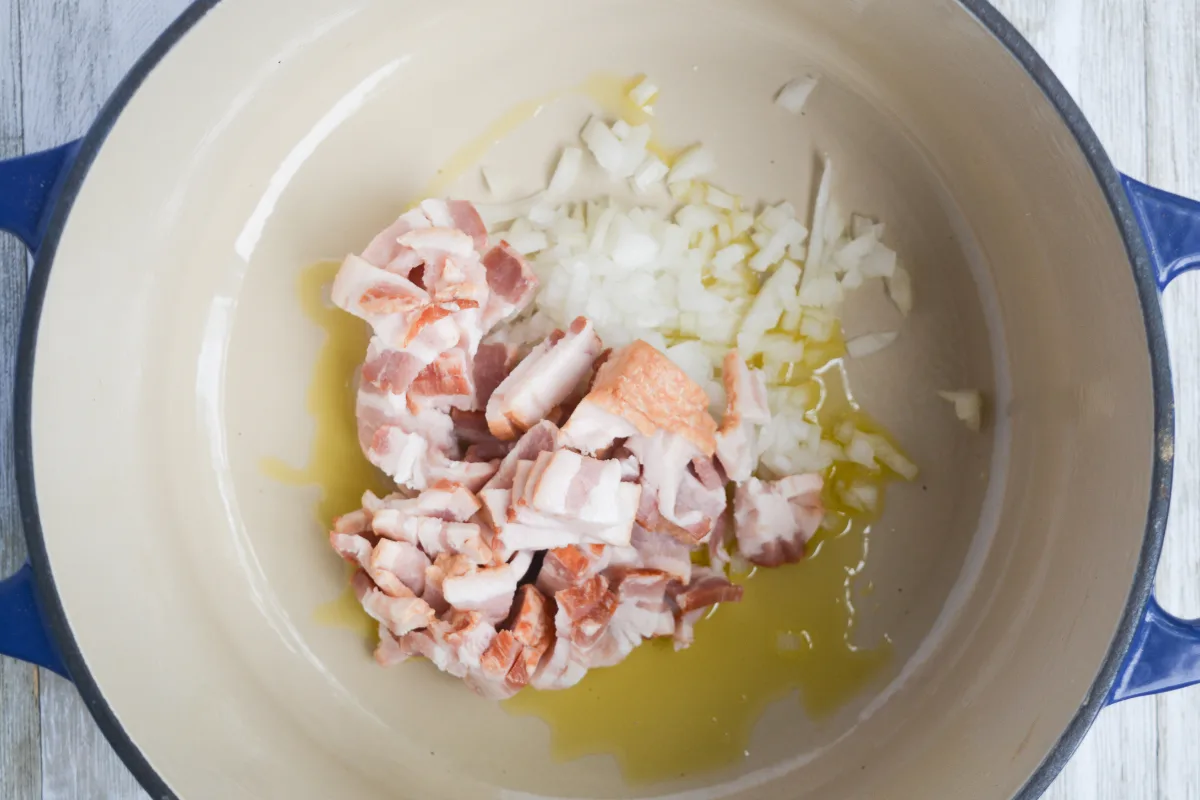 2. Next, you will brown the Italian sausage in the same pot. It will take 7-10 minutes. Break apart the meat into crumbles and brown until no pink remains.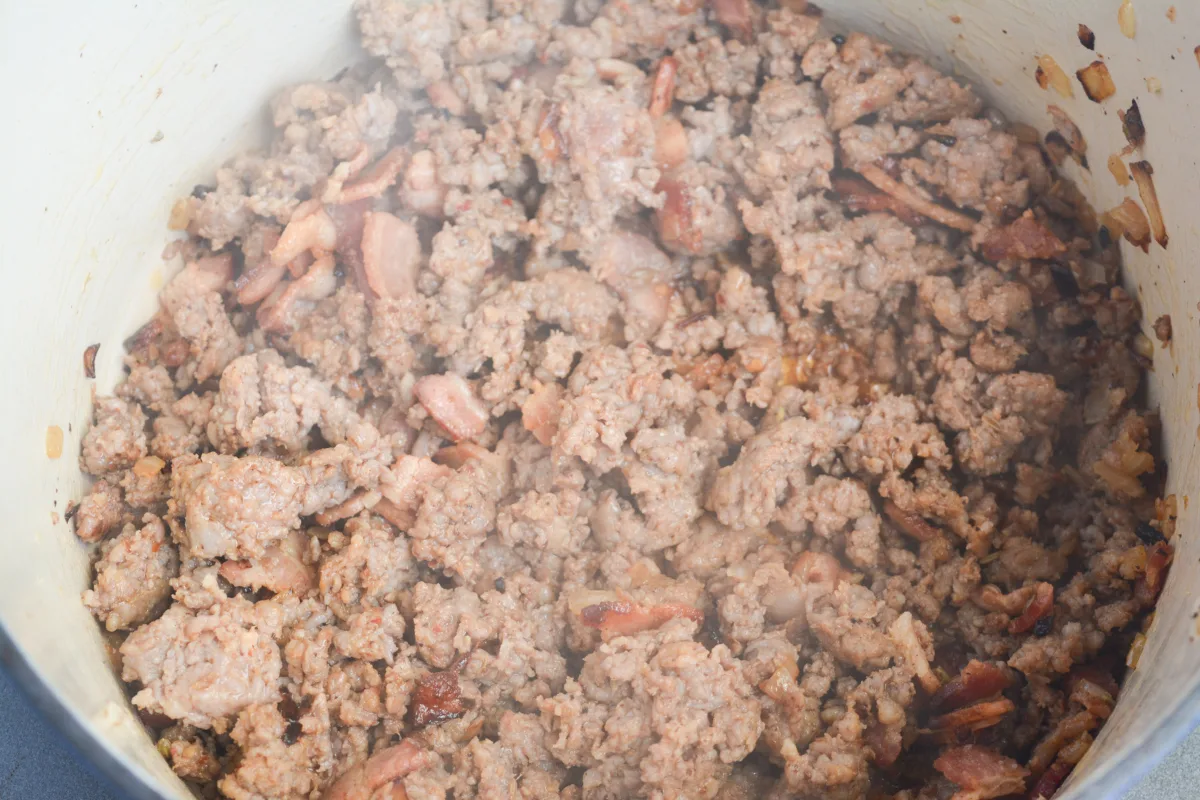 3. Then, you will add the kale and cauliflower florets. I like to chop these up, so they're good bite-sized pieces.
If you don't like the taste of kale, feel free to swap it with spinach or whatever your favorite leafy green may be.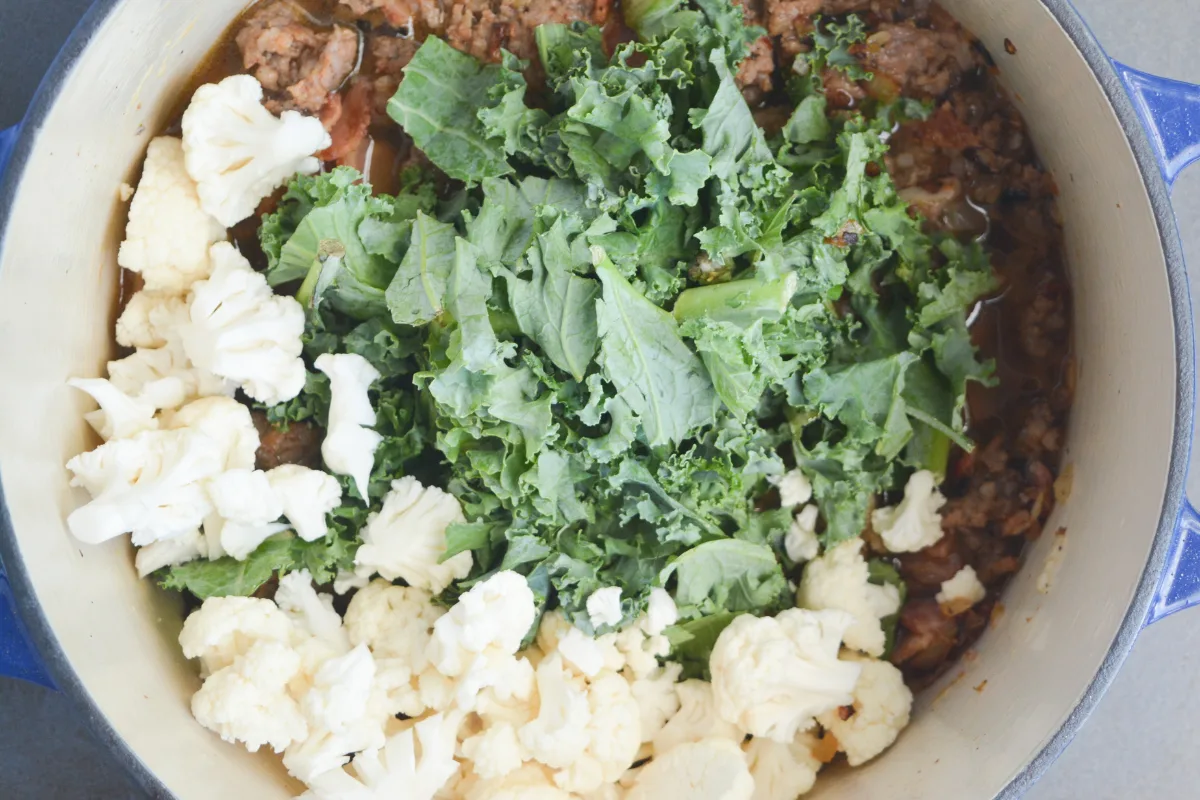 4. Pour the broth into your soup pot and scrape the bottom to free any browned pieces of meat.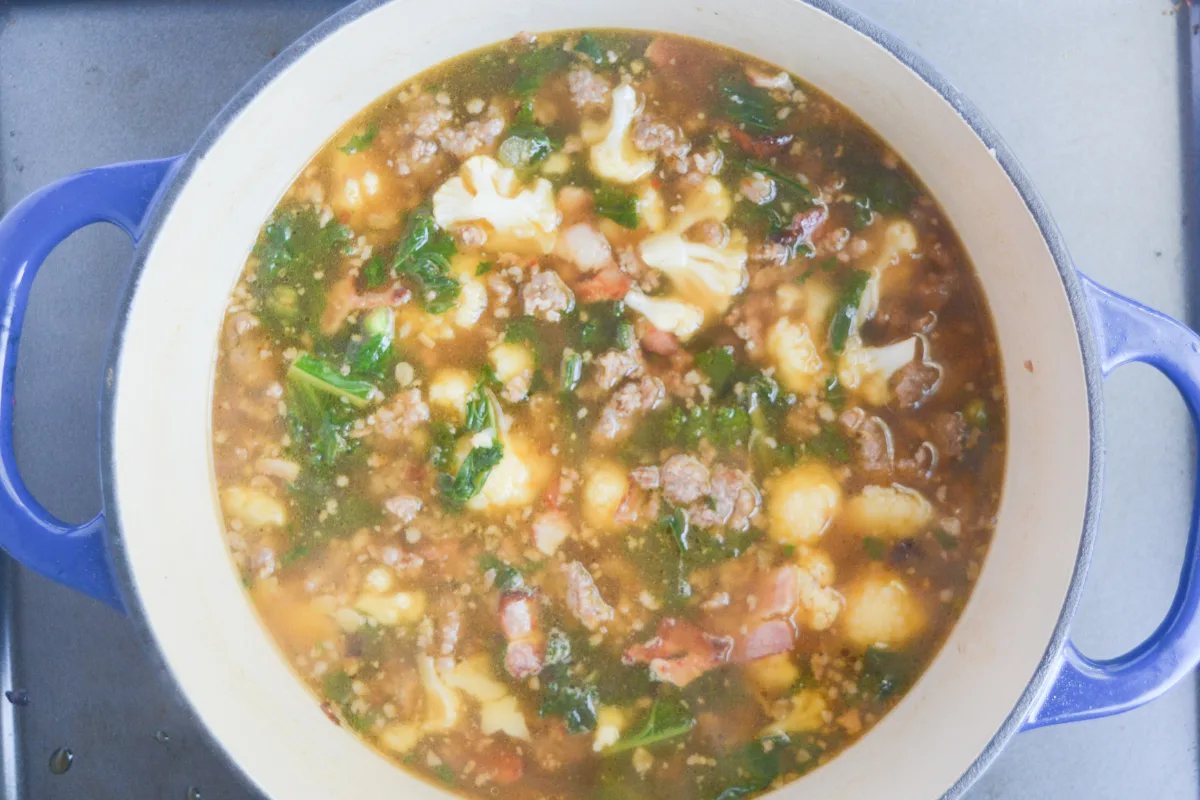 5. Finally, you'll make your Zuppa Toscana soup extra creamy with- you guessed it... cream! The heavy cream is high in fat and adds a delicious flavor to this soup. I don't like to overcook my cream, so it's more of a finishing pour for this recipe.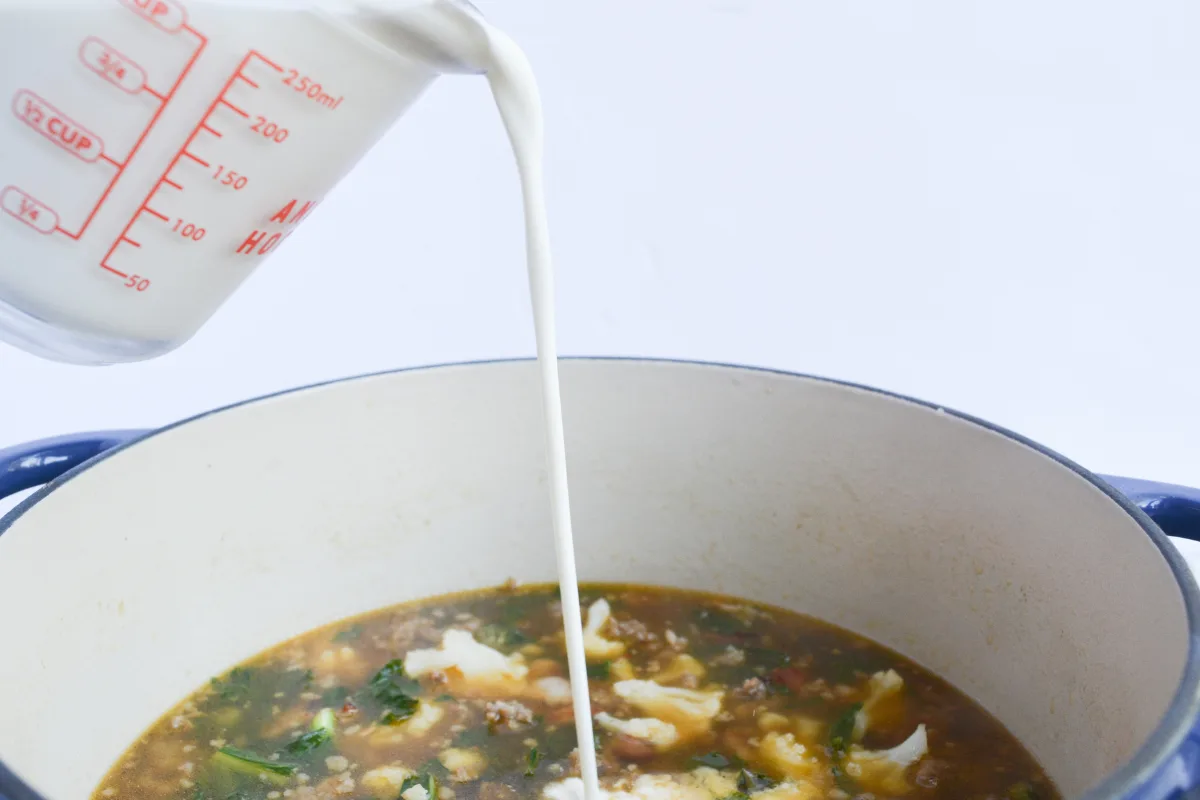 Some Keto Zuppa Toscana recipes use between one and three cups of cream. I don't like a ton of cream because I think it takes away from the other flavors and can almost leave it tasting milk-like.
I used just ½ cup of heavy cream for this recipe, but if you prefer a bit extra, I'd suggest adding a little in ¼ cup increments, but not exceeding one cup for the best taste.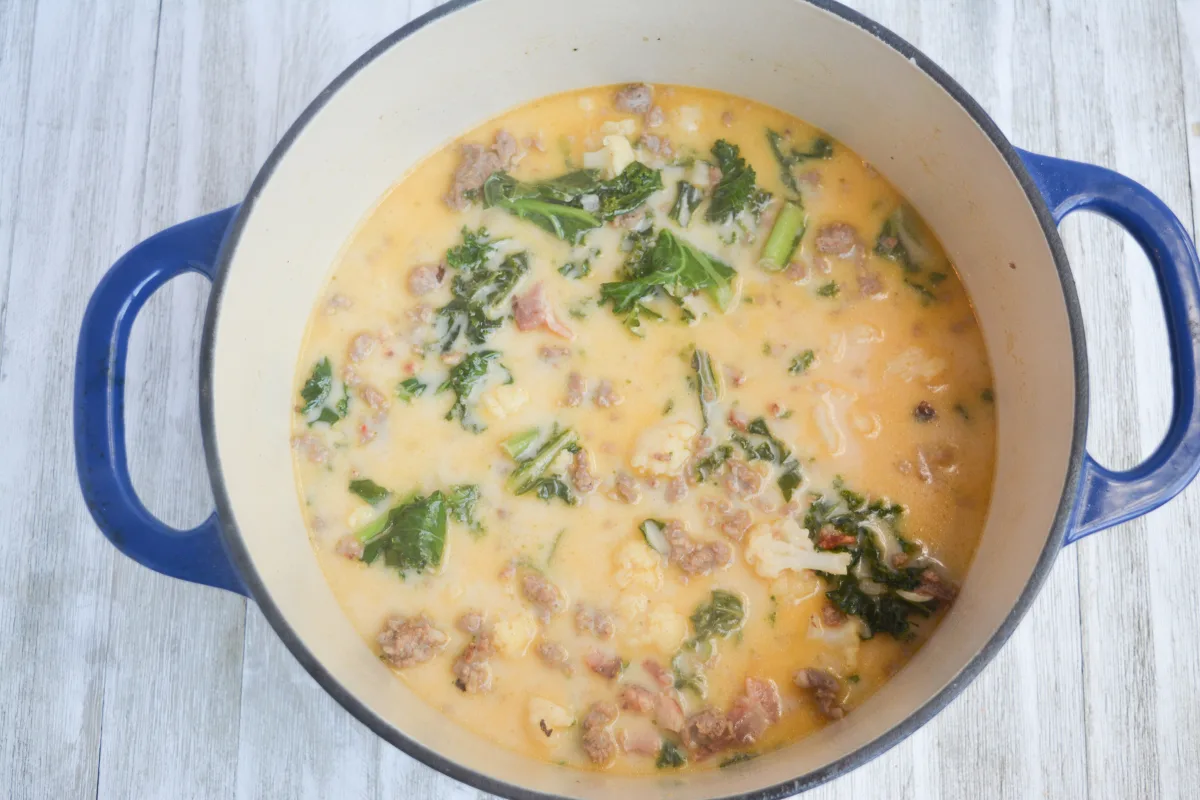 Is Zuppa Toscana Soup Keto friendly?
Zuppa Toscana soup is typically not keto-friendly because of the roux and potatoes. But this low carb keto Zuppa Toscana recipe uses none of that. As a result, this recipe is perfect for those following a low carb or ketogenic diet.
If the carbs, protein, or fat content aren't what you prefer for your diet, that's no problem. This recipe is very flexible. You can customize the recipe, portion size, or side dishes to fit your needs.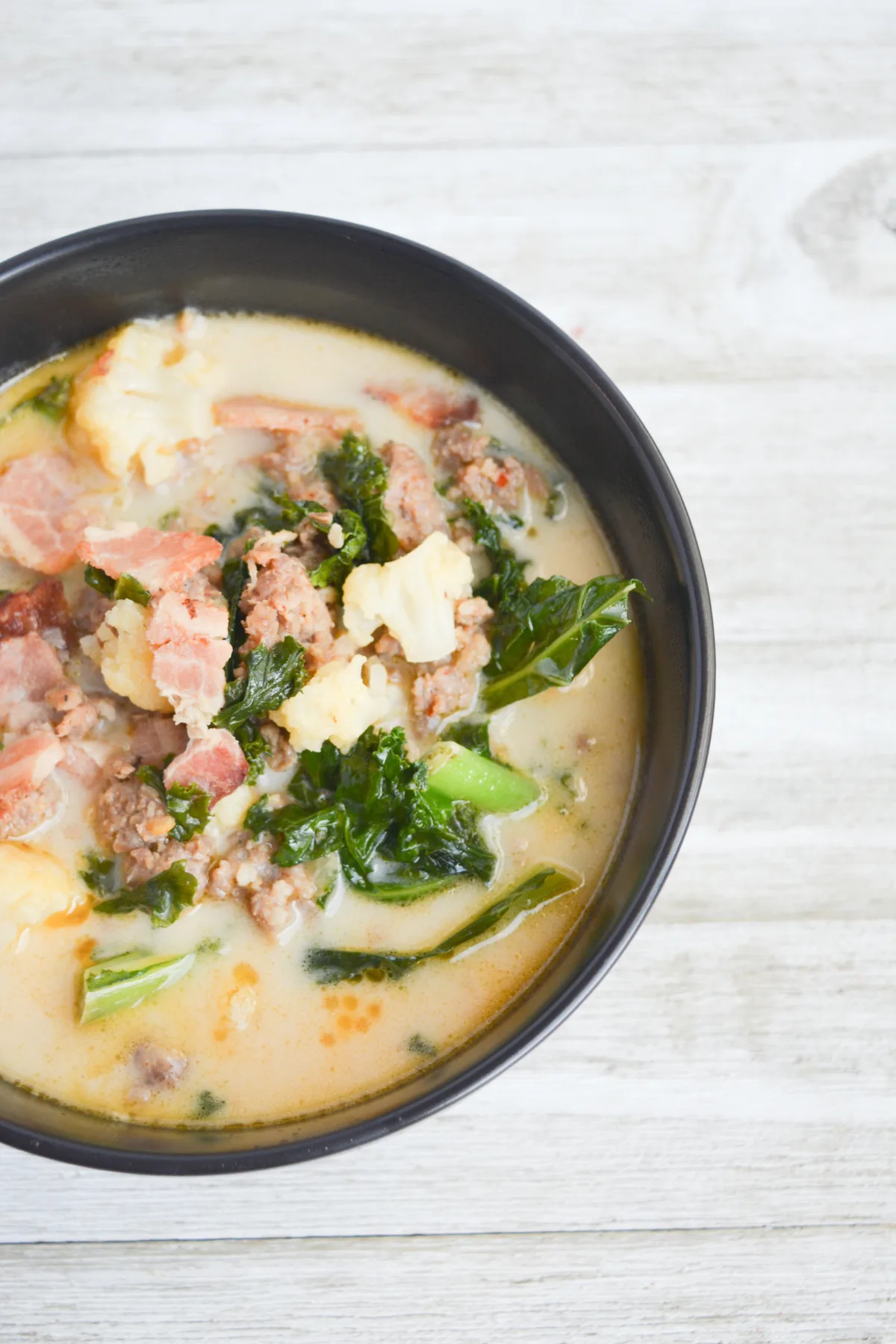 A note about carbs
The carbs from this recipe are primarily found in vegetables, which are an excellent source of nutrition.
I don't advocate for zero carbs or "as low as possible" because I think vegetables are a good thing and should be plentiful.
That said, if you must lower the number of carbs, you can still enjoy a keto Zuppa Toscana. Reducing the amount of cauliflower and/or onion is the way to go.
Both onion and cauliflower make this recipe more delicious, but those are the most carbohydrate-dense ingredients in this recipe.
If you need more fat in this recipe or don't find it filling enough, it's an excellent opportunity to add a side dish, like keto dinner rolls, or a side salad with a high-fat salad dressing such as ranch, olive oil...or even some nuts mixed in there.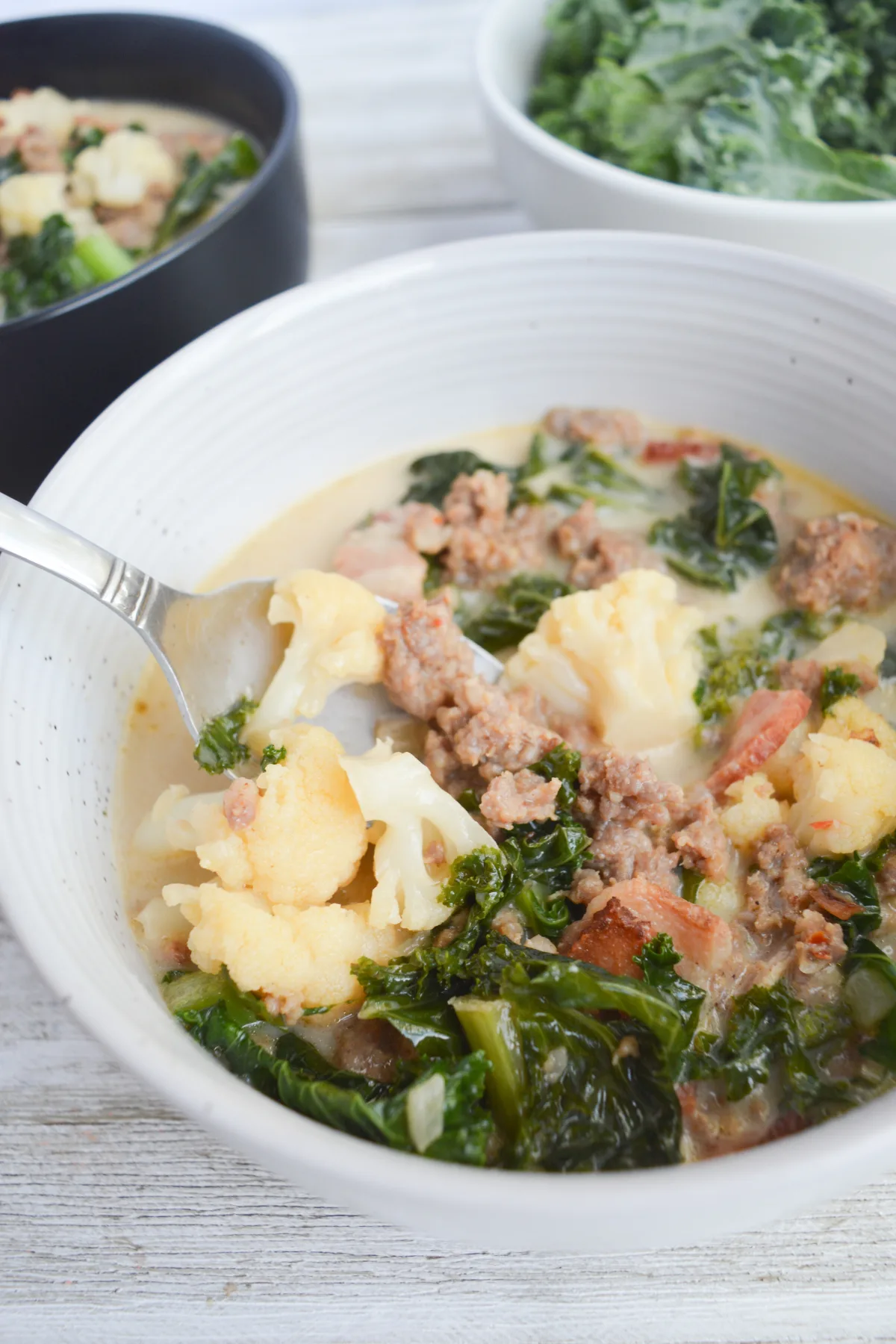 Tips and substitutions
Are you a lover of all things spicy? Then, step up the heat by using spicy Italian sausage. The cream perfectly calms the spicy sausage in the soup, but if spice isn't your jam or you're making this recipe for kids, feel free to keep it mild.
One of the worst things about a meaty dip or soup is how greasy it can get. If you're finding too much leftover grease in your pot, just let your soup cool down for about 10 minutes, then skim off the layer of fat on top with a cooking spoon, paper towel, or crumpled-up piece of plastic wrap.
Yield: 5 cups, 1 per serving
Keto Zuppa Toscana Soup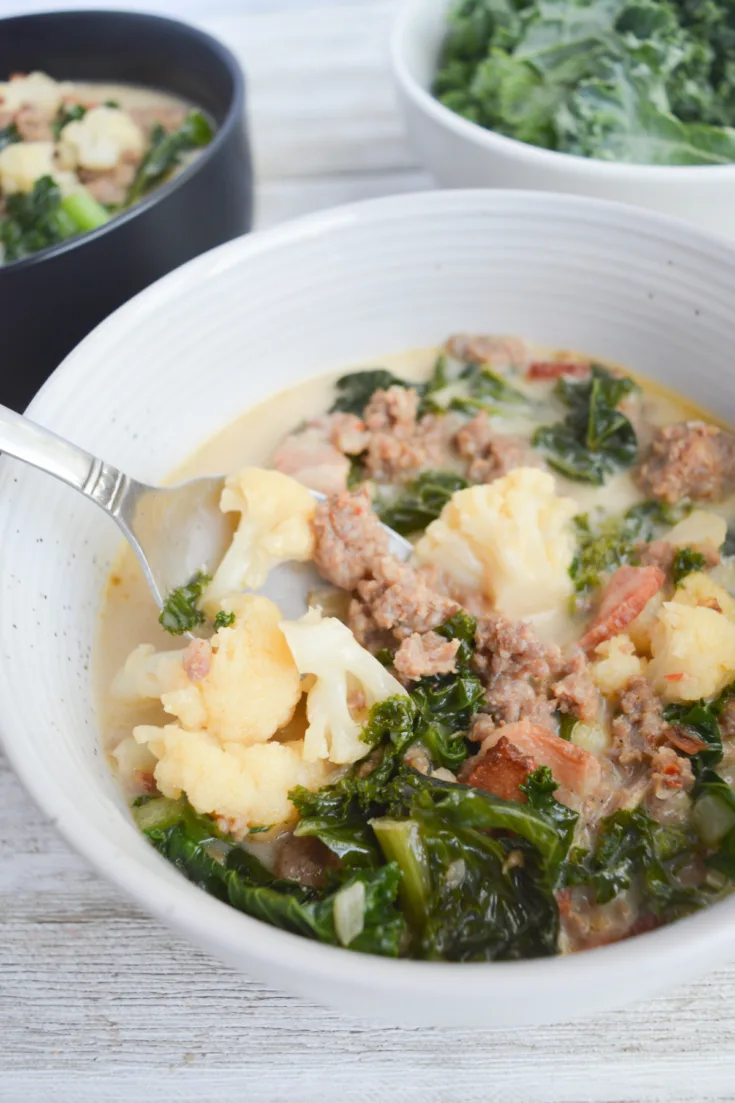 This Keto Zuppa Toscana soup is so flavorful and hearty! It's made with Italian sausage, kale, and cauliflower that come together in a creamy broth. It's perfect for a fall or winter meal and full of mouthwatering flavor.
Ingredients
¼ cup chopped white onion
4 slices bacon, chopped
2 tablespoon olive oil
1 pound ground Italian sausage
1 teaspoon salt
2 teaspoons Italian seasoning
½ teaspoon garlic powder
¼ teaspoon ground black pepper
2 cups kale, chopped
2 cups cauliflower florets, chopped into bite-size pieces
32 ounces chicken broth
½ cup heavy whipping cream
Instructions
In a large soup pot over medium heat, add the onion, bacon and olive oil. Saute for 3-4 minutes until the onion becomes fragrant and the bacon is cooked.
Add the Italian sausage to the pot and cook until no pink remains 7-10 minutes. Carefully drain the grease and return to the pot to the heat. Add the salt, Italian seasoning, garlic powder and pepper. Stir to combine.
Turn the heat to high and add the kale and cauliflower. Pour in the broth. Stir to combine. Bring the soup to a boil for 5 minutes then cover and reduce the heat for 20 minutes.
If you'd like a thicker soup: After the initial 20 minute cooking, allow the soup to cook down without the lid to you desired thickness. This soup will not be as thick as traditional zuppa toscana because it does not contain starch.
Pour in the cream and stir to combine. Serve warm.
Nutrition Information:
Yield:
5
Serving Size:
1 Cup
Amount Per Serving:
Calories:

529
Total Fat:

43g
Carbohydrates:

12g
Net Carbohydrates:

9g
Fiber:

3g
Protein:

25g
Please note that I am not a certified nutritionist. Any nutritional information that is discussed or disclosed in this post should only be seen as my best amateur estimates based on NET carbs. If nutrition is important to you, I highly encourage you to verify any data you see here with your favorite nutrition calculator.